Telegram Channel
Updated Daily with the Best Deals and Offers
Get all the best deals via our Social Media! Follow Us!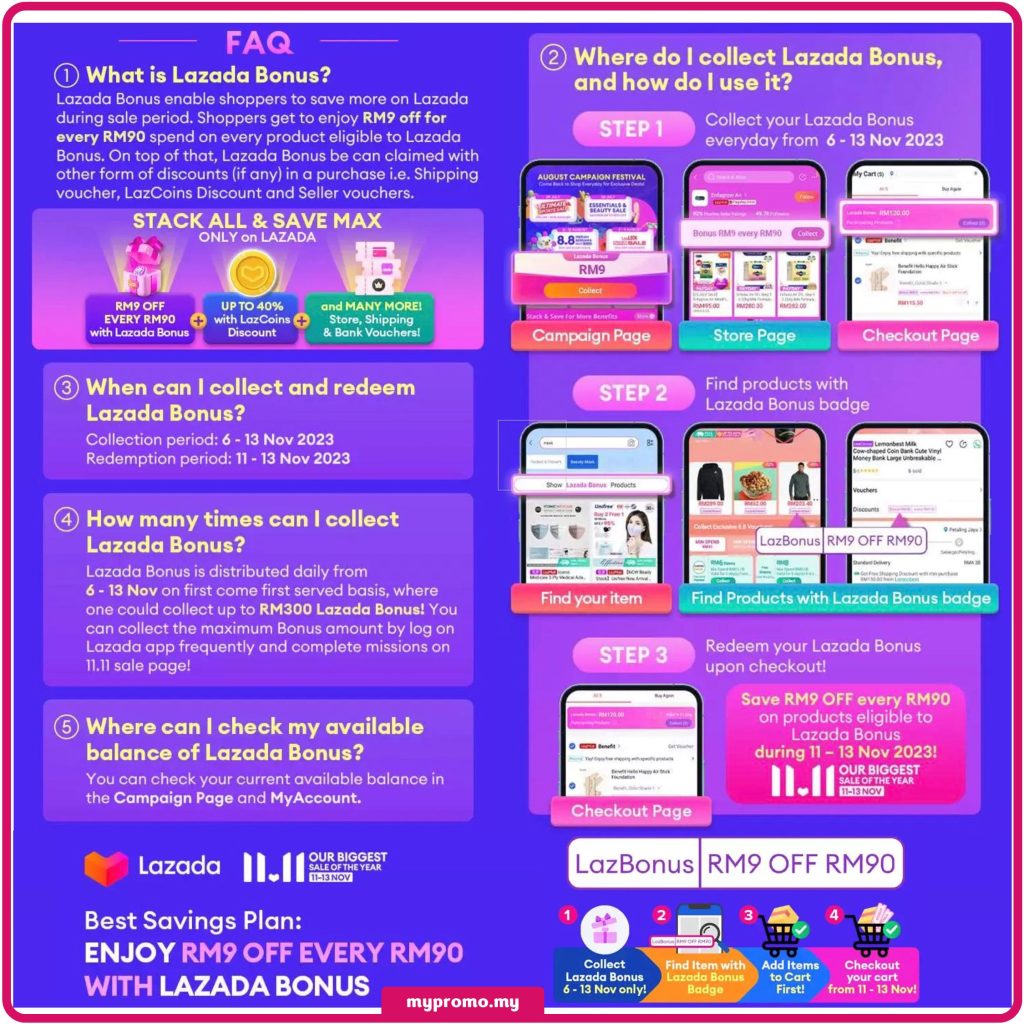 Lazada Bonus is back for Lazada 11.11 Sale. Collect Lazada Bonus everyday from 6-13 November and use the bonus from 11-13 November! Get RM9 Off every RM90 spend
Lazada Bonus: RM9 off for every RM90 purchase

LAZADA 11.11 Bonus RM9 Off Every RM90
Collect Bonus from 6-13!
From Nov 11 to 13, shoppers checking out selected products with the Lazada Bonus sign will be given a discount of RM9 for every RM90, subject to prior collection from 6 to 11 November. The best part of Lazada Bonus is that shoppers are allowed to stack it with up to other vouchers to maximize savings, allowing shoppers to buy more and pay less.
So, if you are planning to buy expensive items from Lazada during the Lazada 11.11 Sale, make sure you collect and accumulate all the bonus everyday!
Details:
• Get RM 9 OFF every RM90
• Collection: 6 – 13 Nov 2023
• Redemption: 11 – 13 Nov 2023
Maximize Savings:
🔥 Lazada Bonus can be stackable on itself.
🔥 Bonus can be stackable with Free Shipping, Store and Bank vouchers!
🔥 Stack up to 40% with LazCoins Discount
All you need to know about Lazada Bonus
Read here: https://mypromo.my/laz/bonus/about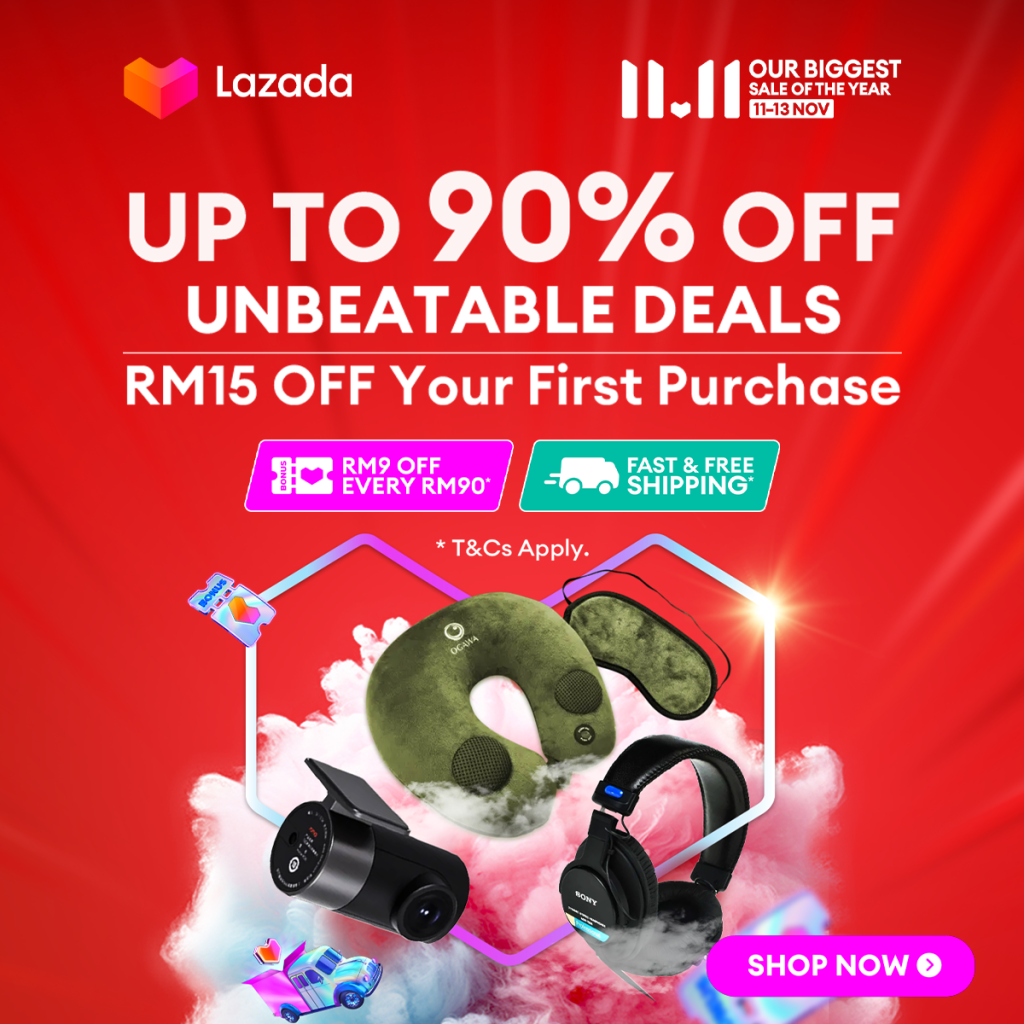 11.11 Biggest Sale of the Year is happening from 11-13 November 2023! This highly-anticipated year end sale offers 11 million deals, Lazada vouchers and app games.

Check out more 11.11 Sales, Offers, Promotions and Deals available on Lazada, Shopee, Zalora, and more!
THE most highly anticipated Lazada 11.11 Biggest Sale of the year is back this November 11-13 . Collect and redeem bank vouchers worth up to RM120! Lazada ...
Are you ready for Trip.com 11.11 Super Saver Sale?! Starting from 8th-11th November , save up to RM500 during this 4 days BIG SALE for hotel, flight and ...
Stand a chance to win a RM50 Lazada gift card when you spend RM100 and above in one receipt through mypromo.my affiliate link during Lazada 11.11 ...
The Biggest Sale of the Year is coming right up this 11th - 13th November on Lazada. Get Excited! Lazada 11.11 is going to be BIG! You can purchse ...
The biggest shopping season on Klook is right around the corner. This 11.11 and Year End Sale , enjoy flash deals of up to 50% off and sitewide promo ...
Lazada Bonus is back for Lazada 11.11 Sale. Collect Lazada Bonus everyday from 6-13 November and use the bonus from 11-13 November! Get RM9 Off every RM90 ...
Shopee 11.11 Daily Mega Quiz offers reward up to 111 Coins Daily! Answer the quiz to win EXTRA coins. Want to get all the answers daily? Join our ...
You can also participate in Shopee Live to stand a chance to Win Up To RM1 Million, making this one of our biggest 11.11 Singles' Day sale events yet! ...
It's time for big sale and shocking prices, thanks to Shopee Malaysia's 11.11 Sale ! Enjoy exciting 11.11 Shopee promos like daily Free Shipping vouchers ...
Promotional Period: 15th - 18th November, Agoda is very pleased to offer promotional nightly rates for certain Agoda Bookings made during the ...
11.11: The Biggest One Day Sale!
Shop during the biggest one-day sale with 11 million deals, Lazada app games and vouchers, only during 11.11 on Lazada Malaysia!
LAZADA is set again to urge avid online shoppers to participate in the biggest online sale in Malaysia in 2019. The biggest online shopping mall in Southeast Asia will break the Internet to provide online consumers with the biggest and grandest discounts, flash sales, hot deals, enormous gifts and many other benefits to enjoy. The event will be known as the 11.11 sale, a day for online shoppers to take advantage of the many hot deals, free shipping, RM111 instant cashback, hourly RM1 crazy deals and a lot more exciting deals when they visit the LAZADA website or use the ever-growing LAZADA Mobile App!

Unbeatable Deals: Unforgettable Shopping Experience – All during the 11.11 Sale!
LAZADA Malaysia aims to provide excellent service for every transaction; giving unlimited perks and benefits for consumers who join the Biggest Sale of the year. Among the many shopping advantages that you will experience are the extravagant discounts across all the categories. Expect these amazing discounts on items in these categories including mobiles and tablets, home appliances, cameras, personal electronics, fashion, sports and more during this BIGGEST ONE DAY SALE. Shoppers can experience effortless shopping throughout these online sales in Malaysia. By purchasing your items through online sales, you don't have to waste your time in long queues and traffic jams; you can just purchase things you want from the comfort of your own home. No matter where you are in Malaysia, LAZADA will bring your items to your doorstep! Everything is just one-click away!
Even if you are on-the-go and have no time to wait in front of your desktop, you can download and install LAZADA App for you to enjoy all online greatest deals. You can also follow our special hashtag #MYLazada1111 #ILove1111Lazada #LazadaBiggestOneDaySale where you can keep track on what are the latest or special offers that are exclusive to social media users only. So make sure you're ready for the biggest online sale in Malaysia 2023 only on LAZADA Malaysia! This is the perfect moment for you to find the one you'll love at the Lowest Price Guarantee!
About Lazada 11.11
Take advantage of the best deals with the highly anticipated LazMall Crazy Brand Mega Offers. This Exclusive Midnight Deals which will be available from 12AM to 2AM on 11 November 2023. Besides the LazMall Crazy Brand Mega Offers and Exclusive Midnight Deals from 12AM to 2AM, the RM9 Off Every RM90 Spent Lazada Bonus, Free Shipping vouchers, and up to 60% off discounts are also offered throughout 11.11 Sale.
11.11 Sale Offers Big Savings! Now Is the Best Time to Shop For Our 11.11 Biggest Sale! Save Money on Your Most Desired Items by Downloading the App Now and Save Up to 90% Stackable Discounts. Treat Yourself with 11.11 Sale, Where You Can Save RM9 Off Every RM90 Spent + Everyday Free Shipping Voucher.
Missed Out on Our Previous Sale? Don't Worry, We've Got Your Back! Shop with Confidence on Mesti Beli Deals Backed by Lazada's Lowest Price Guaranteed. That's Not All, Crazy Brand Mega Offers Brings You 90% Off on Exclusive Brand Deals + Surprise Box from RM11 worth up to RM600. So Keep Your Eyes Peeled and Your Fingers Ready. Add Your Items to Your Cart Before They're Gone!
LazMall Authenticity Guaranteed
Lazada's Flagship Offering for Branded Products Ensures Genuine, Authentic Brands – Sold by Brands on Lazada Through Brand Stores. 100% Authenticity: Directly from Brands to You. Enjoy 10000+ Global Brands at Your Fingertips Like Nike, Adidas, Maybelline, L'oréal and More.
Holiday Beauty Bundles!
Our 11.11 Biggest One-Day Sale Brings You Exclusive Skincare and Makeup Deals! Be the Best Version of Yourself with Limited Brand Deals from – Eucerin, Watsons and Lancome.
Get Comfy Yet Stylish!
With the 11.11 Sale, It's Time to Step Up Your Fashion Game! We Are Committed to Bringing You the Highest Quality and Most Recent Trends in Women's Shoes, Clothing, and Accessories at the Most Bargain Prices. Explore Nike, Clarks and Pandora.
So What Are You Waiting For? Lazada 11.11 Biggest One Day Sale Starts Now!
mypromo Telegram Channel
Want to receive  daily promos and deals via Telegram?
Join Our Channel Today

All Are Welcome!
Sign Up for New Accounts and Get Rewarded

mypromo.my: Referral Codes Center
Get Rewarded When you sign up with Referral Codes