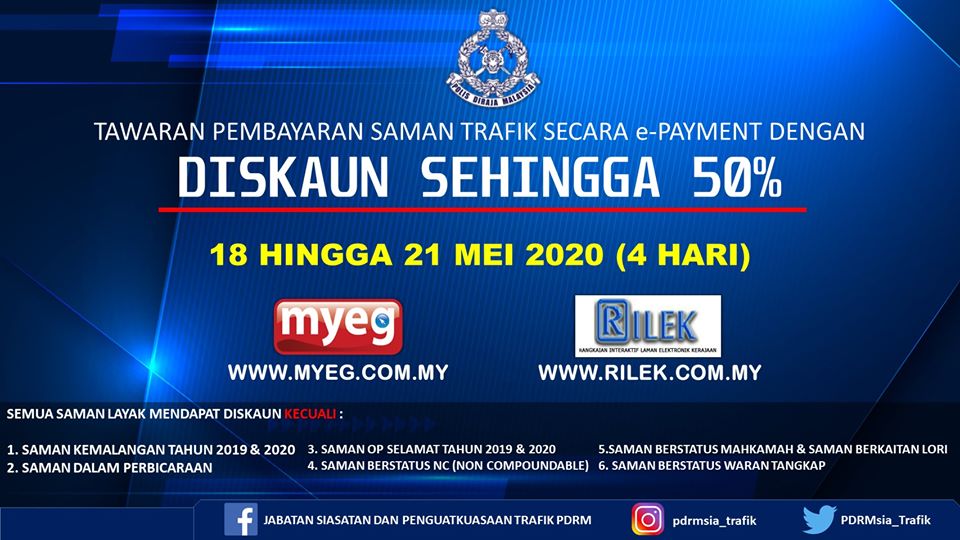 Pembayaran Saman Trafik: Diskaun Sehingga 50%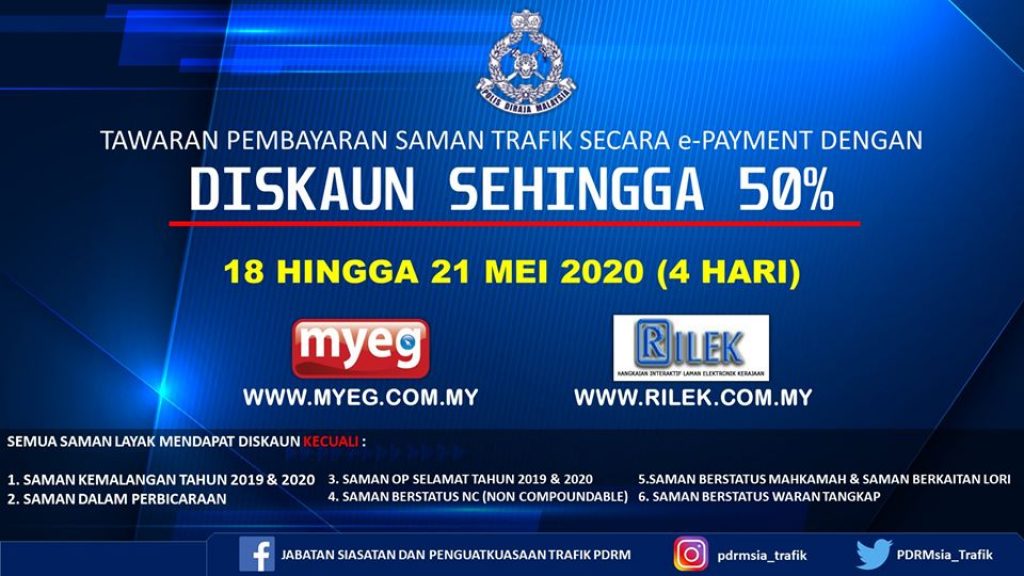 PEMBUKAAN KAUNTER PERKHIDMATAN PEMBAYARAN SAMAN DAN PEMBEKALAN DOKUMEN KEMALANGAN SERTA TAWARAN DISKAUN 50% DENGAN BAYARAN SAMAN SECARA e-PAYMENT.
Bermula 18 Mei 2020, Jabatan Siasatan dan Penguatkuasaan Trafik (JSPT) akan membuka kaunter pembayaran saman secara berperingkat di semua balai polis trafik seluruh negara dengan tujuan memudahkan orang ramai untuk menjelaskan bayaran saman yang tertunggak serta pembekalan dokumen berkaitan kes kemalangan seperti salinan repot, gambar dan rajah kasar bagi tujuan tuntutan insurans.
Orang awam boleh terus berurusan di kaunter pembayaran saman atau pun pembekalan dokumen dengan mengikuti jadual hari dan masa yang telah ditetapkan. JSPT juga telah menetapkan Standart Operasi Prosuder (SOP) Norma baharu dalam tempoh Perintah Kawalan Pergerakan Bersyarat (PKPB) demi memastikan tahap keselamatan semua pihak terjamin.
Sebagai langkah meringankan beban yang ditanggung oleh masyarakat, Polis Diraja Malaysia (PDRM) akan menawarkan kadar diskaun sehingga 50 peratus bagi saman-saman tertentu selama (4) hari bermula dari 18 hingga 21 Mei 2020.
Tawaran diskaun hanya terpakai melalui kaedah pembayaran secara e-Payment yang boleh dilakukan melalui portal www.myeg.com.my dan www.rilek.com.my.
Semua saman layak mendapat diskaun KECUALI :
i) Saman kemalangan tahun 2019 & 2020.
ii) Saman dalam perbicaraan.
iii) Saman OP Selamat tahun 2019 & 2020.
iv) Saman berstatus NC (Non Compoundable).
v) Saman berstatus mahkamah & saman berkaitan lori.
vi) Saman berstatus waran tangkap.
JSPT menyeru orang ramai agar sentiasa mematuhi PKPB yang sedang dikuatkuasakan demi kebaikan bersama. Bersama kita hentikan rantaian wabak Covid-19.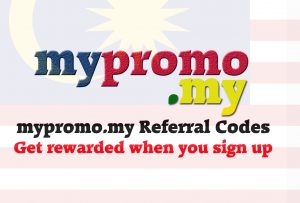 Want to sign up or register for an account?
Make sure to always use referral code/link to get sign up rewards.
We have a list of referral links and codes for you!
Get RM for Setel, RM10 for BigPay, RM10 for Wahed, RM10 for Versa and more! Check out the list now