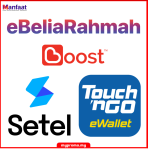 eBelia Rahmah melalui Boost, Setel dan TNG eWallet

Lazada Daily Cashback Vouchers
Collect and Use these vouchers
Get all the best deals via our Social Media! Follow Us!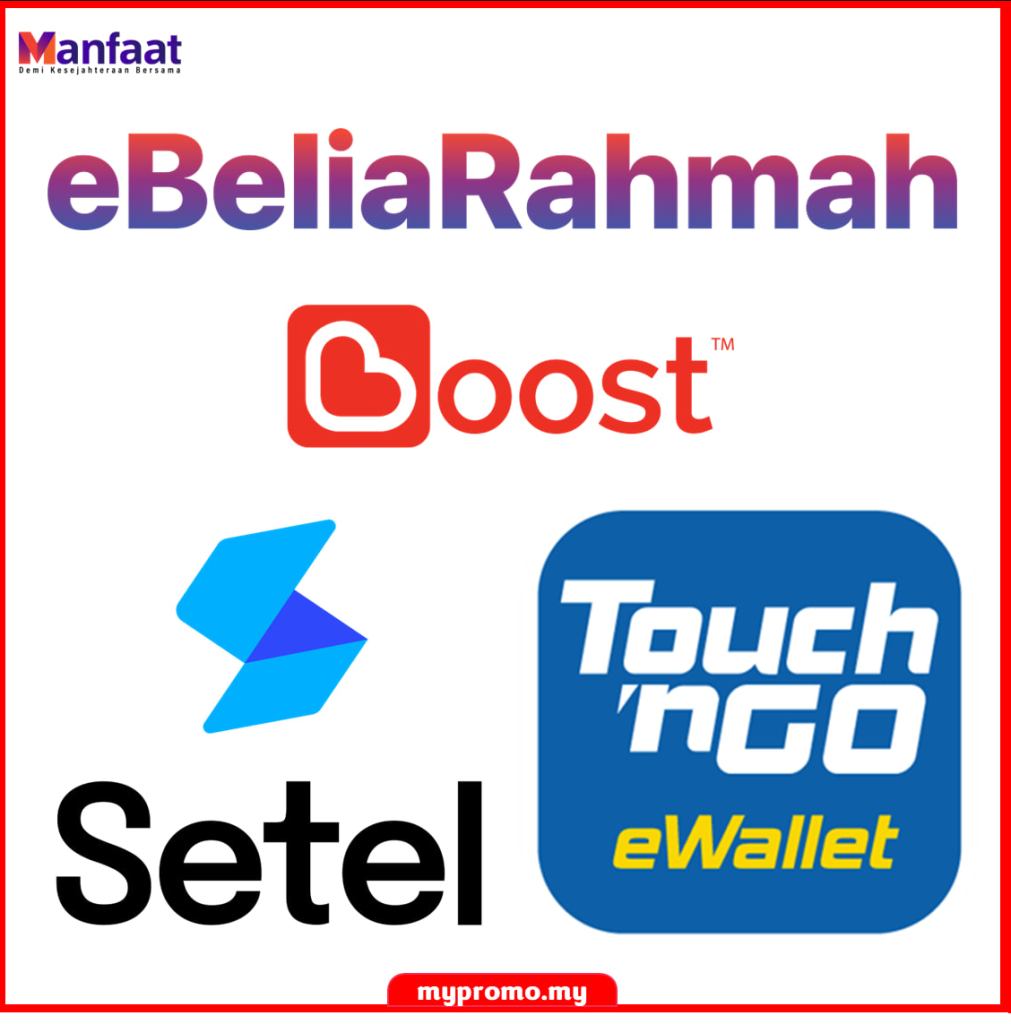 eBelia Rahmah – Belia berumur 18 hingga 20 tahun atau pelajar sepenuh masa yang menuntut di institut pengajian tinggi (IPT) boleh mula mendaftar untuk menerima kredit RM200 bagi program eBelia Rahmah mulai Isnin, 26 Jun ini jam 8 pagi.
Belia warganegara Malaysia yang layak:
Mencapai umur 18 ke 20 tahun pada 2023 pada tahun 2023 (lahir pada tahun 2003 sehingga 2005) ATAU
Berstatus aktif sebagai pelajar sepenuh masa di institut pengajian tinggi di Malaysia.
Tempoh pendaftaran dan tuntutan eBeliaRahmah dibuka mulai Isnin, 26 Jun 2023 sehingga 22 Ogos 2023. Kredit dan manfaat eBeliaRahmah pula boleh dibelanjakan di luar talian sehingga 31 Ogos 2023. Penyedia perkhidmatan eWallet terlibat akan turut memberikan insentif tambahan dalam bentuk baucar, pulangan tunai atau diskaun mata ganjaran.
Penebusan kredit RM200 ini boleh dilakukan melalui tiga perkhidmatan e-dompet di Malaysia, iaitu Boost, Setel dan juga Touch n Go eWallet.
Insentif yang ditawarkan oleh penyedia perkhidmatan e-dompet bergantung kepada polisi masing- masing.
Sila rujuk pengumuman kempen penyedia perkhidmatan e-dompet tersebut untuk maklumat lanjut.
Setel x eBelia Rahmah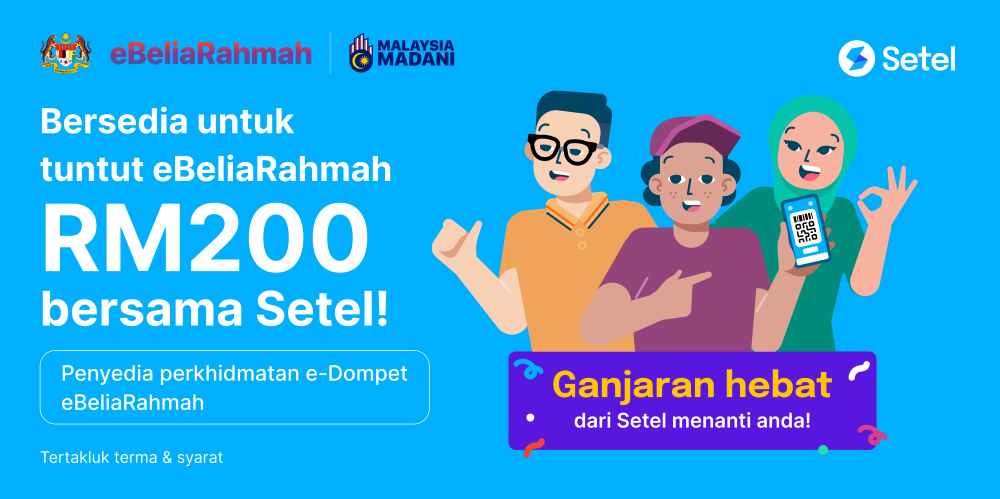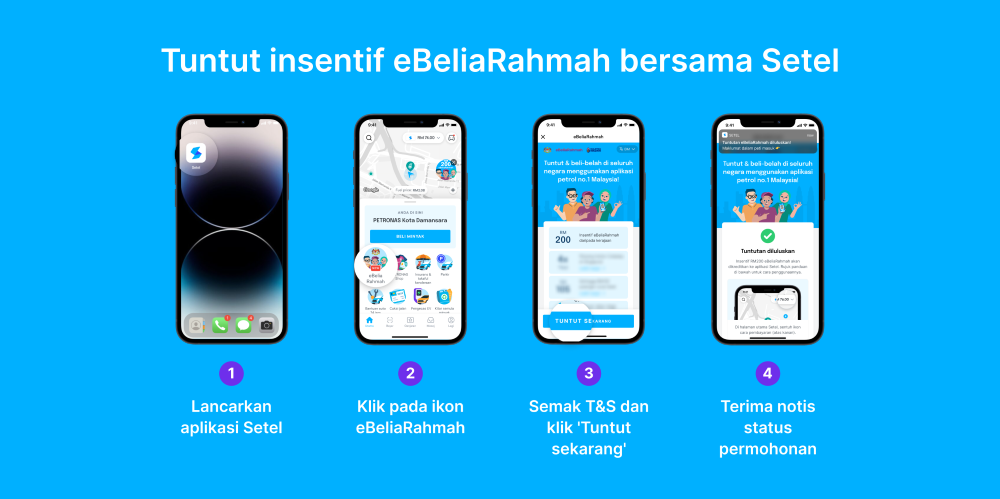 Setel merupakan salah 1 penyedia perkhidmatan e- Dompet eBeliaRahmah! Semak kriteria kelayakan, sahkan akaun Setel melalu e-KYC & nikmati ganjaran hebat yang bakal menjadi milik anda.
Belum ada Setel? Peluang untuk anda mendaftar hari ini dan menikmati ganjaran RM7 Kredit Setel!
Cara Daftar Setel dan Dapat RM7
Pump RM30 Get RM7 Setel Credit*

Steps
1. Sign up for a new Setel Account
https://mypromo.my/signup/setel
2. Use referral code: xs9fx
3. Top up or use CardTerus
4. Go to any Petronas Petrol Station and pump RM30.
5. Get RM7 in your Setel Wallet, use for your next purchase!

* For new accounts only.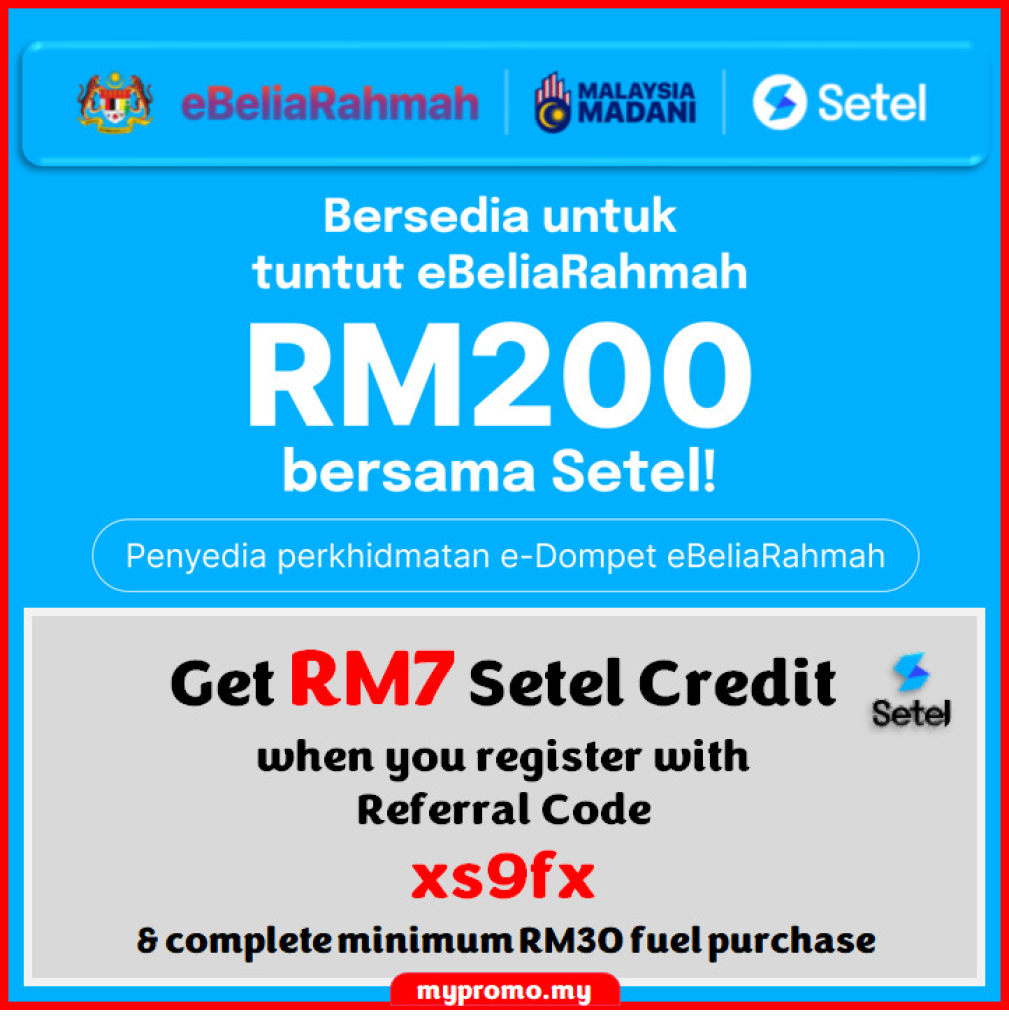 Boost x eBelia Rahmah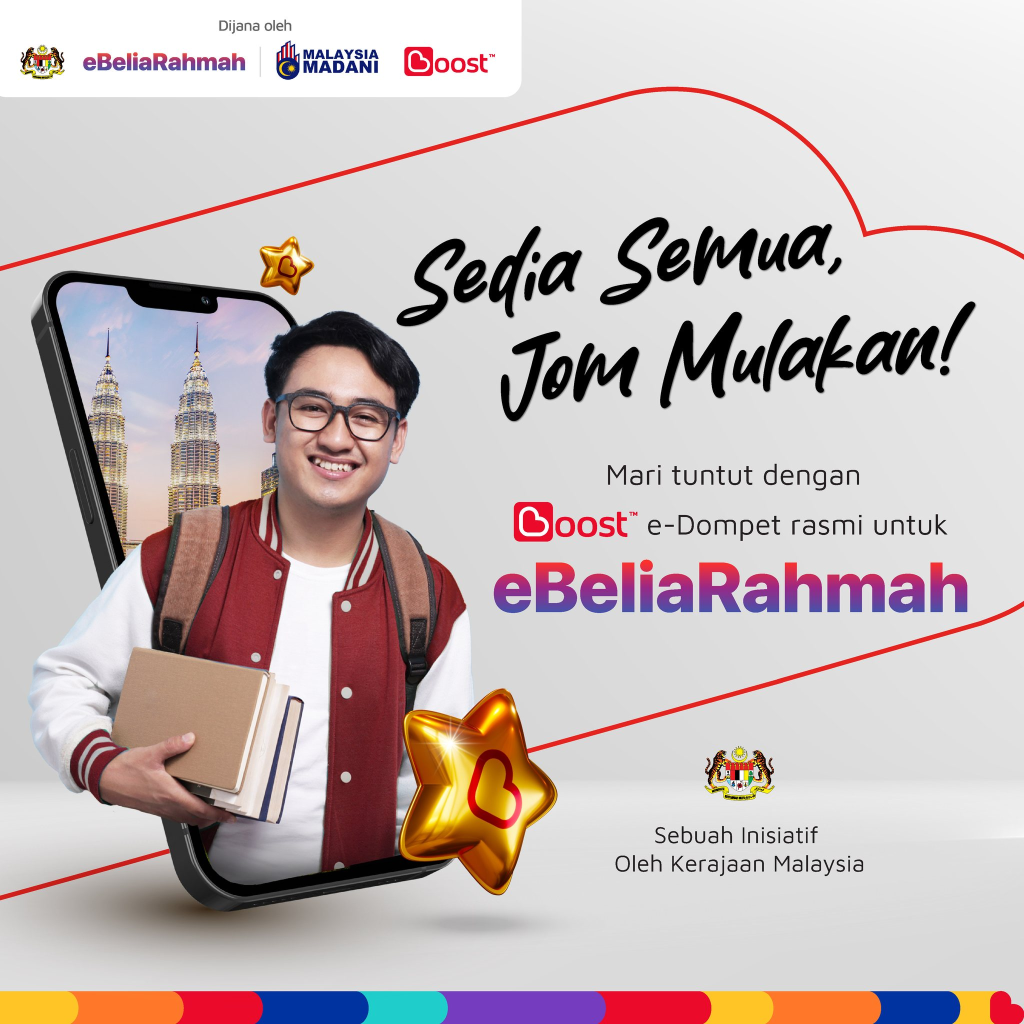 Boost adalah e-Dompet rasmi untuk inisiatif eBeliaRahmah 2023! Steady la
Kami di Boost, siap sedia berkhidmat untuk para belia negara!
Pastikan korang claim RM200 dengan Boost mulai 26 Jun ini. So verify akaun Boost korang sekarang dan siap sedia untuk nikmati pelbagai tawaran yang best-best!
Belum ada Boost eWallet? Daftar hari ini dan nikmati ganjaran RM10. Ikut langkah langkah berikut:
Just follow these steps:
Follow the steps below to create a Boost account:
1. Download the Boost app from the Google Play store or Apple App store. Follow this link to start: https://mypromo.my/signup/boost
2. Open the Boost app and follow the instructions below to create a Boost account :
Enter Invite Code: che23cx4
a) Click on "Register"
b) Enter your mobile number and Boost will send you an SMS with a 6-digit TAC code. Insert the 6-digit TAC. (If you did not receive an SMS, click on "Did not receive SMS" and we will re-send the SMS)
c) Key in your name & nickname
d) Key in your email address (Please be reminded that our system is CASE SENSITIVE)
e) Set up your 6-Digit transaction PIN so only you can log into your Boost Account or enable Fingerprint touch scanner (For selected phones only). To do so, touch scanner on your device to activate so only you can authorise all transactions in the app
f) Insert an invite code if you have one or skip the step and complete the registration
g) Lastly, please be sure to allow Boost to access your device's location and you're done!
Welcome to the Boost family!
Don't miss this deal, sign up for Boost ewallet now:
https://mypromo.my/go/boost
Touch 'n Go x eBelia Rahmah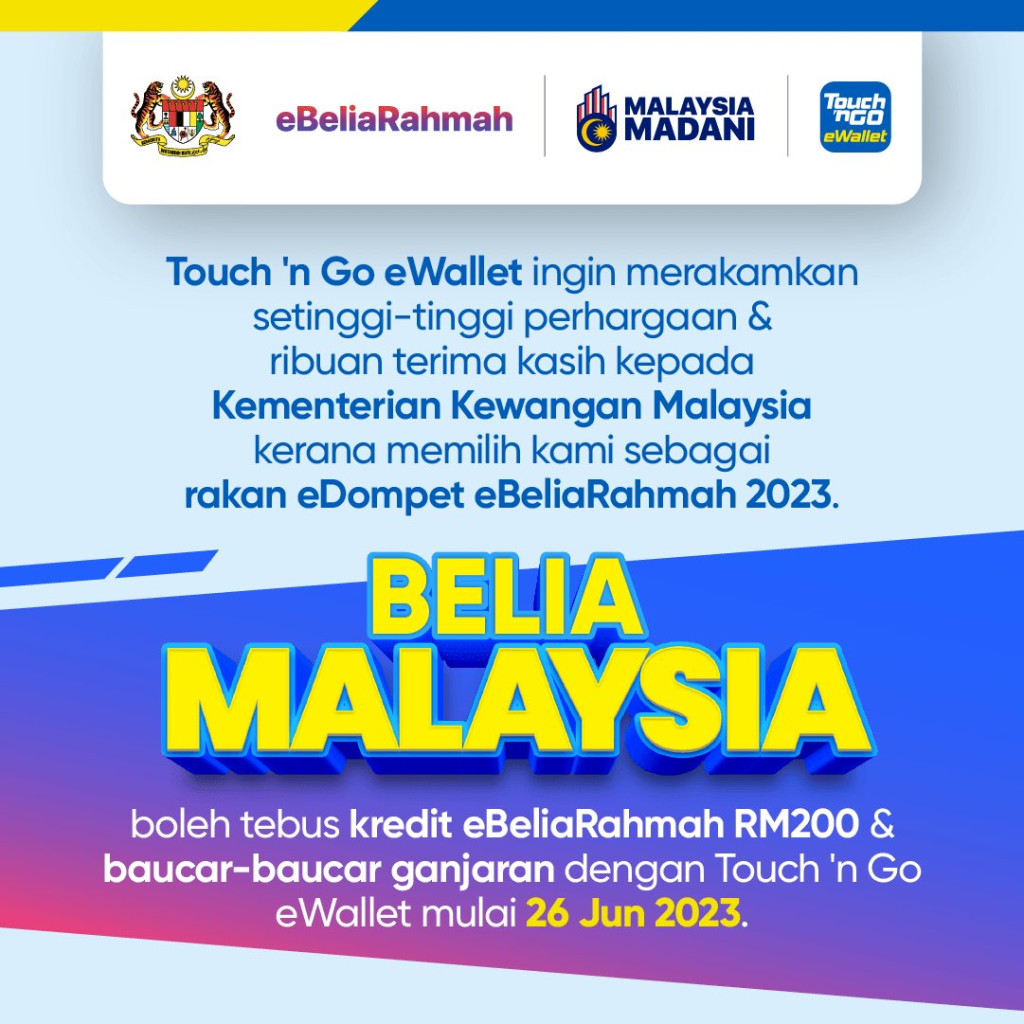 Waahhhhh lamaa dah tunggu berita baik ni!!!!
Apa lagi Belia Malaysia, jom prepare eWallet korang sekarang!
Make sure korang boleh login & verify eWallet untuk tebus kredit eBeliaRahmah RM200 & baucar-baucar ganjaran pada hari Isnin 26 Jun 2023 nanti!
Ketahui lebih di https://support.tngdigital.com.my/hc/ms-my/sections/900001095086-Pengesahan-Akaun-eKYC-
What is the eBeliaRahmah initiative?
The eBeliaRahmah is a government initiative announced in Belanjawan 2023 under the purview of the Ministry of Finance.
It aims to encourage cashless transactions among youth and at the same time, ease their financial burden.
This programme is estimated to benefit approximately 2 million Malaysian youths in the form of a RM200 e-wallet credit that can be used for purchases in brick and mortar businesses through the participating e-wallet service providers.
In addition, participating e-wallet service providers will also offer additional incentives through vouchers, cashback, discounts and reward points.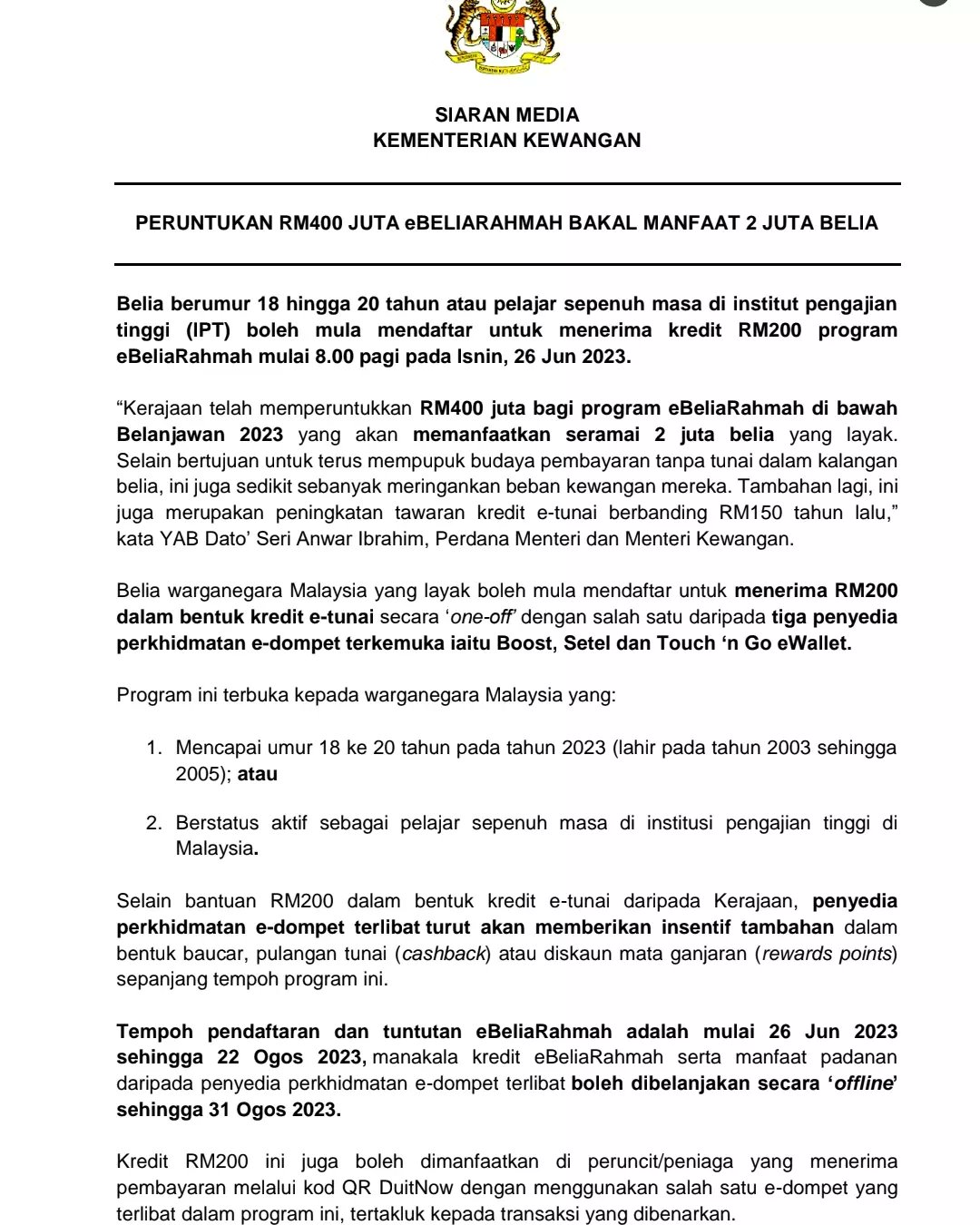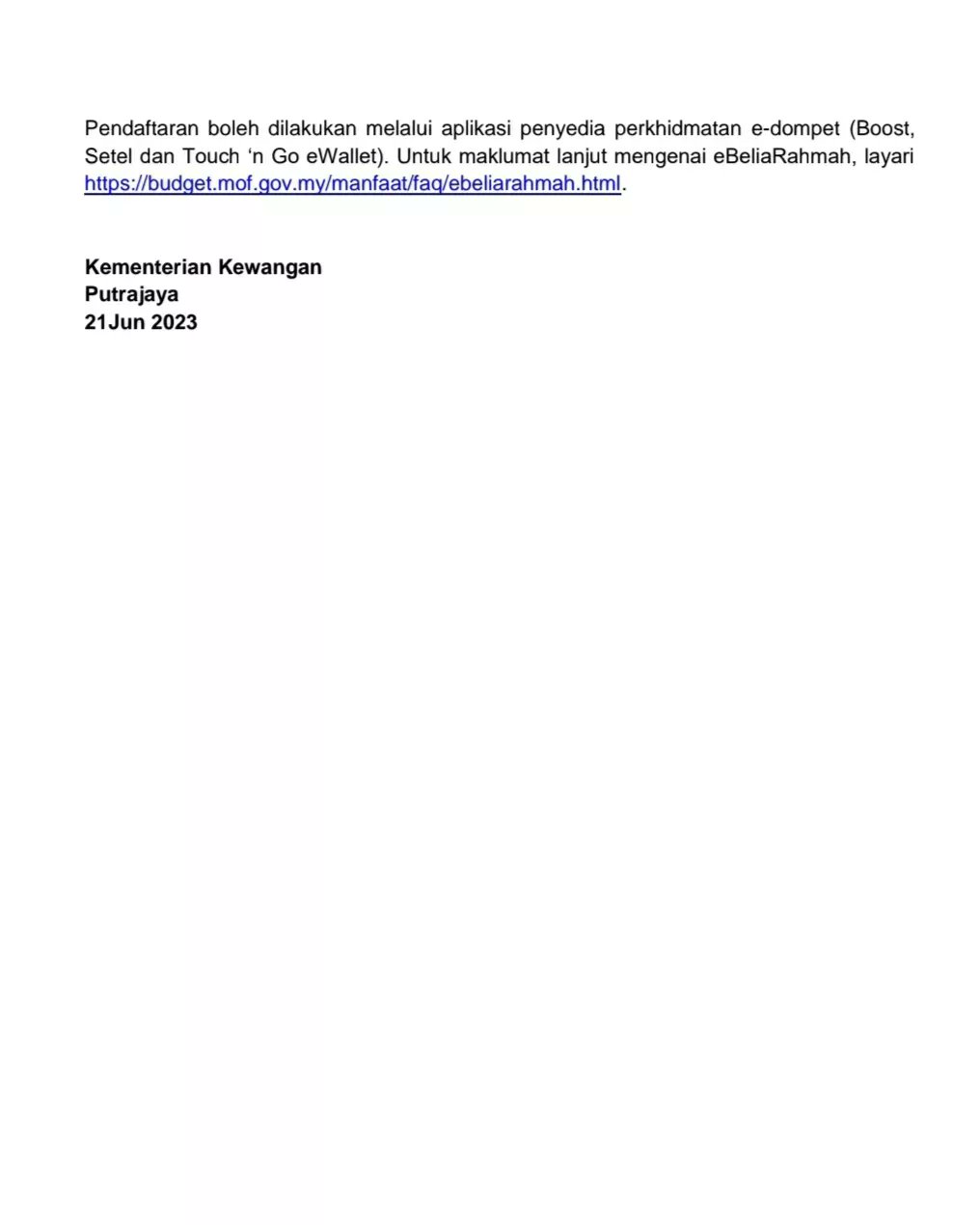 mypromo's Payday  WhatsApp Groups
Want to receive promos and deals via WhatsApp?
Join our 9.9 Sale groups!
1. Only Admin Can Post
2. 9.9 Sale Chit Chat Group
All Are Welcome!
Sign Up for New Accounts and Get Rewarded

mypromo.my: Referral Codes Center
Get Rewarded When you sign up with Referral Codes