Get all the best deals via our Social Media! Follow Us!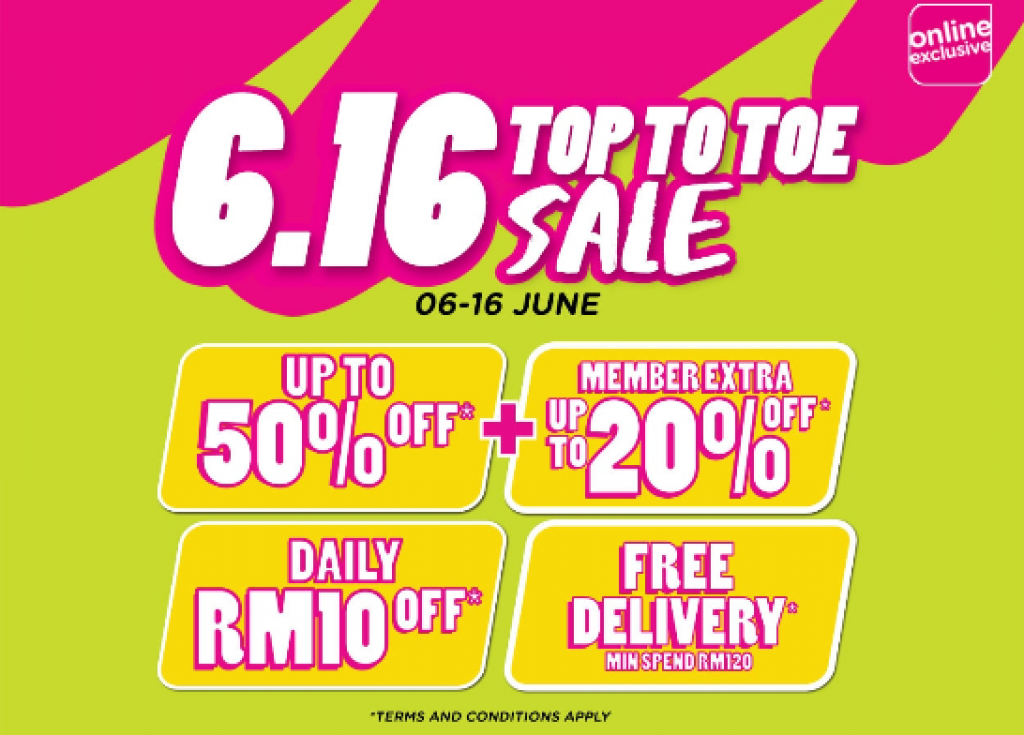 [ONLINE EXCLUSIVE] Come join 6.16 TOP TO TOE SALE with RM10 OFF* on SANITARY PROTECTION products happening on #WatsonsMalaysia ONLINE on 12-13 June 2020! https://bit.ly/Watsons-616
6.16 – Sanitary Protection : Up to 40% off + Up to Member EXTRA 15% off*
12-13 June – RM10 off min spend RM60 (Code : NOPAIN) – Limit to 500 per day
*UP TO 40% OFF *MEMBER EXTRA 15% OFF*
*Terms and conditions apply. While stocks last. Valid on 12-13 June 2020 on Watsons mobile app and online website only.
Pay with Citi card, Get Code: https://mypromo.my/citi-cybersale
6.16 – [Mega Day] RM25 off
RM 25 Off min spend RM200 (Code : PC25MEGA) – Limit to 2,000
Bath & Body : Up to 50% off + Up to Member EXTRA 20% off*
RM10 off min spend RM60 (Code : SPLASH10) – Limit to 500 per day
6.16 Oral : Up to 40% off + Up to Member EXTRA 15% off*
10-11 june: – RM10 off min spend RM60 (Code : 10FRESH) – Limit to 500 per day
6.16 – Men's : Up to 40% off + Up to Member EXTRA 20% off*
14-15 June: – RM10 off min spend RM60 (Code : IAMMACHO) – Limit to 500 per day
Watsons Oral B Promo
Until 2020-06-30 a. Buy RM40 get RM6 off on Oral-B product b. Protect your mouth with Oral-B c. Gentle Anti-Bac d. Reduces 99% of bacteria e. Removes plaque bacteria f. Keywords: Basic cleaning, dental floss, mouth rinse, power oral care, superior cleaning, toothpaste, whitening, gum care"
Sign Up for New Accounts and Get Rewarded

mypromo.my: Referral Codes Center
Get Rewarded When you sign up with Referral Codes