Get all the best deals via our Social Media! Follow Us!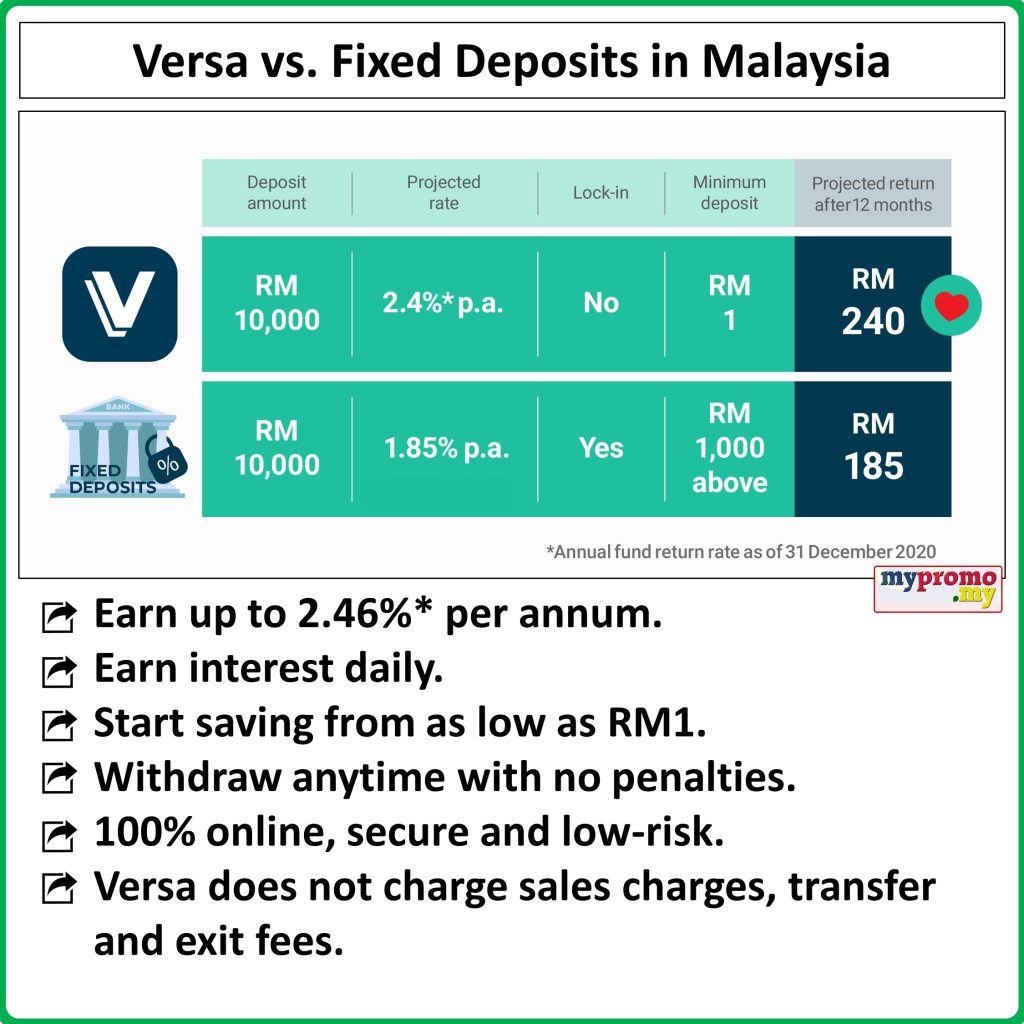 Versa is a digital cash management platform, is here to transform your sleeping cash into money-earning potential through return rates similar to the interest of a Fixed Deposit. With Versa, you can 'duit' your way and enjoy the freedom to withdraw your savings at any moment without penalties.
Start saving with just RM100
Earn FD like returns
No lock-in periods, withdraw anytime
No sales charges, no deposit/withdrawal or other hidden fees. No complications. No lock-in period.
Versa vs Best Fixed Deposits in Malaysia: Which Offers Higher Rates?
What makes Versa stand out from the best fixed deposit platforms in Malaysia?
When it comes to saving and managing your cash, the two conventional methods you hear about the most are savings accounts and fixed deposits. While both of these accounts guarantee an assured rate of interest, there are certain requirements you have to fulfill. The minimum amount for a fixed deposits in Malaysia is around RM 5,000. On top of that, you need to lock away your cash for a fixed period to earn the full rate of interest. These requirements make fixed deposits less of a viable option, especially during this pandemic when emergency funds are more important than ever.
With Versa, there's no need to worry about such requirements. Versa earns you interest up to 2.4% p.a.*, calculated on a daily basis, you can withdraw your money whenever you want without penalties, and you can start from as low as RM 1.
How does Versa allow this flexibility compared to fixed deposits?
Versa can do this as it invests in Money Market Funds (MMF). In particular, we invest your funds in Affin Hwang Enhanced Deposit Fund (EDF), which is managed by Affin Hwang Asset Management (AHAM). This fund only invests in the deposits of the multiple banks, making it highly liquid and low-risk.
When you join Versa, you become part of a group of investors. The money you deposit into Versa goes into a large cash pool contributed by other investors as well. All of this money goes into Affin Hwang Enhanced Deposit Fund (EDF).
The fund manager (Affin Hwang Asset Management) invests the funds in multiple bank's deposits and sets aside a small portion of cash for customer's withdrawals. This is why you can withdraw your money whenever you want with no penalties.
Whereas, fixed deposits do not have the same flexibility. If you withdraw your money even one day before the maturity date, you end up losing all your hard-earned interest.
Did you know that in 2020 the OPR rate has dropped 4 times (From 3.0% – 1.75%)?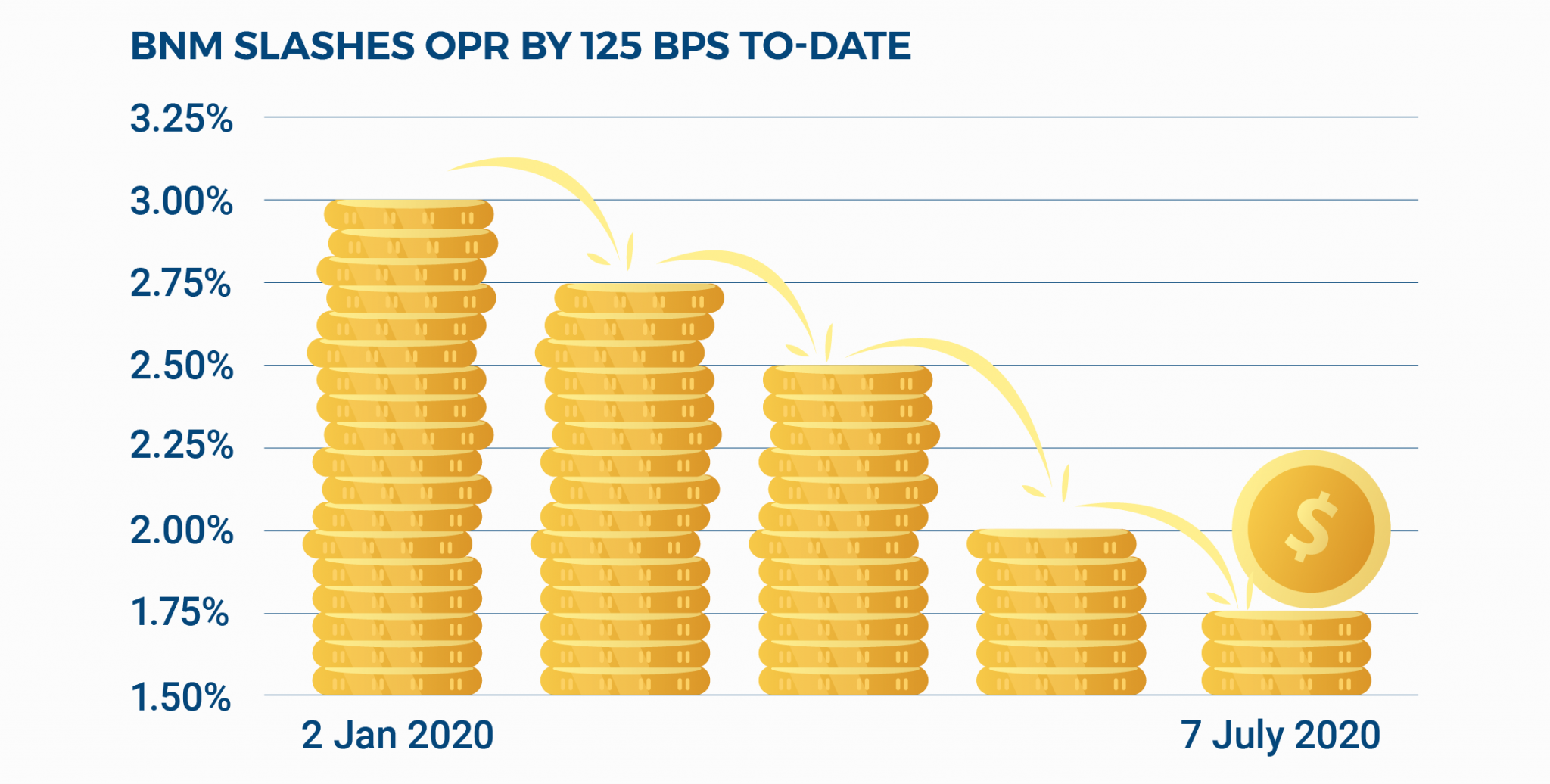 Since the pandemic happened, looking for high fixed deposit rates in Malaysia has been tough as fixed deposit rates have dropped significantly. Currently, the best fixed deposit in Malaysia has an interest rate of 1.8% (with lock-in period of up to 12 months and with a high minimum deposit). This drop is due to the reduction in the overnight policy rate (OPR) set by the Central Bank of Malaysia (BNM).
Earn higher rates with Versa than fixed deposits out there
So, how is Versa able to earn a projected rate of 2.4% p.a.*? This is because the fund can negotiate better interest rates from the banks.
When you deposit money into Versa, the Fund Manager (Affin Hwang Asset Management) takes that large cash pool and negotiates for higher rates with multiple banks. The bigger the fund (larger deposits), the higher the negotiating power, and the better the chances of getting higher interest rates for you!
Versa is a low-risk option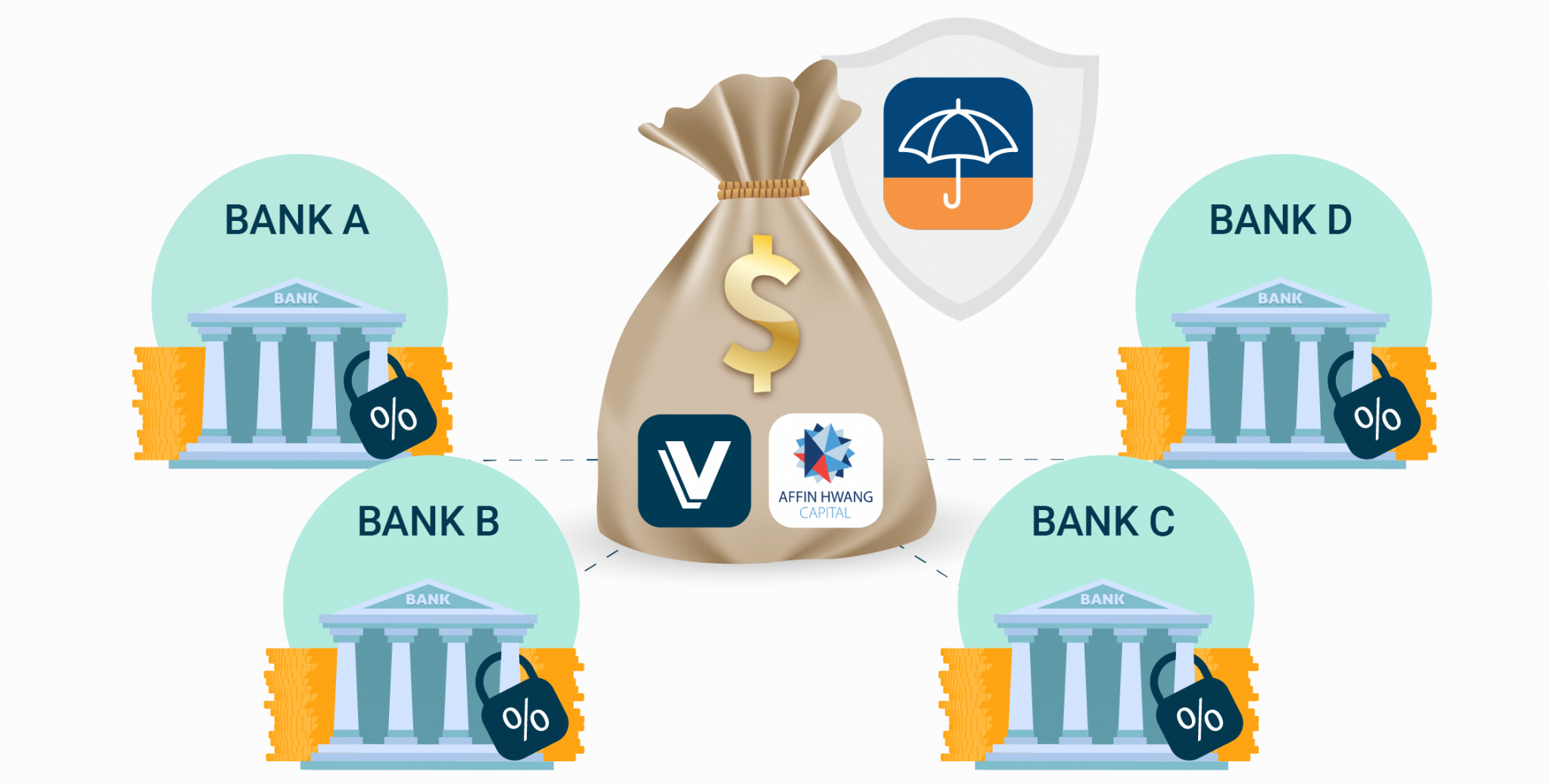 Money market funds are considered to be low-risk because they invest in highly liquid, short-term money instruments. They regularly harvest mature deposits and put new funds into new deposits allowing them to always stay liquid.
Unlike fixed deposits, money market funds are not protected by PIDM. However, your funds are being diversified in multiple deposits of different banks. In the case that one bank goes under, there would only be a slight change in the fund return.
Rest assured as our fund manager, Affin Hwang Asset Management, has never had a negative return in the past 10 years. Not only that, Affin Hwang Enhanced Deposit Fund has been rated 4 out of 5 stars by Morningstar, which is a reputable Investment Research website.
How to Sign Up?

Sign Up Versa with Referral Code JZQYJ8D6 and Get RM10 Reward
Copy Cosde and Sign Up for RM10 Reward
Follow these simple 10 steps and use our referral code JZQYJ8D6 to enjoy RM10 of Units. That's an instant 10% return on your investment.
Tap on this link: https://mypromo.my/versa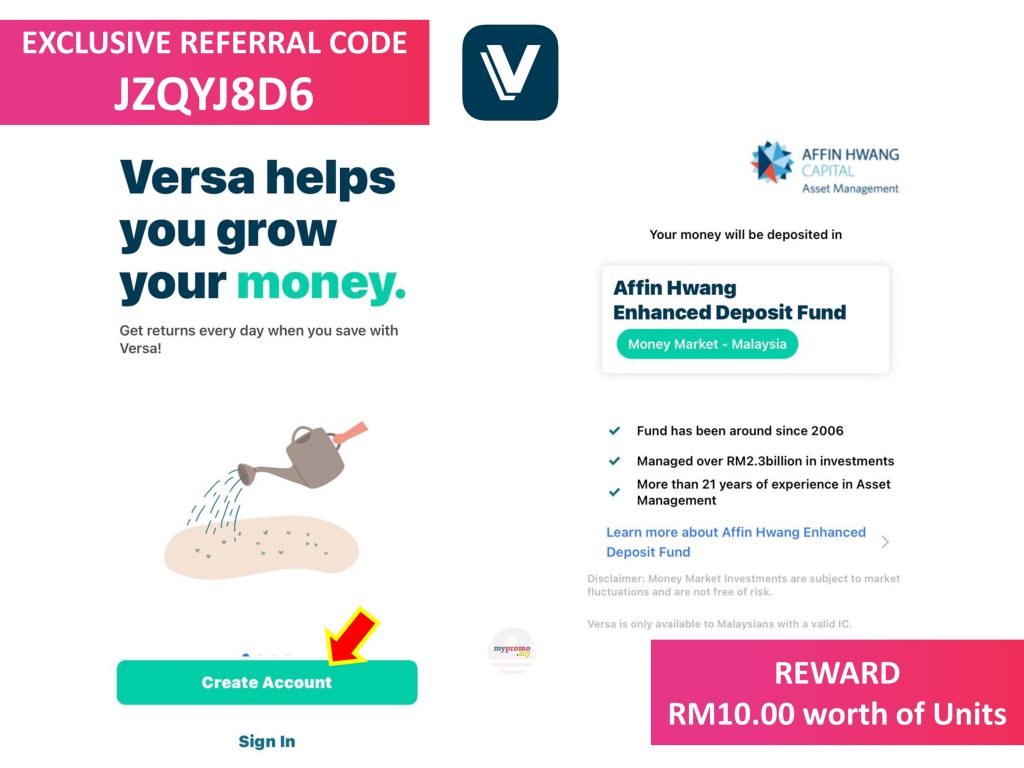 2. Download App and Tap to Open
3. Tap on Create Account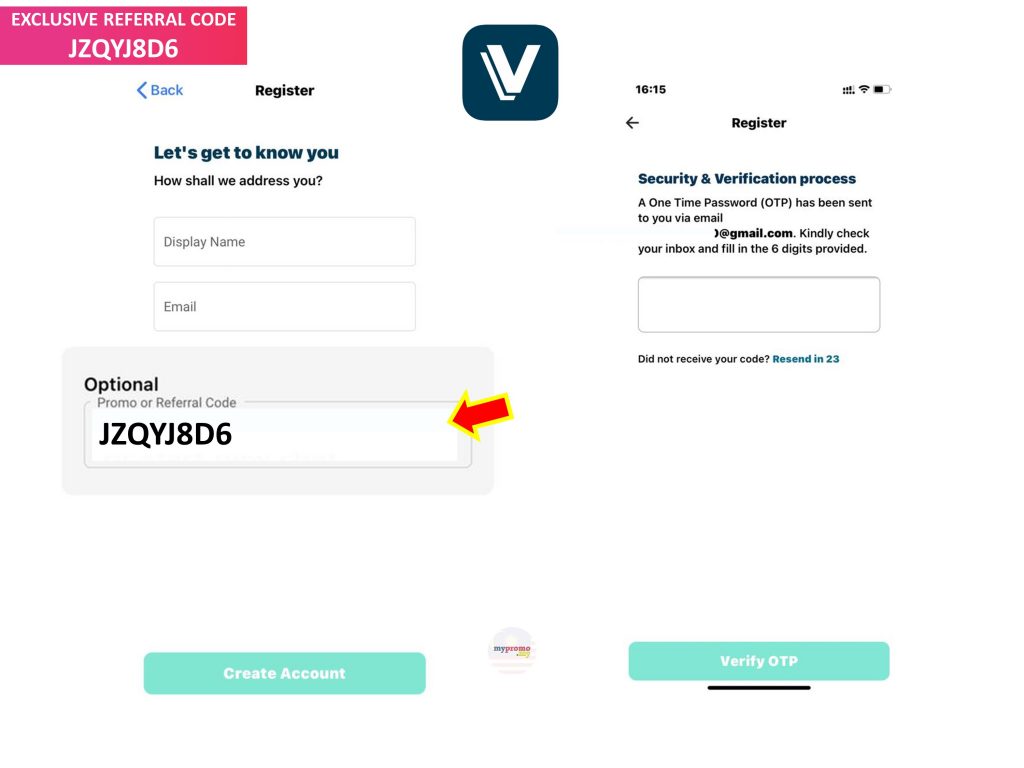 4. Key in your preferred Display Name and email address
5. Key in Promo or Referral Code: JZQYJ8D6
Important Step for

RM10 Reward!
6. Tap Create Account; key in OTP (sent via email) and Verify OTP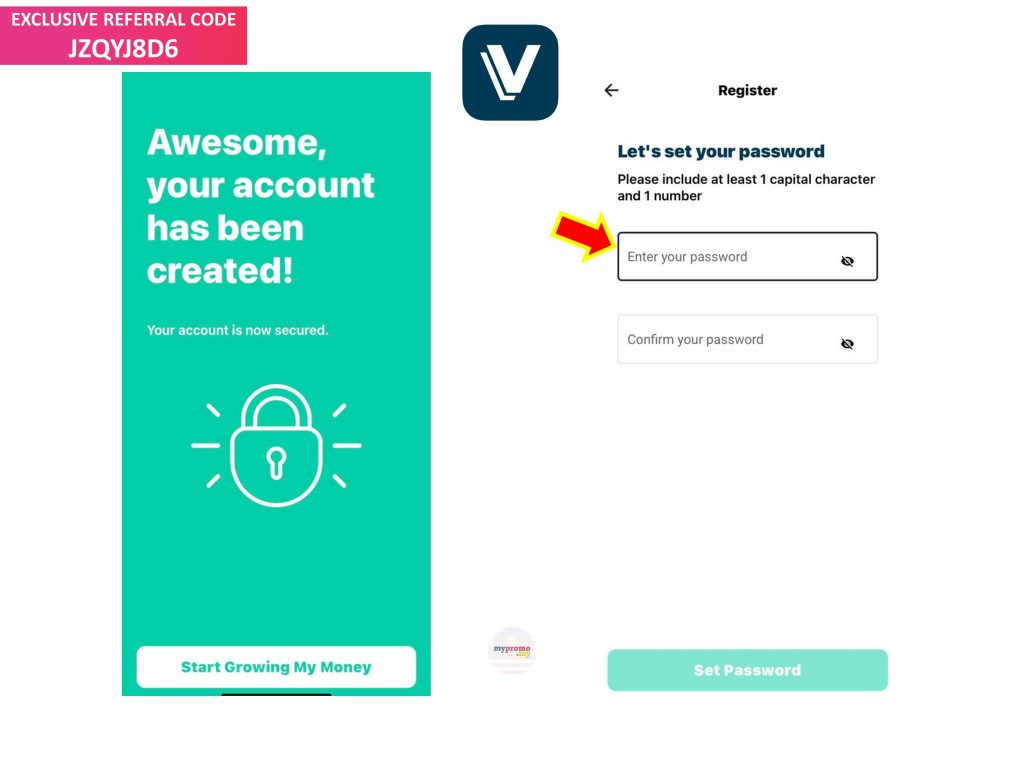 7. Set your Password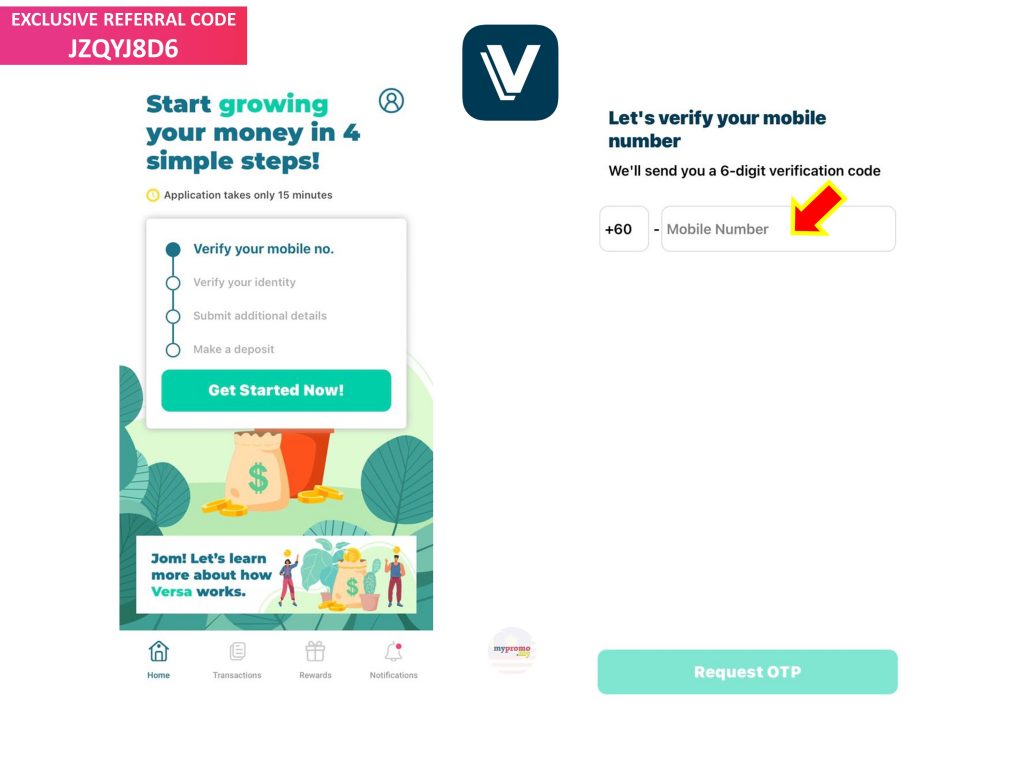 8. Next steps are all about Verification
> Verify your mobile number
> Verify your identity via Identity Card photos and a Selfie
> Submit additional details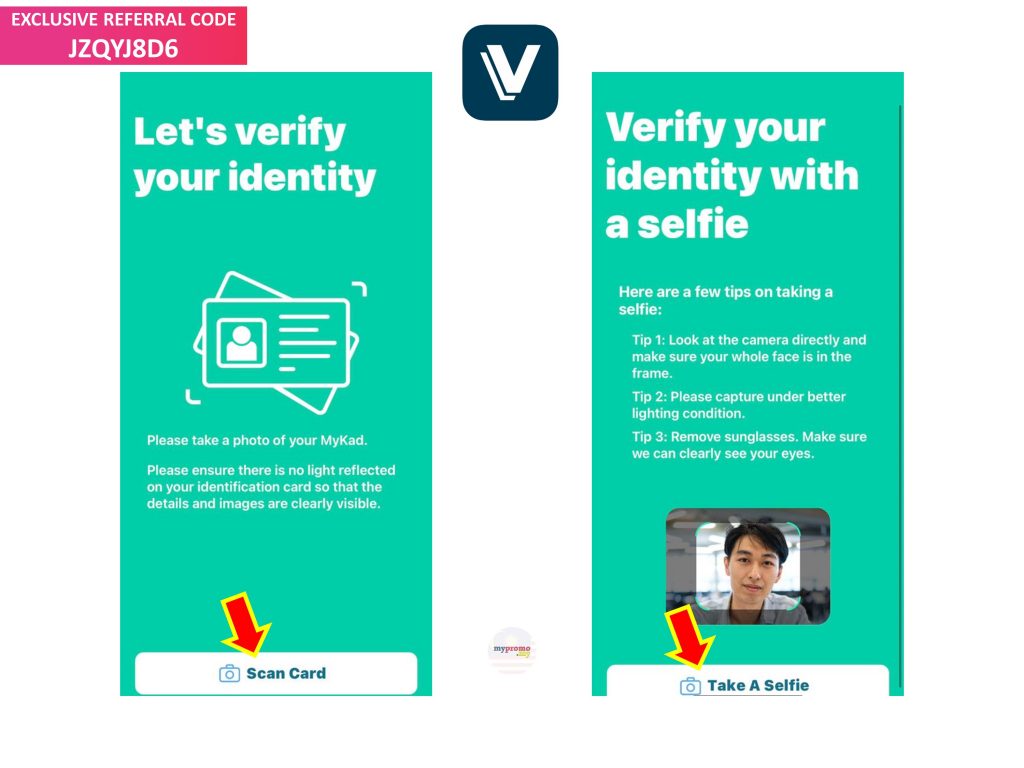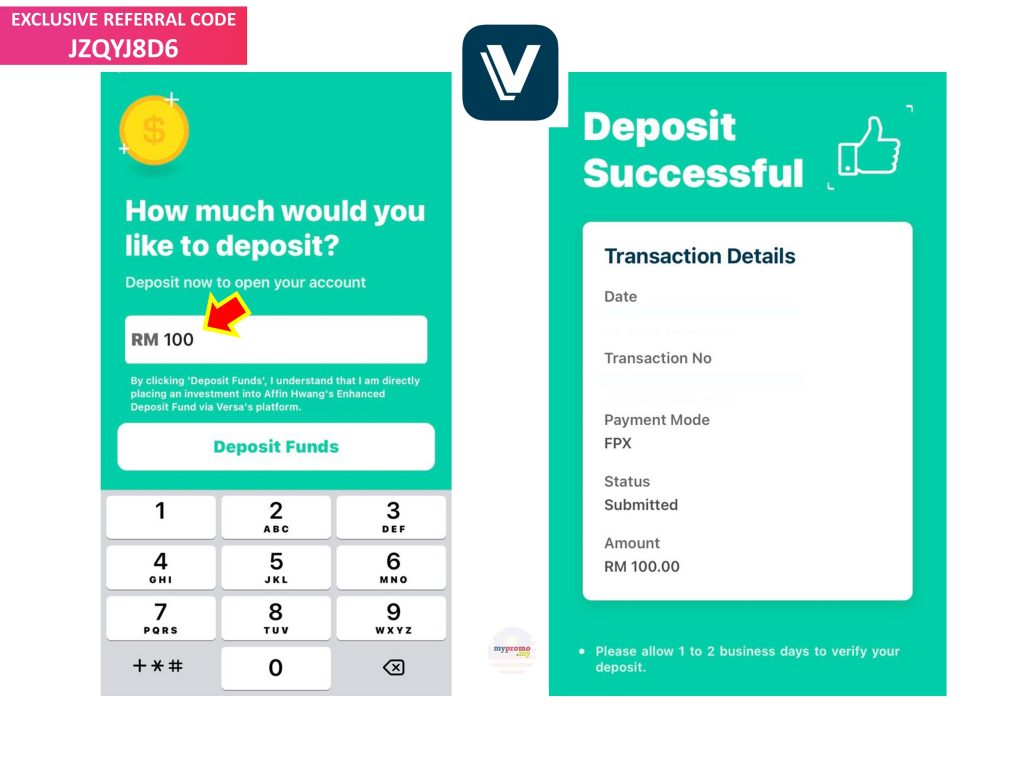 9. Ok, all set and done. Now it's time to deposit money to your account. Start with minimum RM100 to enjoy RM10 reward.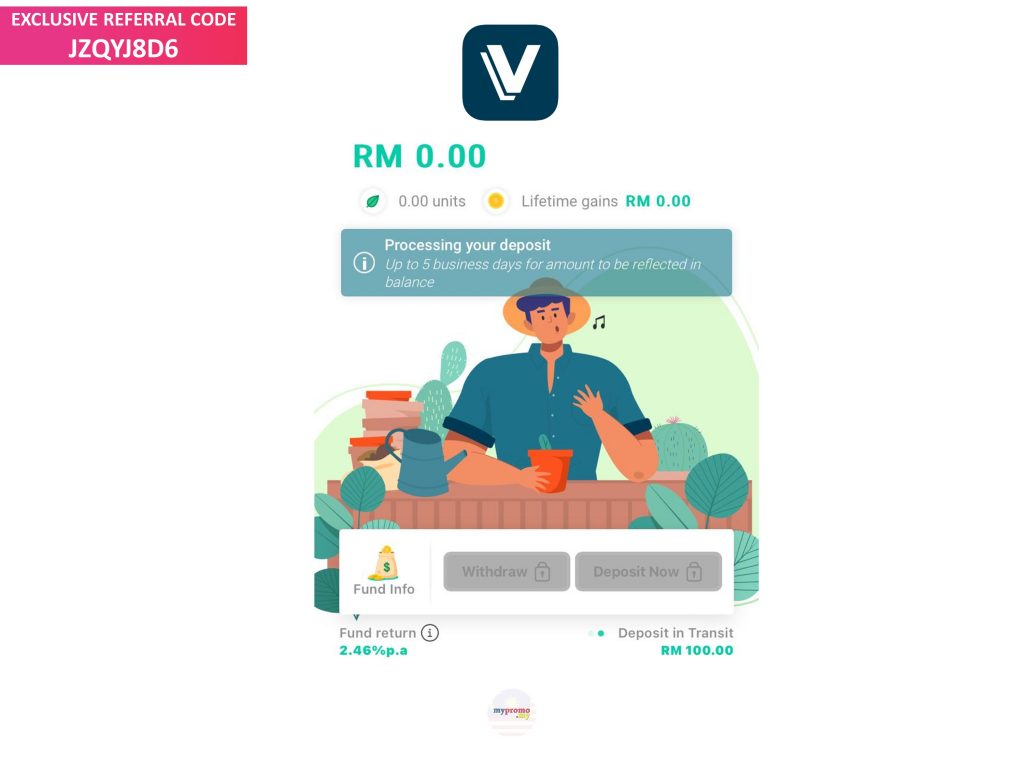 10. Done. They will verify your account and will take up to 5 business day for amount to be reflected in your balance.
Note: All investments involve some degree of risk!
Download Versa App

Sign Up Versa with Referral Code JZQYJ8D6 and Get RM10 Reward
Copy Cosde and Sign Up for RM10 Reward
Review
Pros
Unlike FD, you can get started with Versa with a deposit as low as RM100.
It is great if you want to park your money for short or long term. You do not need to commit to putting your money for certain period of time. You may withdraw your money anytime.
It gives very competitive interest rate of up to 2.0% p.a. or higher depending on the performance of Affin Hwang Enhanced Deposit Fund.
Cons
It takes Up to 3 business days for the deposit to be reflected in your account
And it takes 2 business days to reach your bank account if you withdraw
Wahed Invest
There is another investment platform that you may want to check out. Read about WAHED > https://mypromo.my/wahed-invest

Wahed Invest: Sign Up and Get RM20 Reward
10% Off Valentine's Day Flowers