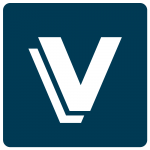 Versa – How to Withdraw Fund

Telegram Channel
Updated Daily with the Best Deals and Offers
Get all the best deals via our Social Media! Follow Us!
Withdrawing Versa fund is very easy. Versa is a new way of managing your money that is licensed by the Securities Commission Malaysia. The reviews and feedback have been convincing! Sign up today with our referral code and RM10.00 worth of Units!
If you already have fund with Versa and wish to withdraw, follow the steps below.
Steps to Withdraw Versa Fund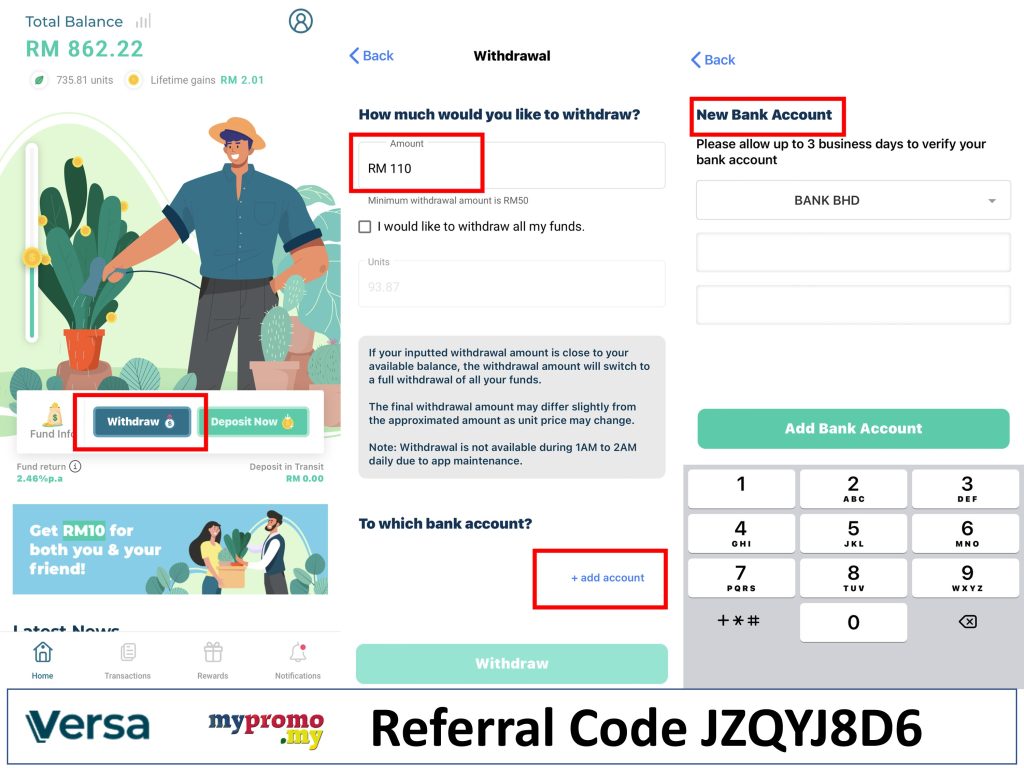 Step 1. Click the 'Withdraw' button on your dashboard.
Step 2. Select and link to your withdrawal bank account by clicking on "Add Bank Account".
Step 3. Enter the 6-digit OTP you received via SMS and click on "Validate OTP".
Step 4: Enter the amount that you wish to withdraw, select a bank account and click on the "Withdraw" icon.
Step 5. Enter another 6-digit OTP you received via SMS and click on "Validate OTP".
Step 6: You have successfully withdrawn from your Versa account!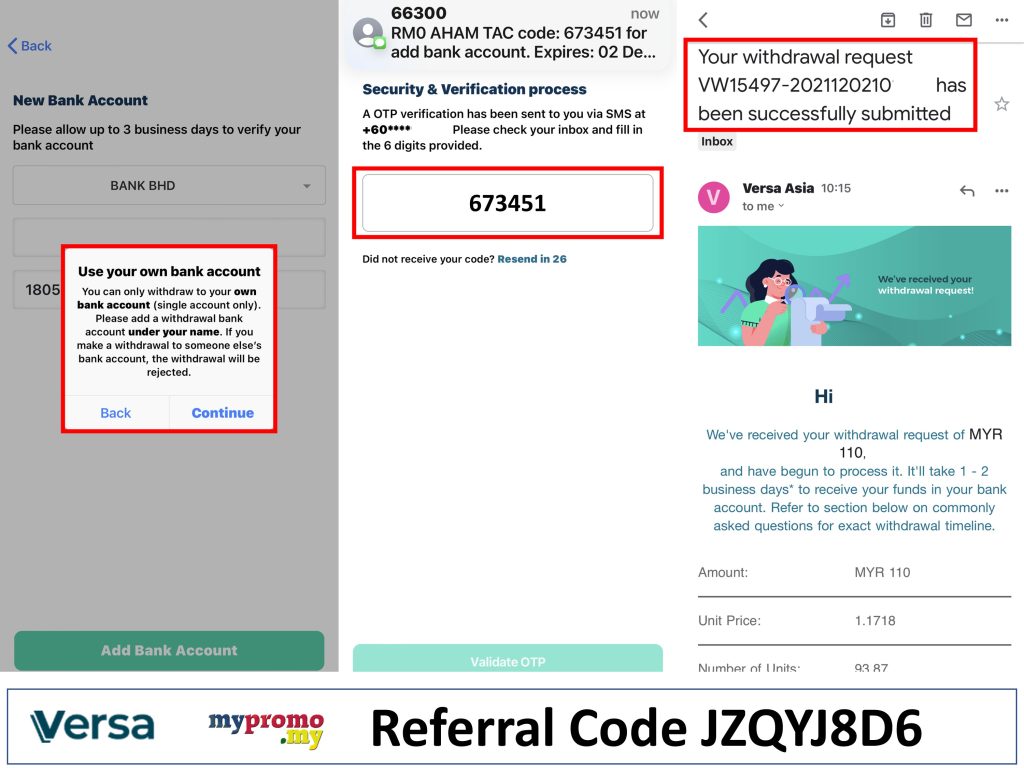 You will receive an email to confirm your request.
If submitted before 2.30 PM on a Business Day (Mon – Fri), the funds are expected to appear in your bank account by 11.59 PM* of the following business day
*Exact time for the amount to be reflected in your bank account may be earlier than 11.59 PM and varies as it depends on the processing time of the beneficiary banks.
Requests submitted after 2.30 PM and non-business day(s) will be processed on the next business day.
You may withdraw at any time with a minimum amount of RM50 for withdrawal. If you wish, you can withdraw all your fund – please select "I would like to withdraw all my funds." on the Withdrawal page.
What is Versa?
Versa is a digital cash management platform, is here to transform your sleeping cash into money-earning potential through return rates similar to the interest of a Fixed Deposit. With Versa, you can 'duit' your way and enjoy the freedom to withdraw your savings at any moment without penalties.
• Start saving with just RM100
• Earn FD like returns
• No lock-in periods, withdraw anytime
• No sales charges, no deposit/withdrawal or other hidden fees. No complications. No lock-in period.
How to Sign Up?

Sign Up Versa with Referral Code JZQYJ8D6 and Get RM10 Reward
Copy Cosde and Sign Up for RM10 Reward
Follow these simple 10 steps and use our referral code JZQYJ8D6 to enjoy RM10 of Units. That's an instant 10% return on your investment.
Tap on this link: https://mypromo.my/versa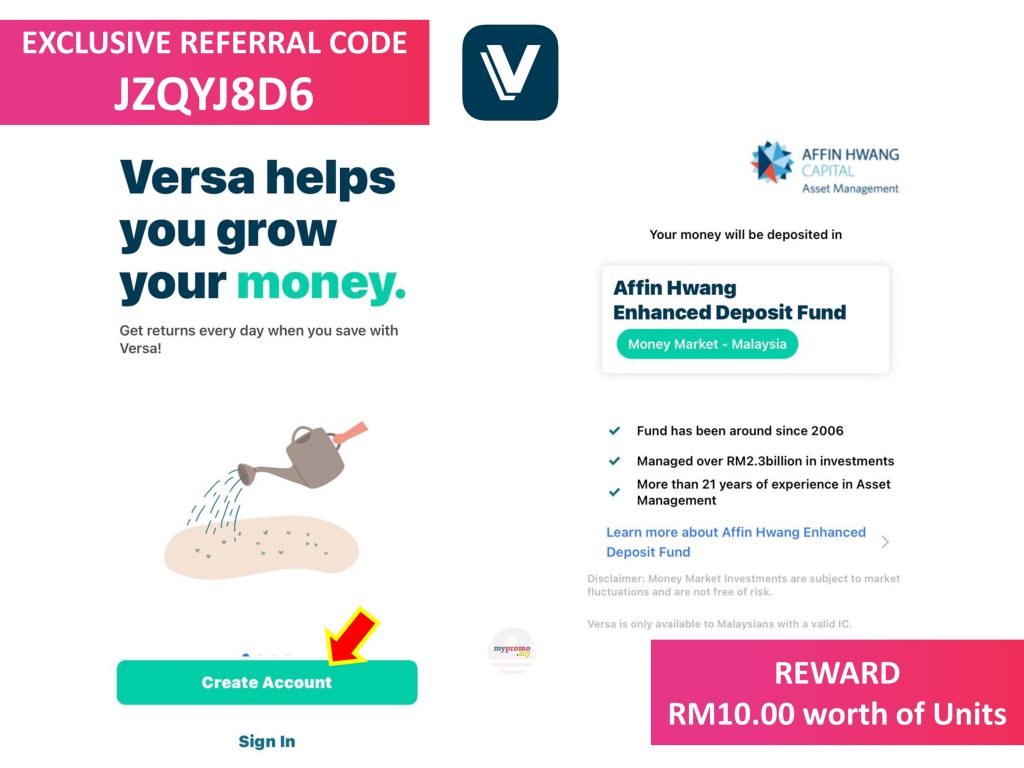 2. Download App and Tap to Open
3. Tap on Create Account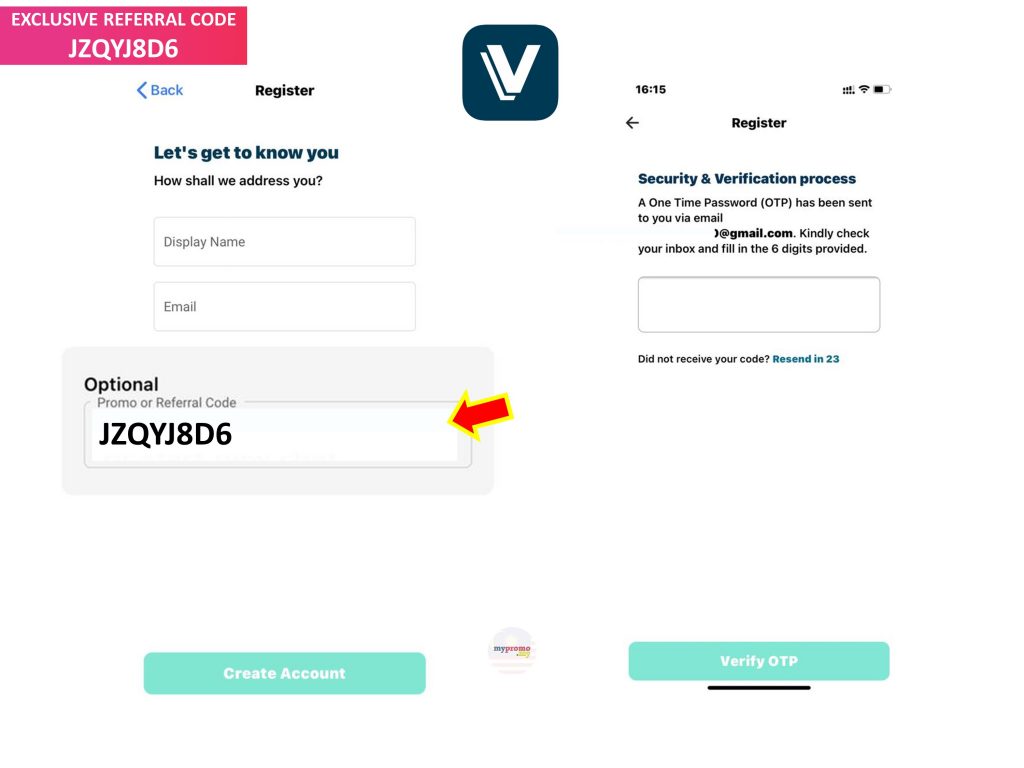 4. Key in your preferred Display Name and email address
5. Key in Promo or Referral Code: JZQYJ8D6
Important Step for

RM10 Reward!
6. Tap Create Account; key in OTP (sent via email) and Verify OTP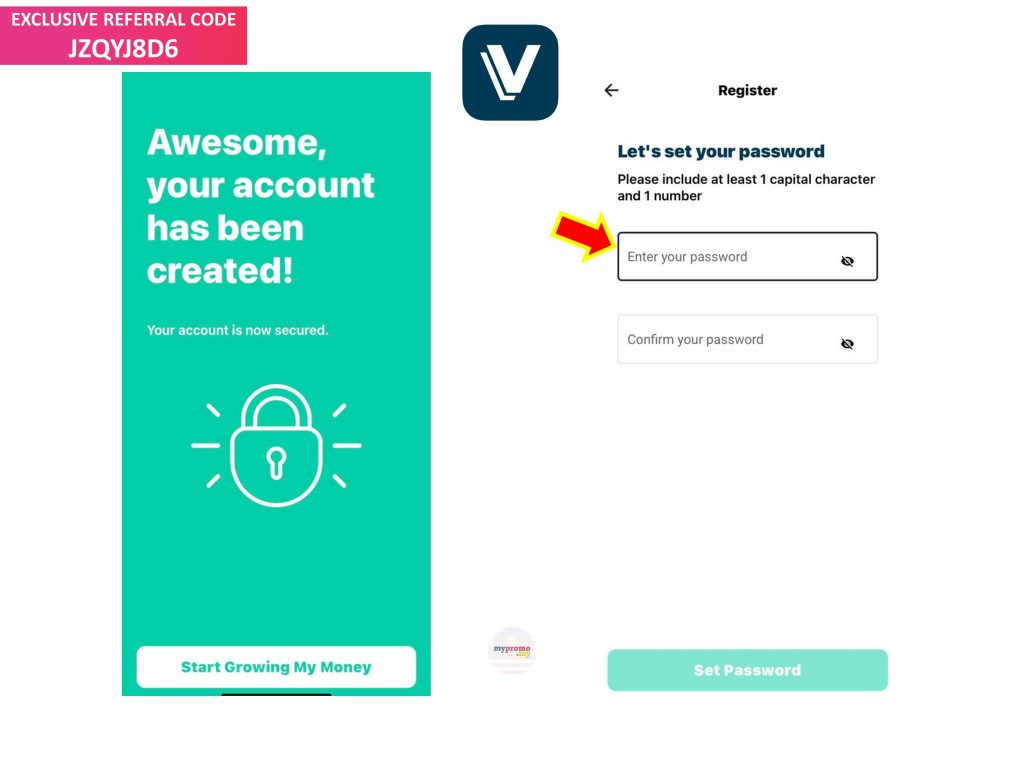 7. Set your Password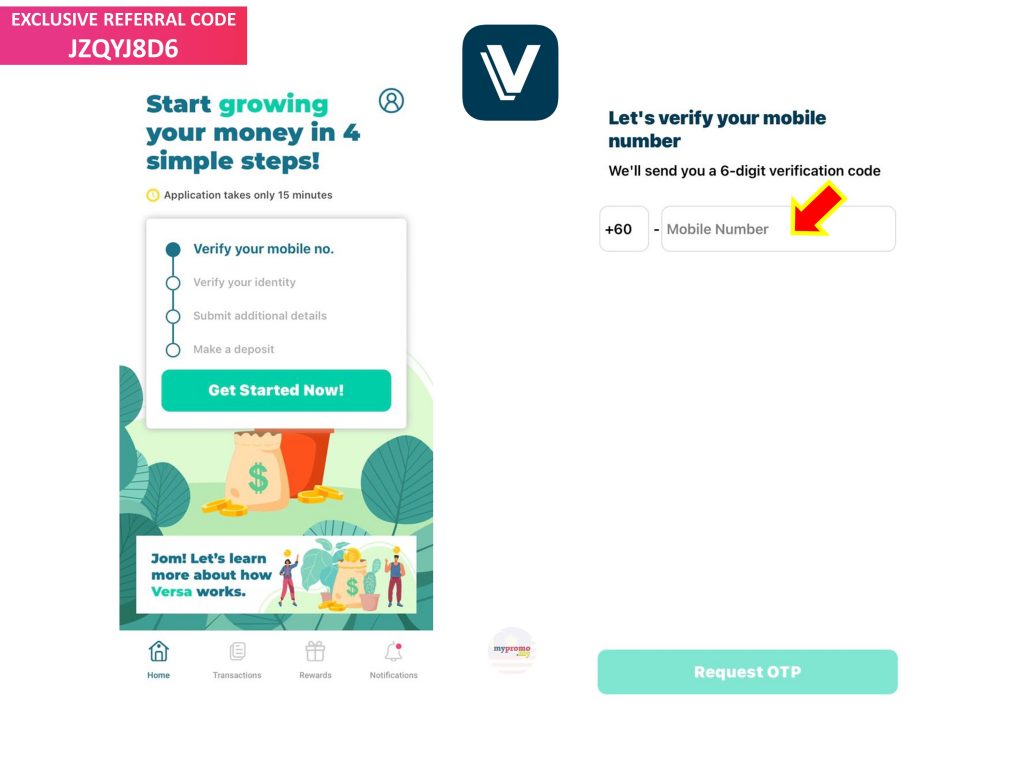 8. Next steps are all about Verification
> Verify your mobile number
> Verify your identity via Identity Card photos and a Selfie
> Submit additional details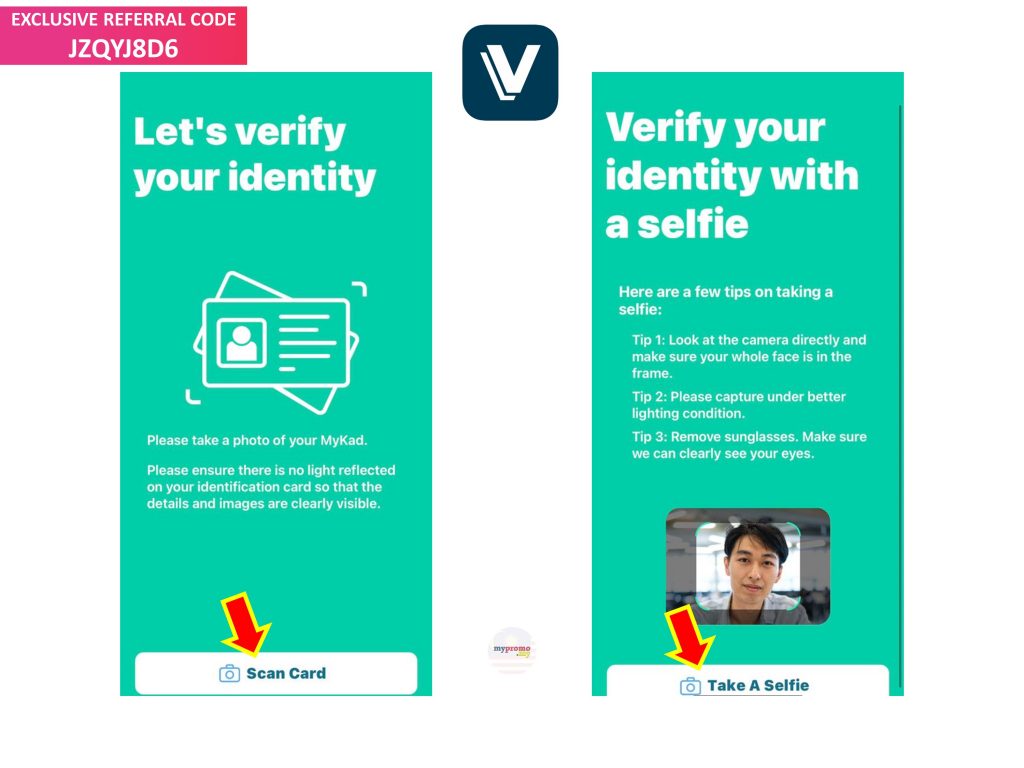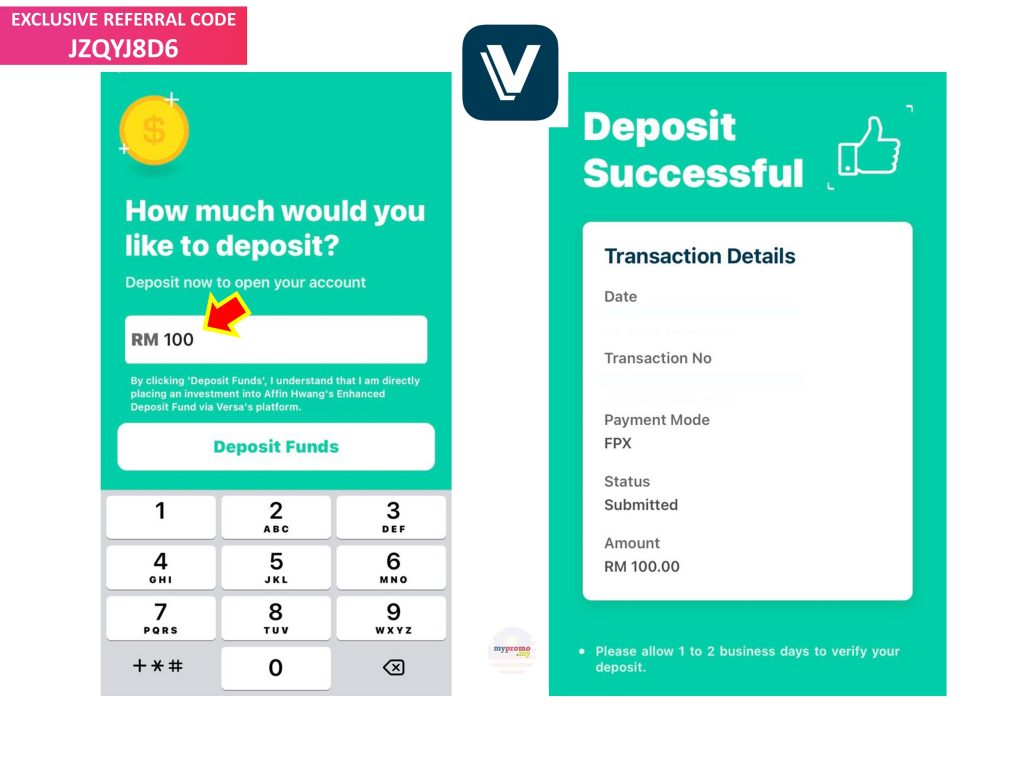 9. Ok, all set and done. Now it's time to deposit money to your account. Start with minimum RM100 to enjoy RM10 reward.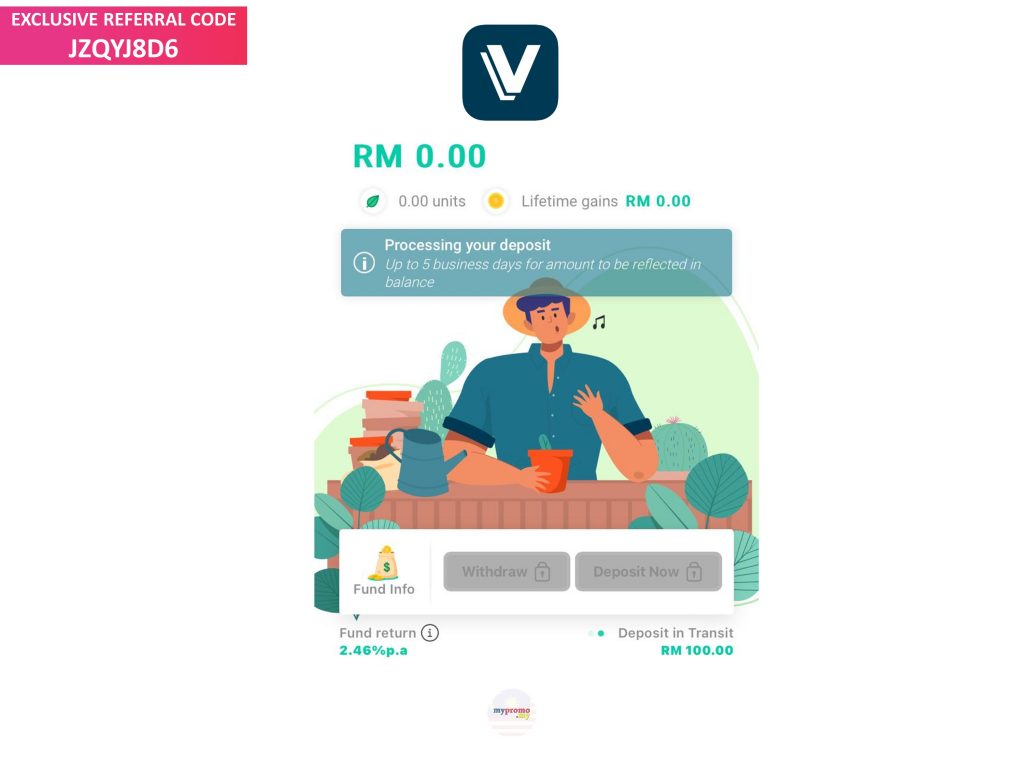 10. Done. They will verify your account and will take up to 5 business day for amount to be reflected in your balance.
Note: All investments involve some degree of risk!
Download Versa App

Sign Up Versa with Referral Code JZQYJ8D6 and Get RM10 Reward
Copy Cosde and Sign Up for RM10 Reward
Review
Pros
Unlike FD, you can get started with Versa with a deposit as low as RM100.
It is great if you want to park your money for short or long term. You do not need to commit to putting your money for certain period of time. You may withdraw your money anytime.
It gives very competitive interest rate of up to 2.0% p.a. or higher depending on the performance of Affin Hwang Enhanced Deposit Fund.
Cons
It takes Up to 3 business days for the deposit to be reflected in your account
And it takes 2 business days to reach your bank account if you withdraw
Wahed Invest
There is another investment platform that you may want to check out. Read about WAHED > https://mypromo.my/wahed-invest

Wahed Invest: Sign Up and Get RM20 Reward
mypromo Telegram Channel
Want to receive  daily promos and deals via Telegram?
Join Our Channel Today

All Are Welcome!
Sign Up for New Accounts and Get Rewarded

mypromo.my: Referral Codes Center
Get Rewarded When you sign up with Referral Codes