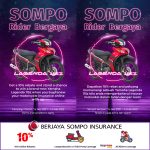 Berjaya Sompo x Motorcycle: Get 10% OFF + Chance to Win Yamaha Legenda 115z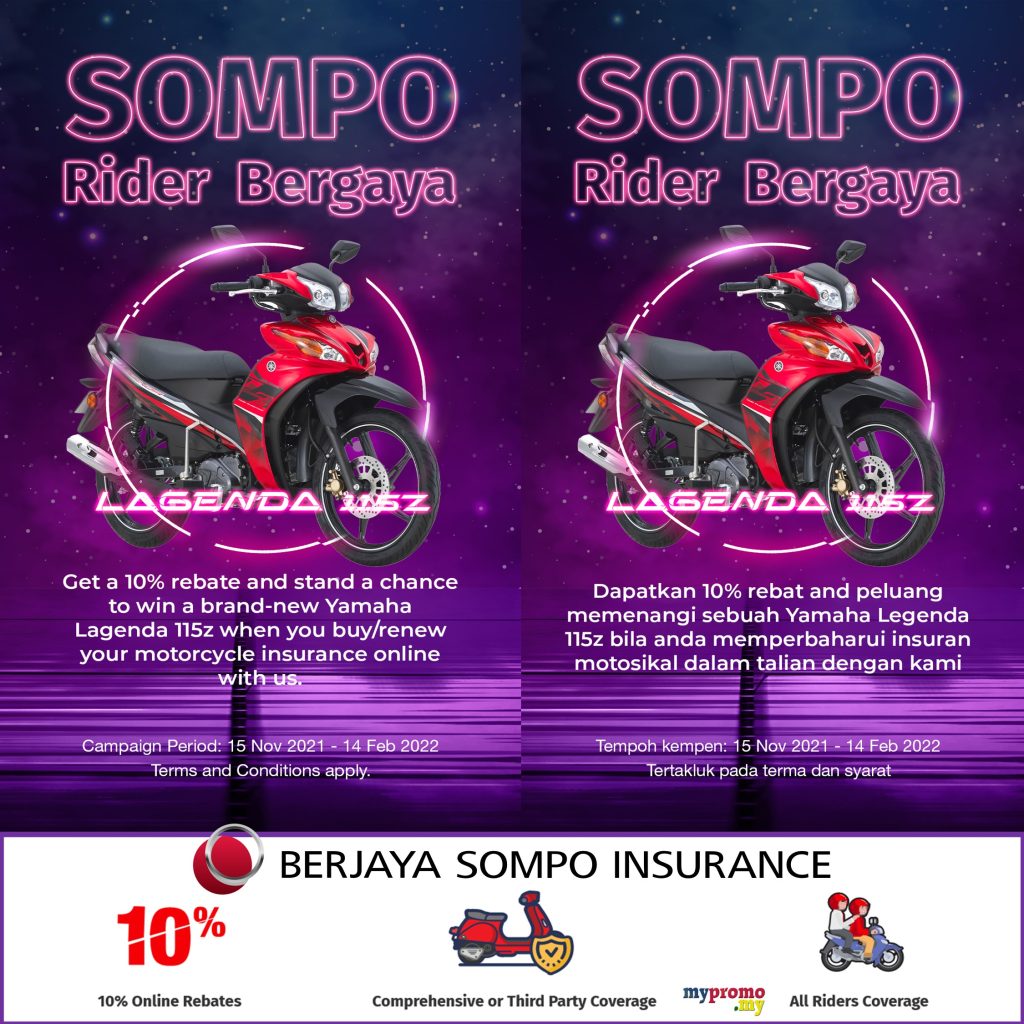 Berjaya Sompo Rider Bergaya Promotion: Get a 10% rebate and stand a chance to win a brand-new Yamaha Legenda 115z worth RM5,500 when you buy/renew your motorcycle insurance online with us.
Buy/Renew: https://mypromo.my/sompo-bike
Why SOMPO Motorcycle Insurance?

Renew Your motorbike Insurance online
Get 10% OFF and a chance to win Yamaha Legenda 115z worth RM5,500
• 10% Online Rebates
• Comprehensive or Third Party Coverage
• All Riders Coverage
• Chance to win Yamaha Legenda 115z
Berjaya Sompo Car Insurance Promotion!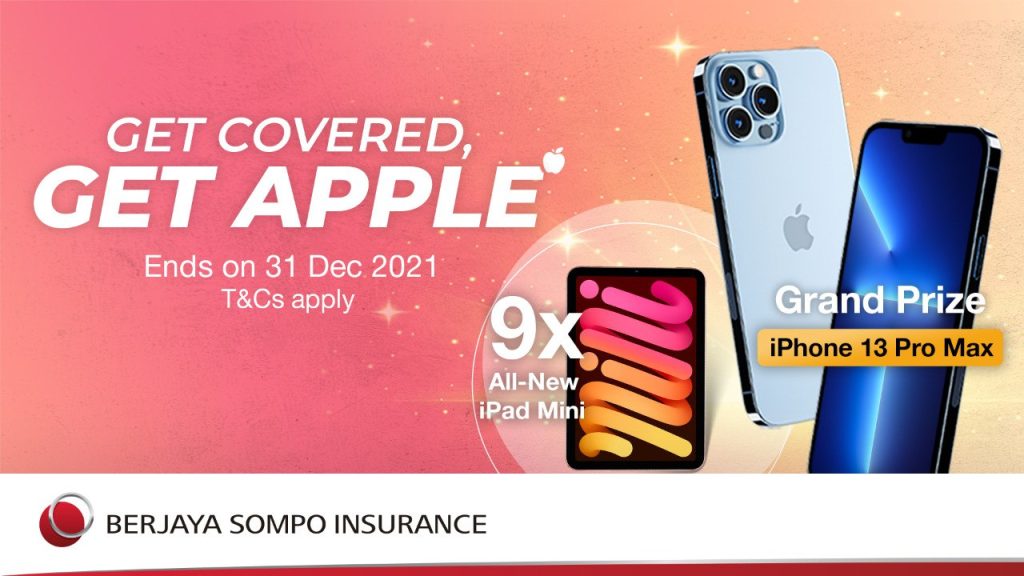 Renew Your Car Insurance online Now with Berjaya Sompo Insurance and enjoy 10% discount on your premium and Stand a chance to win incredible prizes worth over RM20,000, including an iPhone 13 and iPad Mini from now until 31 December 2021.
Double Combo deals Not To Be Missed. Is your car Insurance expiring soon? Here's a good reason for you to renew it now. Simply buy or renew SOMPO MotorNow car insurance online and enjoy additional 10% Special Discount.
So, What Are You Waiting For? Get Your Free Car Insurance Quote & Renew Online now.

Renew Your Car Insurance online
and Get 10% OFF Now
GET COVERED, GET APPLE CAMPAIGN
If you are new to Berjaya SOMPO Insurance, do you know that you could win prizes worth more than RM20,000? Simply buy SOMPO MotorNow Insurance then complete a survey form and you will be in the running to win the latest iPhone 13 Pro Max and iPad Mini from 1 October to 31 December 2021.
Campaign period: 1st October 2021 to 31st December 2021Campaign Prize:
Grand Prize: 1 X iPhone 13 Pro Max – 128GB
Monthly Prizes: 3 X All-New iPad Mini 6 – 64GB
Follow two simple steps to stand a chance to win attractive Apple products!
1: Buy/renew SOMPO MotorNow policy.
2: Give a suggestion for improvement at https://bit.ly/GetCoveredGetApple and be in the running to win an iPhone 13 Pro Max or an all-new iPad Mini.
Berjaya Sompo is dedicated to being one of the leading insurance service providers in Malaysia. As a global insurance leader, each of Berjaya Sompo clients is entitled to world-class services. Your protection is Berjaya Sompo's priority as they strive to provide the best and comprehensive range of general insurance solutions for individuals and corporation.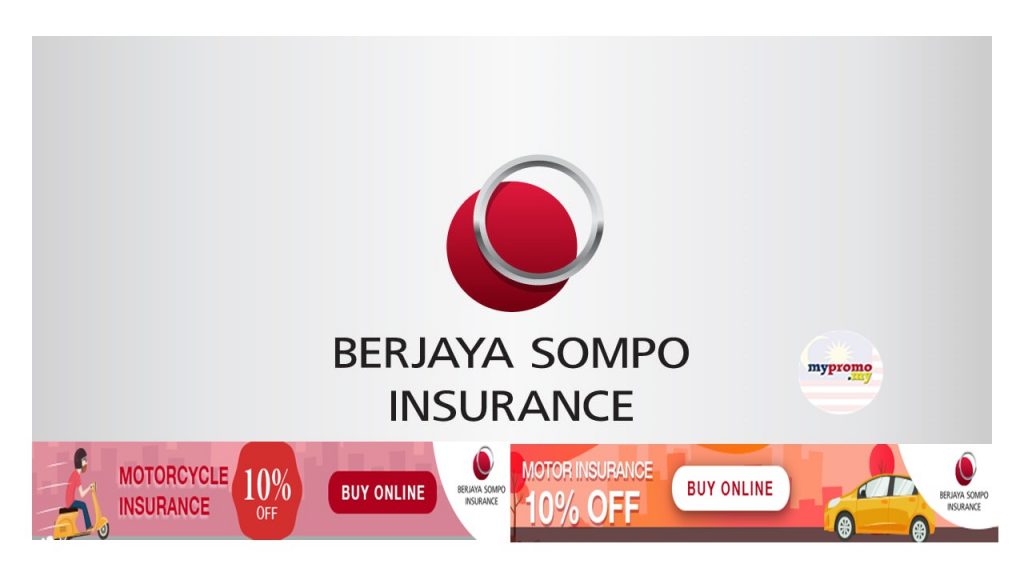 Get a Free Car/motorcycle Insurance Quote Within Seconds With Complimentary Flood Coverage.
Get Free Quotation: https://berjayasompo.mypromo.my
Why Berjaya Sompo?
10% rebate of payable Gross Premium
No need agent, just do it yourself online.
Easy and fast
Direct JPJ Link Website
Can renew your road tax through MYEG or post office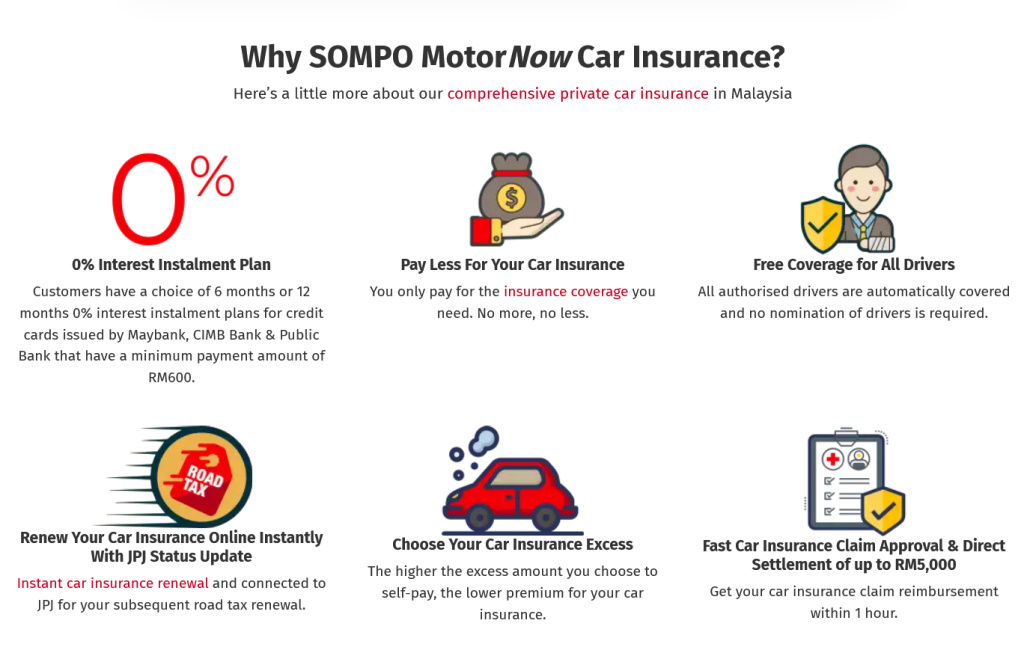 More Reasons:
Unlimited Named Drivers. Avoid Crowded Places. Instant Coverage. Cover Note in Email. Third-party Coverage. Personal Accident Add-On. Direct JPJ Link Website.
Benefits of getting your car insured with Berjaya Sompo
Extra savings on your private car insurance premium when you opt for voluntary excess. A voluntary excess is an amount you will have to pay upfront if you make a claim. Agreeing to pay a voluntary excess should lead to a lower annual premium.
Free Special Perils Coverage of up to RM10,000 at no additional cost.
Agreed Value of Sum Insured for your vehicle.
Free All Drivers Coverage – no need to name additional drivers.
Just follow these simple steps:

Renew Your Car/Motorcycle Insurance online
and Get 10% OFF Now
Step 1: Pick Car, Motorcycle or Travel quotation that you are interested in.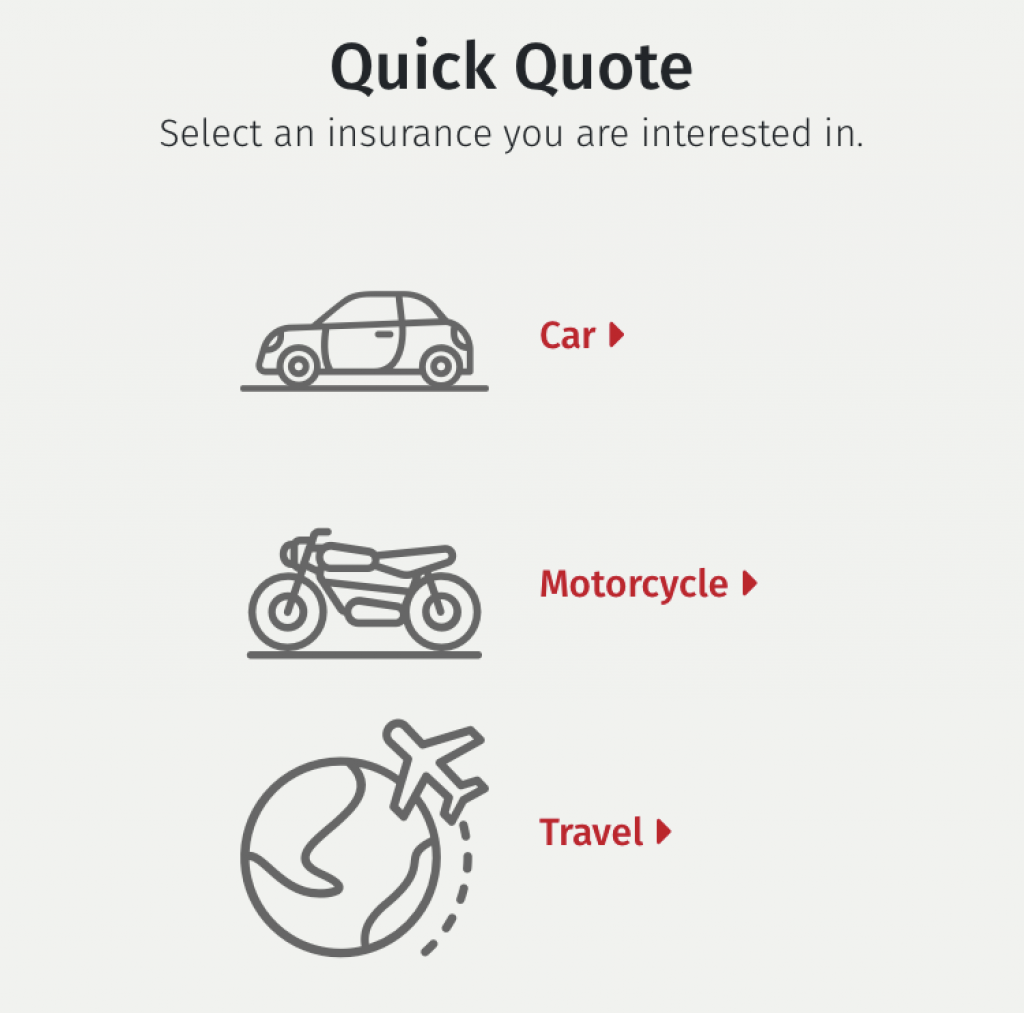 Step 2: Fill up your particulars as required and Tap "Get Premium"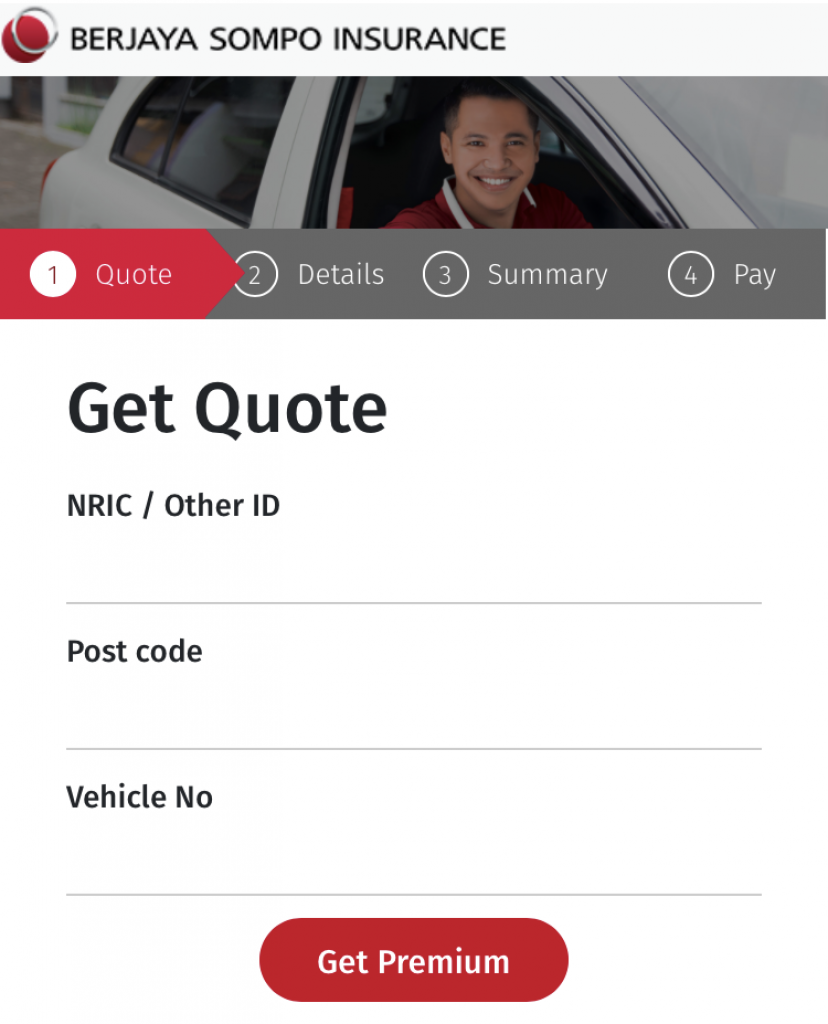 Step 3: Your Vehicle Details will appear and complete the details.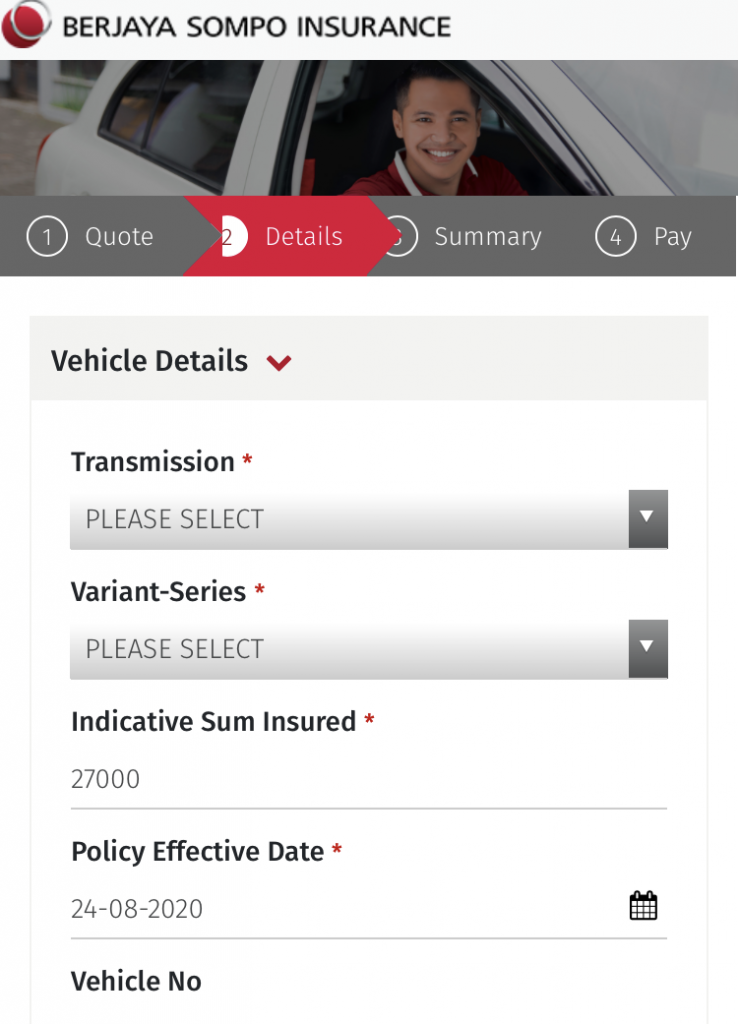 Step 4: Select Extra Coverage that suits you.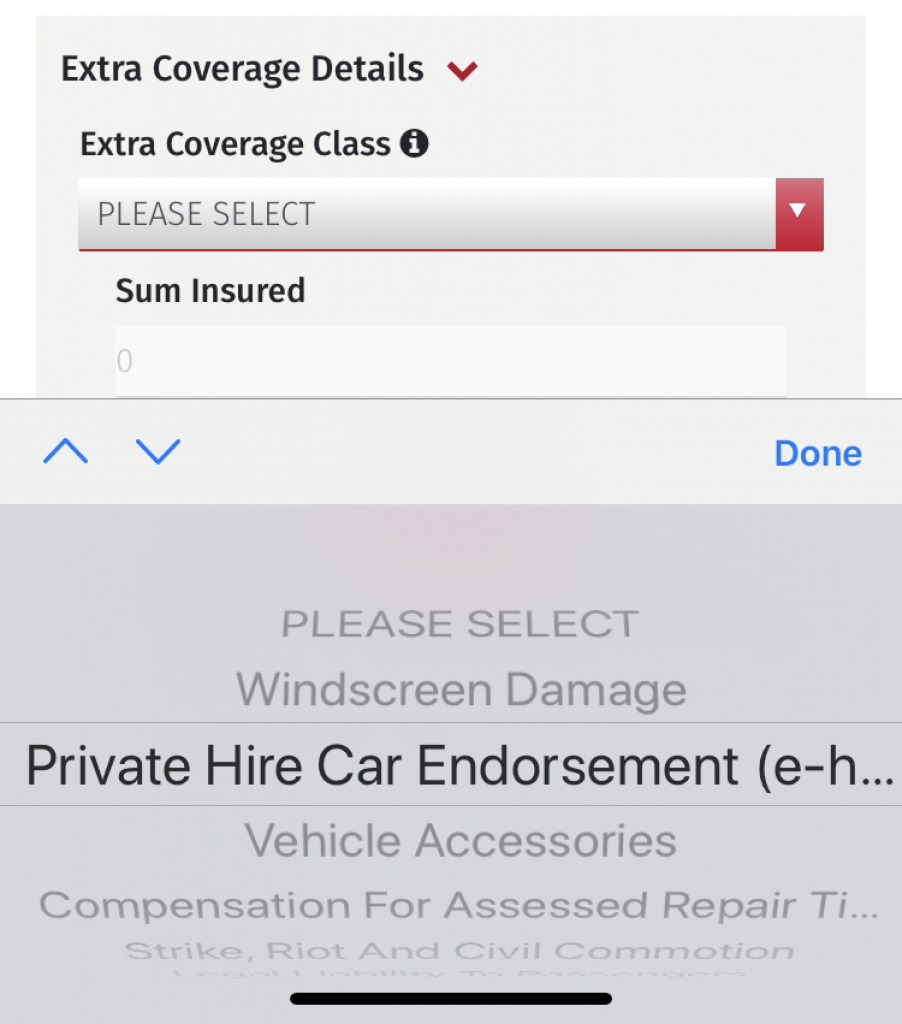 Step 5: Fill up Client Details
Step 6: Check the details and Pay
Berjaya Sompo will email you the Cover Note.
You can Renew your road tax easily at Post Office near you or get it delivered to you if you use MYEG service, as the insurance is Directly Linked to JPJ Website.
If you need help, just tap on "Chat with SOMPO Online"

Go to Shopee Promotion: https://mypromo.my/dealstore/shopee