Telegram Channel
Updated Daily with the Best Deals and Offers
Get all the best deals via our Social Media! Follow Us!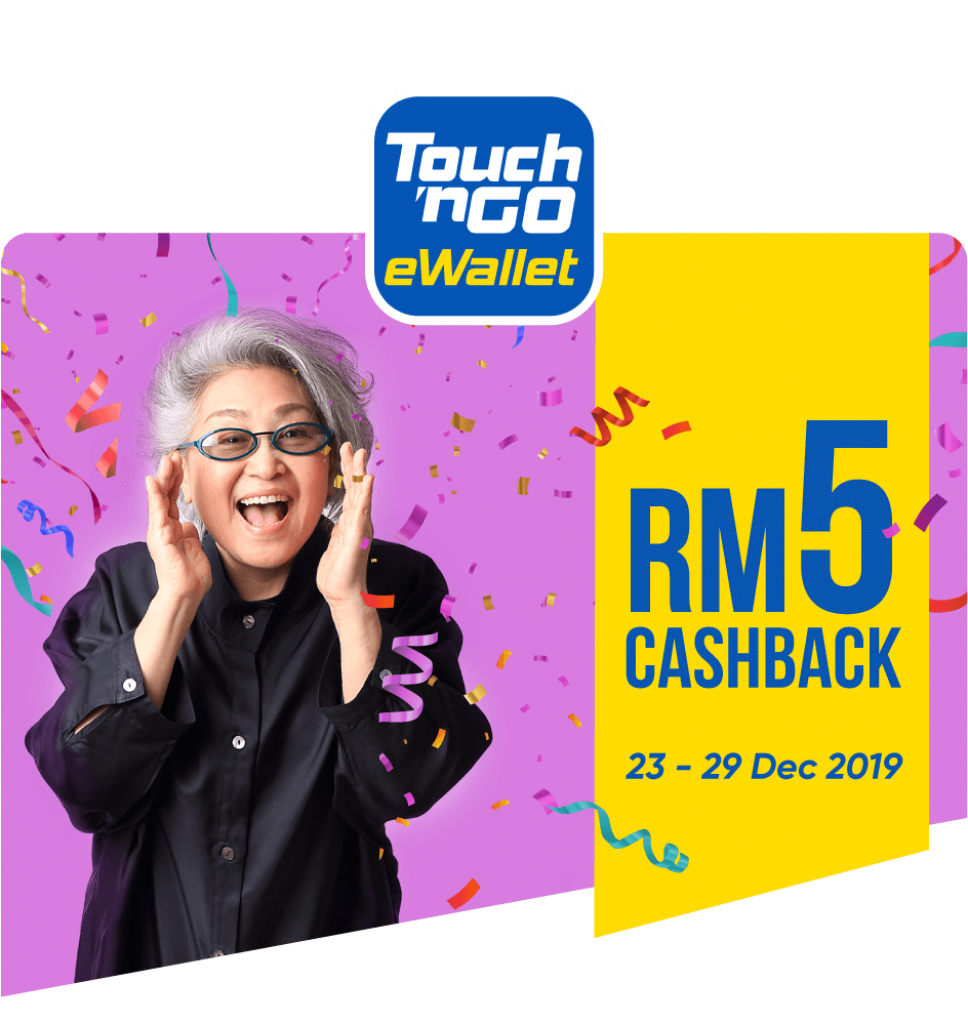 Reload a minimum of RM100.00 with your Debit Card and get RM5 Cashback in your Touch 'n Go eWallet! More rewards for your end year shopping!
Quickly reload with your Debit Card now to enjoy this.
Reload RM100, Get RM5 Cashback (Debit Card)
New to Touch 'n Go eWallet ?
Download the Touch 'n Go eWallet app now:
Campaign Terms & Conditions
The reload RM100, Get RM5 Cashback Campaign ("the Campaign") is organised by TNG Digital Sdn Bhd (201701042478) ("TNG Digital").
The Campaign shall run from 23 December 2019 to 29 December 2019, both dates inclusive ("Campaign Period").
The Campaign is open to Touch 'n Go eWallet users who have not used a Debit Card to reload their Touch 'n Go eWallet account ("Eligible Users").
During the Campaign Period, Eligible Users will get RM5.00 cashback ("Cashback") into their Touch 'n Go eWallet ("eWallet") when Eligible Users have successfully reloaded a minimum of RM100.00 into the eWallet with any Debit Cards ("Debit Card").
Each eWallet users is only entitled to receive ONE (1) Cashback worth RM5.00 throughout the Campaign Period.
The Cashback will be credited to the Eligible Users' eWallet latest by 3rd January 2020, Friday.
This Campaign will cease once the Cashback allocation of RM100,000 is reached or when Campaign Period ends, whichever earlier.
The Campaign is valid with any other vouchers, promotions and/or offers by TNG Digital.
Each Debit Card can only be used to reload ONE (1) Touch 'n Go eWallet account.
Any user who terminates their eWallet account during the Campaign Period shall be automatically disqualified and shall not be entitled to earn/use the balance Cashback eligibility and/or Cashback.
TNG Digital will not in any way contact Users for any personal information or account credentials for this Campaign.
TNG Digital shall be entitled to withhold any benefit under the services rendered, with or without prior notice to the users if the users are found to have been in breached of any TNG Digital's Users Terms and Conditions (https://tngd-web.oss-ap-southeast-3.aliyuncs.com/pdf/User-TC.pdf)
This Terms and Conditions shall be further subject to the General Campaign Terms and Conditions which can be found at https://www.tngdigital.com.my/general-terms-and-conditions.html .
mypromo Telegram Channel
Want to receive  daily promos and deals via Telegram?
Join Our Channel Today

All Are Welcome!
Sign Up for New Accounts and Get Rewarded

mypromo.my: Referral Codes Center
Get Rewarded When you sign up with Referral Codes