Telegram Channel
Updated Daily with the Best Deals and Offers
Get all the best deals via our Social Media! Follow Us!
You have purchased a new enhanced NFC Touch 'n Go Card (BUY TNG NFC card) or you may have several old Touch 'n Go cards which are DORMANT or INACTIVE and the cards may have some balance that you want to cash out. Now, you can easily request for a refund using Touch 'n go portal.
And the good news is you can request to receive the refund for your Touch 'n Go card/s through your Touch 'n Go eWallet.
The e-Refund form service is offered to customers who have registered their card at Touch 'n Go Portal. For those who have yet to register, kindly registering the card via the link: https://tngportal.touchngo.com.my/#login
Follow the Steps to get your money from your DORMANT or INACTIVE Touch 'n Go card to your Touch 'n Go eWallet.
Follow these simple steps.
Step 1: Go to: https://www.touchngo.com.my/customer-service/erefund/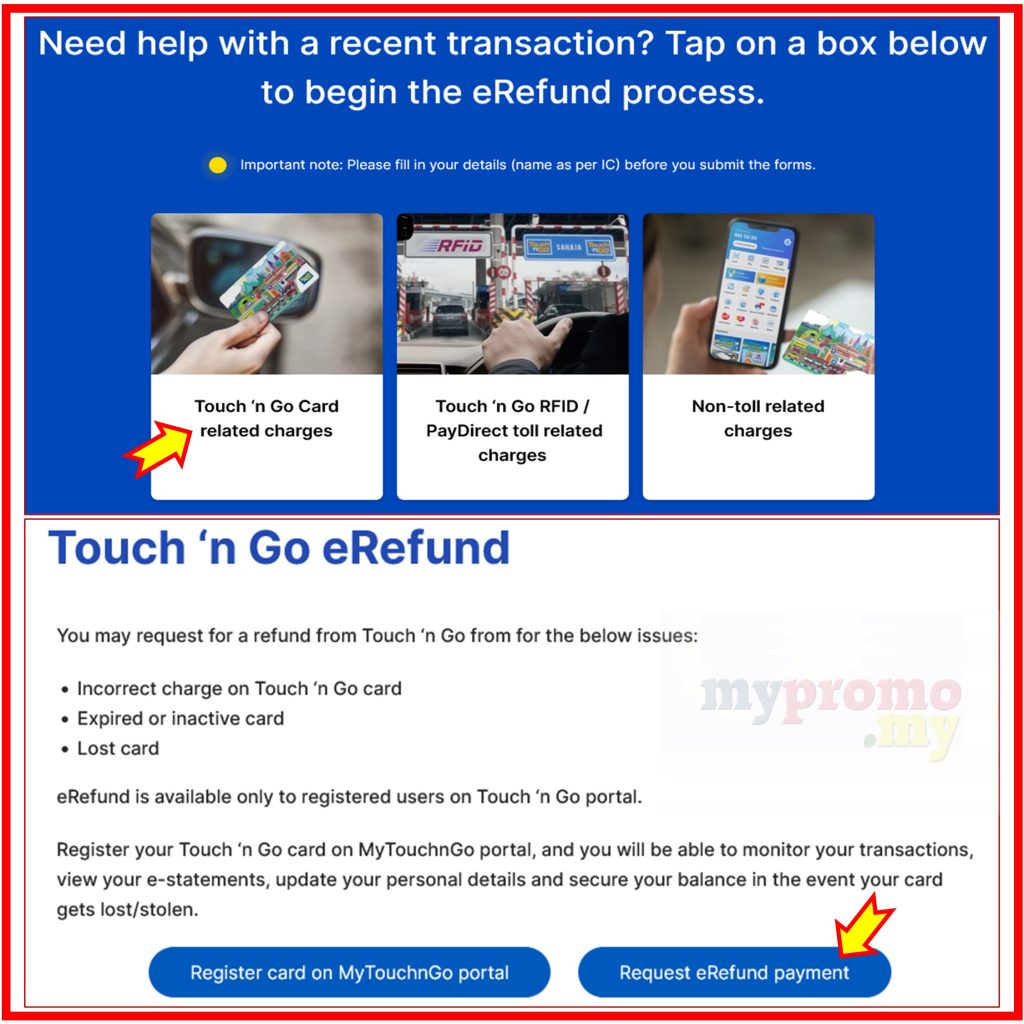 Step 2: Tap "Touch 'n Go Card related charges"
Step 3: Tap "Request eRefund payment"
Make Sure the card the card is registered on MyTouchnGo portal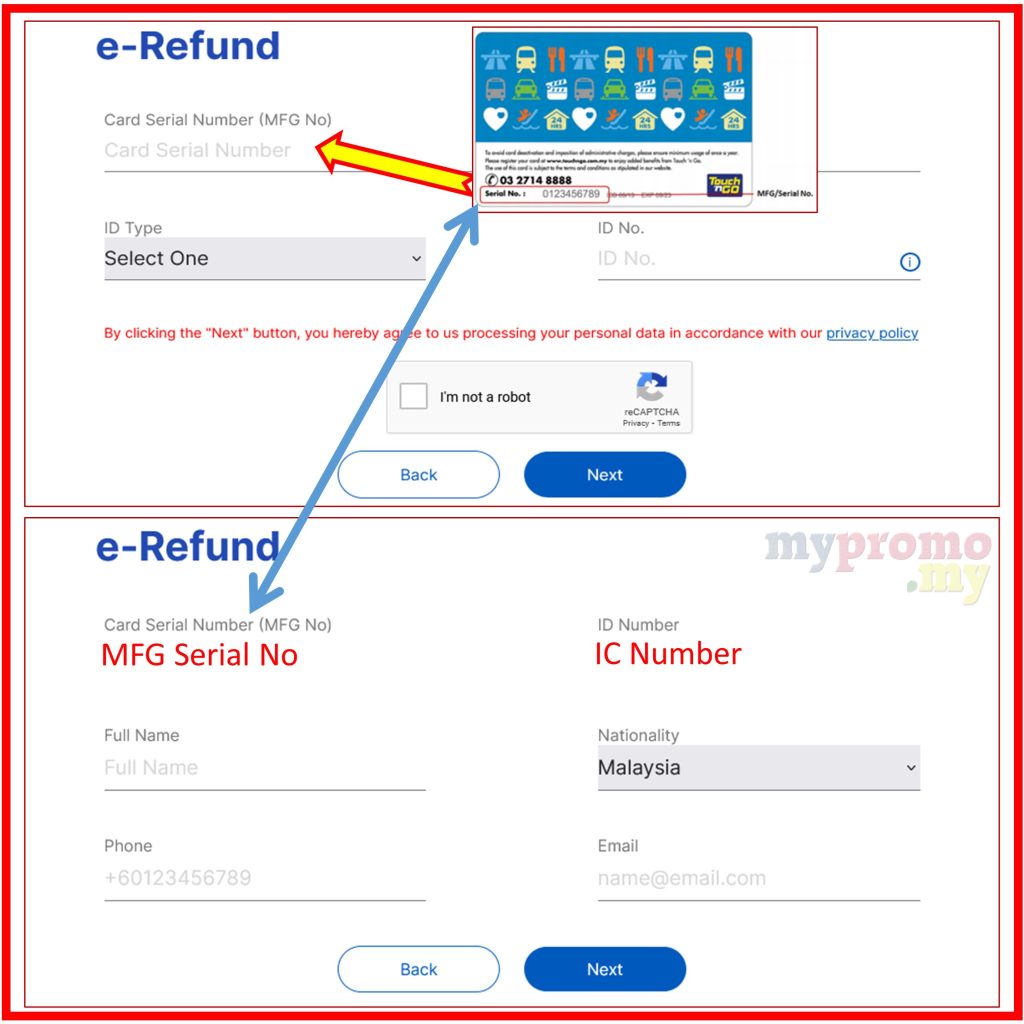 Step 4: Fill in
• Card Serial Number (MFG No)
• ID Type
• ID Number
Step 5: Fill in
• Full Name
• Phone Number
• email address
Step 6:
• Refund Request: Select "Card Termination"
• Reason Code: "Voluntary Termination"
Step 7: Refund Method
Select E-Wallet: Enter Account No
*Tap on your profile icon in the app. Tap "Edit Info" & answer the Security Questions. You can find your Wallet account number in "Wallet Account No"
Step 8: Submit
Receive confirmation via email
Refund payment will be processed within thirty (30) days from the date of submission of the refund request.
That is all. Easy steps to follow to get your erefund!
Buy TNG Reload PIN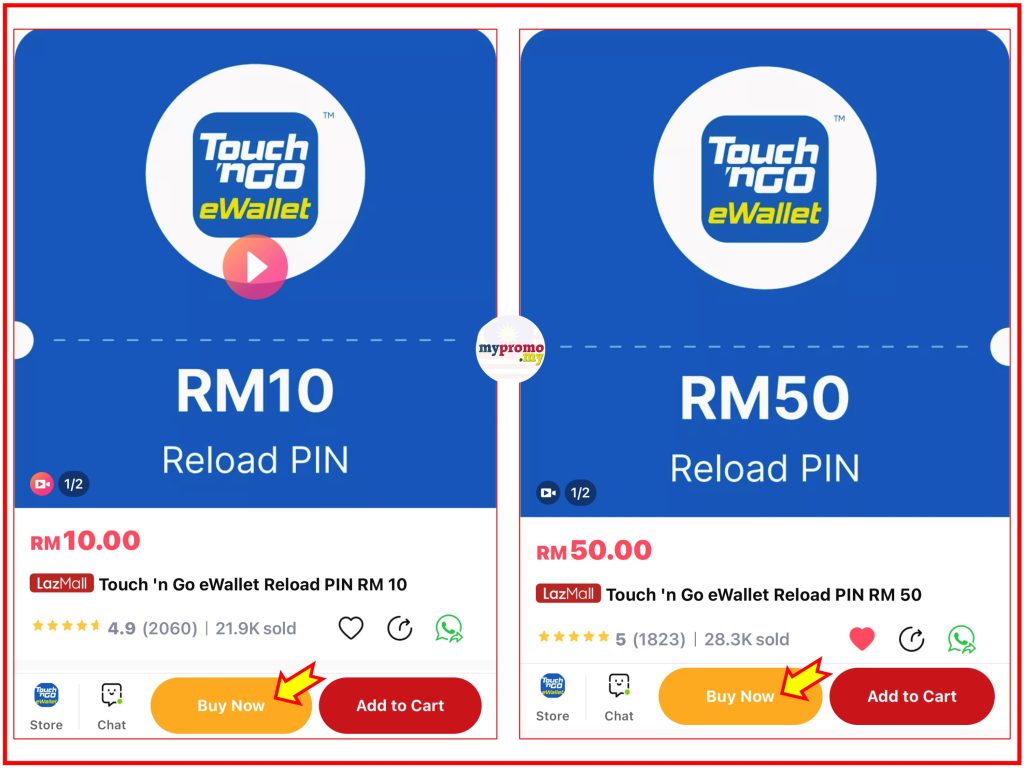 Buy Reload Pin from TNG eWallet Official Store on Lazada!
RM100: https://mypromo.my/laz/tngrm100pin
RM50: https://mypromo.my/laz/tngrm50pin
RM10: https://mypromo.my/laz/tngrm10pin
Benefits buying TNG PIN from Lazada:
Pay with credit card/TNG, earn credit points/rewards.
Buy from a trusted store [LazMall]
NO surcharge
mypromo Telegram Channel
Want to receive  daily promos and deals via Telegram?
Join Our Channel Today

All Are Welcome!
Sign Up for New Accounts and Get Rewarded

mypromo.my: Referral Codes Center
Get Rewarded When you sign up with Referral Codes