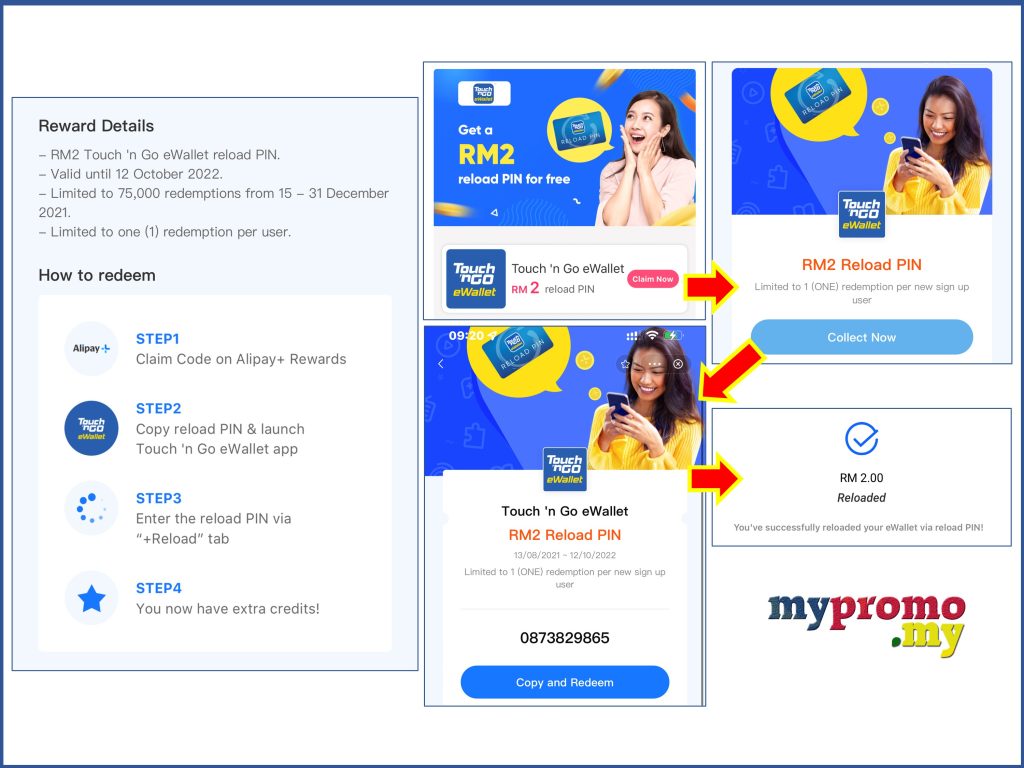 Sign up with Alipay+ today and enjoy RM2 TNG eWallet credit rewards. Limited to 1 redemption per new sign up user.
Follow these Steps
1 Tap on the link: HERE

2. Claim Code on AliPay+ Reward
3. Copy Reload PIN & launch Touch 'n Go eWallet app
4. Enter the reload PIN via "+Reload" tab
5. DONE! You now have extra credits.
Terms and Conditions for Alipay+ Rewards Promotion
Promotion period is from 15 December 2021 until 31 December 2021.
This promotion is open to all Touch 'n Go Wallet users who sign up with Alipay+ Rewards during the promotion period. Each user is eligible to claim ONE (1) RM2.00 Touch 'n Go Wallet Reload PIN.
The RM2.00 Touch 'n Go Wallet Reload PIN is limited to the first seventy-five thousand (75,000) eligible users during the promotion period. The promotion will cease upon the expiry of the promotion period or once all the rewards of M2.00 Touch 'n Go Wallet Reload PIN have been fully redeemed, whichever is earlier.
Each Touch 'n Go Wallet user who sign up with A+ Rewards during the promotion period is only entitled to ONE (1) RM2.00 Touch 'n Go Wallet Reload PIN throughout the promotion period.
The RM2.00 Touch 'n Go Wallet Reload PIN is valid for redemption until 12th October 2022 only. Requests to extend the validity of the expired Reload Pin will not be entertained.
By participating in this promotion, user agrees to adhere to these terms and conditions and agrees to be bound by these terms and conutions including any amendments or variations thereto as well as any decisions made by TNG Digital Sdn Bhd and/or Alipay Labs (Singapore) Pte Ltd ("Alipay")
These terms and conditions shall be further subject to the General Campaign Terms and Conditions which can be found at https://www.tngdigital.com.my./general-terms-and-conditions.
TNGD/Alipay shall be entitled to withhold any benefits under the services rendered, with or without prior notice to the users if the users are found to have been in breach of any TNGD's term and conditions. Please visit www.tngdigital.com.my for more information or inquiries.
Double Earning with ZCITY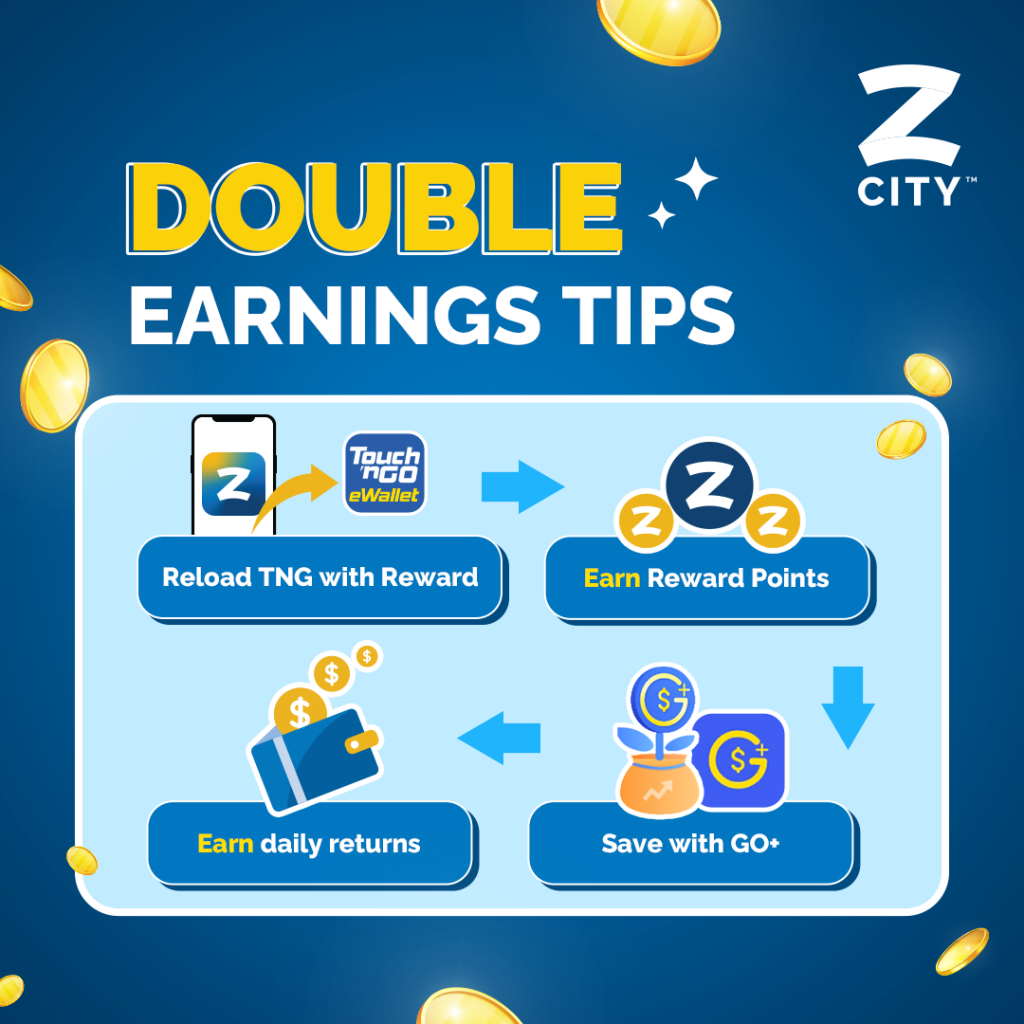 ZCITY will get you double earnings! If you're using Touch 'n Go eWallet, you probably might have noticed a new Go+ feature right? ​GO+ lets you enjoy returns credited daily and you only need RM10 to start this.
Why not reload your Touch'n Go eWallet pin via ZCITY before you cash in to your GO+ account?
You'll get these benefits when you reload your pin in ZCITY:
• Instant discounts for every pin reload
• Earn reward points for every successful transaction
And you're all set to earn more and more , double fold gains.
Sign Up Steps:
Step 1: Register via this link: http://mypromo.my/zcity
Step 4: Request for OTP, Enter OTP and Tap Sign Up.
DONE, very simple to register.
Details on how register ZCity
>>> https://mypromo.my/sign-up-zcity