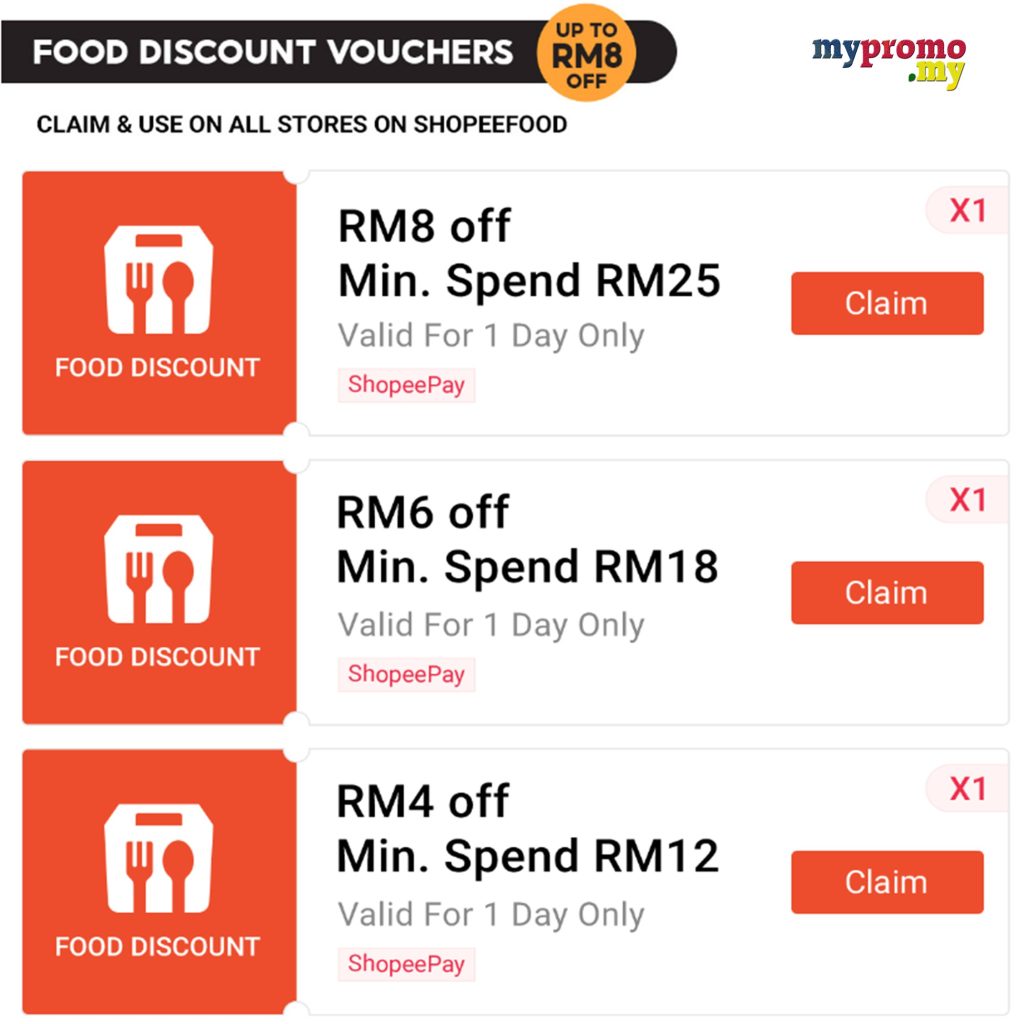 ShopeeFood is a food delivery service for you to place your food orders to be delivered to your doorstep by our ShopeeFood delivery riders. With ShopeeFood, you can claim free delivery vouchers with absolutely no minimum spend (yes, that means RM0!)
Claim ShopeeFood Vouchers


Telegram Channel
Updated Daily with the Best Deals and Offers
Get all the best deals via our Social Media! Follow Us!
Follow these steps:
Step 1: Claim your Free Delivery and Food Discount Vouchers
Step 2: Select your items from the menu
Step 3: Apply your vouchers & checkout. Sit back, relax & get ready to enjoy your food.
Satisfy Your Cravings With ShopeeFood Delivery Promos Only On Shopee Malaysia This 2021!
Craving for delicious food but don't want to blow a hole in your wallet? With ShopeeFood, you don't have to worry about that anymore! If you live in Klang Valley, you can enjoy deals for your next online food delivery orders this 2021 and beyond. We have ShopeeFood Free Delivery vouchers with no minimum spend, exclusive food discounts, restaurant vouchers to help you save on your next meal!
Enjoy ShopeeFood Free Delivery Vouchers For Every Order And Exclusive Discounts!
Free Delivery, No Minimum Spend
Treating yourself to your favourite snacks doesn't have to be a once-in-a-blue-moon thing. With ShopeeFood, you can claim free delivery vouchers with absolutely no minimum spend (yes, that means RM0!) so you can indulge to your heart's content without breaking the bank. These free delivery vouchers on Shopee Malaysia are applicable for any F&B outlets within a 3km radius from your location. On top of that, come back every Monday to claim 7 new ShopeeFood free delivery vouchers every week!
Up To RM8 Off Vouchers
Don't forget to combine your ShopeeFood free delivery vouchers with food deals and vouchers from restaurants around you. This includes F&B outlets like Tealive, Nandos, llaollao, A&W, Sushi King, and more. Redeem these ShopeeFood vouchers to enjoy discounts up to RM8 off with a minimum spend of as low as RM8! So, whether you're in the mood for a chocolate croissant, an ice cream cake, or a simple cup of coffee from Starbucks, you can always have them delivered to you with a discounted rate on your total bill and without a delivery fee!
Discover The Best Online Food Delivery Promos On ShopeeFood & Other Perks On Shopee Malaysia
So many exciting ShopeeFood delivery promos await you, so make sure to activate your ShopeePay e-wallet to utilise these benefits! ShopeePay users can enjoy more perks including special deals during ShopeePay Day Sale taking place on the 1st of every month. When you're out and about, don't forget to check out our Deals Near Me page for ShopeePay-exclusive offline vouchers applicable for various F&B outlets, services, health & beauty parlours, and more.
Aside from restaurant vouchers and deals for your online food delivery orders, there are other perks and benefits of using ShopeePay when you shop online too! For instance, you can enjoy better savings when you stock up on groceries from Shopee Supermarket, repurchase your skincare empties, and more during our monthly big sales like the 10.10 sale, 11.11 sale, and 12.12 sale!
CIMB x ShopeeFood Voucher Code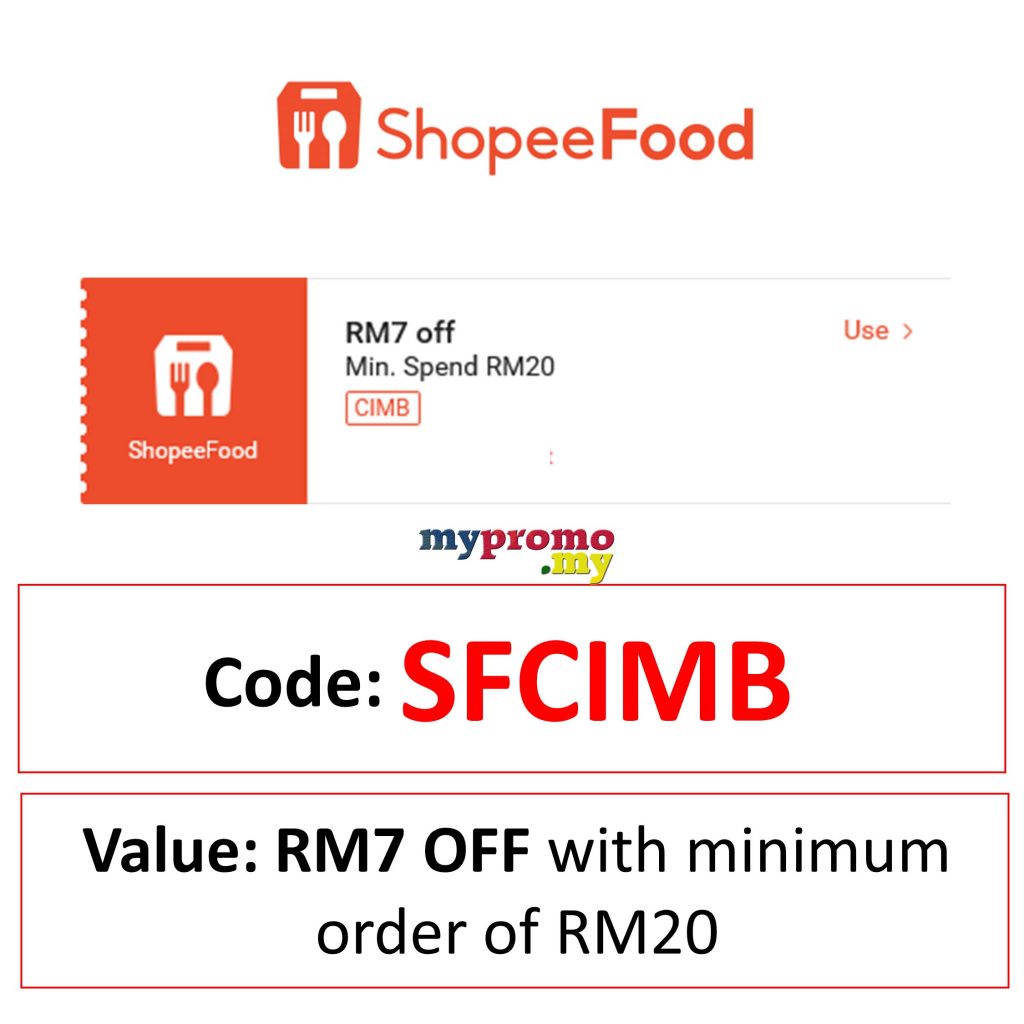 Details: https://mypromo.my/shopeefood-x-cimb-vouchers/
RM7 OFF with minimum order of RM20
– Promo code: SFCIMB (Capped to the first 500 redemptions on 24, 25 & 26 November 2021 only).
RM7 OFF with minimum order of RM12
– Promo code: SFDCIMB (Capped to the first 500 redemptions on 27 & 28 November 2021 only).
Check out foodpanda offers: https://mypromo.my/foodpanda-september-2021
More Promotions, Offers and Vouchers from Shopee and Lazada
mypromo Telegram Channel
Want to receive  daily promos and deals via Telegram?
Join Our Channel Today

All Are Welcome!
Sign Up for New Accounts and Get Rewarded

mypromo.my: Referral Codes Center
Get Rewarded When you sign up with Referral Codes