Shopee Raya is coming up with Jualan Hebat Raya on 23 April 2021 and here are the voucher codes for you to claim and use to get better discounts on your purchases.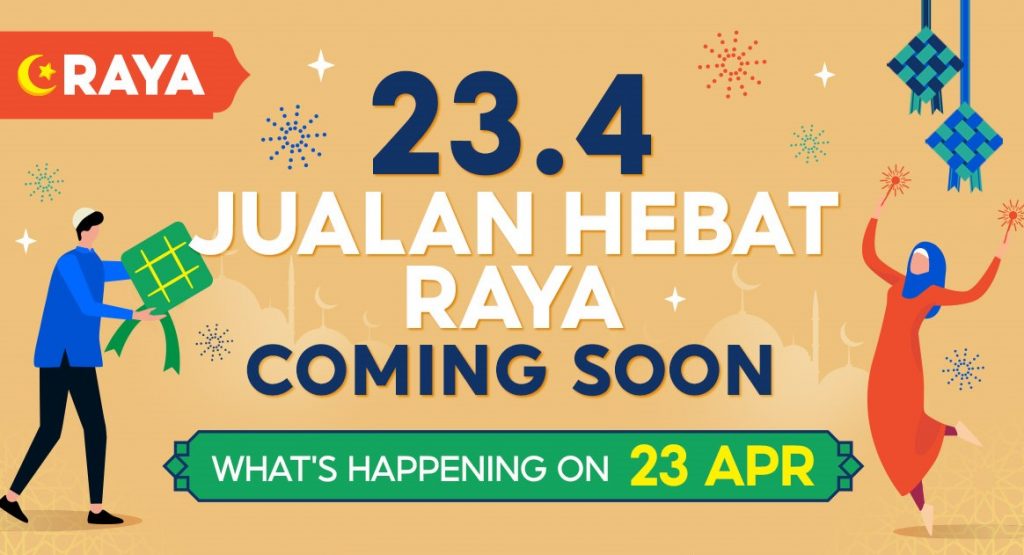 Method to Claim Shopee Vouchers:
Copy Voucher Code
Go to Shopee Voucher Page: https://shp.ee/rh5nwu7
Me>My Vouchers>Input Voucher Code>
Input Voucher Code:
Save/Apply
Start adding items to your cart now and check out ASAP on the sale day. Happy shopping.
Bank Vouchers for Jualan Hebat Raya 23.04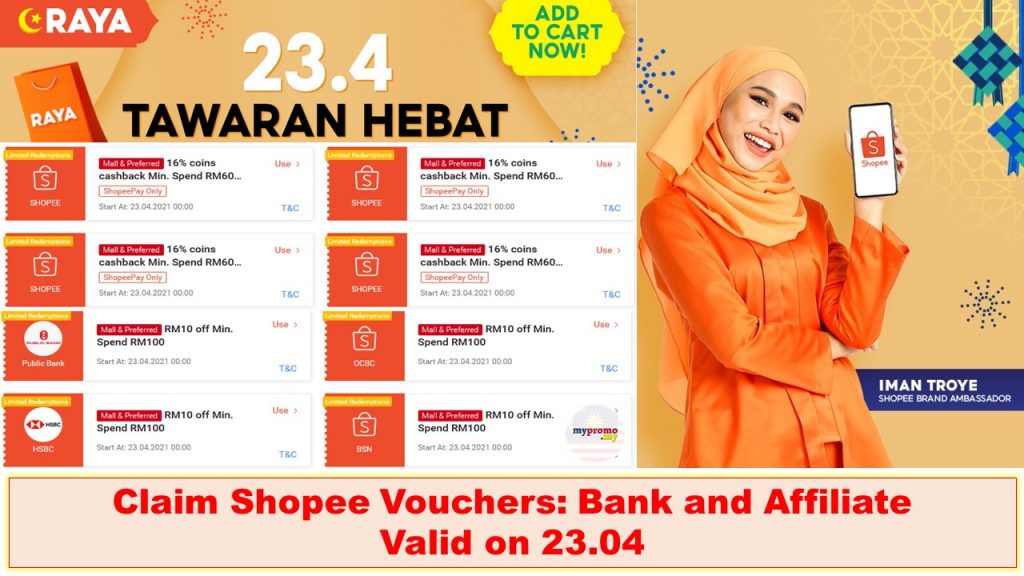 Save the codes HERE: https://shp.ee/vysix5a
Bank Codes:
RAYACIMB | RAYAAMB | RAYABI | RAYABSN | RAYAHSBC | RAYAOCBC | RAYAPBB | RAYAUOB | RAYARHB | RAYAAFFN | RAYAACS | CITIRAYA | CITIRAYAWS | MBBRAYA | MSCCRAYA | MBBAMEXRAYA
Value: Please Refer below
Code: BMMBRAYA15
Value: RM15 off Min. Spend RM100
Code: RAYACIMB
Value: RM10 off Min. Spend RM100
Code: RAYAAMB
Value: RM10 off Min. Spend RM100
Code: RAYABI
Value: RM10 off Min. Spend RM100
Code: RAYABSN
Value: RM10 off Min. Spend RM100
Code: RAYAHSBC
Value: RM10 off Min. Spend RM100
Code: RAYAOCBC
Value: RM10 off Min. Spend RM100
Code: RAYAPBB
Value: RM10 off Min. Spend RM100
Code: RAYAUOB
Value: RM10 off Min. Spend RM100
Code: RAYARHB
Value: RM20 off Min. Spend RM150
Code: RAYAAFFN
Value: RM20 off Min. Spend RM180
Code: CITIRAYA
Value: RM17 off Min. Spend RM150
Store: Watsons x Citi
Code: CITIRAYAWS
Value: RM10 off Min. Spend RM120
Code: RAYAACS
Value: RM15 off Min. Spend RM120
Card: MAYBANK
Code: MBBRAYA
Value: RM15 off Min. Spend RM120
Card: Maybank x Shopee
Code: MSCCRAYA
Value: RM20 off Min. Spend RM120
Card: Maybank AMEX
Code: MBBAMEXRAYA
Value: RM18 off Min. Spend RM120
Exclusive Voucher Codes for 23.04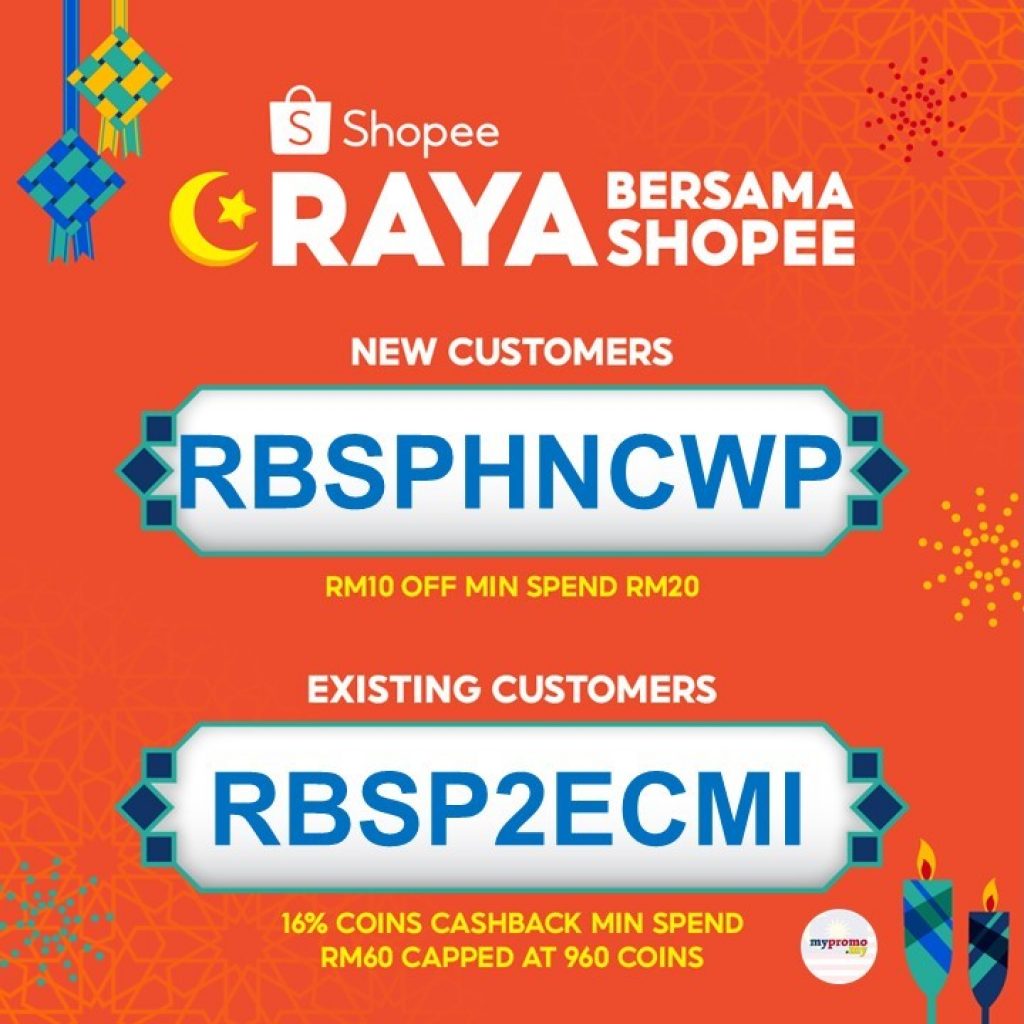 Code: RBSP2ECMI
Value: 16% Coins Cashback min spend RM60 capped at 960 coins
Existing Customer
Code: RBSPHNCWP
Value: RM10 off min spend RM20
New Customer Only
Affiliate Vouchers for Jualan Hebat Raya 23.04
Codes:
ADSP255EC | ATP255EC | BIGGOP255EC | CITYP255EC | CUPONP255EC | DUCKP255EC | INDOP255EC | IAP255EC | MADP255EC | OPTIP255EC
Value: 16% coins cashback Min. Spend RM60 Capped at 960 Coins
Codes:
RAYASC | RAYAOPPO | RAYAFJ | RAYAGL
Value: RM10 off Min. Spend RM100
Links to Top Stores in Shopee
Electronics Shop
• SonicGear (they sell earphone & accessories)
Link: https://shp.ee/gv6wx8c
• Philips (they sell blender, rice cooker etc)*
Link: https://shp.ee/3238ecx
• Russell Taylor (my favourite brand to buy Air Fryer)
Link: https://shp.ee/grsm3pj
• Dibea (If you need vacuum cleaner)*
Link: https://shp.ee/8gr2g7x
• Logitech (can buy Cheap Mouse)
Link: https://shp.ee/7ih6zgq
Groceris Shop
• Kellogs (For easy sahur, can buy Cornflakes)*
Link: https://shp.ee/azsa7gq
• Mahnaz (Ramadhan is coming, can buy Kurma)*
Link: https://shp.ee/6k5hckf
• Suntory (Can buy Ribena drinks)*
Link: https://shp.ee/u65w56q
& many more
Beauty Shop
• P&G (can buy Olay, Pantene & more)
Link: https://shp.ee/kqwnef9
• L'Oreal (can buy makeup & shampoo)
Link: https://shp.ee/ch2nthf
• Wynora (if you like korean skincare)
Link: https://shp.ee/kzt3dqw
Fashion Shop
• Zoe Arissa (baju Raya)
Link: https://shp.ee/5fnwp7i
• Bata (new Shoes for you & your family)
Link: https://shp.ee/u65w56q
• Jessica Minkoff (new handbag for Raya)
Link: https://shp.ee/mbzu4jd
The Affiliate Codes for 13.04.2021 – 04.05.2021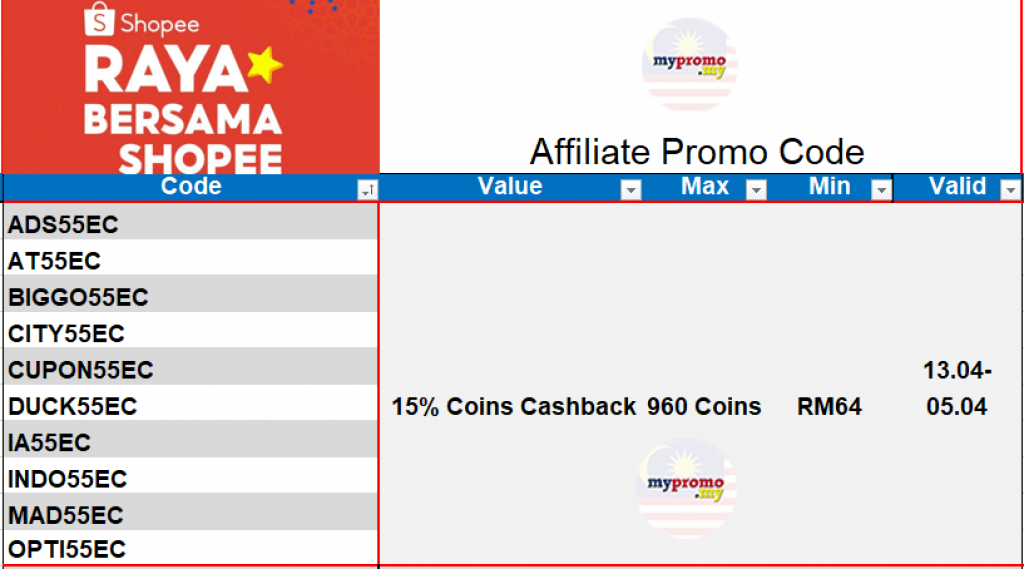 Lazada ada Sentuhan Raya: https://mypromo.my/lazada-ada-sentuhan-raya-sale-2021/
There are more vouchers to claim, open Shopee app; click here: https://shp.ee/5a7jyt4
More Promotions, Offers and Vouchers from Shopee and Lazada