Telegram Channel
Updated Daily with the Best Deals and Offers
Get all the best deals via our Social Media! Follow Us!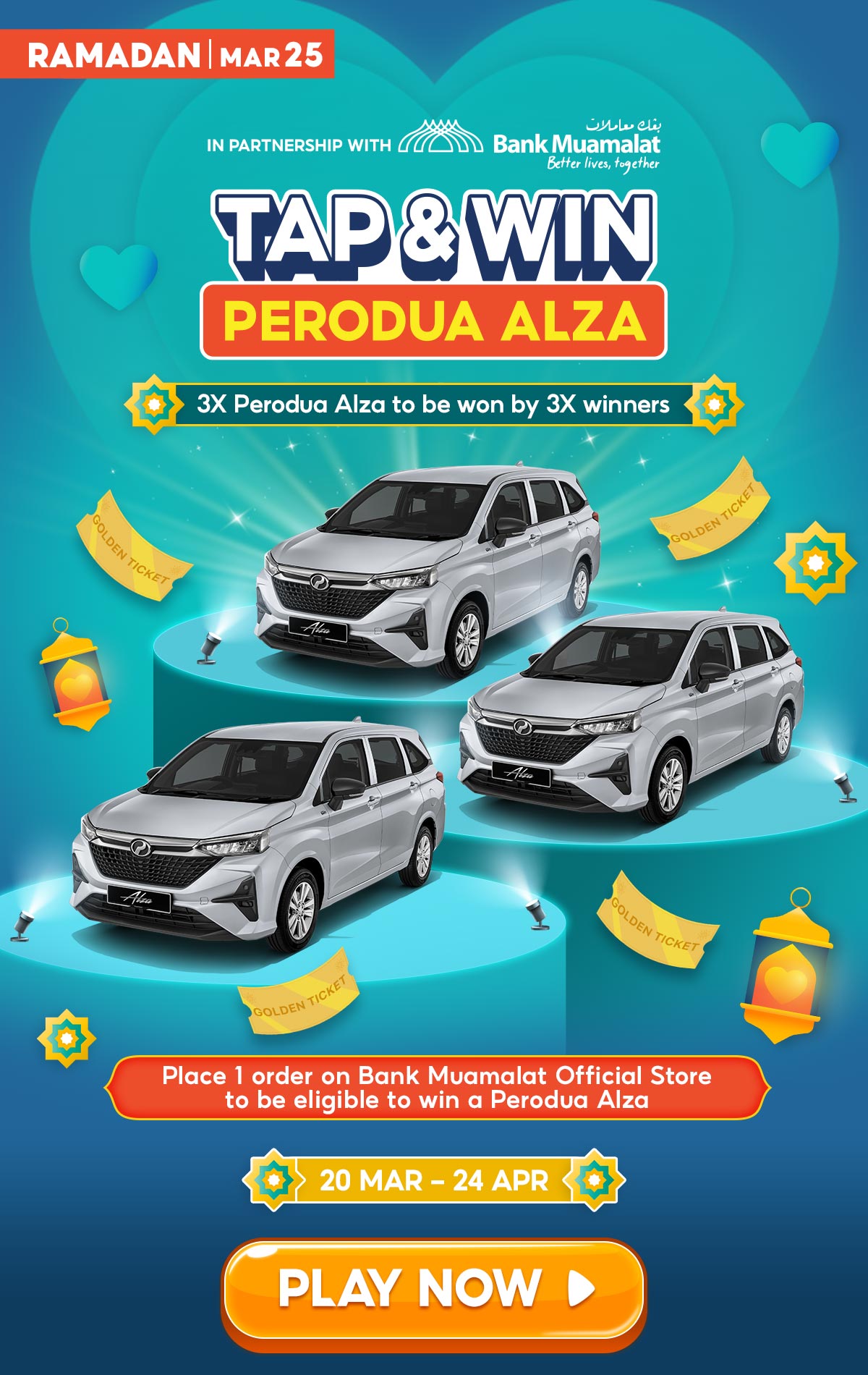 Visit Shopee daily & come back at special timings for more vouchers & deals! Here's your chance! Be 1 of 3 lucky winners to win a Perodua Alza this Ramadan & Raya. All you have to do is play Tap & Win on Shopee! The more golden tickets you collect, the more chances you get!
From Buka Puasa preparations to Ramadan needs, find them on Shopee at as low as RM10!
Tap Now

Shopee Ramadan Kasi Sayang Sale
Tap & Win Perodua ALZA
Terms and Conditions > https://mypromo.my/shp/tapwin
Shopee Ramadan Kasi Sayang Sale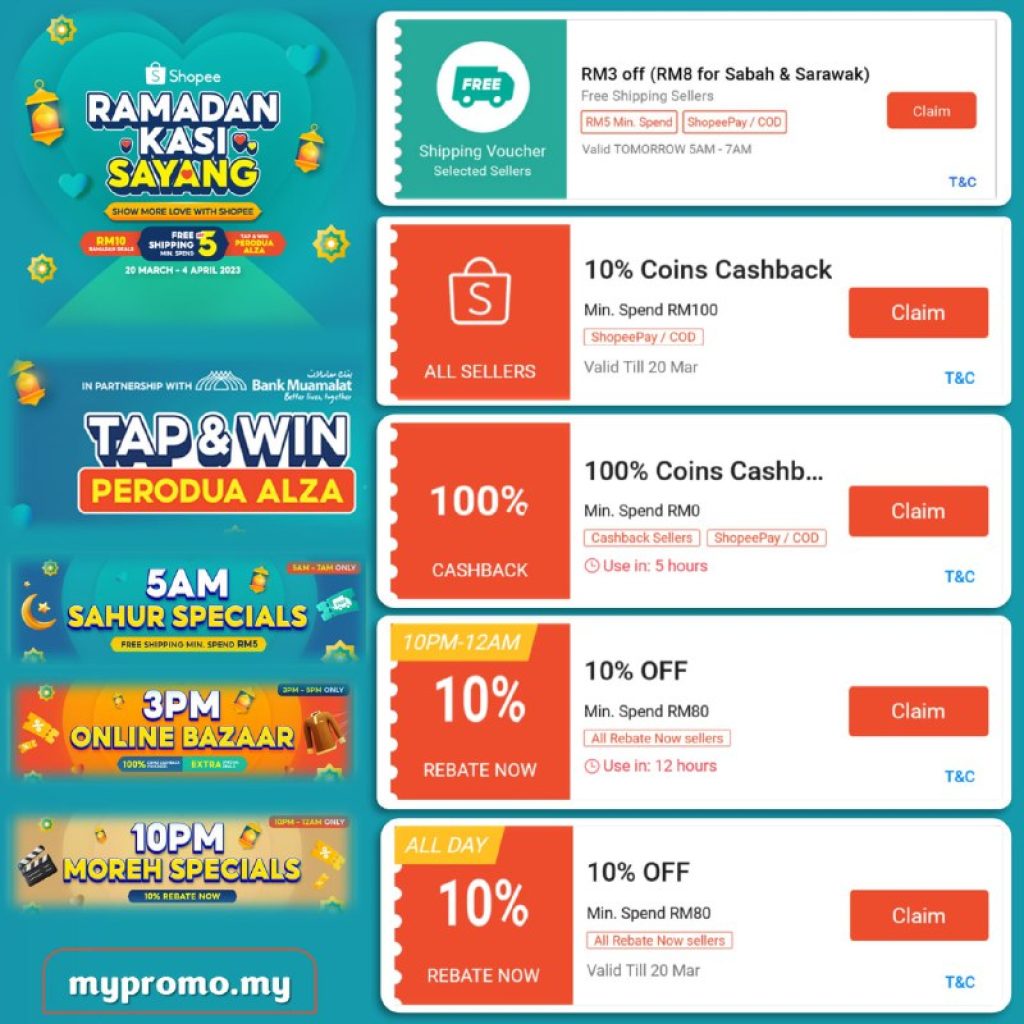 During Shopee Ramadan Kasi Sayang Sale, Shopee is giving out Perodua ALZA, collect Golden Tickets. Enjoy daily RM10 Ramadan Deals on selected items, and on top of that, spend just a minimum amount of RM5 to enjoy free shipping with claimable Shopee free shipping vouchers.
Shopee Ramadan Sale

Shopee Ramadan Kasi Sayang Sale
Voucher Hours
Claim All Here: https://mypromo.my/shopee/ramadan
5AM – Sahur Specials
• Free Shipping – RM3 Off (RM8 for Sabah & Sarawak)
3PM – Online Bazaar
• 2 x 100% Coins Cashback Min. Spend RM0 Capped at 300 Coins
10PM – Moreh Specials
• 10% off Min. Spend RM80 Capped at RM120
ALL DAY
• 10% Coins Cashback Min. Spend RM100 Capped at 1,000 Coin
• 10% off Min. Spend RM80 Capped at RM120
Claim & Use Now: https://mypromo.my/shopee/ramadan
Shopee Voucher Codes for Ramadan Sale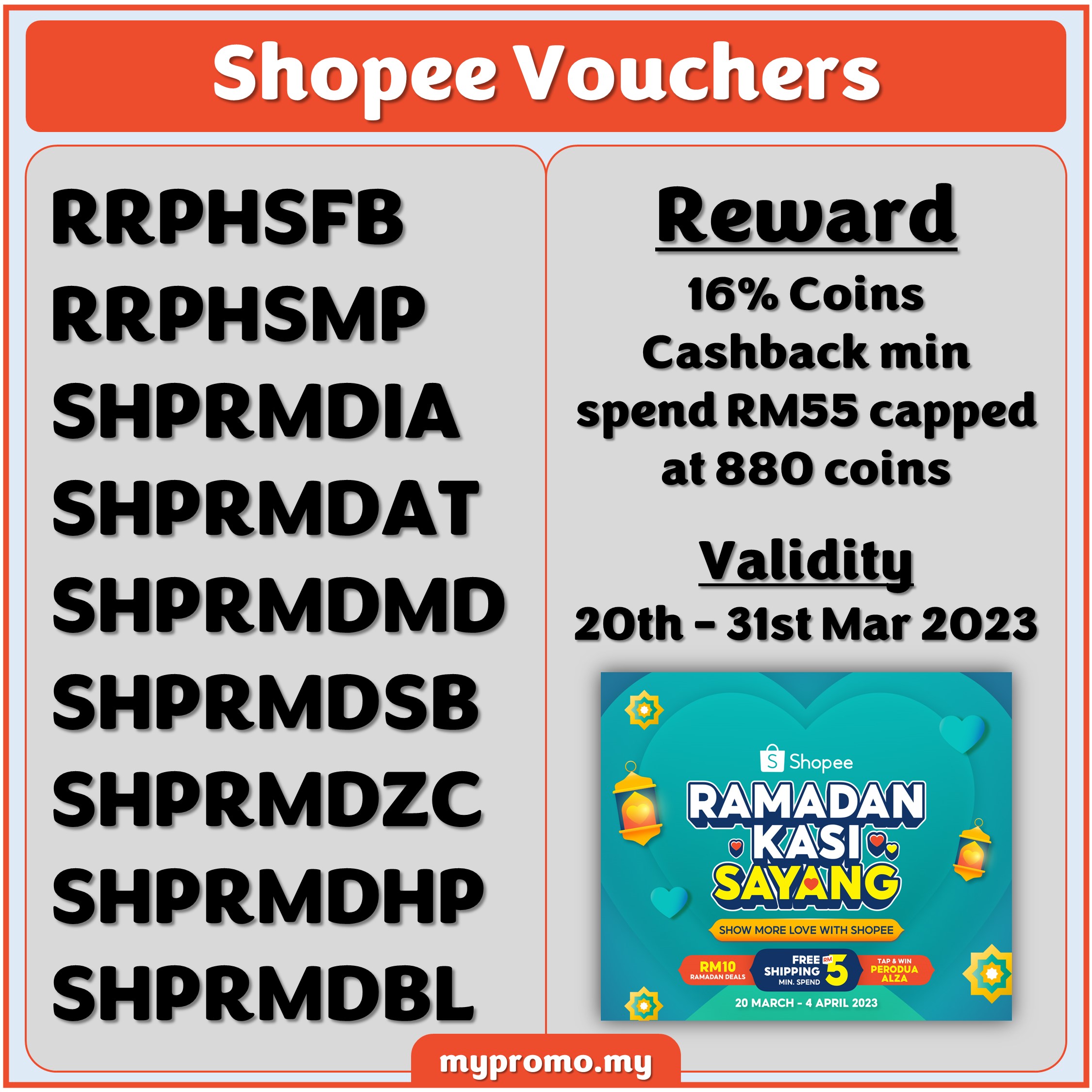 Shopee Ramadan Kasi Sayang x Vouchers
Main Page: https://mypromo.my/shopee/ramadan
Method to Claim Vouchers:
Go to Shopee Voucher Page: https://mypromo.my/shp/voucher
Input Voucher Code
Save
Value: 16% Coins Cashback Min. Spend RM55 Capped at 880 Coins
Valid: 20 Mar 2023 00:00 – 31 Mar 2023 23:59
Voucher Codes
RRPHSFB
RRPHSMP
SHPRMDIA
SHPRMDAT
SHPRMDMD
SHPRMDSB
SHPRMDZC
SHPRMDHP
SHPRMDBL
Tap & Win Perodua ALZA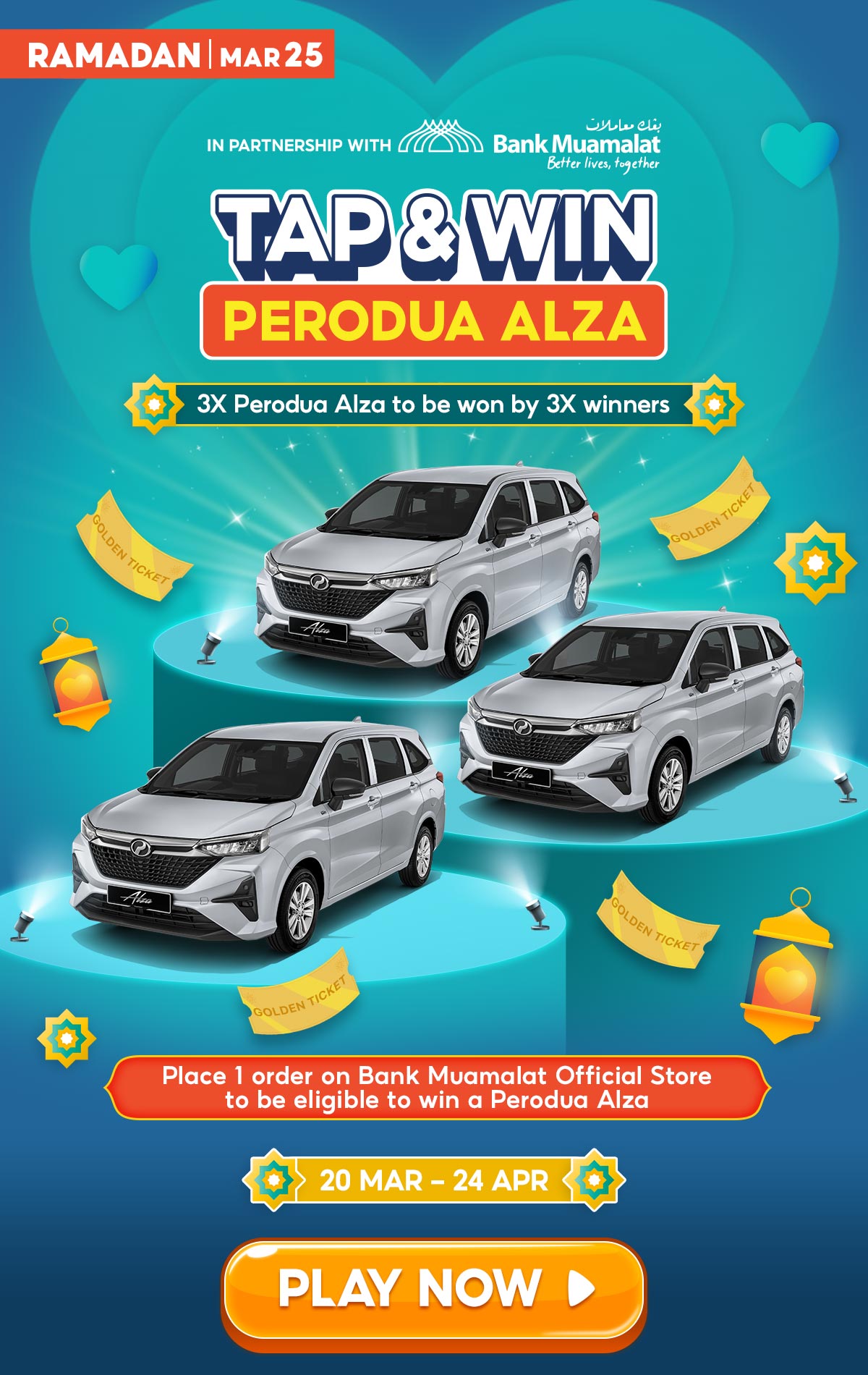 Menangi Motosikal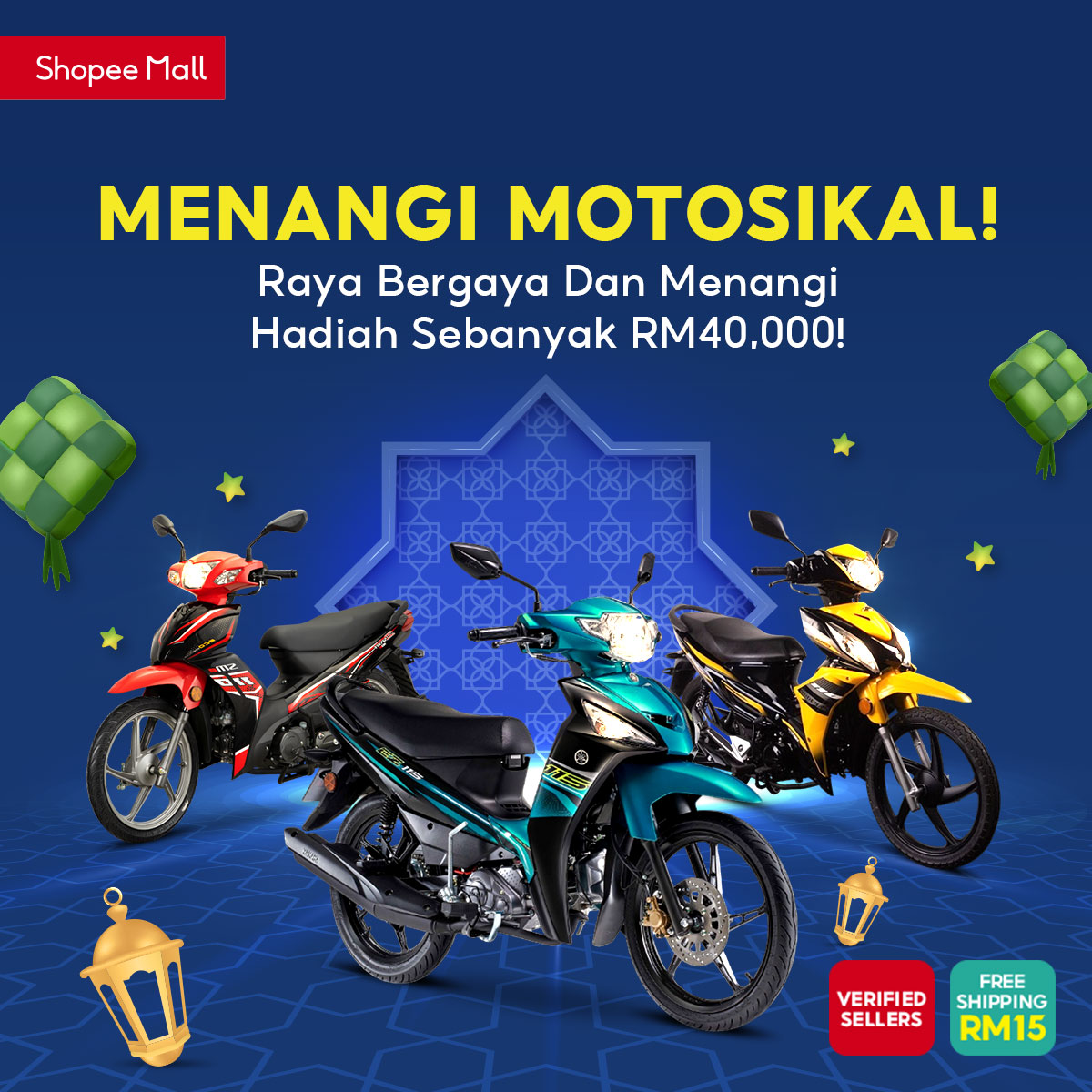 Purchase a minimum of RM50 worth of any itemfrom any participating sellers in Auto Mall Raya Giveaway.
Shop Now: https://shope.ee/99rrkC02LY
Ramadan Sale
Zalora Raya
https://mypromo.my/zlr/raya
Lazada Ramadan
https://mypromo.my/laz/ramadan
Shopee Ramadan
https://mypromo.my/shopee/ramadan
Shop During Shopee Malaysia's Raya Sayang Hei Sale 2023 Where A Fantastic Hari Raya Celebration Awaits You!
Each year, Muslims in Malaysia look forward to a month-long spiritual journey during Ramadan, the holiest month in the Islamic calendar, which will be capped off by Hari Raya Aidilfitri celebrations! There's no better way to help you get through the month of fasting than celebrating it with the Shopee Raya Sale 2023, also known as Shopee Raya Sayang Hei! This is your chance to be well-prepared throughout Ramadan and Raya by getting all your necessities! From puasa to Raya, we've got you covered with great discounts and promotions for big brands like Pandora, Puma, and Ecovacs!
This year, our Raya Sale 2023 takes place from 5 to 24 April as a continuation of our Ramadan Kasi Sayang Sale, where you can shop for Muslim fashion items, such as baju raya, baju kurung, baju Melayu, and more while enjoying greater savings with our RM10 Raya Deals and other exclusive Raya promotions. Not only that, there will be a chance for you to win Perodua Alza by playing Tap & Win every day throughout this celebration where 3 lucky winners can win a brand new car!
Want More Deals & Promotions For Hari Raya? Enjoy RM10 Raya Deals During Raya Sale 2023
With the RM10 Raya Deals and free shipping voucher with RM5 minimum spend, our Raya Sale is a good time to start prepping for the celebrations. Shop for home decor items to revamp your home so it looks its best during Raya open-houses, and to shop for baking supplies to prepare cookies and pastries for the whole family to enjoy during Raya. Check out our collection of easy Raya biscuit recipes for you to try so you can impress your friends and family. But, if you're not one to bake, just buy our ready-made biskut raya instead! This is also the time to splurge on appliances like an air fryer from kHIND and other kitchen necessities from Lotus's that you may need for the home. Of course, to get ready for the festivities, it's important to show up fashionable and gorgeous. During our Raya Sale, take advantage of Hari Raya deals and promotions for big fashion beauty brands like Naelofar and Innisfree.
Get The Best Promotions Throughout Shopee Malaysia's Raya Sale 2023!
Besides great free shipping vouchers applicable for brands like Tineco, Timberland, and Logitech, as well as the amazing RM10 Raya Deals, and the Perodua Alza giveaway, there are many reasons to shop during the Raya Sale. For one, all your purchases are protected by our Shopee Guarantee, which ensures that your money will only be released to the sellers if you're satisfied with your purchases. Not only that, all the items you buy will be sent conveniently to your doorstep! Don't forget to stay tuned for our other big sales like 9.9, 10.10, and 11.11 for amazing deals and savings all year round!
More Promotions, Offers and Vouchers from Shopee and Lazada
mypromo Telegram Channel
Want to receive  daily promos and deals via Telegram?
Join Our Channel Today

All Are Welcome!
Sign Up for New Accounts and Get Rewarded

mypromo.my: Referral Codes Center
Get Rewarded When you sign up with Referral Codes