Telegram Channel
Updated Daily with the Best Deals and Offers
Get all the best deals via our Social Media! Follow Us!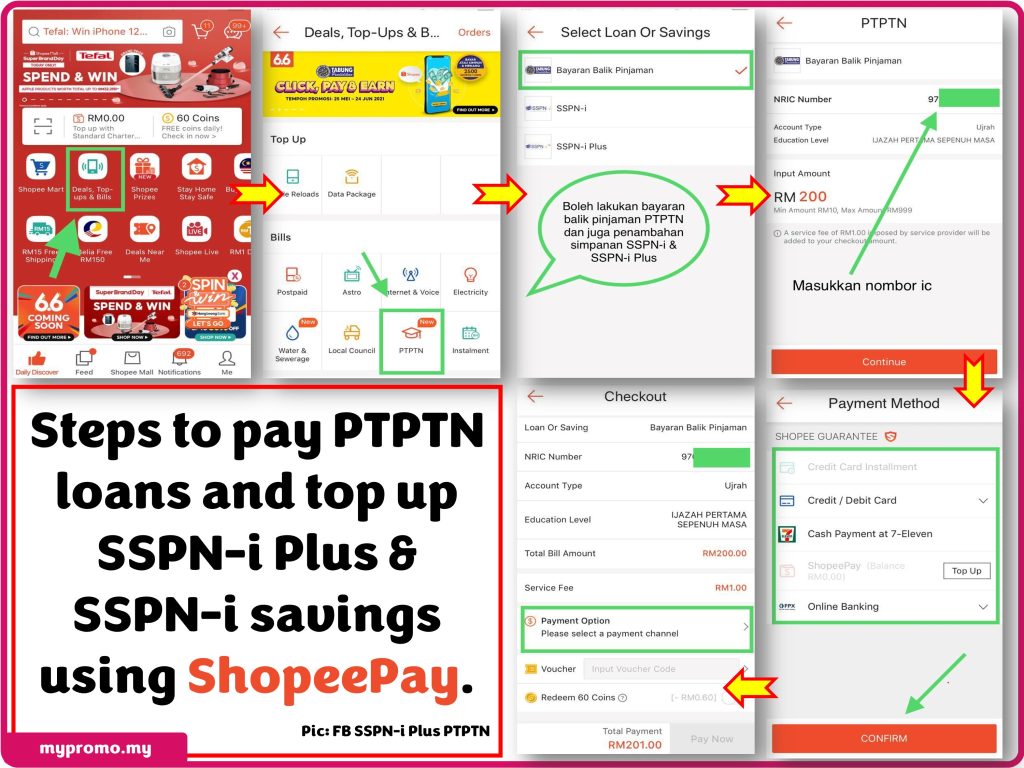 You can now pay the Perbadanan Tabung Pendidikan Tinggi Nasional (PTPTN) loans or top up SSPN-i Plus & SSPN-i savings using ShopeePay via Shopee App.
Steps to pay PTPTN loans and top up SSPN-i Plus & SSPN-i savings using ShopeePay.
How to pay PTPTN & SSPN-I & SSPN-I Plus.
1. Launch Shopee app and go to the main page

Shopee: How to pay PTPTN & SSPN-I & SSPN-I Plus
Go to Shopee main page
2. Tap on "Prepaid, Tickets & Bills" > PTPTN (under Bills Category)
3. Select your loan or savings product from:
• Education Loan – Bayaran Balik Pinjaman
• Education Savings – SSPN-i, SSPN-i Plus
4. Input your NRIC number > Click 'Check Account' to retrieve your account(s).
5. Select the account you want to pay and input the amount > Click 'Continue' to check out
Please take note:
• Minimum amount: RM10 & Maximum amount: RM999
• A service fee of RM1.00 imposed by the service provider will be added to your checkout amount.
6. On the Checkout page, you may pay using ShopeePay or other payment methods to complete the order.
Payment Methods available are
• ShopeePay
• Debit / Credit Card Only Debit Card can be used for SSPN-I
• Online Banking
• Cash Payment at 7-Eleven
7. Upon successful payment, PTPTN will process your bill within 3 working days. Click 'View Order Details' to see your bill order details.
8. Click 'Order Received' & scroll to bottom > Click 'Download My Receipt' to view in-app receipt.
9. You are allowed to pay your PTPTN / SSPN bills via Shopee as many times as you want. Under My Orders > Completed tab, click 'Pay Another Bill' to make another PTPTN / SSPN payment.
More Promotions, Offers and Vouchers from Shopee and Lazada
mypromo Telegram Channel
Want to receive  daily promos and deals via Telegram?
Join Our Channel Today

All Are Welcome!
Sign Up for New Accounts and Get Rewarded

mypromo.my: Referral Codes Center
Get Rewarded When you sign up with Referral Codes