Telegram Channel
Updated Daily with the Best Deals and Offers
Get all the best deals via our Social Media! Follow Us!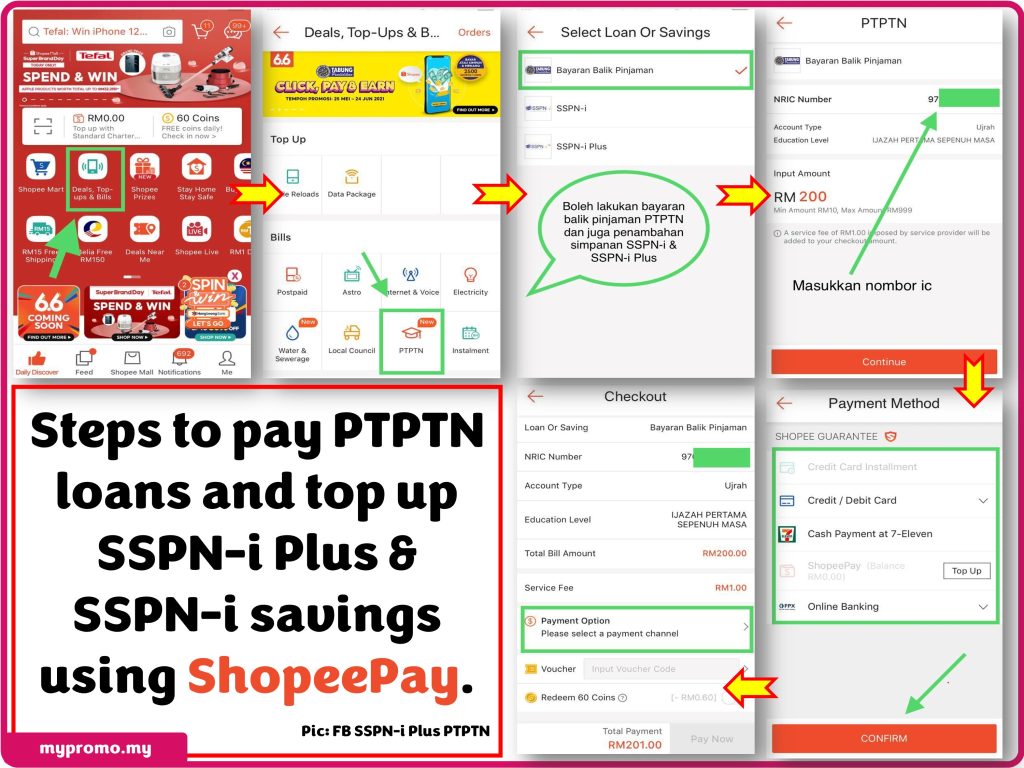 Anda kini boleh membayar pinjaman Perbadanan Tabung Pendidikan Tinggi Nasional (PTPTN) atau menambah simpanan SSPN-i Plus & SSPN-i menggunakan ShopeePay melalui Aplikasi Shopee.
Langkah-langkah membayar pinjaman PTPTN dan tambah nilai simpanan SSPN-i Plus & SSPN-i menggunakan ShopeePay.
Cara bayar PTPTN & SSPN-I & SSPN-I Plus.
1. Lancarkan aplikasi Shopee dan pergi ke halaman utama

Shopee: PTPTN & SSPN-I & SSPN-I Plus
Halaman Utama Shopee
2. Tap "Prepaid, Tickets & Bills" > PTPTN (under Bills Category)
3. Pilih produk pinjaman atau simpanan anda daripada:
• Pinjaman Pendidikan – Bayaran Balik Pinjaman
• Simpanan Pendidikan – SSPN-i, SSPN-i Plus
4. Masukkan nombor NRIC > Tekan 'Check Account' untuk mendapatkan akaun anda.
5. Pilih akaun yang ingin anda bayar dan masukkan jumlahnya> Tekan 'Continue' untuk check out
Sila ambil perhatian:
• Jumlah minimum: RM10 & Jumlah maksimum: RM999
• Yuran perkhidmatan sebanyak RM1.00 yang dikenakan oleh pembekal perkhidmatan akan ditambah pada jumlah pembayaran anda.
6.Pada halaman Checkout, anda boleh membayar menggunakan ShopeePay atau kaedah pembayaran lain untuk menyelesaikan pesanan.
Kaedah Pembayaran yang ada ialah
• ShopeePay
• Kad Debit / Kad Kredit Sahaja Kad Debit boleh digunakan untuk SSPN-I
• Perbankan atas talian
• Bayaran Tunai di 7-Eleven
7. Selepas pembayaran berjaya, PTPTN akan memproses bil anda dalam masa 3 hari bekerja. Klik 'Lihat Butiran Pesanan' untuk melihat butiran pesanan bil anda.
8. Klik 'Pesanan Diterima' & tatal ke bawah > Klik 'Muat Turun Resit Saya' untuk melihat resit dalam apl.
9. Anda dibenarkan membayar bil PTPTN / SSPN anda melalui Shopee seberapa banyak kali yang anda mahu. Di bawah Pesanan Saya > tab Selesai, klik 'Bayar Bil Lain' untuk membuat pembayaran PTPTN / SSPN yang lain.
More Promotions, Offers and Vouchers from Shopee and Lazada
mypromo Telegram Channel
Want to receive  daily promos and deals via Telegram?
Join Our Channel Today

All Are Welcome!
Sign Up for New Accounts and Get Rewarded

mypromo.my: Referral Codes Center
Get Rewarded When you sign up with Referral Codes