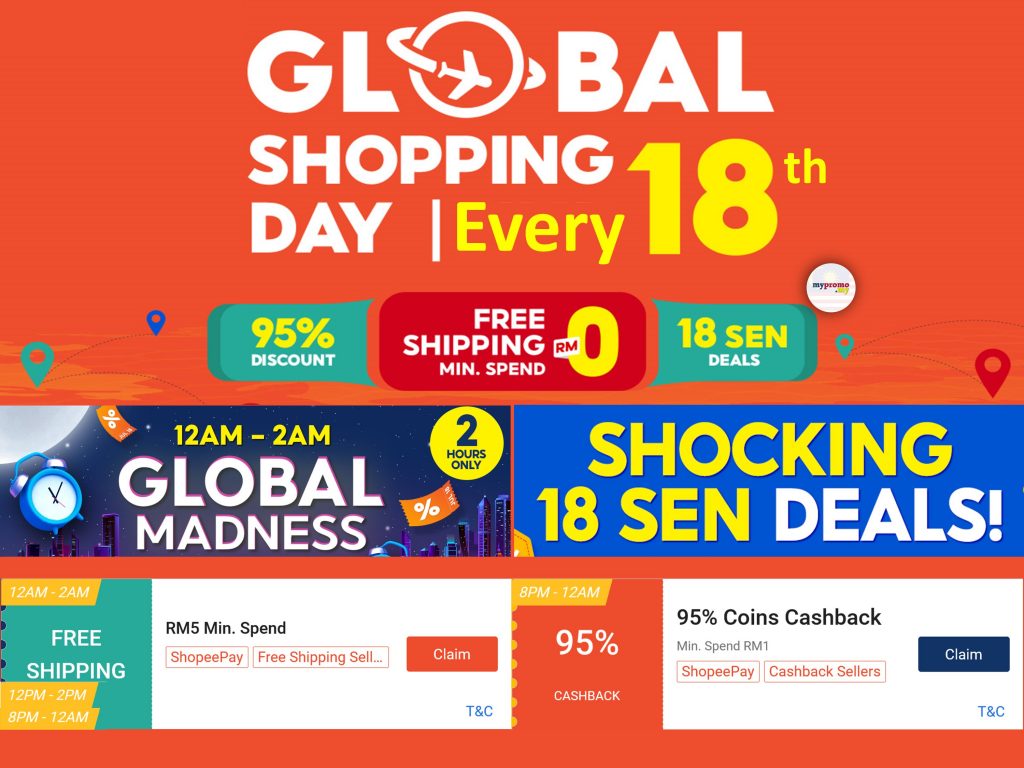 Enjoy Free Shipping Vouchers, 95% Discounts, & 18 Sen Deals During Shopee's Global Shopping Day December 2021
Love buying products from international brands on Shopee Malaysia? Then don't miss Shopee's Global Shopping Day 2021 that happens on the 18th of every month! For ONE day only, enjoy the lowest price promos while getting Free Shipping Vouchers with no minimum spend, 95% Discounts during Shocking Sale time slots, and 18 Sen Deals on your favourite global brands across various product categories, from health & beauty to home & living. You can even earn up to 95% Shopee coins cashback on these promotions, so be sure to claim those vouchers!
Get The Best Discounts On International Brands During Shopee's Global Shopping Day On The 18th Each Month
Claim Vouchers Now and Use on 18 December: https://shp.ee/aixtc5m
Shopee x Global Shopping Day Timeline
12am-2am
• Global Madness
• Claim 30% CCB
• Free Shipping
12pm-2pm
• Free Shipping Hours
• Claim 50% CCB
• Claim FS Voucher
8pm-12am
• Claim 95% CCB
• Brands Spotlight
• Free Shipping
Whole Day
• Claim 15% CCB
• 95% and 50% Off Store Vouchers
• Free Shipping
• Limited 18 Sen deals
• 10 x Shocking Sale Sessions
Make sure to claim all vouchers to get ready for the Sale!

Shopee Global Shopping Day
Get all the best deals via our Social Media! Follow Us!
Shopee Global Shopping Day x Highlights
• Every 18th of every month!
• Free Shipping
• 12am Global Madness
• Shocking 18 Sen Deals
• 12pm Free Shipping Hours
• 8pm 95% Discount Hours
• Limited Vouchers & Brand Spotlights


4 Things to do Before Global Shopping Day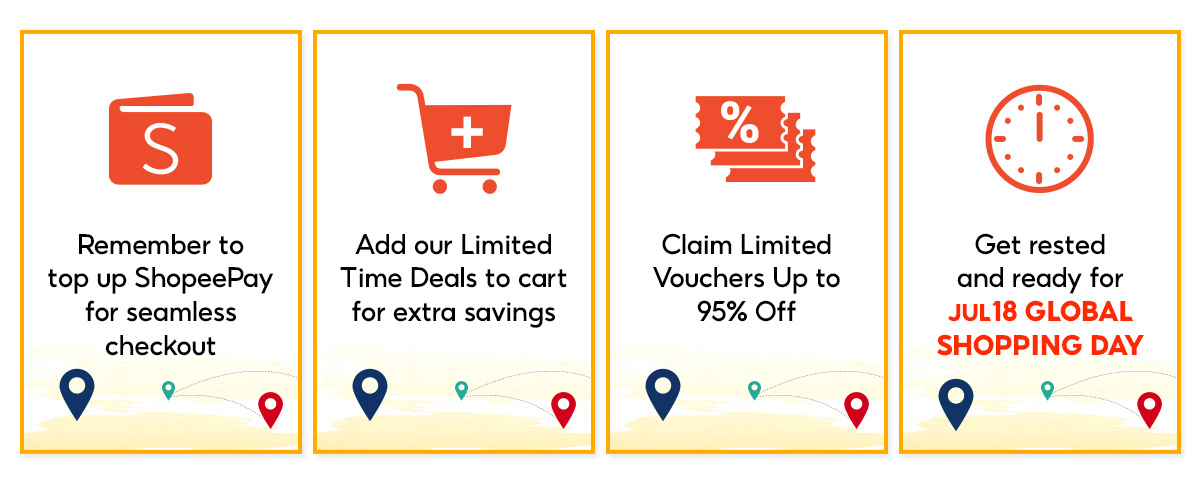 Shopee Voucher Code for New User – Enjoy up to RM20 Discount
Skincare & Makeup
Consider yourself a beauty junkie? Then here's your chance to grab the best eye shadow and lip tint deals from makeup brands like Perfect Diary and Flower Knows! After receiving these cosmetics, why not try your hand at achieving these Korean makeup looks?
For skincare, you can score the best promos on cleansers as well as moisturizers & creams from international brands like famous K-beauty label Some By Mi. Need recommendations? Here are some Korean moisturisers for oily skin to try!
Men's Grooming
For the lads, there are great deals and discounts on men's grooming products too. Whether you're looking for a good hair shampoo, hair styling products, or hair & scalp treatments, you can turn to international brands like Grafen! Once you've found a great styling pomade, don't forget to impress the ladies with these best male Korean hairstyles.
Get all the best deals via our Social Media! Follow Us!
Clothing & Fashion Accessories
Browsing for quality watches? If you like tactical and sports variants, Naviforce has got you covered with luxe options for both men and women. Ladies, if you're looking to spruce up your wardrobe, brands like Zanzea has a wide range of cute apparel from dresses to playsuits & jumpsuits, all at affordable prices!
Electronic Gadgets
Tech lovers, don't miss out on amazing deals and discounts on electronic gadgets like laptops, tablets, and mobile phones from international brands like Xiaomi and many more! During our Global Shopping Day on the 18th, you can get them at the best prices for greater savings. If you're on a budget, try one of these best phones under RM500.
The Best Cross Border Deals & Other Shopping Perks Await You On Shopee Malaysia
When it comes to international brands, Shopee Malaysia has the best deals and discounts (including Shopee coins cashback) during our Global Shopping Day so make sure you visit us on the 18th each month! Plus, you can come back every month for other sales like the 8.8 sale, 9.9 sale, 10.10 sale, 11.11 sale, and 12.12 sale to enjoy irresistible prices!
There are other perks of shopping on Shopee Malaysia too. With Shopee Guarantee, you can shop with peace of mind knowing that your payment will only be released to sellers once you receive your item in perfect condition. And when it comes to authentic branded items, you can get 100% genuine products by shopping from stores on our Shopee Mall!
More Promotions, Offers and Vouchers from Shopee and Lazada
mypromo Telegram Channel
Want to receive  daily promos and deals via Telegram?
Join Our Channel Today

All Are Welcome!
Sign Up for New Accounts and Get Rewarded

mypromo.my: Referral Codes Center
Get Rewarded When you sign up with Referral Codes