Telegram Channel
Updated Daily with the Best Deals and Offers
Get all the best deals via our Social Media! Follow Us!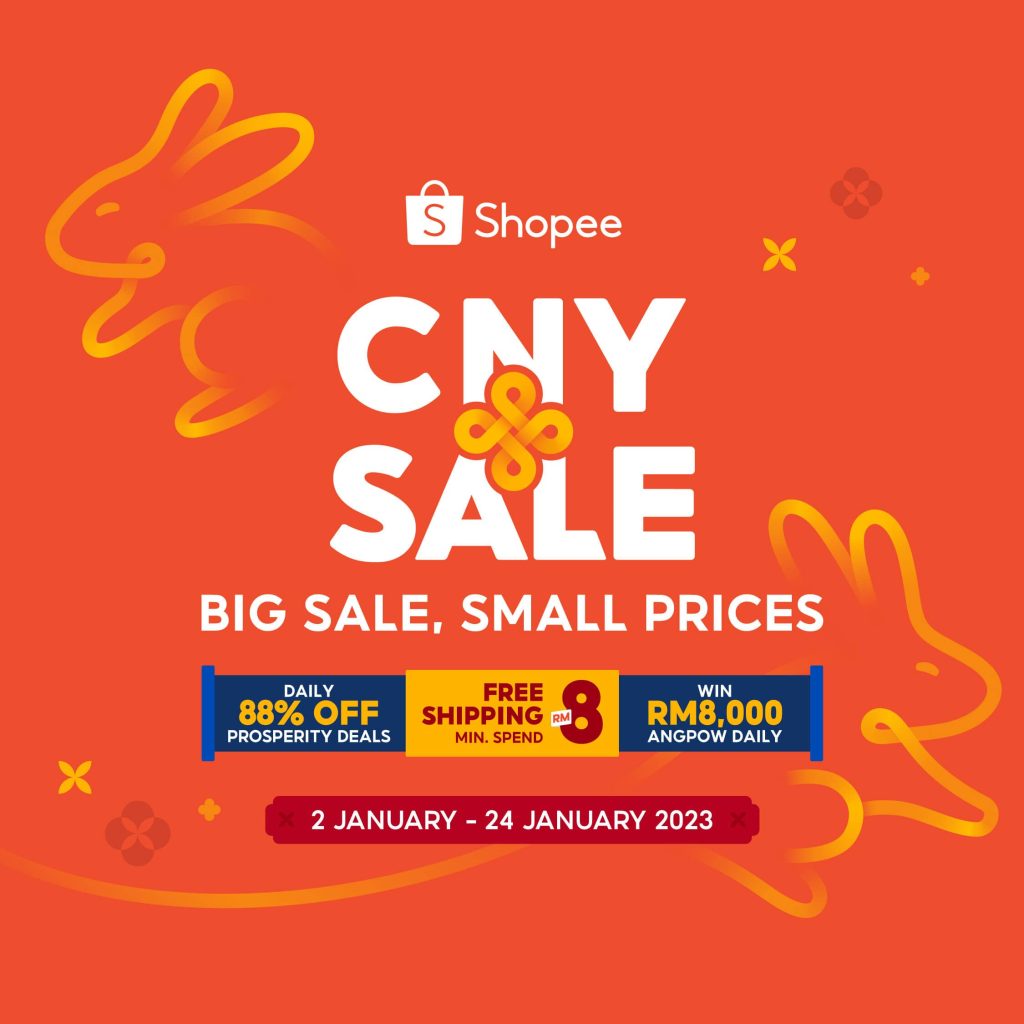 Shopee Chinese New Year Sale 2023! Enjoy fantastic promotions this CNY sale with daily 88% Off prosperity deals, Free Shipping and Daily RM8000 Angpow. This CNY Sale will bring the best deals and rewards going into 2023 to celebrate a year of abundance, happiness and traditions for the whole family.
Shopee CNY Sale

Shopee CNY Sale
WIN RM8,000 Ang Pow daily!
WIN RM8,000 Angpow daily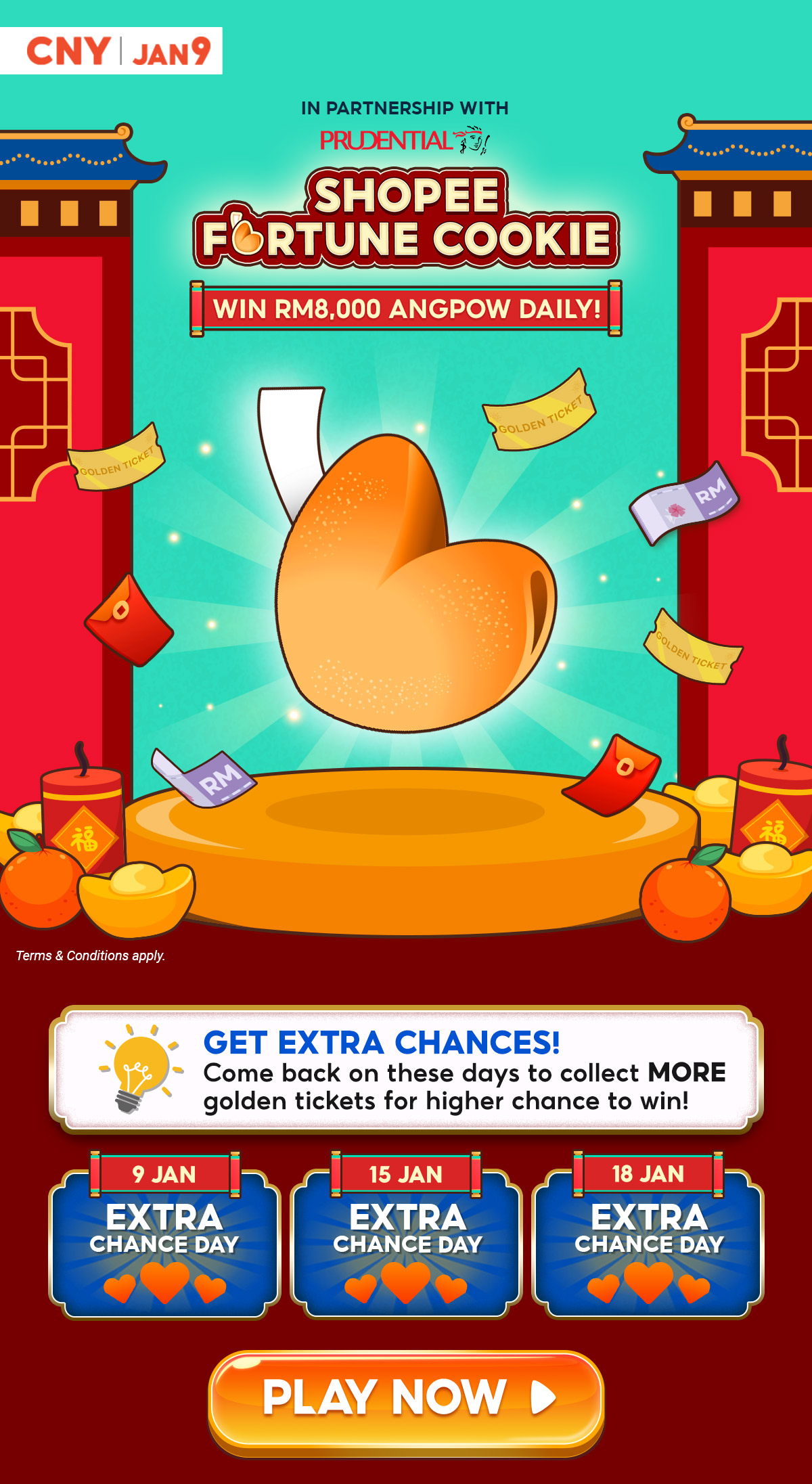 3 Peak Days – 9 Jan, 15 Jan and 18 Jan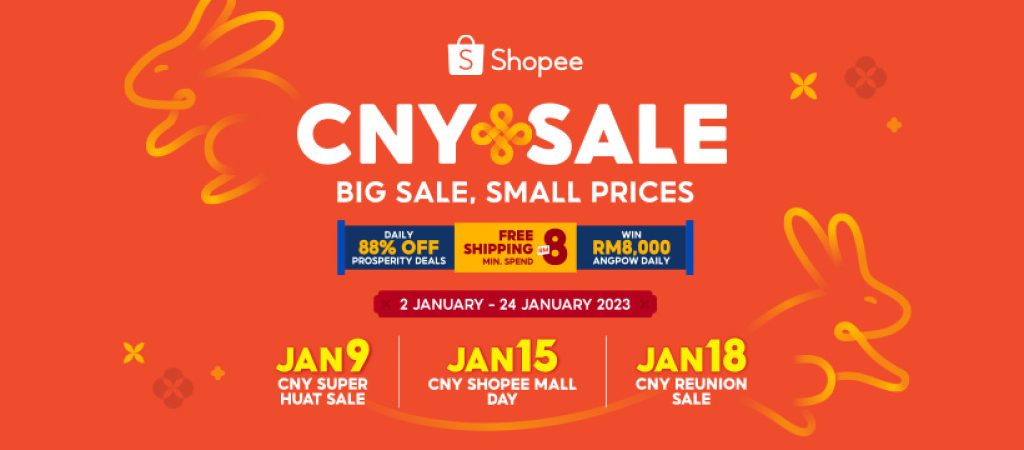 There will be 3 peak days during this year CNY Sale! Watch out for extra vouchers and deals on 9 January (CNY Super Huat Sale) , 15 January (CNY Shopee Mall Day) and 18 January (CNY Reunion Sale).
Link: https://mypromo.my/shp/comingsoon
Go to Lazada CNY
🔗 https://mypromo.my/laz/cny
Daily Hourly Deals

12pm – Ong Hours
Enjoy Free Shipping with min spend of RM8
Claim voucher now: https://mypromo.my/shp/12pm

8pm – Huat Hours
Enjoy 2 x Rebate Now vouchers worth up to RM120 with min spend of RM80.
Claim voucher now: https://mypromo.my/rebatenow
10pm – Shopee Live Hours
Enjoy special voucher release during Live Streaming!
Claim voucher now: https://mypromo.my/shp/live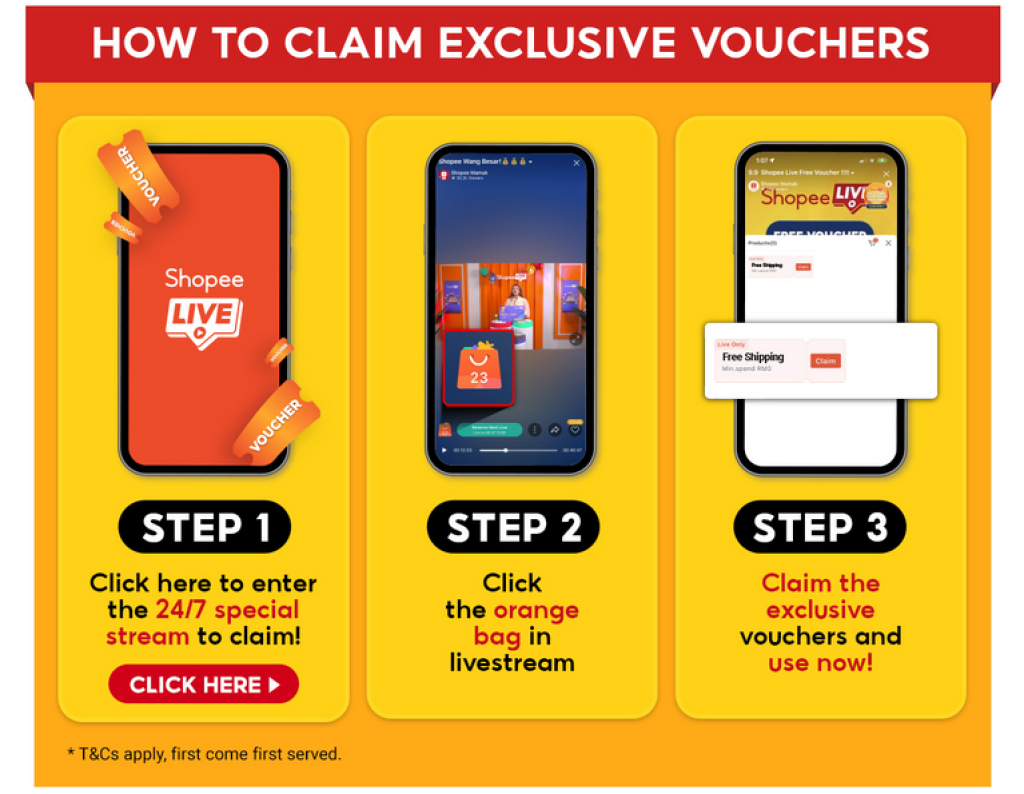 Shopee will release 2 x 88% Coins Cashback Daily
• 88% coins cashback Min. Spend RM0 Capped at 300 Coins – For All Sellers
• 88% coins cashback Min. Spend RM0 Capped at 300 Coins – For Selected Sellers
Claim voucher now: https://shope.ee/7A4mbcFxNw
More Promotions, Offers and Vouchers from Shopee and Lazada
Shopee Malaysia's CNY Sale 2023 – Prepare Yourself For A Wonderful Chinese New Year Celebration!
Chinese New Year is a time of bonding, reflection, and renewal, and this coming year, Shopee Malaysia wants you to be prepared for the celebration. During our 2023 CNY Sale, enjoy free shipping with a minimum spend of RM8, check in every day to get Daily 88% Off Prosperity Deals, as well as the chance to win up to RM8,000 Ang Pow daily! You can also check your Chinese zodiac outlook for the coming year, and buy specially curated items with excellent discounts for your animal horoscope.
Wondering what Lunar New Year sales & promotions you can enjoy this year? Parents can stock up on baby necessities like diapers from Enfagrow, formula from Pediasure, baby toiletries from Babyshop, and toys from Lego. Meanwhile, beauty buffs can enjoy exciting discounts on skincare and makeup products from revered beauty brands like Some By Mi, VTcosmetics, Nature Republic, Cosrx, and Focallure.
As per tradition, don't forget to buy new clothes, shoes, and accessories from brands like Fossil, Levi's, Dr. Cardin, and Pandora. If you'd rather upgrade your home appliances this CNY Sale, don't miss out on deals from Tineco, Samu Giken, Airbot, Hisense, and more.
Chinese Lunar New Year Sale: Why Do We Celebrate CNY?
While you savour the amazing Chinese New Year deals and promotions Shopee Malaysia offers, it's important to also be aware of why the lunar new year is celebrated the way it is. There's a popular mythology that a long time ago, a village was terrorised by a monster known as 'Nian'. Nian used to eat livestock and destroy everything in its path on the eve of the new year. One day, a wise man advised the villagers to light up firecrackers and paint their doors red as Nian dislikes the colour red and loud sounds. The villagers tried it, and to their delight, managed to keep Nian away! Therefore, they made it a yearly ritual which now has evolved into the Chinese New Year celebration we know today.
The Best Chinese New Year Sale Deals & Promotions In The Country Await Only On Shopee Malaysia!
Prepare for your celebrations with our Chinese New Year sales and promotions on angpow packets, bak kwa, CNY cookies, festive decor, and new clothes all right here on our platform!
Besides the great discounts during Shopee Malaysia's Chinese New Year Sale, you can always enjoy free shipping with a reduced minimum spend as well as protection using our Shopee Guarantee. With this, payments are only released to sellers once you confirm that you have received the goods you ordered in the expected condition.
We really have you covered this year, not just with this CNY sale, but also our upcoming sales throughout the year such as our Raya Sale, 9.9 Super Shopping Day, 10.10 Brands Festival, and 11.11 Big Sale!
mypromo Telegram Channel
Want to receive  daily promos and deals via Telegram?
Join Our Channel Today

All Are Welcome!
Sign Up for New Accounts and Get Rewarded

mypromo.my: Referral Codes Center
Get Rewarded When you sign up with Referral Codes