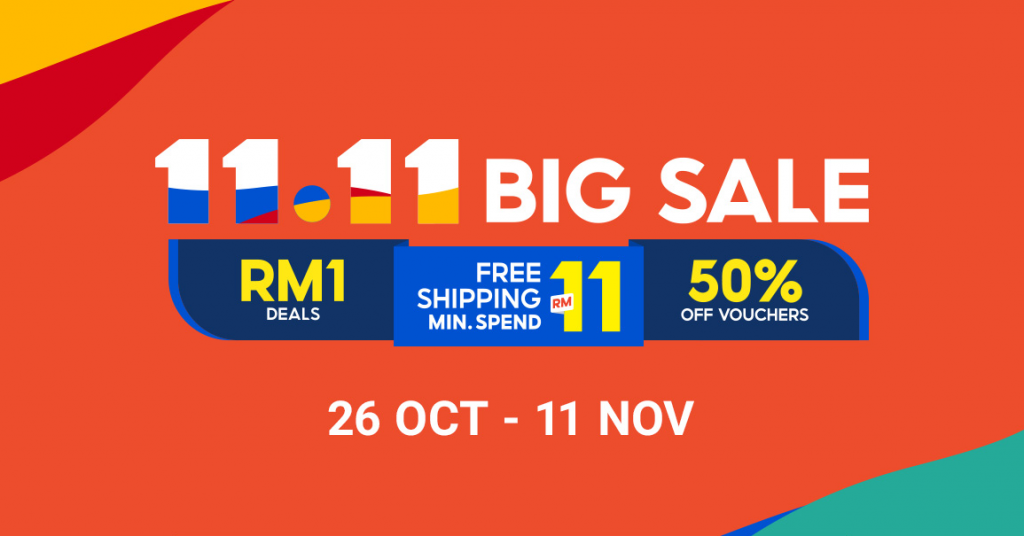 Discounts, Promotions, And Deals Galore At Shopee Malaysia's 11.11 Big Sale!
It's time for massive savings again, thanks to Shopee Malaysia's 11.11 Sale! With daily free shipping vouchers with a minimum spend of RM11, irresistible RM1 deals, and daily 50% off vouchers for brands already offering some of the best 11.11 deals, this is one of our biggest 11.11 Singles Day sale events yet! Featuring deals from brands like Nestle, Enfagrow, Philips, and more, you'd need to be crazy to miss out on this.
Buying things like Nutox serum and Tefal cookware on Shopee MY is made even sweeter with our amazing 11.11 offers, so don't miss out! It's inching toward the end of the year, so it's time to treat yourself.
Daily Free Shipping with minimum spend RM11 for All Sellers (Platform-wide) and for Selected Sellers. Claim Now!
Daily 50% Off Vouchers. Get 50% coins cashback for all sellers. Make sure you are check out fast! Claim Now.
And to add more discount to your purchases, more brands and sellers are offering vouchers. Claim Now.
There will also be 10 x shocking sale sessions. Get 11 sen and RM1 items!
One or Not is back and it's bigger than ever! Get the chance to buy Proton for only RM1.
Only on 26 October 2020, get ready for 20 x Brands Spotlight. Unilever, Loreal, Munchys and more!
• Collect vouchers now
• Free Shipping
• 50% Coins Cashback
• Brand vouchers
• Shocking Sale- 11 sen & RM1 x 10 sessions
and more!
Go Now: http://bit.ly/Shopee-BigSale1111
Did You Know The Origins Of The 11.11 Singles Day Sale?
11.11 didn't start as a shopping day; it first started as a day to celebrate singlehood. Known as Singles' Day, the practice of celebrating singlehood on the 11th of November was started by a group of male students at Nanjing University in 1993, which later was caught on by the general public as well. The reason why they chose the 11th of November was that 11.11 represents four singles.
11.11 became a mega sale day on top of Singles' Day when e-commerce companies in China decided to turn it into a highlight campaign day. The celebration started extending to Southeast Asia and Malaysia later on, and it's become the shopping spree extravaganza we know today. Every year, millions of items are sold and delivered on 11.11 Singles' Day all around Asia.
Find The Best 11.11 Deals And Promotions On Shopee Malaysia Across Various Categories
Like our previous sales, including the latest 9.9 sale and 10.10 sale, we bring to you 11.11 brand offers you won't be able to say no. If you are looking for mobile phones, laptops, or monitors for your work-from-home needs, then keep a lookout for promotions from the likes of Acer, Oppo, and Realme, among others. All kinds of home appliances will have fantastic discounts during our 11.11 sale too!
We haven't forgotten the fashionistas out there, don't worry. Need to upgrade your men's shoe or women's shoe game? Skechers and Carlo Rino are waiting to give you some of the best 11.11 deals for this. This is, of course, just the tip of the iceberg of the fashion deals you'll find! Whatever the items you are looking for, be sure to check for slashed prices on our platform during the duration of the sale.
Choose Shopee Malaysia For Your 11.11 Sale Shopping Spree And Enjoy These Perks!
Besides the cashback and reduced Shopee free shipping voucher threshold, you can be assured that you will receive your item in the expected manner with our Shopee Guarantee. If you don't receive your item, you can get a refund, so your purchase is protected! Not only that, you will get extra special promotions (including RM1 deals) for selected items during our Shocking Sale period, on top of a variety of vouchers to maximise your savings.
So what are you waiting for? Shop from big brands like Watsons and P&G during the 11.11 sale now! Get shopping right here on Shopee Malaysia, and satisfy your inner shopaholic with our fantastic discounts and deals.
Shopee Bank of The Day: https://mypromo.my/shopee-bank-of-the-day
Check out more 11.11 Sales, Offers, Promotions and Deals available on Lazada, Shopee, Zalora, and more!