Telegram Channel
Updated Daily with the Best Deals and Offers
Get all the best deals via our Social Media! Follow Us!
Shopee 11.11 Big Sale Opening Sale Voucher Codes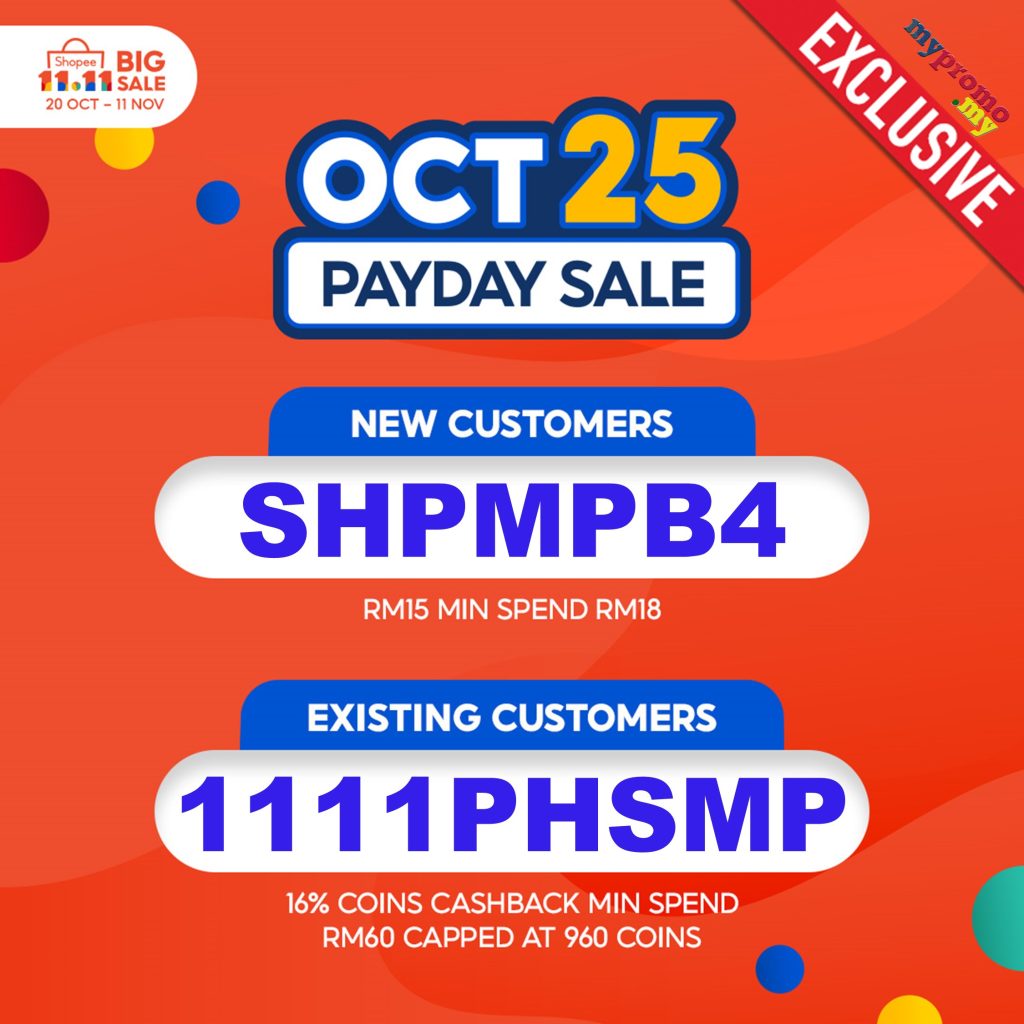 Method to Claim Vouchers:
Shopee 11.11 Big Sale Opening Sale 20.10 Exclusive Voucher codes for mypromo.my followers.
Be the firsts to claim!
Copy Code:
Go to Shopee Voucher Page: https://shp.ee/dprxq9j
Paste Code and Apply
Voucher Code: SHPMPB4
Value: RM15 min off spend RM18
Valid: 20th October – 10th November
For New Customers
Value: RM20 min off spend RM23
Valid: 25th October and 11th November
For New Customers
Voucher Code: 1111PHSMP
Value: 16% Coins Cashback min spend RM60 capped at 960 coinsRM138 Capped at 2,800 Coins
Valid: 20th October – 10th November
For Existing Customers

Shopee 11.11 Big Sale Opening Sale 2021
Shopee 11.11 Opening sale Highlights
Free Shipping Min. Spend RM0
Lowered RM0 Free Shipping for
All Day: Champion Brands & Super Sellers of the day
Free Shipping Vouchers (Daily 12PM Free Shipping Hours)
12PM: Increased quantity of claimable RM0 Free Shipping Vouchers for FSS Sellers, Champion Brands & Super Sellers
Shocking Sale – RM1 Deals:
10x sessions where 40 items per session are at RM1
11AM Rush Hour [NEW]
Daily clearance / retail items further markdown to 30% off
Shopee Food – (1) free delivery voucher , (2) food discount voucher
Lowest Price Guaranteed [NEW]
Lowest Price Guaranteed or get 120% of price difference back in coins

Check out more 11.11 Sales, Offers, Promotions and Deals available on Lazada, Shopee, Zalora, and more!
THE most highly anticipated Lazada 11.11 Biggest Sale of the year is back this November 11-13 . Collect and redeem bank vouchers worth up to RM120! Lazada ...
Are you ready for Trip.com 11.11 Super Saver Sale?! Starting from 8th-11th November , save up to RM500 during this 4 days BIG SALE for hotel, flight and ...
Stand a chance to win a RM50 Lazada gift card when you spend RM100 and above in one receipt through mypromo.my affiliate link during Lazada 11.11 ...
The Biggest Sale of the Year is coming right up this 11th - 13th November on Lazada. Get Excited! Lazada 11.11 is going to be BIG! You can purchse ...
The biggest shopping season on Klook is right around the corner. This 11.11 and Year End Sale , enjoy flash deals of up to 50% off and sitewide promo ...
Lazada Bonus is back for Lazada 11.11 Sale. Collect Lazada Bonus everyday from 6-13 November and use the bonus from 11-13 November! Get RM9 Off every RM90 ...
Shopee 11.11 Daily Mega Quiz offers reward up to 111 Coins Daily! Answer the quiz to win EXTRA coins. Want to get all the answers daily? Join our ...
You can also participate in Shopee Live to stand a chance to Win Up To RM1 Million, making this one of our biggest 11.11 Singles' Day sale events yet! ...
It's time for big sale and shocking prices, thanks to Shopee Malaysia's 11.11 Sale ! Enjoy exciting 11.11 Shopee promos like daily Free Shipping vouchers ...
Promotional Period: 15th - 18th November, Agoda is very pleased to offer promotional nightly rates for certain Agoda Bookings made during the ...
About Shopee 11.11 Big Sale
Discounts, Promotions, And Deals Galore At Shopee Malaysia's 11.11 Big Sale 2021!
It's time for massive savings again, thanks to Shopee Malaysia's 11.11 Sale 2021! Enjoy daily Free Shipping vouchers with no minimum spend, irresistible RM1 Deals, and daily 111% coins cashbacks and vouchers. You can also participate in Shopee games to Tap & Win a Condo of your dreams, making this one of our biggest 11.11 Singles' Day sale events yet! Featuring deals from brands like Nestle, Enfagrow, Philips, and more, you'd need to be crazy to miss out on this.
Buying things like Signature Market's granola and Tefal cookware on Shopee Malaysia is made even sweeter with our amazing 11.11 offers, so don't miss out! It's inching toward the end of the year, so it's time to treat yourself.
Did You Know The Origins Of The 11.11 Singles' Day Sale?
11.11 didn't start as a shopping day; it started as a day to celebrate singlehood. Known as Singles' Day, the meaning behind 11.11 can be traced back to a group of male students at Nanjing University in 1993, which later was caught on by the general public as well. The reason why they chose the 11th of November was that 11.11 represents four singles.
Now, the meaning of 11.11 is more than just a day to celebrate singlehood. In fact, 11.11 became a mega sale day when e-commerce companies in China decided to turn it into a highlight campaign day known as the 11.11 Singles' Day. The celebration then extended to Southeast Asia, and it has become the shopping spree extravaganza we know today. Every year, millions of items are sold and delivered on 11.11 Singles' Day all around Asia.
Find The Best 11.11 Deals On Shopee Malaysia Across Various Product Categories
Like our previous sales, including the latest 9.9 sale and 10.10 sale, we have 11.11 brand offers that you just can't resist. If you are looking for mobile phones, laptops, or monitors for your work-from-home needs, then keep a lookout for promotions from the likes of Acer, Oppo, and Realme, among others. All kinds of home appliances will have fantastic discounts during our 11.11 sale too!
Don't worry, we have deals for all the fashionistas out there too. Need to upgrade your men's shoe or women's shoe game? Skechers and Carlo Rino are waiting to give you some of the best 11.11 deals. Don't forget to keep up with the latest trends and shop for these Y2K fashion essentials!
Looking to drop some serious bag for some BIG purchases but not sure which one to invest in? If you're looking for a new folding bike to explore the city, consider one of these best folding bikes in Malaysia. In need of a new tablet for work or school? Find out which Android flagship tablet suits you best.
This is just the tip of the iceberg of the deals you'll find! Whatever you're looking for, be sure to check for slashed prices during the sale.
Join Shopee Malaysia's 11.11 Sale Shopping Spree And Enjoy These Perks!
Besides the coins cashback and no minimum spend free shipping vouchers, you can rest assured that you will receive your item in the expected manner with our Shopee Guarantee. If you don't receive your item or aren't satisfied with it, you can get a refund, so your purchase is protected! Plus, you'll get extra special promotions (including RM1 deals) for selected items during our Shocking Sale period, on top of a variety of vouchers to maximise your savings.
So what are you waiting for? Shop from big brands like Samsung and Tineco during the 11.11 sale on Shopee Malaysia! Start shopping right here and satisfy your inner shopaholic with our fantastic discounts and deals.
More Lazada Promotions: https://mypromo.my/dealstore/lazada/
More Shopee Promotions: https://mypromo.my/dealstore/shopee/
mypromo Telegram Channel
Want to receive  daily promos and deals via Telegram?
Join Our Channel Today

All Are Welcome!
Sign Up for New Accounts and Get Rewarded

mypromo.my: Referral Codes Center
Get Rewarded When you sign up with Referral Codes