Lazada Daily Cashback Vouchers
Collect and Use these vouchers
Get all the best deals via our Social Media! Follow Us!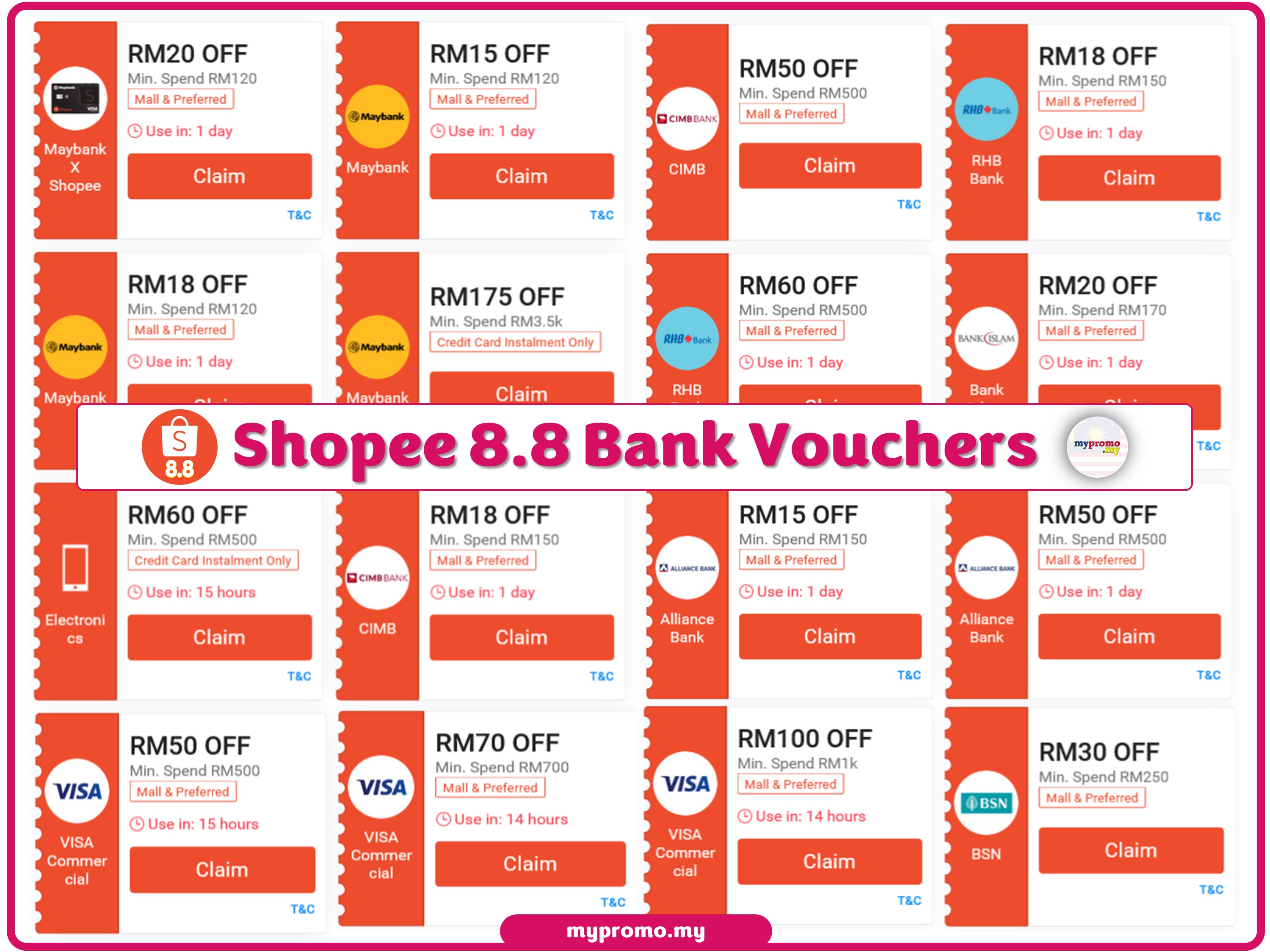 Shopee's 8.8 Super Brands Festival 2023 – Enjoy more discounts with these bank vouchers from Maybank, CIMB, Alliance, Public Bank and more! Get Free Shipping Min. Spend RM0 and 50% Daily Brand Discounts
Shopee 8.8 Bank Vouchers!

Shopee 8.8 Sale
Enjoy up to RM175 Off with bank voucher
Shopee 8.8 x bank Vouchers
📍 https://shope.ee/2q1LtQBhwf
Vouchers worth up to RM175!
Maybank X Shopee
RM20 OFF Min. Spend RM120
Maybank AMEX Card only
RM15 OFF Min. Spend RM120
Maybank
RM18 OFF Min. Spend RM120
Maybank Credit Card Instalment Only – Samsung
RM175 off Min. Spend RM3.5k
Maybank Credit Card Instalment Only – Electronics
RM60 off Min. Spend RM500
CIMB
RM18 off Min. Spend RM150
CIMB
RM50 off Min. Spend RM500
RHB
RM18 off Min. Spend RM150
RHB
RM60 off Min. Spend RM500
Alliance Bank
RM50 off Min. Spend RM500
Alliance Bank
RM15 off Min. Spend RM150
Bank Islam
RM20 off Min. Spend RM170
BSN
RM30 off Min. Spend RM250
VISA: 7-13 August
RM100 off Min. Spend RM1k
VISA: 7-13 August
RM70 off Min. Spend RM700
VISA: 7-13 August
RM50 off Min. Spend RM500
Claim All Now:
📍 https://shope.ee/2q1LtQBhwf
Lazada 88 Sale
👉 https://mypromo.my/lazada/88
Shopee 88 Sale
👉 https://mypromo.my/shopee/88
Shop Zalora
👉 https://mypromo.my/shop/zalora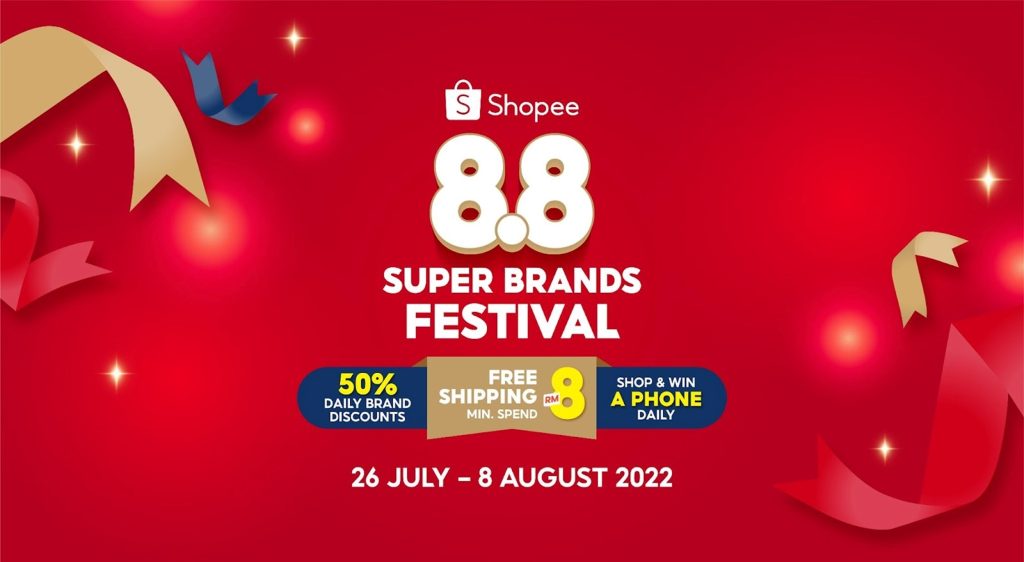 Now is your chance to grab 100% authentic goods at the lowest prices ever! Every day, you can look out for 12PM Free Shipping Hours, 8PM Coins Cashback Hours, Daily Brands Spotlight, as well as Shopee Premium deals across several product categories including women's bags, jewellery, and mobile phones!
View All 8.8 Deals
8.8 Sale Main Page: https://mypromo.my/shopee/8.8

Shopee 8.8 Sale: Fashion & Beauty Markdown Madness
Get Free Shipping With No Min. Spend, 88% Vouchers, And RM15 Off min spend RM50!
Shopee's 8.8 Super Brands Festival Sale Offers The Lowest Prices On 100% Authentic Goods
Health & Beauty
From skincare to makeup brands, Shopee Malaysia's 8.8 sale brings you the best bargains on all your health and beauty needs. Grab hair and oral care essentials from Grafen and Colgate, then treat yourself to your favourite makeup items from Watsons. Eyeing some essences and serums to achieve healthier skin? Then check out the best deals from Garnier, Biotherm, Nivea, and Kiehl's!
Electronics & Home Appliances
Shopping for a new laptop, phone, or vacuum cleaner? So many brands are offering great prices during 8.8 sale including Vivo, Tineco, Giselle, and Acer! Need recommendations for budget-friendly gadgets? Then read up on these best phones under RM500 or budget tablets under RM900 before you check out with the best discount vouchers on Shopee Malaysia!
Mum & Baby Essentials
Motherhood can be challenging, but shopping for maternity and baby essentials shouldn't be. That's why mothers can look forward to our Super Mum & Baby Brands Sale during the 8.8 Super Brands Festival! This is the best time to stock up on baby milk formula & food from Dugro and Pediasure. For diapers and baby bath products, check out the best deals and brand sales from Vinda!
Shoes, Bags & Fashion Accessories
Comfortable shoes are the best investment you can make, so why not consider some sneakers from Dr. Cardin? For your capsule wardrobe, shop essential pieces from Forest and Lovito. Need some styling tips for your next #OOTD shoots? Then check out this guide on how to style cardigans or how to incorporate mom jeans into your everyday look.
It's Branded Deals & Discounts Galore On Shopee Malaysia This 8.8 Sale
So many brands on sale, so little time! Apart from RM8 free shipping vouchers this 8.8 sale, don't forget to claim and apply the various discount vouchers before you check out with your favourite branded items. And for 100% authentic products, you can trust the official sellers on our Shopee Mall! Psst, score the lowest prices when you shop during the Shocking Sale time slots too. Plus, come back again to enjoy unbeatable promotions during our monthly Payday Sale and our year-end sales like the 9.9 sale, 10.10 sale, 11.11 sale, and 12.12 sale!
Check out more 11.11 Sales, Offers, Promotions and Deals available on Lazada, Shopee, Zalora, and more!
Promotional Period: 15th - 18th November, Agoda is very pleased to offer promotional nightly rates for certain Agoda Bookings made during the ...
Rebate Now is at 11% Off this Shopee 11.11 Sale!Claim Now: https://mypromo.my/rebatenow • Claim 3 x 11% Off with min spend of RM110 capped at ...
Shopee 11.11 Voucher hunt is back on 11 November! Shopee is giving out extra 2 vouchers but can you crack the codes? We have! Here is the code, claim ...
Complete List of Bank + ewallet Vouchers for Lazada 11.11Main Page > https://mypromo.my/laz/bank/voucher Collect vouchers at 12AM sharp.*Top up ...
Enjoy great deals and offers on Lazada 11.11! Buy your favourite sportswear like Nike, adidas, Puma, Skechers and more. Collect Lazada bonus and enjoy ...
Lazada 11.11 Bank Voucher + Extra discount voucher code for mypromo.my followersApply the code here: https://mypromo.my/lazada/cart Bank Voucher ...
Shopee 11.11 x Loreal + Maybelline + Garnier Big Salehttps://shope.ee/7zcVOcPSwj Shop Now Details: • Claim up to RM100 Off each Brand• 100% ...
Lazada 11.11 sales is back with limited-time exclusive promotions on skincare, make up & gift sets. Spend more, get more gifts! Shop online! Find the best ...
TNG Enhanced Cards will be restocked throughout the day on 11 Nov ONLY on Lazada 11.11, so check back regularly and don't miss out!TNG NFC: ...
Use the HSBC Card for this year's 11.11 Singles' Day shopping spree and maximise your rewards on Lazada, Shopee, Zalora, Klook and more! Lazada 11.11 x ...
11.11: The Biggest One Day Sale!
Shop during the biggest one-day sale with 11 million deals, Lazada app games and vouchers, only during 11.11 on Lazada Malaysia!
LAZADA is set again to urge avid online shoppers to participate in the biggest online sale in Malaysia in 2019. The biggest online shopping mall in Southeast Asia will break the Internet to provide online consumers with the biggest and grandest discounts, flash sales, hot deals, enormous gifts and many other benefits to enjoy. The event will be known as the 11.11 sale, a day for online shoppers to take advantage of the many hot deals, free shipping, RM111 instant cashback, hourly RM1 crazy deals and a lot more exciting deals when they visit the LAZADA website or use the ever-growing LAZADA Mobile App!

Unbeatable Deals: Unforgettable Shopping Experience – All during the 11.11 Sale!
LAZADA Malaysia aims to provide excellent service for every transaction; giving unlimited perks and benefits for consumers who join the Biggest Sale of the year. Among the many shopping advantages that you will experience are the extravagant discounts across all the categories. Expect these amazing discounts on items in these categories including mobiles and tablets, home appliances, cameras, personal electronics, fashion, sports and more during this BIGGEST ONE DAY SALE. Shoppers can experience effortless shopping throughout these online sales in Malaysia. By purchasing your items through online sales, you don't have to waste your time in long queues and traffic jams; you can just purchase things you want from the comfort of your own home. No matter where you are in Malaysia, LAZADA will bring your items to your doorstep! Everything is just one-click away!
Even if you are on-the-go and have no time to wait in front of your desktop, you can download and install LAZADA App for you to enjoy all online greatest deals. You can also follow our special hashtag #MYLazada1111 #ILove1111Lazada #LazadaBiggestOneDaySale where you can keep track on what are the latest or special offers that are exclusive to social media users only. So make sure you're ready for the biggest online sale in Malaysia 2023 only on LAZADA Malaysia! This is the perfect moment for you to find the one you'll love at the Lowest Price Guarantee!
More Promotions, Offers and Vouchers from Shopee and Lazada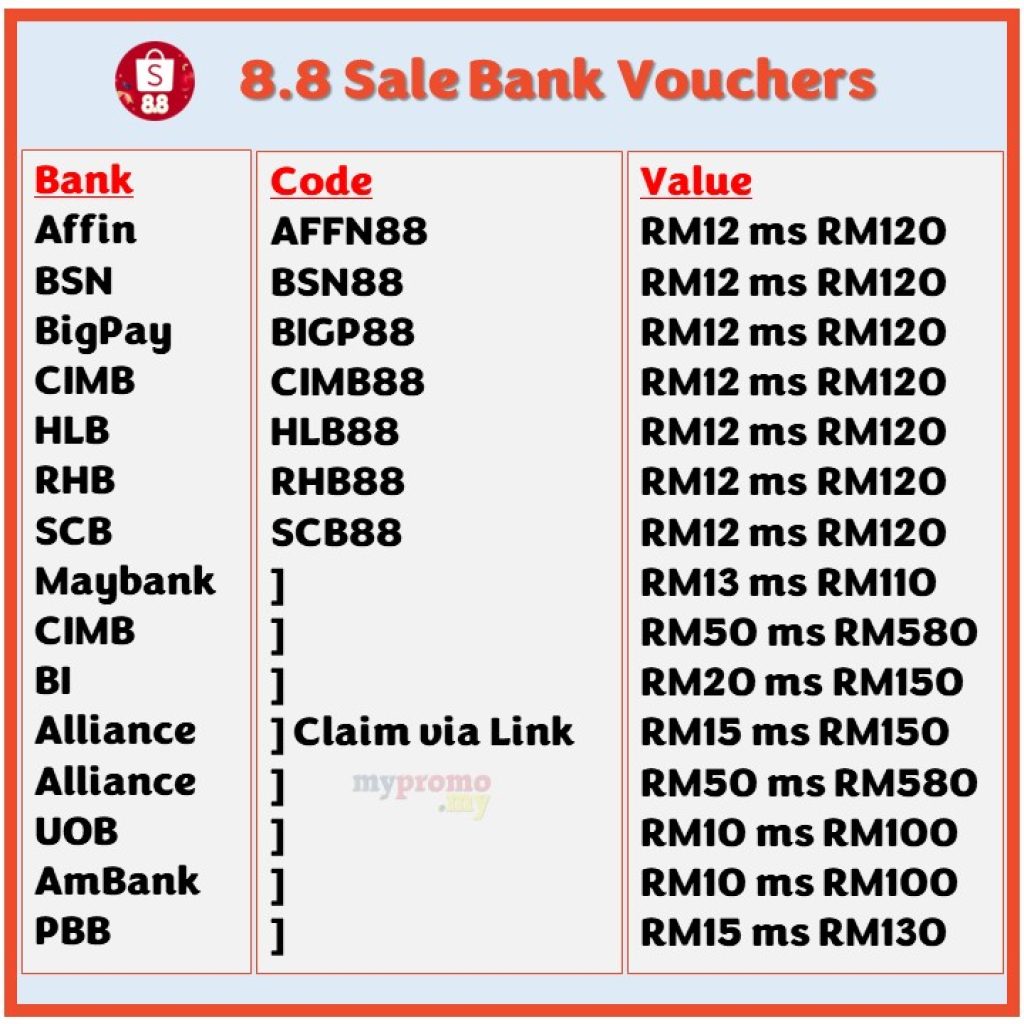 mypromo's Payday  WhatsApp Groups
Want to receive promos and deals via WhatsApp?
Join our 9.9 Sale groups!
1. Only Admin Can Post
2. 9.9 Sale Chit Chat Group
All Are Welcome!
Sign Up for New Accounts and Get Rewarded

mypromo.my: Referral Codes Center
Get Rewarded When you sign up with Referral Codes