Telegram Channel
Updated Daily with the Best Deals and Offers
Get all the best deals via our Social Media! Follow Us!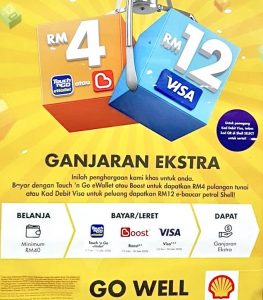 Which of the two rewards is your choice? Cash return or Shell petrol e-voucher?
Starting 13 July, get rewarded when you pay with either Visa or e-wallet (Boost/Touch 'n Go)
Pay with e-wallet (Boost/Touch 'n Go), get RM4 cash rebate
Pay with Visa Debit Cad, get RM12 petrol e-voucher
Need to fuel up for your journey? ???⛽Stop by the nearest Shell station, #PayWithBoost at the counter for fuel or snacks and enjoy RM4 cashback! Make your trip a rewarding one with Boost.
mypromo Telegram Channel
Want to receive  daily promos and deals via Telegram?
Join Our Channel Today

All Are Welcome!
Sign Up for New Accounts and Get Rewarded

mypromo.my: Referral Codes Center
Get Rewarded When you sign up with Referral Codes