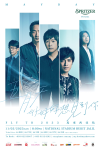 MAYDAY FLY TO 2023 WORLD TOUR IN MALAYSIA (Tickets)
Get all the best deals via our Social Media! Follow Us!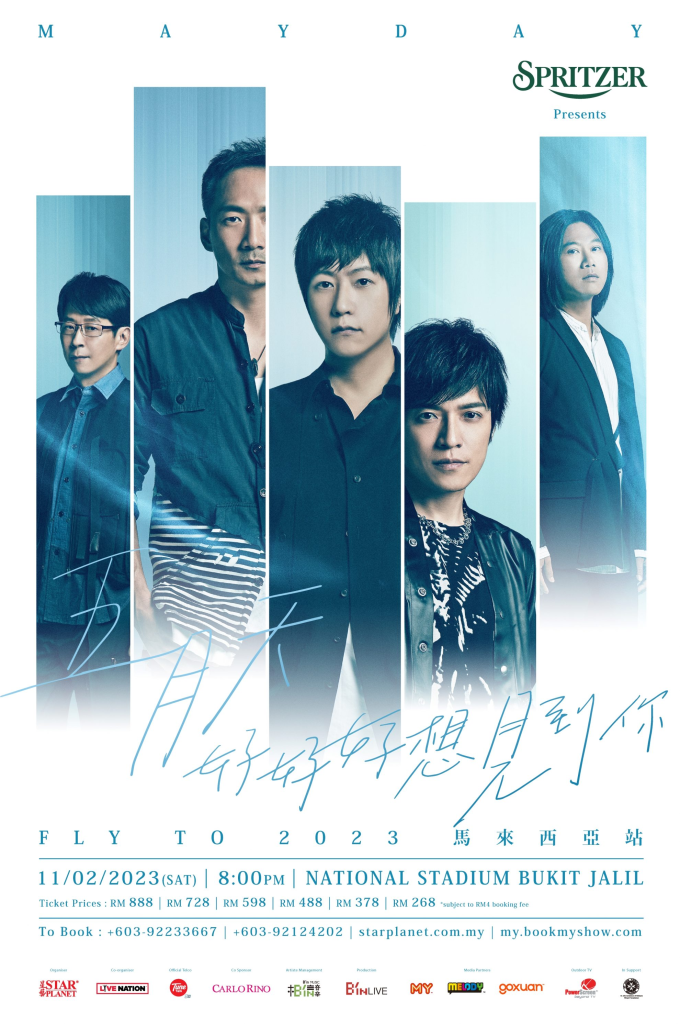 MAYDAY FLY TO 2023 WORLD TOUR IN MALAYSIA Bukit Jalil National Stadium on 11 February 2023 at 8pm tickets and pricing for your reference.
五月天 Mayday – 人生无限公司 Life Live (3CD)
https://shope.ee/6UoqXqnkBA
Extra Seats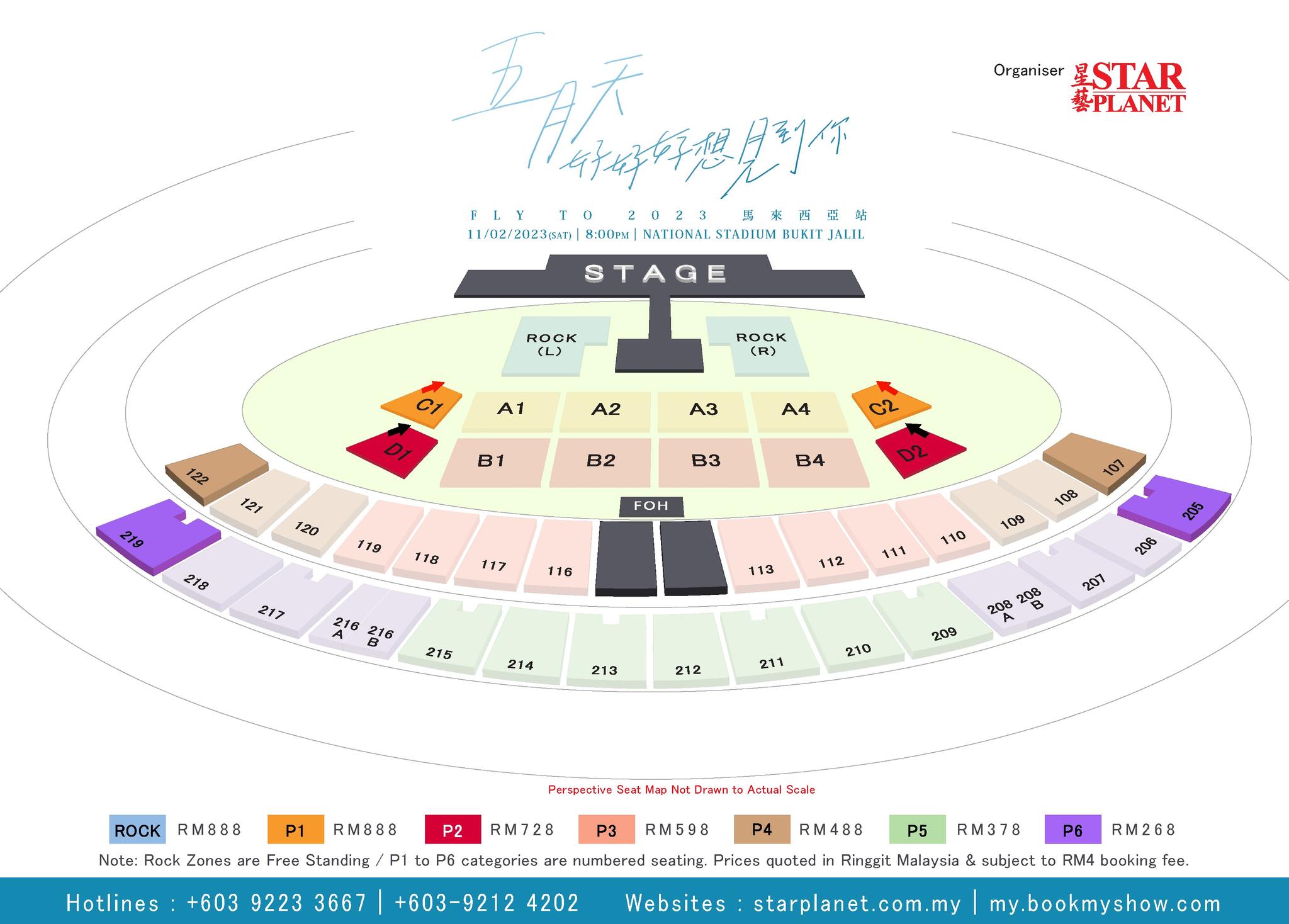 五迷们!好消息来咯!五月天【好好好想见到你】大马演唱会,加位 P1, P2, P4 以及 P6票价,门票今天中午12点出售!

Mayday "Fly to 2023" Live in Malaysia concert – Extra Seats Added on category P1, P2, P4 and P6! Tickets will go on sale 6 January at 12pm!
Buy Tickets Here: https://starplanet.com.my/2022-2/mayday_kl2023/
Terms: Each transaction allows up to 6 tickets. The "Buy Button" will be published at 12pm later today. We must remind all customers to kindly check on the seats assigned to you BEFORE checkout as the system will auto-generate any available seats including split seats in the event NO joining seats are available at the point of your purchase. All other ticketing terms shall apply. Please visit www.starplanet.com.my for more concert details. Thank you.
MAYDAY Concert Details:
• Date: 11 February 2023, (Saturday)
• Time: 8pm
• Venue: Bukit Jalil National Stadium
• Ticket Prices: MYR888 / MYR728 / MYR598 / MYR488 / MYR378 / MYR268
• Public Ticket Sale will commence on December 30th, 2022 (from 2pm) onwards.
• Each transaction limits to 6 tickets only.
• Official light sticks will be open for purchase at RM30 per unit. Light sticks to be collected on show day.
Pre-Sale for Spritzer Customers
Be the first 1000 to purchase Mayday concert tickets during Pre-Sales Day Special ! Just purchase minimum RM50 on Spritzer E Store from 24-26 December 2022 and add "Mayday" in remark column during checkout to receive Priority Code (*terms & conditions apply). Top 25 spenders will be rewarded a 15% ticket discount. Pre-Sales Day Special is on 29th December 2022 (2pm) and each priority code entitles to the purchase of 2 concert tickets only.
Seat Map and Pricing
| | |
| --- | --- |
| Ticket Type | Normal Price |
| ROCK ZONE | 888.00 |
| P1 | 888.00 |
| P2 | 728.00 |
| P3 | 598.00 |
| P4 | 488.00 |
| P5 | 378.00 |
| P6 | 268.00 |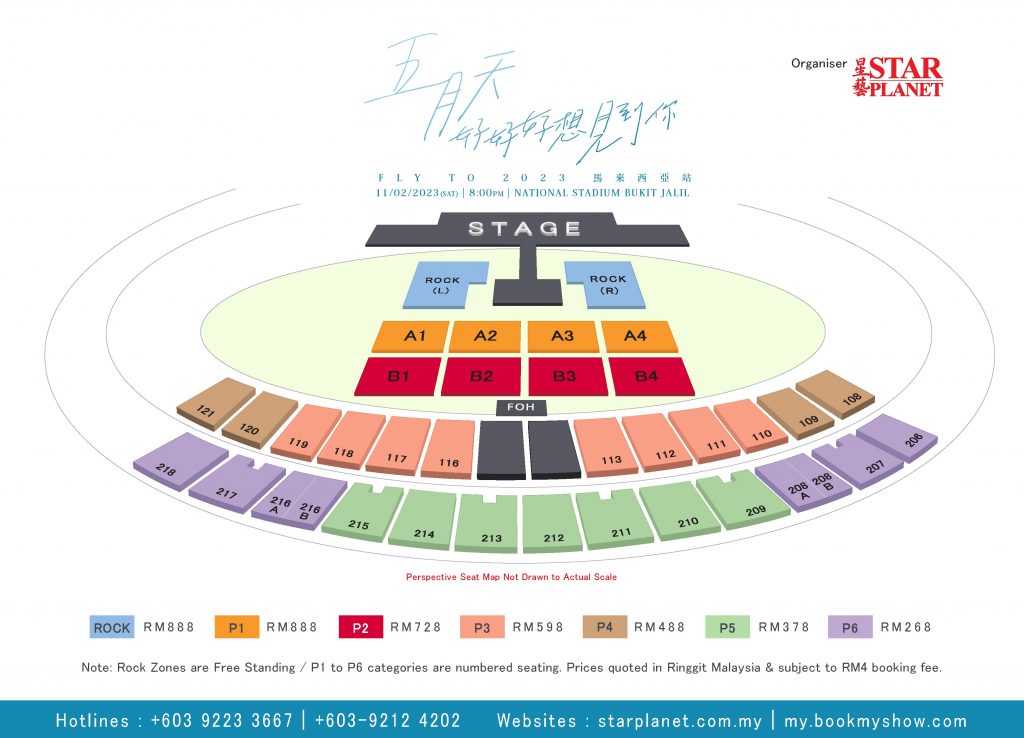 More Concert: https://mypromo.my/tag/concert
Description of Event
Presented by Spritzer Mineral Water, organized by Star Planet, the Mayday "Fly to 2023" World Tour in Malaysia concert is slated to be held at the notable Bukit Jalil National Stadium on 11 February 2023 at 8pm. The band last performed here in Malaysia in 2017 drawing over 20,000 audience.
This upcoming "Fly to 2023" world tour will see another mega production that surpassing the band's previous shows held in Malaysia. Featuring a mega stage with gigantic LED screens running as long as 250-feet in length, it will be the largest concert screen ever used in Malaysia offering concert audiences spectacular visual effects. An extended catwalk and middle sub-stage will be crafted to allow the audience to have a closer interaction with MAYDAY.
For the past two years and more, MAYDAY's world tour concerts endured a few rounds of postponement. The soft rock band is eager to meet fellow fans as much as the fans do after the pandemic long haul. Hence, with much anticipation, world tour concerts resumed in November 2022 as the pandemic gradually resolved.
The United States and Singapore were among the first few stops which drew overwhelming response. And this long-awaited Malaysia gig in Bukit Jalil National Stadium, which can cater up to 100,000 audiences will be a massive comeback. And the ticket sale is expected to set off another craze among fans.
MAYDAY, consisting of lead vocalist Ashin, bassist Masa, drummer Guan You and guitarists Stone and Monster, appeals across a spectrum of listeners. While they're on the cusp of middle age, the band members have a boyish charm to them that attracts both new and old listeners to their music over two decades. Though their fame is limited in scope primarily to the East Asian music market, MADAY remains one of the world's best-selling bands.
由Spritzer天然矿泉水荣誉呈献,Star Planet 星艺娱乐主办,五月天 "好好好想见到你" Mayday Fly to 2023马来西亚演唱会确定2023年2月11日,晚上8时,武吉加里尔国家体育场 (Bukit Jalil Nasional Stadium) 隆重引爆!
首次在可以容纳十万人的武吉加里尔国家体育场开唱,演唱会规格会比以往在大马的演唱会来得更高。舞台将以横摆的方式呈现,从主台再向左右两端延伸全长250尺,并采用巨型荧幕和高科技舞台机关,这将是五月天在大马演唱会上启用最长,最大的荧幕,势必要为大马"五迷"打造出更壮观的视觉效果,当然更少不了与现场"五迷"更靠近的中间延伸舞台。
过去2年多受到冠病疫情的影响,五月天的世界巡演一延再延,但五月天真的好想好想见到大家,在2022年11月疫情放缓之后,重启海外巡回演唱会,先是去了美国及新加坡,如今终于盼到唱进大马。这也是五月天继2017年《人生无限公司》演唱会后,时隔6年再度来马开唱。
想要再次感受五月天LIVE现场演出的惊人魅力,千万不要错过咯!五月天将与大马"五迷"们台上台下一起HIGH翻天,让五月天用音乐魔力,为大家一扫过去的纷纷扰扰,补满能量迎向全新的一年!
Lazada 6.6 - 100% Cashback!
Sign Up for New Accounts and Get Rewarded

mypromo.my: Referral Codes Center
Get Rewarded When you sign up with Referral Codes