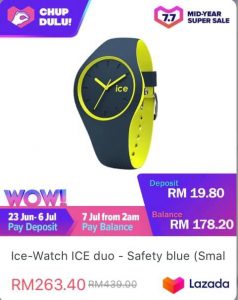 CHUP DULU 7.7 MID YEAR SALE Ice-Watch ICE duo – Safety blue (Small)
Original Price: RM439
CHUP DULU Price: ONLY RM178.20
Chup Dulu:>> https://invol.co/clpp90 <<

Lazada: Ice-Watch ICE duo - Safety blue (Small)
Original Price: RM439 CHUP DULU Price: ONLY RM178.20
Please scroll for more Mid Year 7.7 Big Sale Deals, Promotions and Voucher Codes
Lazada Mid-Year Sales is here! Grab the best bundle promo now! We've bundles for latest models of our phones. Also, limited offers on price discounts for other models. Check it out now at ...
Enjoy up to 18% Off* Enfagrow A+ during Lazada 7.7 when you shop at Enfagrow A+ official store at Lazada and also get FREE PLAYTENT* when you spend RM650 and above.Shop now: ...
Get 10% off + extra 10% off when purchasing 2 units
Ladies! Want to switch up your look? Stretch your ringgit and get your hands on these amazing deals on Lazada this month! Explore them today.