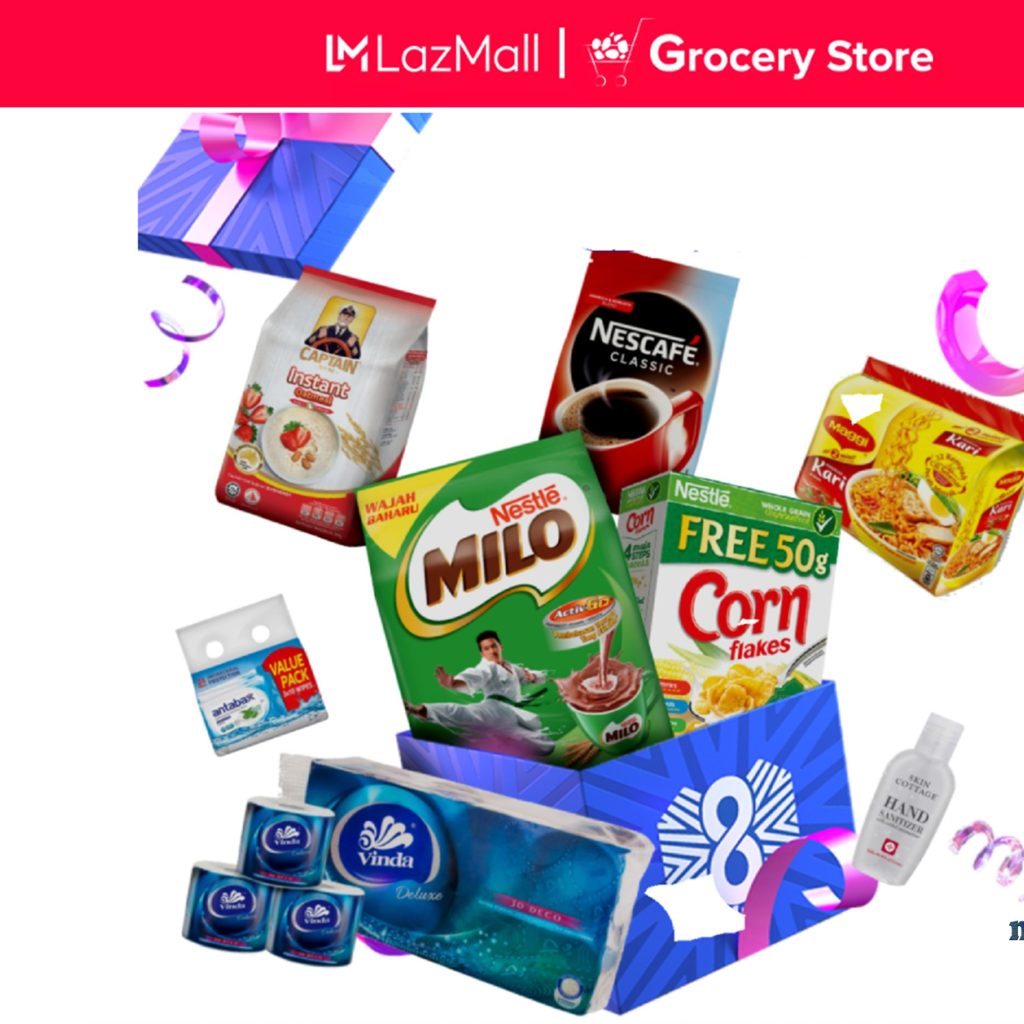 Are you looking for a one-stop grocery store that has it all? It is much more convenient to purchase everything you need from Lazada Grocery Store. You get all your essentials from one place, delivered right to your doorstep – with everyday free shipping!
Worried about the quality? Fret not! Lazada's Grocery Store is on LazMall and is 100% authentic, just like you! Fast and guaranteed delivery with easy 15 days return   
Shop on Lazada Grocery Store

Lazada Grocery Store Has It All

Lazada Daily Cashback Vouchers
Collect and Use these vouchers
Get all the best deals via our Social Media! Follow Us!
Top Items on Lazada Grocery Store
Food Staples and Cooking Essentials Delivered To Your Doorstep   
Stay home, we deliver to you. Everything you need to make a scrumptious meal for you and your family is right here, at Lazada Grocery Store. With various condiments, noodles, pastas, canned food, cooking sauces, ingredients and more. Purchase from brands such as Prego, Maggi, Campbell and more!
Stock up your kitchen cupboards with snacks you cannot resists. Are you team savory or sweet? No matter what team you're on, Lazada Grocery Store has just the snacks to satisfy your cravings! Indulge in biscuits, cookies, chocolates, sweets, chips, nuts and more. Variety of brands such as Pringles, Julie's, Mamee etc.
Breakfast, the most important meal of the day! Cereals, milk, oat bars, bread spreads, granolas and breakfast snacks are always a pleasure! And don't forget the perfect cup of Milo, Nescafe or Omega to pair with your breakfast meal!   
Household Goods To Complete Your Home and Living 
A house isn't complete with essential house supplies. It can be draining to shop in stores for a bunch of household goods. With Lazada Grocery Store, you can now shop all your most-needed household items within just a few seconds! We have everything you need – kitchen tools, dishwashing items, toilet cleaning supplies, air care and even  laundry items. Shop Sunlight, Top, Dettol and more with Lazada!
Authentic Health, Beauty and Personal Care With Major Discounts
Lazada's Grocery Store ensures to stock up on essential items such as health care, personal care and beauty! Everyone loves beauty and skincare, but before diving into the world of make-up and skin care, let's prioritize our health and personal hygiene.
Lazada brings you bath and body must haves from various authentic and trusted brands. This includes, body soaps, shower gels, shampoos, shaving and grooming items, deodorants and even skincare! Grab essentials from Dove, Sunsilk, Rexona and Johnson's.
We also make sure to have a range of health care item such as oral care, feminine care, adult diapers, pharmaceutical medication and food supplements. Grab essentials from, Colgate, Kotex, Libresse and DEPEND.
Beauty and skincare is a form of self-care and should be prioritized. We have the most-wanted beauty and skincare items, such as, face cleansers, toners, moisturizers, face masks and eye treatment are available on Lazada Grocery Store. Purchase Biore, Nivea, VASELINE and more

More Promotions, Offers and Vouchers from Shopee and Lazada
mypromo's Payday  WhatsApp Groups
Want to receive promos and deals via WhatsApp?
Join our 9.9 Sale groups!
1. Only Admin Can Post
2. 9.9 Sale Chit Chat Group
All Are Welcome!
Sign Up for New Accounts and Get Rewarded

mypromo.my: Referral Codes Center
Get Rewarded When you sign up with Referral Codes