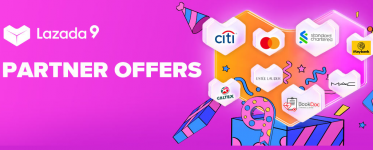 Lazada 9 Birthday Surprise Sale: Bank and Partner Voucher Promo Code
Get all the best deals via our Social Media! Follow Us!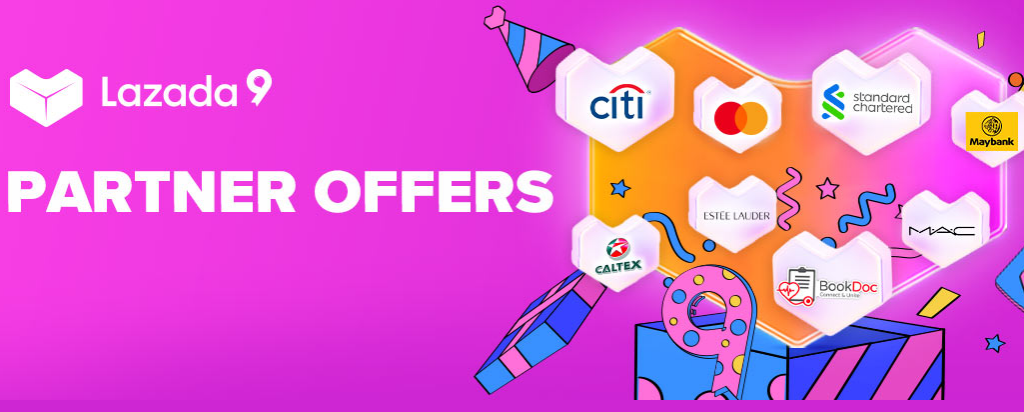 Shop Like It's Your Birthday on Lazada 9th Birthday Sale! Surprise! Lazada is kicking off its 9th Birthday Sale on March 27, 2021! For nine strong years, as the top online shopping platform in Malaysia, Lazada simply offers more deals and vouchers.

Lazada 9 Bank Voucher
Bank: Mastercard
Value: 9% off capped at RM9
Valid: 27.03.2021
Collect HERE
Bank: Citibank
Value: RM 15 min spend RM 100
Valid: 27.03.2021
Collect HERE
Bank: Citibank-Co brand
Value: RM 22 min spend RM 100
Valid: 27.03.2021
Collect HERE
Bank: RHB Bank
Value: RM20 min spend of RM 150
Valid: 27.03.2021
Collect HERE
Bank: RHB Bank
Value: RM100 off min spend of RM500
Valid: 27.03.2021
Collect HERE
Bank: HSBC
Value: RM20 off min spend of RM150
Valid: 27.03.2021
Collect HERE
Bank: HSBC
Value: RM100 off min spend of RM1000
Valid: 27.03.2021
Collect HERE
Bank: Alliance Bank
Value: RM15 off min spend of RM100
Valid: 27.03.2021
Collect HERE
Bank: Aeon Credit
Value: RM15 off min spend of RM100
Valid: 27.03.2021
Collect HERE
Bank: Standard Chartered Credit Cards
Value: RM20 off min spend of RM150
Valid: 27.03.2021
Collect HERE
Bank: Standard Chartered Credit Cards
Value: RM100 off min spend of RM1000
Valid: 27.03.2021
Collect HERE
Bank: AFFINBANK
Value: RM12 min spend of RM150
Valid: 27.03.2021
Collect HERE
Bank: BSN
Value: RM9 min spend of RM 90
Valid: 27.03.2021
Collect HERE
Bank: Maybank
Value: RM15 min spend of RM130
Valid: 27.03.2021
Code: MBBLAZ9 (Apply at Checkout)
Zalora is also celebrating 9th Birthday this month, check this out: https://mypromo.my/zaloras-9th-birthday-sale-bank-voucher-code
Lazada 9 Partner Voucher
Partner: TNG eWallet
Value: RM5 off min spend of RM30
Valid: 27.03.2021
Collect HERE
Partner: Boost
Value: RM9 off min spend of RM80
Valid: 27.03.2021
Collect HERE
Top Up Lazada Wallet and Get Rewarded
Bank: Mastercard New Customer
Mechanic: 12% cashback when you top up the Lazada Wallet and save your Mastercard for the first time
Valid: 20.03 – 26.03
Details HERE
Bank: Mastercard Existing Customer
Mechanic: 9% cashback when you top up the Lazada Wallet with an existing saved Mastercard
Valid: 20.03 – 26.03
Details HERE
Bank: Standard Chartered New Customer
Mechanic: RM15 cashback when you top up a min of RM100 into the Lazada Wallet and save your Standard Chartered Credit Card for the first time
Valid: 20.03 – 26.03
Details HERE
Bank: Standard Chartered Existing Customer
Mechanic: RM10 cashback when you top up a min of RM100 into the Lazada Wallet with an existing saved Standard Chartered Credit Card
Valid: 20.03 – 26.03
Details HERE
Bank: HSBC New Customer
Mechanic: RM10 cashback when you top up a min of RM50 into the Lazada Wallet and save your HSBC Card for the first time
Valid: 20.03 – 26.03
Details HERE
Bank: HSBC Existing Customer
Mechanic: RM10 cashback when you top up a min of RM100 into the Lazada Wallet with an exisiting saved HSBC Card
Valid: 20.03 – 26.03
Details HERE
Bank: Maybank CASA
Mechanic: Link up and top up for the first time with M2U a min of RM50 into the Lazada Wallet and get RM9 cashback
Valid: 20.03 – 27.03
Details HERE
Lazada 9 Birthday Sale Brand Voucher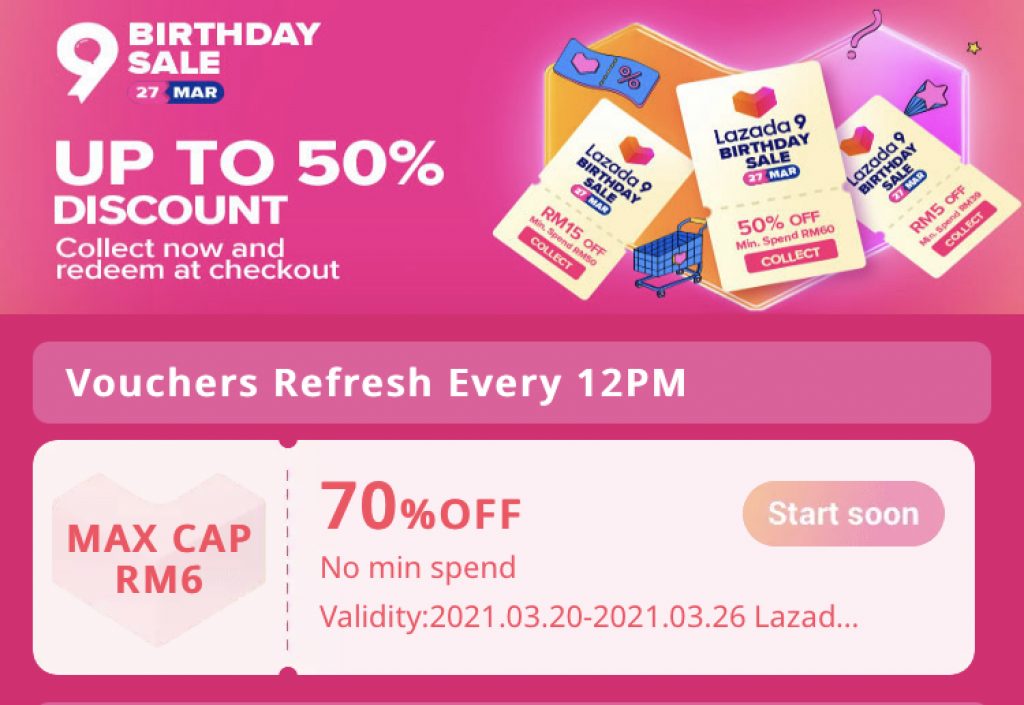 What vouchers available for collection:
• 70% Off Voucher with no min spend
• 50% Off Brand Vouchers with RM0.10-RM1.00 min spend
• Partners ie Bank Vouchers
• Hot Birthday Voucher
• And more vouchers available
More Lazada Birthday Celebrations: