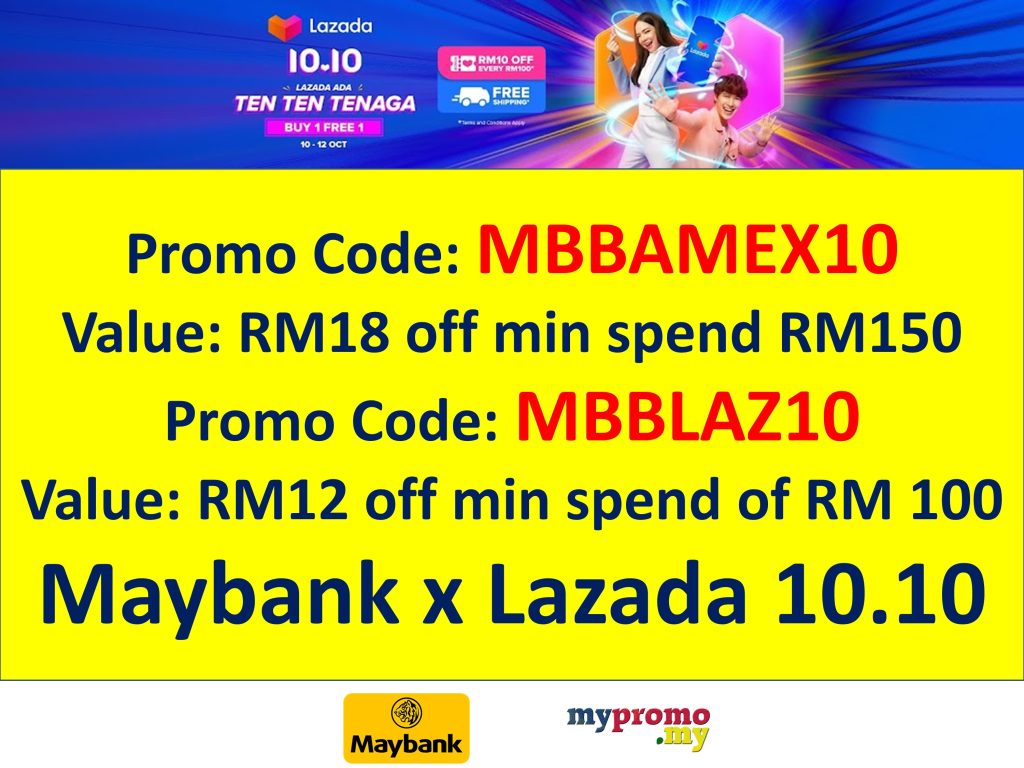 Exclusively for Maybank debit, credit and prepaid cardholders, enjoy up to RM30 Off on Lazada 10.10!
Lazada 10.10. Effortless shopping at your fingertips. An online premier shopping mall that features awesome sales, exciting promos and discount vouchers. Enjoy Up to 60% Off!
Lazada 10.10 is happening!
Link: http://mypromo.my/laz1010
Stay safe & enjoy Up to RM30 OFF on Lazada App!
Maybank x Lazada 10.10 Voucher

Lazada 10.10 x Maybank RM30 Off Voucher
Collectible from 10 - 12 October 2021
Promo Code: MBBAMEX10
Value: RM18 off min spend RM150
Promo Code: MBBLAZ10
Value: RM12 off min spend of RM 100
Visit Lazada App NOW
Promotion is only valid from 10 October 2021 until 12 October 2021.
*Terms and Conditions
Lazada 10.10 Bank Vouchers: https://mypromo.my/lazada-10-10-vouchers/
10.10 Lazada Ada Ten Ten Tenaga
• Shop Malaysia Online
• Buy 1 Free 1
• Lazada Bonus
• Crazy Flash Sales
More Lazada 10.10 Vouchers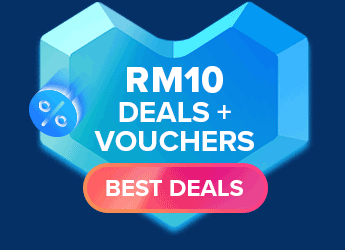 Collect Lazada 10.10 Vouchers: http://mypromo.my/laz-voucher
List of bank and store vouchers are all listed here.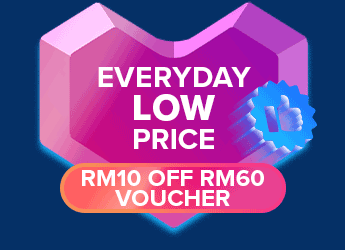 Collect RM10 Off Voucher Everyday: http://mypromo.my/laz-elp

Lazada 10.10 x Crazy Brand Mega Offer: http://mypromo.my/laz-cbmo

Lazada 10.10 x Big Brands Surprise: http://mypromo.my/laz-cbmo

Lazada 10.10 x Crazy Flash Sale: http://mypromo.my/flashsale

Lazada 10.10 x Bonus: http://mypromo.my/laz-bonus

Lazada 10.10 x Free Shipping: http://mypromo.my/laz-freeshipping
More 10.10 Sale:
Lazada: http://mypromo.my/laz1010
Shopee: https://shp.ee/j4wf5t9
Zalora: https://zalora.prf.hn/l/75Lv8zR
Lazada Payday Sale Main Page
> http://mypromo.my/laz-payday
Lazada Payday Voucher Page
> http://mypromo.my/laz-voucher
Lazada Super Brand Day Page
> http://mypromo.my/laz-sbd
Lazada CIMB Extra RM15 Off
> https://invol.co/cl40dh7
Lazada Maybank Promo Code: SATMAY
Apply Here> http://mypromo.my/laz-cart
Lazada Boost RM5 Off Voucher
> http://bit.ly/Laz-Boost
Lazada NEW Shop Malaysia Online Vouchers
> http://mypromo.my/laz-smo
Lazada 10.10 Key Dates:
Campaign period: 25th September to 12th October
Payday Sale: 25th September to 27th September
Teaser to Lazada 10.10 Sale: 28th September to 9th October
D-Day Lazada 10.10 Sale: 10th September to 12th September
List of 10.10 Sales, Offers, Promotions and Deals