Lazada Daily Cashback Vouchers
Collect and Use these vouchers
Get all the best deals via our Social Media! Follow Us!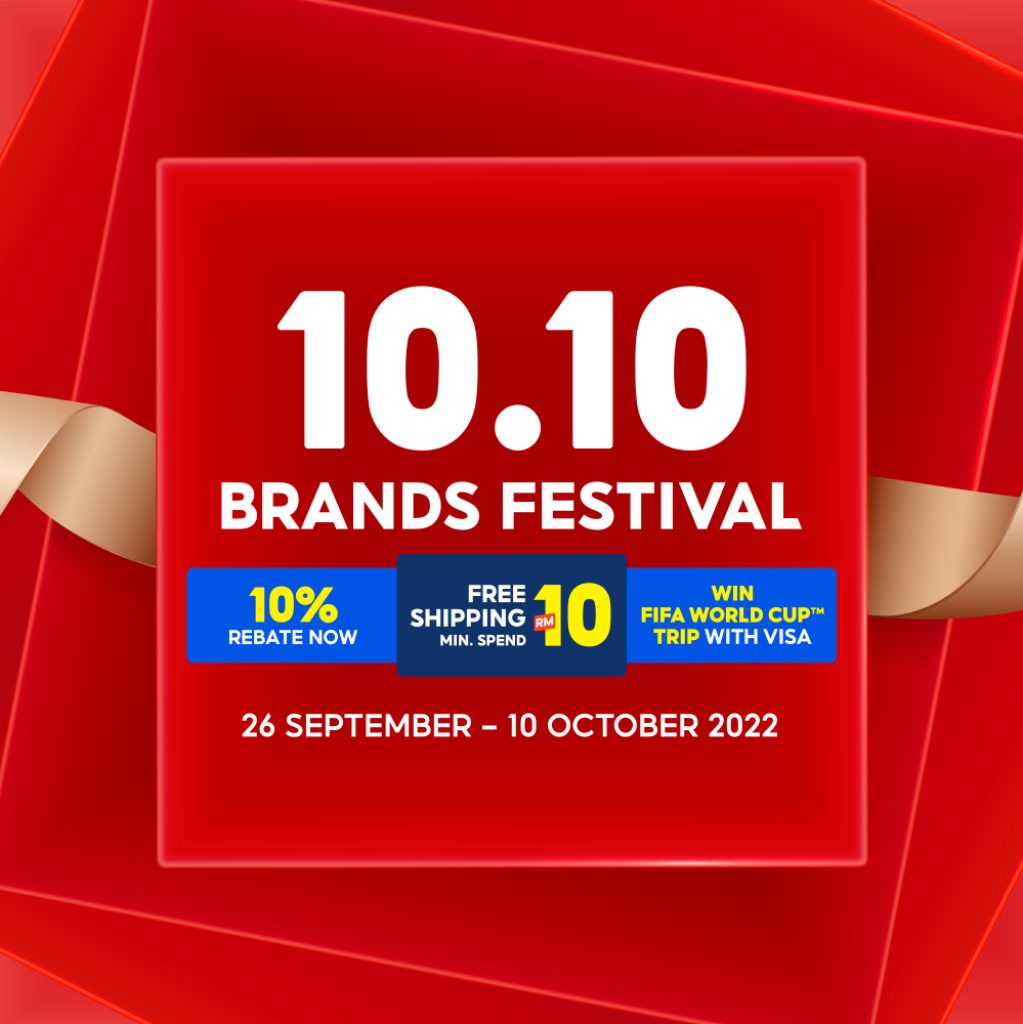 Shopee 10.10 Brands Festival Sale September – Discover Small Prices From Big Brands On Shopee Malaysia! Had fun shopping during our 9.9 sale, but looking for more branded goods to buy? You're in luck because our 10.10 Shopee Brands Festival sale September is here! Enjoy daily free shipping vouchers with a minimum spend of RM10 only, so you can buy your favourite items without going over budget.
What's more, our 10.10 online shopping sale also features 10% Rebate Now vouchers applicable on brands like KitchenAid, Tineco, and more to save up to RM120! Expect amazing price drops and exclusive 10.10 promo deals on 100% authentic products!
Main Page: https://mypromo.my/shopee/1010
Pre-Shopee 10.10 Sale x Vouchers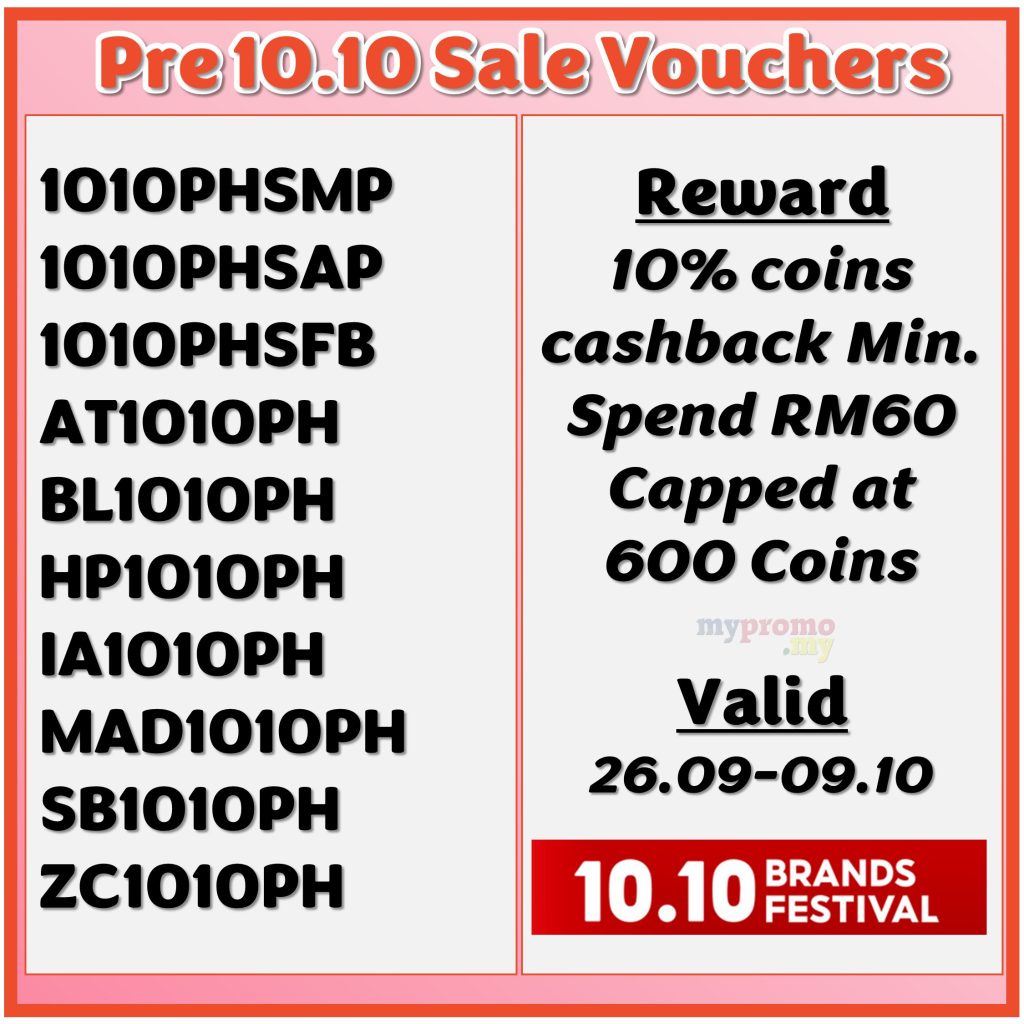 Method to Claim Vouchers:
Go to Shopee Voucher Page: https://mypromo.my/shopee/voucher
Input Voucher Code
Save
Value: 10% coins cashback Min. Spend RM60 Capped at 600 Coins
Valid: 26.09.2022 – 09.10.2022

Shopee 10.10 Brands Festival
Claim All Vouchers Now
Voucher Codes:
1010PHSMP
1010PHSAP
1010PHSFB
AT1010PH
BL1010PH
HP1010PH
IA1010PH
MAD1010PH
SB1010PH
ZC1010PH
Save Code Here: https://mypromo.my/shopee/voucher
Sign Up for a Shopee Account
Your first step to signing up for new Shopee account is to starts here: https://shope.ee/3AV7jfoL4K
The 10.10 Online Shopping Sale 2022 Is Your Chance To Get Amazing Promo Deals From A Variety Of Fan-Favourite Brands!
Besides free shipping, look out for our daily deals during this 10.10 brands sale to save a ton of money. From Daily 100% Coins Cashback to 12PM Free Shipping Hours, stay tuned every day for exclusive 10.10 deals and promos. Want to see your favourite football team win the championship? Then stand a chance to Win FIFA World Cupᵀᴹ Trip with Visa when you spend a minimum of RM10! Tip: increase your chances of winning our grand prize by collecting more entries by shopping every day!
No matter what you're looking for, we have it in store for you this 10.10 sale. Need to stock up on formula milk and disposable diapers for your little one? Check out discounts and vouchers from Pediasure, Vinda, and Johnson & Johnson. Are your skincare products running low? Replenish them while enjoying savings with 10.10 deals from Innisfree, Some By Mi, Cosmoderm, as well as from health & beauty vendors like Watsons!
We're also featuring brands like Philips, Akemi, and Bayer Consumer Health this 10.10 online shopping sale, so you can splurge on home appliances, bedding, and oral hygiene products. In fact, why not check out these best pressure cooker brands in Malaysia or best slow juicers for some ideas?
The 10.10 Brands Festival sale is also the perfect time to upgrade your wardrobe! Look out for 10.10 deals and discounts from big fashion and accessories brands like Forest, Bata, and Dr. Cardin. Plus, don't miss out on the daily Super Brand Day sale to enjoy even more savings!
Shop From Big Brands With Small Prices This 10.10 Brands Sale On Shopee Malaysia!
Besides enjoying the most affordable deals from big, trusted brands, there are many reasons to shop on our platform. For example, with Shopee Guarantee, you can feel secure knowing that your money will only be released to the seller once you click on "Order Received" or once a certain period elapses. Moreover, our 10.10 Brands Festival sale also features many 100% authentic products from Shopee Mall. Discovered that the item is not authentic? Report it to us and get 2 times your money back!
Also, remember to follow these online shopping safety tips when you shop during our 10.10 sale, as well as other big sales like the 11.11 sale and 12.12 sale so you don't end up falling for scams! Enjoy a wallet-friendly and safe shopping experience with Shopee Malaysia today!
More Promotions, Offers and Vouchers from Shopee and Lazada
mypromo's Payday  WhatsApp Groups
Want to receive promos and deals via WhatsApp?
Join our 9.9 Sale groups!
1. Only Admin Can Post
2. 9.9 Sale Chit Chat Group
All Are Welcome!
Sign Up for New Accounts and Get Rewarded

mypromo.my: Referral Codes Center
Get Rewarded When you sign up with Referral Codes