Get all the best deals via our Social Media! Follow Us!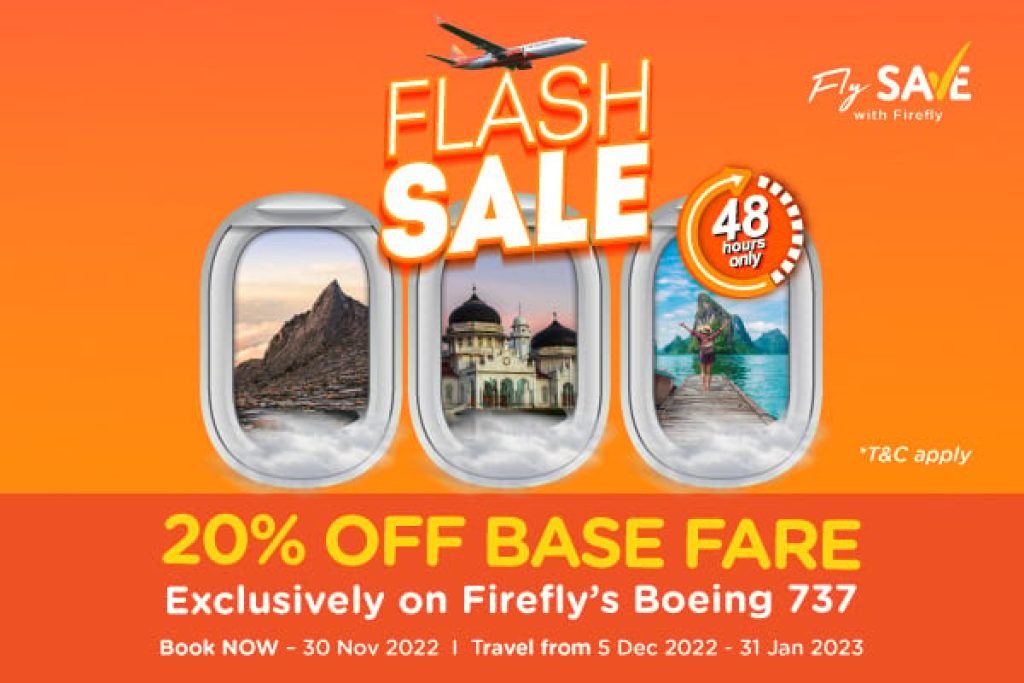 Enjoy 20% OFF on Firefly flights from Penang. Make your way to the next destination with our Boeing 737! Enjoy up to 20% off base fare to 5 destinations of your choice. Time to up your travel game with an unbeatable deal!
Book now until 30th November 2022 and enjoy the best rates. Hurry, this offer won't last long!
Book your seat now on Firefly Website.

FireFly x 20% OFF on flights from Penang
FireFly x Flash SALE!
Book Now: https://mypromo.my/book/firefly
| From | To | Fare Type | Dates | Price |
| --- | --- | --- | --- | --- |
| Penang (PEN) | Johor Bahru (JHB) | One-way/Economy | Depart: Tue, 11 Apr 2023 | FromMYR50*Seen: 59 minutes ago |
| Penang (PEN) | Langkawi (LGK) | One-way/Economy | Depart: Wed, 2 Aug 2023 | FromMYR50*Seen: 48 minutes ago |
| Penang (PEN) | Kuching (KCH) | One-way/Economy | Depart: Tue, 1 Aug 2023 | FromMYR57*Seen: 1 day ago |
| Penang (PEN) | Kota Kinabalu (BKI) | One-way/Economy | Depart: Fri, 14 Jul 2023 | FromMYR89*Seen: 1 hour ago |
| Penang (PEN) | Kota Bharu (KBR) | One-way/Economy | Depart: Mon, 3 Apr 2023 | FromMYR106*Seen: 1 day ago |
| Penang (PEN) | Subang (Kuala Lumpur) (SZB) | One-way/Economy | Depart: Tue, 7 Mar 2023 | FromMYR122*Seen: 1 day ago |
| Penang (PEN) | Phuket (HKT) | One-way/Economy | Depart: Sun, 8 Oct 2023 | FromMYR148*Seen: 1 day ago |
| Penang (PEN) | Banda Aceh (BTJ) | One-way/Economy | Depart: Mon, 30 Jan 2023 | FromMYR177*Seen: 1 hour ago |
*Fares displayed have been collected within the last 48hrs and may no longer be available at the time of booking. Fort latest price go HERE
Read More Penang Posts