Get all the best deals via our Social Media! Follow Us!
Rakyat Malaysia boleh menebus RM50 kredit ePenjana bermula 31 July daripada tiga penyedia perkhidmatan e-dompet yang dipilih kerajaan.
Menteri Kewangan, Tengku Datuk Seri Zafrul Tengku Abdul Aziz, berkata tiga penyedia perkhidmatan e-dompet yang terpilih untuk melaksanakan inisiatif itu ialah Boost, GrabPay dan Touch 'n Go eWallet.
Program itu katanya akan dilaksanakan dengan kerjasama aplikasi pengesan kontak COVID-19 MySejahtera.
ePenjana: Claim from Boost, Step by Step
The Steps: https://mypromo.my/epenjana-boost
"Untuk memohon kredit, setiap pemohon mesti memuat turun salah satu dari tiga eDompet berkenaan serta memuat turun dan menggunakan aplikasi MySejahtera.
"Inisiatif ini terbuka kepada rakyat Malaysia yang berumur 18 tahun dan ke atas, serta berpendapatan kurang daripada RM100,000 setahun," katanya dalam kenyataan di sini, hari ini.
Tengku Zafrul berkata, program dengan peruntukan sebanyak RM750 juta kredit ePENJANA itu adalah salah satu inisiatif di bawah Pelan Pemulihan Ekonomi Jangka Pendek (PENJANA) yang bertujuan untuk membantu merancakkan perbelanjaan pengguna di Malaysia.
Setiap pemohon yang layak katanya, boleh menebus RM50 kredit ePENJANA daripada salah satu penyedia perkhidmatan e-Dompet terpilih yang ditetapkan kerajaan.
"Pemohon yang layak juga akan menerima padanan insentif tambahan
bernilai RM50 dalam bentuk rebat tunai, baucar dan/atau mata ganjaran sepanjang tempoh kempen.
"Tempoh memohon RM50 kredit ePENJANA adalah dari 31 Julai hingga 24 September 2020, manakala tarikh akhir penggunaan ePENJANA adalah pada 30 September 2020," katanya.
Lazada x ePenjana Touch 'n Go eWallet Voucher
All Here: https://bit.ly/LzdDaily
Collect RM20 + Free Shipping Vouchers NOW!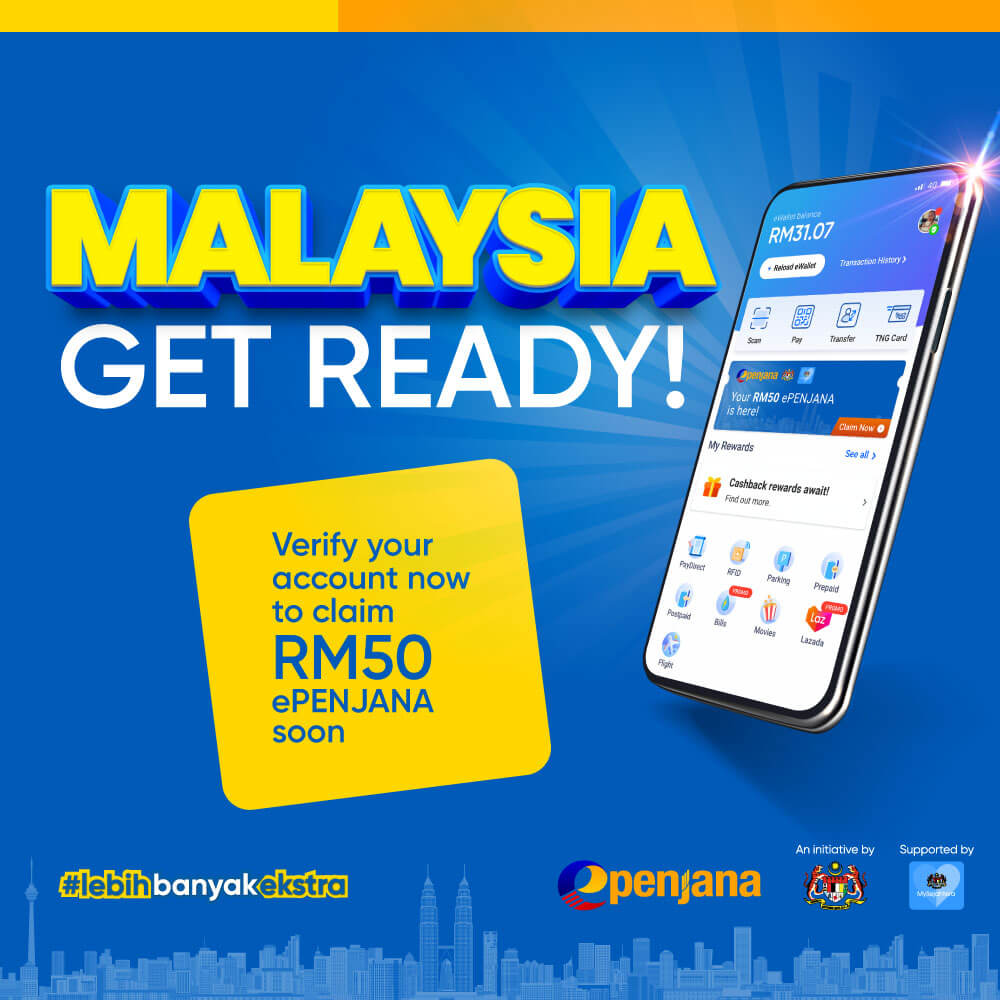 ePenjana: Claim from Touch 'n Go eWallet, Step by Step
The Steps: https://mypromo.my/epenjana-tng-ewallet
Tambahnya, pemohon disaran memuat turun dan mengemas kini data di dalam aplikasi MySejahtera, manakala peniaga dan peruncit perlu menghubungi penyedia perkhidmatan e-Dompet yang berkenaan, dan mendapatkan kod QR MySejahtera bagi memastikan urus niaga ePENJANA yang lancar di kedai-kedai mereka.
"Rakyat juga diingatkan bahawa bagi tujuan pelaksanaan ePENJANA, Kementerian Kewangan hanya mengiktiraf aplikasi MySejahtera, Boost, GrabPay dan Touch 'n Go eWallet. Pastikan data peribadi hanya dikongsi dengan aplikasi yang rasmi dan sahih," katanya.
SIARAN MEDIA: Program RM750 Juta Kredit ePENJANA Untuk Rakyat Malaysia