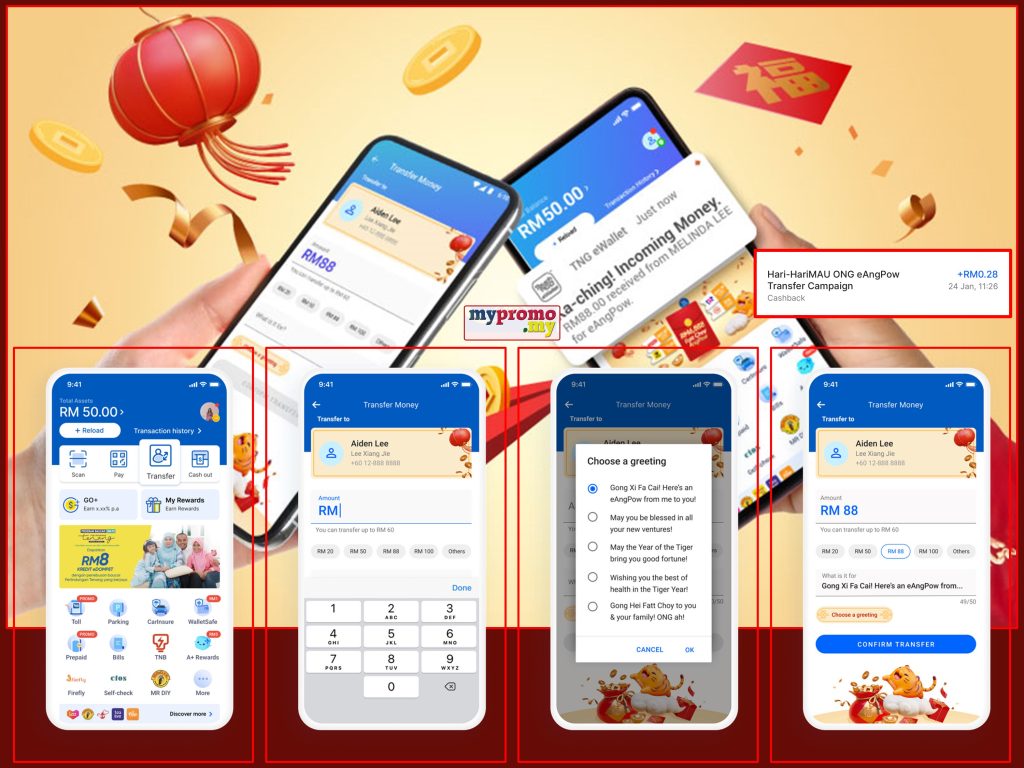 Use Touch 'n Go eWallet (TNG) every day to get more ONG. Roar into the Lunar New Year of the Tiger with our eWallet! Discover the various ways you can achieve good fortune with us & share the prosperity with your loved ones. We all Hari-HariMau ONG this auspicious festive occasion. ONG ah!
Send a minimum of RM5 eAngPow via the "Transfer" feature & get a random cashback up to RM888!
Terms and Conditions
Hari-HariMau ONG eAngPow Transfer Campaign ("The Campaign") is organised by TNG Digital Sdn Bhd (201701042478) ("TNGD").
The Campaign starts from 24 January 2022 and ends on 15 February 2022 ("Campaign Period"), inclusive of both dates.
Transfer a minimum of RM5 eWallet credits to your friends or family and get a random cashback, total up to RM888.
This Campaign is open to ALL Touch 'n Go eWallet users with a valid mobile number.
Each user can enjoy the random cashback, ONE (1) time only throughout the campaign period.
The random cashback is only limited to the first ONE MILLION FIVE HUNDRED THOUSAND (1,500,000) transfer transactions. The Campaign will cease once the limit of the cashback has been reached or at the expiration of the Campaign Period, whichever is earlier.
TNG Digital shall be entitled to withhold any benefits under the services rendered, with prior notice to the users if the users are found to have been in breach of any TNG Digital's Users Term and Conditions, https://assets.website-files.com/604f10ece77ed2575179c749/6141a7718d1cd393dac569ed_touch_n_go_eWallet_user_terms_conditions_v32.pdf
These Terms and Conditions shall be further subject to the General Campaign Terms and Conditions which can be found at https://www.touchngo.com.my/terms-conditions/general-campaign-terms-and-conditions


Telegram Channel
Updated Daily with the Best Deals and Offers
Get all the best deals via our Social Media! Follow Us!
Pay RM25.50 and Get RM30 TNG eWallet Pin via Z-City App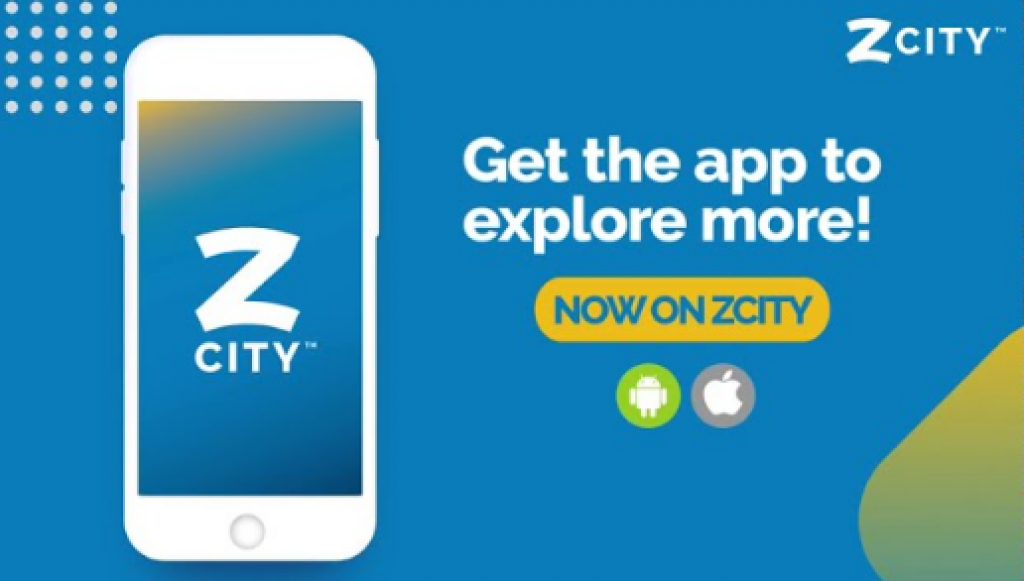 Pay RM25.50 and Get RM30 TNG eWallet Pin via Z-City App
Follow these steps and enjoy discounted Touch n Go eWallet pin.
Step 1: Register via this link: http://mypromo.my/zcity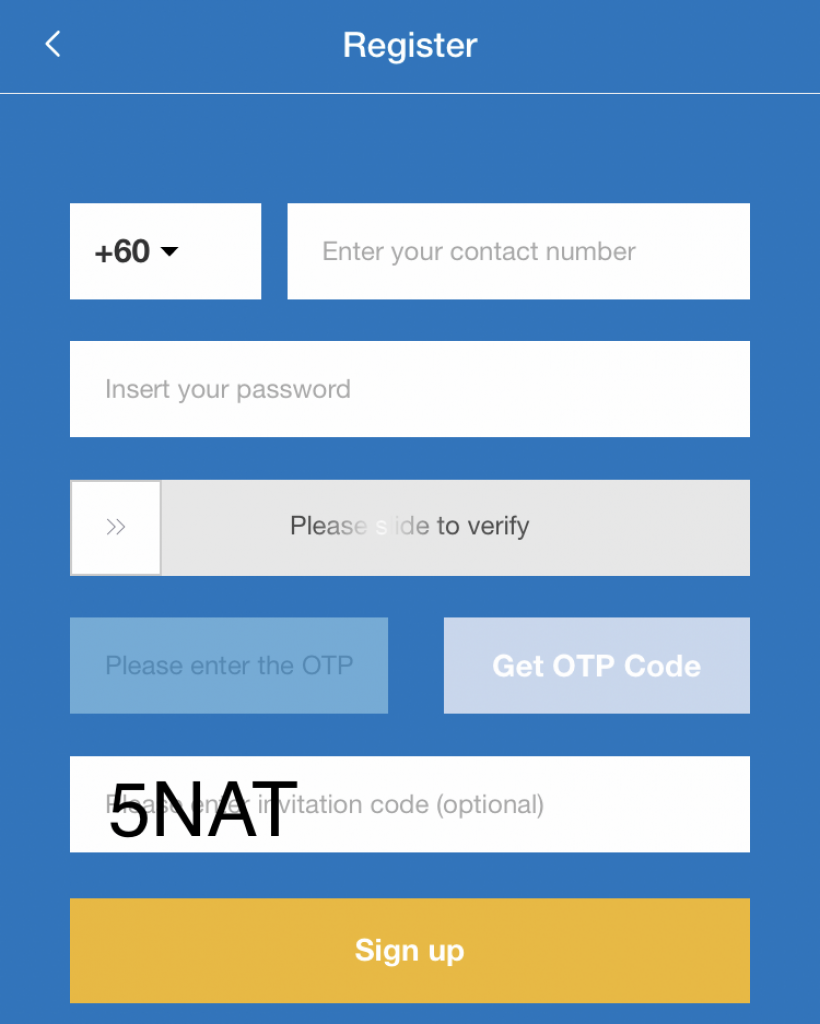 Step 2: Enter Invitation Code (Get 200 reward points): 005SIW
Referral/Invitation Code: 005SIW
Step 3: Fill in your phone number + password and slide to verify.
Step 4: Enter OTP and Tap Sign Up. DONE, very simple to register
Step 5: Next, Go to Home>Bill>Scroll down to TNG eWallet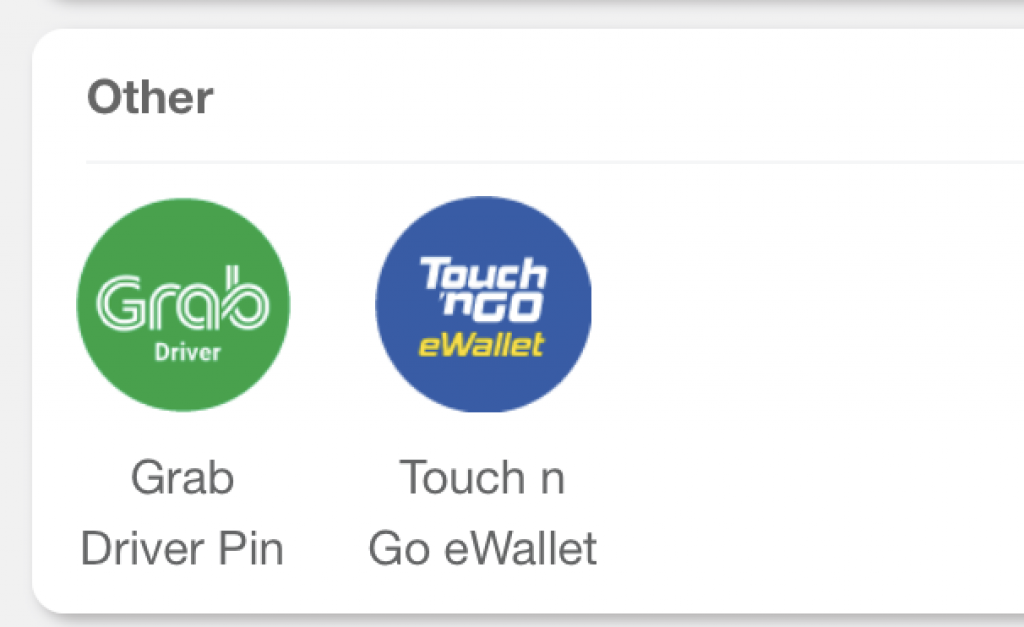 Step 6: Select RM30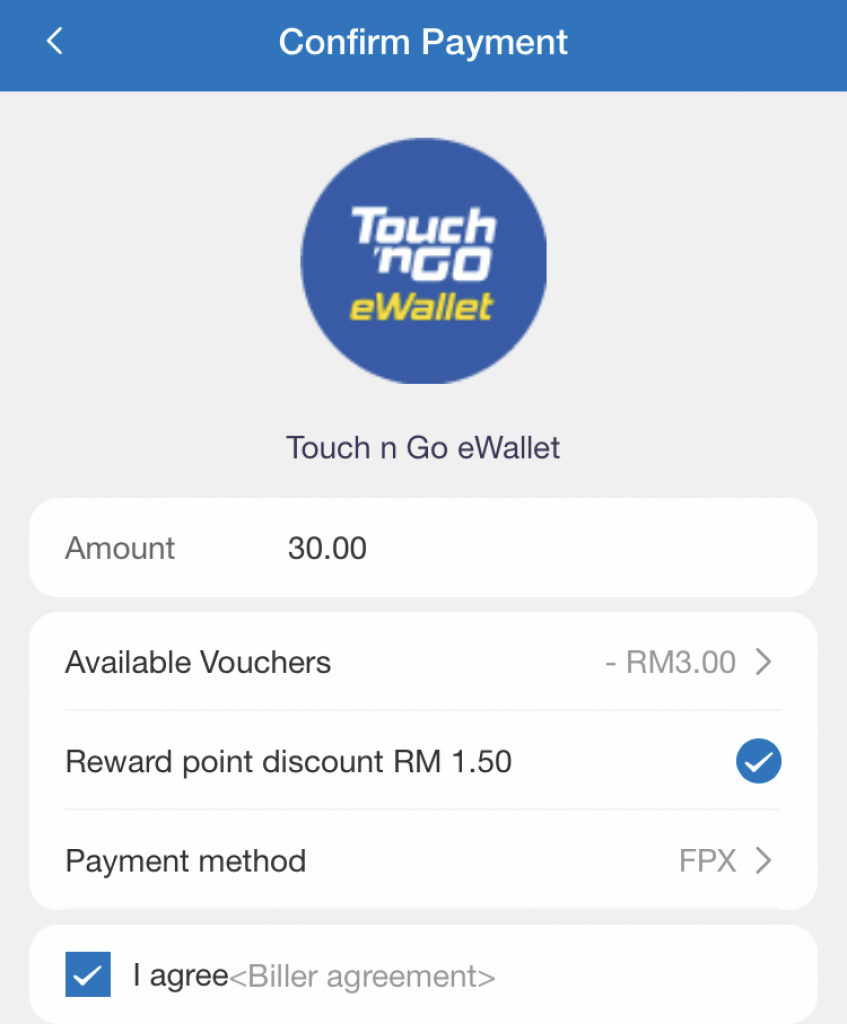 Step 7: Apply RM3 voucher and 150 Reward points
Step 8: Select Payment-FPX and Submit
Step 9: Insert email address for receipt
Step 10: Pay RM25.50 via FPX
Step 11: Copy RM30 TNG pin, paste and top up in TNG App
There, you just saved RM4.50. And, you also received 25.50 reward points-equivalent to 25.5 cents.
There are many more bills that you can pay via Z-City and earn reward points which you can use to off set your future payments.

Check out more ZCITY promotions and deals: https://mypromo.my/tag/zcity/
mypromo Telegram Channel
Want to receive  daily promos and deals via Telegram?
Join Our Channel Today

All Are Welcome!
Sign Up for New Accounts and Get Rewarded

mypromo.my: Referral Codes Center
Get Rewarded When you sign up with Referral Codes