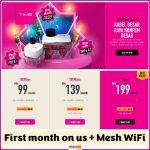 TIME Internet – Kabel Besar Promotion
Get all the best deals via our Social Media! Follow Us!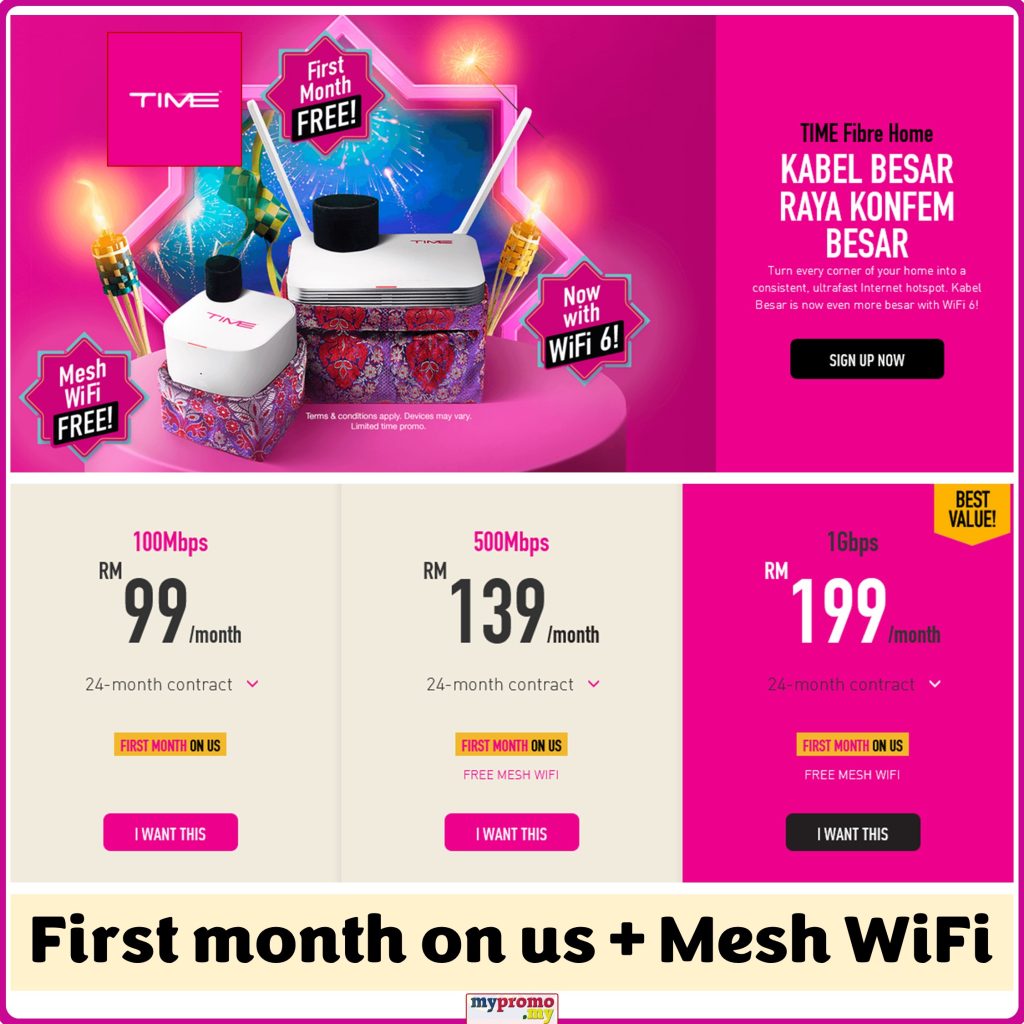 TIME Internet Registration Promotion is back! Register today and the first month is free. Sign up with a speed of 500Mbps or 1Gbps, and you will receive Mesh WiFi for free! Now there is no more 'dead zone'!

TIME Internet Malaysia Promotion
Time Offers
100Mbps – First month on us (RM 99 off)
500Mbps – First month on us (RM 139 off) + Mesh WiFi
1Gbps – First month on us (RM 199 off) + Mesh WiFi
Switch to TIME Large Cable for fast and stable connections.
Ready with WiFi 6, enjoy 100% Fiber internet, 1000% Large Cable.
Speed ​​- The fastest Internet up to 1Gbps
Stability – The most consistent Internet in Malaysia is rated by Ookla
Service – 24/7 diligently serving the people Great Value – The Internet is worth it
With Big Cable, you don't have to worry about what happens with TIME's ultrapast speeds and stable connections.
You won't have a problem using a hyper drive with all your web browsing, music streaming, games and more.
Ready for real speed? Sign up for Large Cable at: https://mypromo.my/timeinternet
Details:
1. All promotions displayed are applicable to 24-month contract plans only. Terms and conditions apply.
2. Subscribers of the no contract plan are not entitled to promotions and must pay a one-time charge of RM400 (100Mbps and 500Mbps) or RM500 (1Gbps) up front. Subscribers of Malaysian nationality who convert to a 24-month contract within the first 24 months will receive a monthly rebate of RM50, the duration of which varies between plans. For non-Malaysians, the amount will be used to offset the foreigner deposit.
3. These plans are only available for subscribers of the 24-month contract plan and are both subject to a 24-month contract term. Entitlement of free minutes for these plans is renewable monthly and cannot be carried forward. Normal call rates apply upon full utilisation of free minutes.
Voice calls are charged at a rate of 10 sen/min to all fixed and mobile numbers nationwide, and 8 sen/min for IDD calls to 60 countries. Click here for the full list of IDD call rates.
Check Out Shopee Offers: https://mypromo.my/dealstore/shopee
Sign Up for New Accounts and Get Rewarded

mypromo.my: Referral Codes Center
Get Rewarded When you sign up with Referral Codes