Get all the best deals via our Social Media! Follow Us!
Enjoy a full day of thrilling rides outdoors at only RM82 with Klook Exclusive Promo February 2023! Sunway Lost World of Tambun Waterpark, Ipoh is more than just a theme park, it is Malaysia's premiere multi-themed action and adventure family holiday destination.
The Lost World Of Tambun Theme Park is cocooned by the lush tropical jungle of Ipoh, natural hot springs, 400 million-year-old limestone cliffs and 88 attractions from 10 amazing themed areas. This popular amusement and water park in Sunway City Ipoh makes a unique eco-adventure excursion in Malaysia for visitors of all ages and promises fun from day to night.
Buy Sunway Lost World Of Tambun WaterPark via KLOOK

[Klook Exclusive] Sunway Lost World Of Tambun WaterPark Ticket in Ipoh
Special Promo Price
Start off your day at the Lost World Amusement Park that's full of family-friendly rides such as Lupe's Adventure (Perak's first-ever roller coaster), a pirate ship, Giddy Galleon, Dragon Flights, and even a haunted house. Next up, seek refuge in the Lost World Water Park, a zone that promises tons of splashing fun with twisting water slides, a wave pool, giant tipping buckets, and Malaysia's longest manmade adventure river.
There's also a kids-only zone called Kids Explorabay for your little ones to have fun safely. For animal lovers, make sure you don't miss out on the Lost World Petting Zoo where you can feed, pet, and befriend cheeky raccoons, exotic birds, gentle rabbits, and giraffes. After that, drop by the Lost World Tiger Valley and get up close and personal with majestic tigers!
As homage to the prominent tin mining history of the historic town, Lost World Of Tambun has dedicated a section called the Lost World Tin Valley to educate today's generation in the rich heritage of tin mining in Ipoh. Experience 'dulang washing' just like the good old days and marvel at real artefact from the past here! For those who love adrenaline-filled thrills, make time for the Lost World Adventure Park, a section reserved for a wide range of pay-per-ride activities such as rope courses, kayaking, ziplines, caving, and more.
The Lost World hot springs are an iconic attraction of the Lost World Of Tambun. Soak yourself in a hot springs pool and feel your worries melt away. You can also stay till nightfall for a relaxing soak in the Hot Springs Night Park.
Klook Exclusive Promo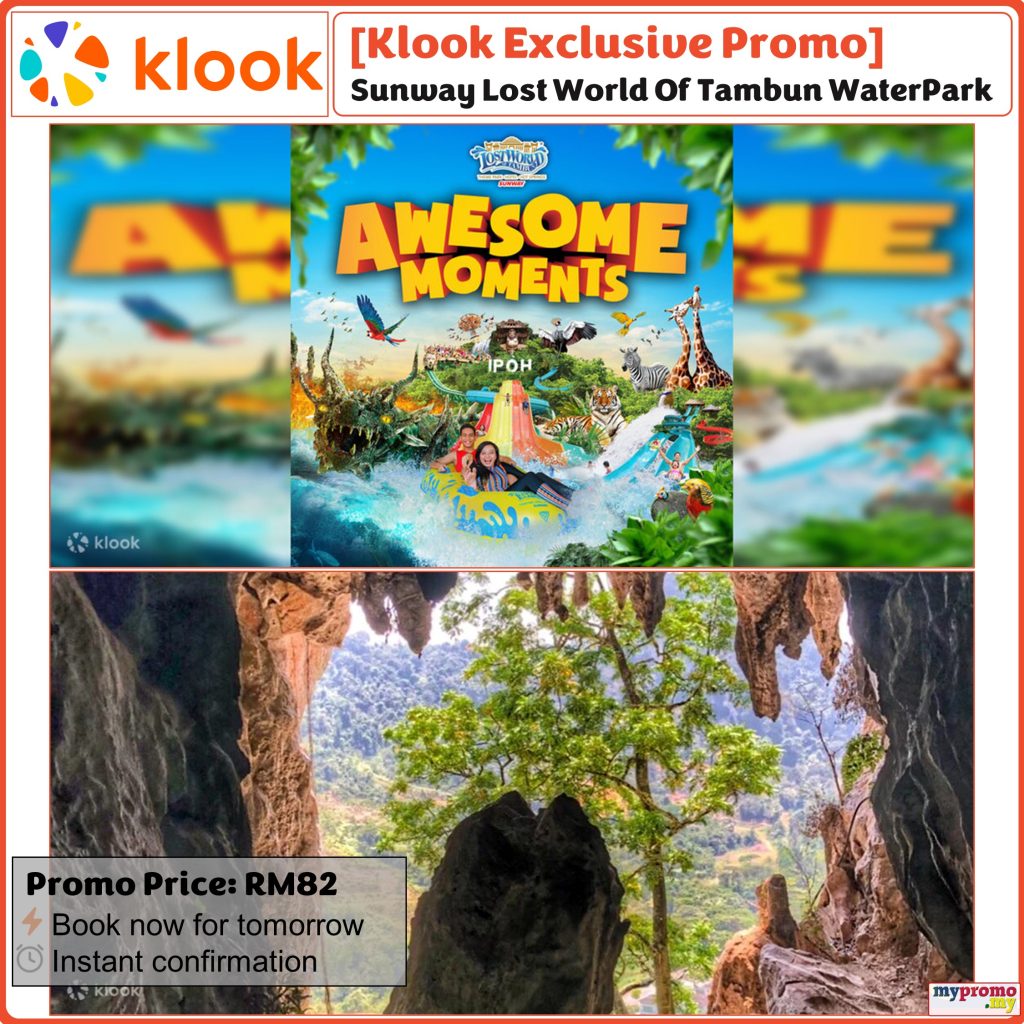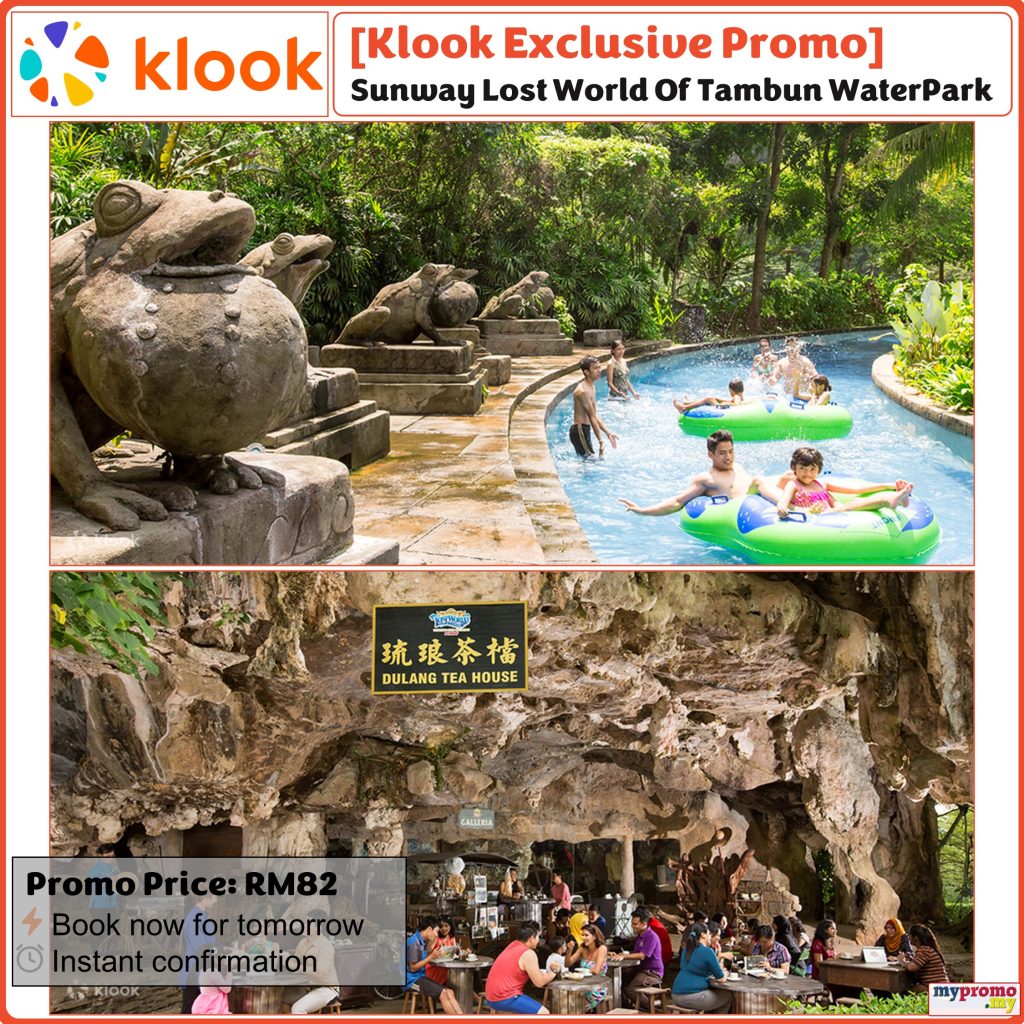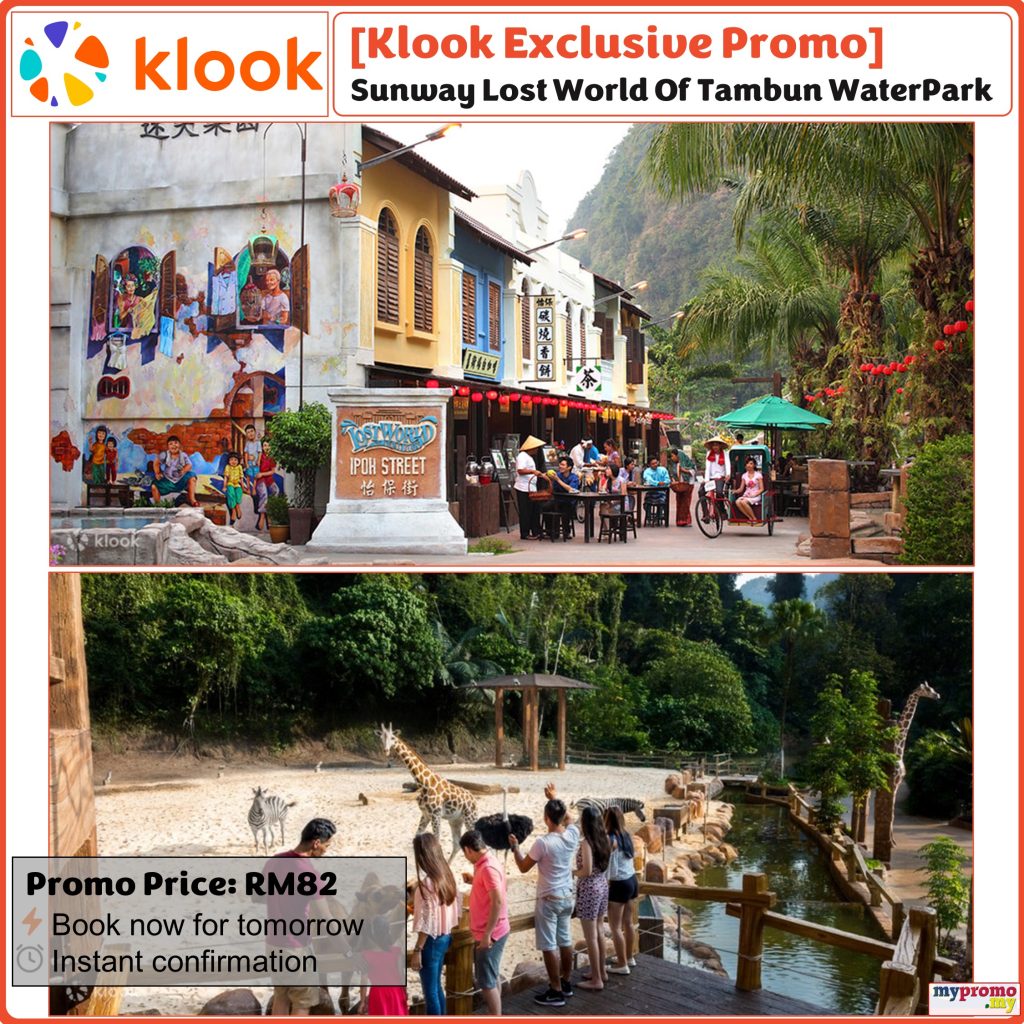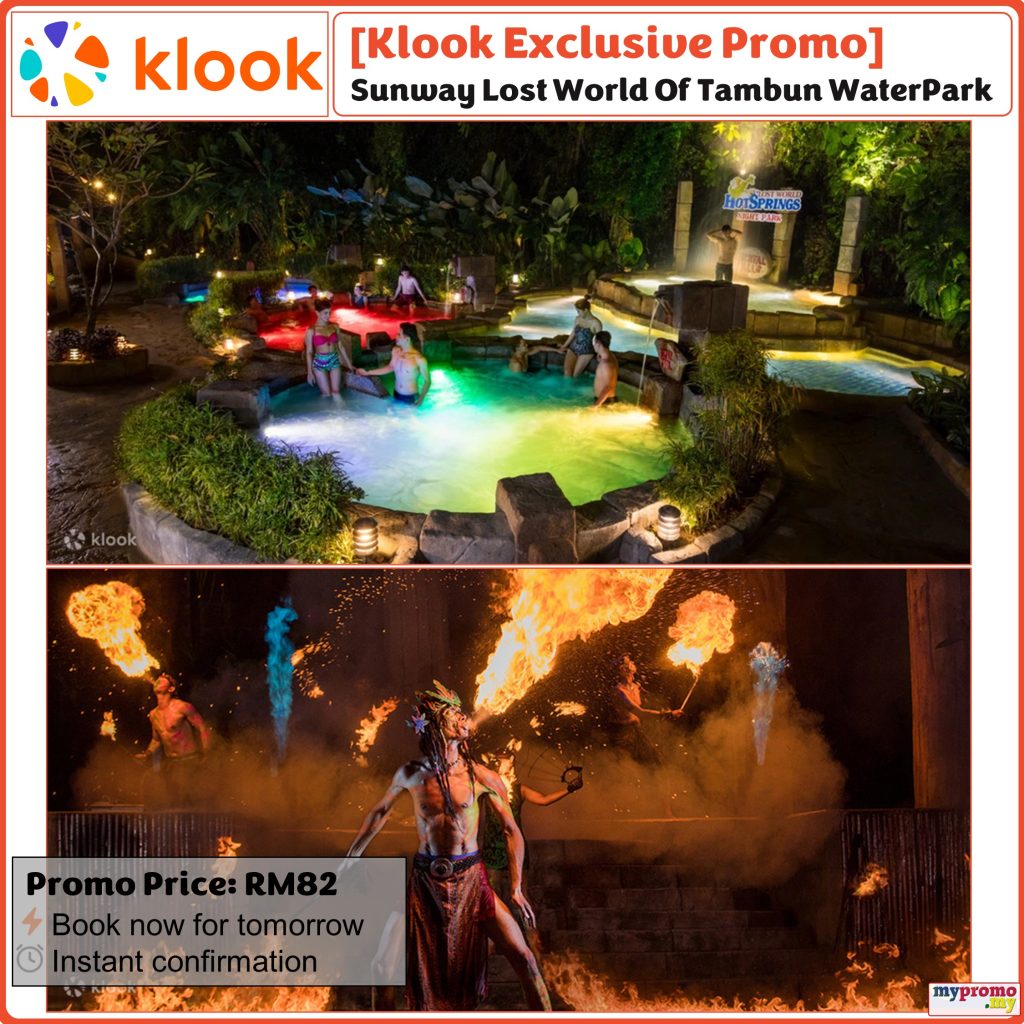 What to Expect at Sunway Lost World of Tambun Waterpark
Spend a fun-filled day in Ipoh at this exciting theme park with a water park, natural hot springs, performances, animals petting, feeding sessions, and more fun activities
Hop on adrenaline-pumping and family-friendly rides at the Lost World Amusement Park
Dip into the Lost World Hot Springs with natural views of the forest around you
Stay till nightfall for a soak in the Lost World Hot Springs Night Park. You will even get to enjoy a fire show performance that is bound to wow you
Admire the agile Siberian Tigers and learn about the Malaysian Tin Mining History
Get a thrill out of the theme park's seven elements of fun rides and attractions that promise great fun for adults and children alike
Surround yourself with majestic limestone cliffs that date back to 400 million years
Have a splashing fun time at the Lost World Water Park by racing down twisting water slides such as Tube Raiders and Cliff Racer, having a battle with water cannons, or relaxing in the wave pool To ensure the safety of the staff and guests, we have enhanced the park's safety procedures and hygiene measures.
Book Hotel in Ipoh with Agoda and Enjoy Special Discounts
Book Now: https://mypromo.my/book/agoda
Where to Stay in Ipoh
The Haven All Suite Resort, Ipoh
From RM499/night – Book now from Agoda
Xscape Tambun
From RM138/night – Book now from Agoda
Golden Roof Hotel Sunway Ipoh
From RM78/night – Book now from Agoda
M Roof Hotel and Residences
From RM199/night – Book now from Agoda
M Boutique Hotel Station 18
From RM143/night – Book now from Agoda
More Klook Deals & Promotions: https://mypromo.my/book/klook