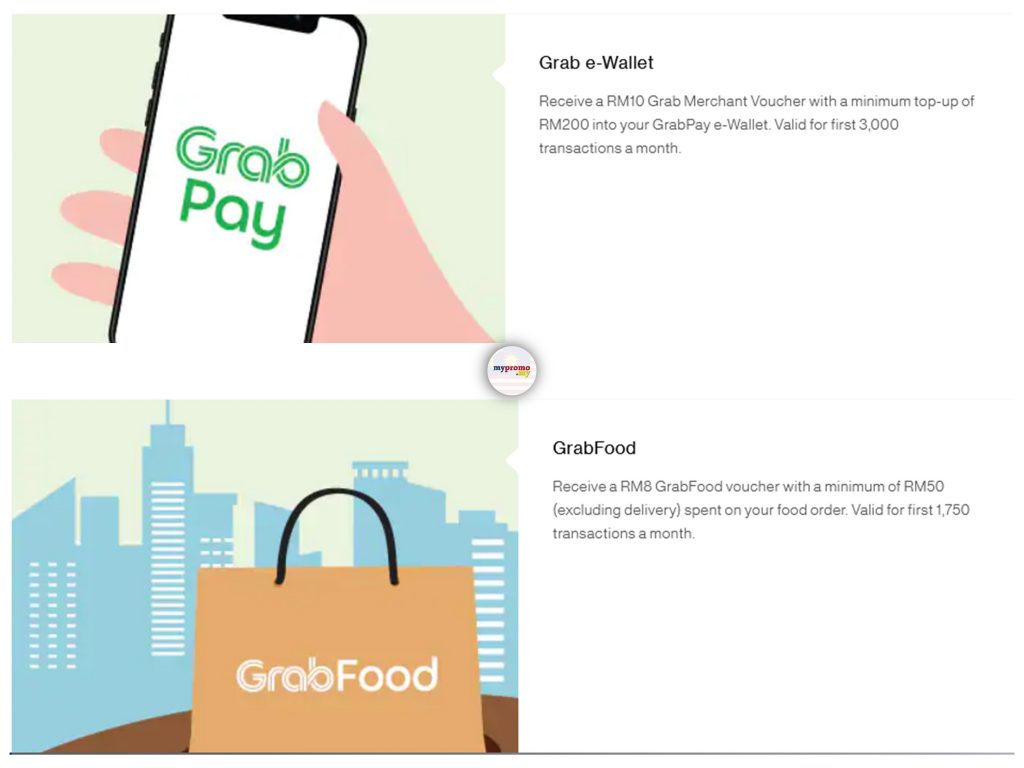 Save over RM200 on Grab with Standard Chartered Credit cards
Link your Standard Chartered credit card to the Grab App and receive vouchers when you top-up your Grab e-Wallet or pay for Grabfood till 31 Dec 2021.
Grab e-Wallet
Receive a RM10 Grab Merchant Voucher with a minimum top-up of RM200 into your GrabPay e-Wallet. Valid for first 3,000 transactions a month.
GrabFood
Receive a RM8 GrabFood voucher with a minimum of RM50 (excluding delivery) spent on your food order. Valid for first 1,750 transactions a month.
Apply for New Standard Chartered Credit Card and Get Rewarded:
Tap on the links below to check out latest Sign Up Offers:
Apply via RinggitPlus > https://ringgitplus.mypromo.my
Apply via CompareHero > http://mypromo.my/ch-scb
Get all the best deals via our Social Media! Follow Us!
Terms and Conditions (SOURCE)
RM10 Grab Merchant Vouchers upon top up of GrabPay e-Wallet
1.Get RM10 Grab Merchant Vouchers on top up of RM200 to GrabPay e-wallet using a valid Standard Chartered Bank credit card.
2.RM10 Grab Merchant Vouchers is capped at RM30,000 per calendar month or 3,000 transactions per calendar month and RM360,000 over the promotion period on a first come first served basis.
3.Promotion is valid from 20 January 2021 – 31 December 2021 inclusive of both dates.
4.Payment must be made using Standard Chartered Bank Malaysia Berhad's Priority Banking Visa Infinite, WorldMiles World Mastercard, JustOne Platinum, Visa Platinum, Smart Credit Card and Liverpool FC Cashback credit cards to enjoy the offer.
5.RM10 Grab Merchant Vouchers is limited to 1 transaction per calendar month per Grab user.
6.Grab Merchant Vouchers are valid for new and existing Grab Users.
7.Grab Merchant Vouchers will be applied upon payment made using GrabPay at merchant stores in Malaysia.
8.Grab Merchant Vouchers are not refundable or exchangeable for cash or other items and cannot be used in conjunction with any other discounts, privileges, promotions, discount schemes, loyalty programmes, discount cards or vouchers, unless otherwise stated.
9.Grab Merchant Vouchers are subject to any applicable tax.
10.Grab Merchant Vouchers are subject to Grab terms and conditions.
11.Standard Chartered Bank Malaysia Berhad is not an agent of Grab or the merchant and makes no representation as to the quality of goods and/or services provided. Any dispute about quality of the goods and/or service is to be resolved directly with Grab and/or the merchant.
12.Standard Chartered Bank Malaysia Berhad reserves the right to vary the Terms and Conditions governing the offers. Any such change will be announced on the Bank's website at sc.com/my
RM8 GrabFood Voucher
Get RM8 GrabFood Vouchers when you pay minimum RM50 (excluding delivery) on GrabFood with Standard Chartered credit card.
GrabFood Vouchers are limited to two redemptions per Grab User per calendar month.
GrabFood Vouchers are limited to RM14,000 per calendar month or 1,750 vouchers per calendar month and RM168,000 over the promotion period on a first come first served basis.
Promotion is valid from 20 January 2021 – 31 December 2021 inclusive both dates.
Payment must be made using Standard Chartered Bank Malaysia Berhad's Priority Banking Visa Infinite, WorldMiles World Mastercard, JustOne Platinum, Visa Platinum, Smart Credit Card and Liverpool FC Cashback credit cards to enjoy the offer.
GrabFood Vouchers are valid for new and existing Grab Users.
GrabFood Vouchers are not refundable or exchangeable for cash or other items and cannot be used in conjunction with any other discounts, privileges, promotions, discount schemes, loyalty programmes, discount cards or vouchers, unless otherwise stated.
GrabFood Vouchers are subject to any applicable tax.
GrabFood Vouchers are subject to Grab terms and conditions.
Standard Chartered Bank Malaysia Berhad is not an agent of Grab or the merchant and makes no representation as to the quality of goods and/or services provided. Any dispute about quality of the goods and/or service is to be resolved directly with Grab and/or the merchant.
Standard Chartered Bank Malaysia Berhad reserves the right to vary the Terms and Conditions governing the offers. Any such change will be announced on the Bank's website at sc.com/my
More Promotions, Offers and Vouchers from Shopee and Lazada