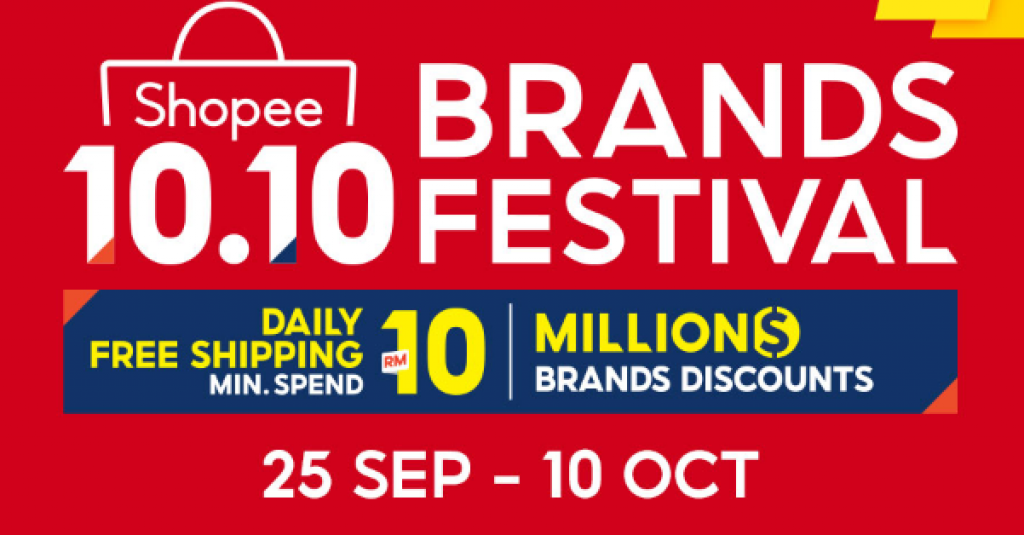 Happening: 25 September – 10 October
Miss Shoppe 9.9 sales? Shopee is coming back with their exciting shopping sale, and we can't wait to share with you our great finds from the Shopee 10.10.
Shopee 10.10 Brands Festival 2020 will be bringing you the craziest deals with items going for the very low price of RM10!
Start Collecting Vouchers NOW!

Shopee 10.10 Brands Festival
Get Fantastic Discounts On Branded Goods This 10.10 Brands Festival Sale On Shopee Malaysia!
Start Claiming Vouchers NOW!
• Penjana up to 15%
• Shipping
• Category up to 20%
• Sitewide up to 20%
Claim Here: https://shopee1010.mypromo.my
Stay tuned for latest update here.

About Shopee 10.10 Brands Festival Sale
Get Fantastic Discounts On Branded Goods This 10.10 Brands Festival Sale On Shopee Malaysia!
Had fun shopping during our 9.9 sale, but looking for more branded goods to buy? Well, you're in luck because it's time for our 10.10 Shopee Brands Festival sale! Enjoy daily free shipping vouchers with a minimum spend of RM10, giving you the freedom to buy your favourite items without worrying about hitting a high value. Not only that, like our 8.8 brand sale, this online shopping sale also features our Million Dollar Brands Discounts! This means you'll be seeing amazing price drops and 10.10 promo deals on 100% Authentic products that you love.
That's not all though; this 10.10 brand sale, besides free shipping, look out for our daily RM10 deals to save a ton of money on selected products (after all, you will want to have some surplus for our 11.11 sale, right?). Plus, play six of our Shopee Games every day stand a chance to potentially win physical prizes, vouchers, and coins worth up to RM1,000,000. There's always a lot to gain when you become a loyal shopper at Shopee Malaysia!
Get Amazing Promo Deals This 10.10 Online Shopping Sale 2020 From A Variety Of Fan-Favourite Brands!
No matter what you're looking for, we have it in store for you this 10.10 brand sale. Need formula milk for your little one? Check out discounts and vouchers from Wyeth, Enfagrow, and Nankid. Need new things to spruce up your appearance? Some of the fashion and beauty brands featured this 10.10 sale include the likes of Loreal, Bagstation, and Perfect Diary. There's a spotlight on Dr Cardin and Her Jewellery too if you need things like men's shoes and jewellery!
Don't worry, we didn't forget about your personal care and home essential needs. We're also featuring brands like Philips, Akemi and Colgate this 10.10 online shopping sale, so you can stock up on bedding, home appliances, and oral hygiene products. Popular retail shops Watsons and Mydin are also being featured, so be sure not to miss out on their Super Brand Days especially!
Shop Confidently And Securely At Shopee Malaysia This 10.10 Brands Sale!
Besides vouchers and discounts, there are many reasons to shop on our platform. One of those reasons is the Shopee Guarantee. With our guarantee in place, you can feel secure knowing that your money will only be released to the seller once you click on "Order Received" or once a certain period elapses. Not only that, but our 10.10 Brands Festival sale also features many 100% Authentic products from Shopee Mall. If you find that the product you purchased from Shopee Mall is not authentic, then you can report it to us and get 2 times your money back! So, don't overthink it; join us for this 10.10 sale as well as all our other sales campaigns so you can enjoy a wallet-friendly but safe shopping experience!
More Promotions, Offers and Vouchers from Shopee and Lazada
---