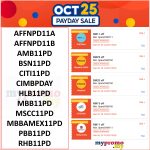 Shopee PayDay Sale x Bank Vouchers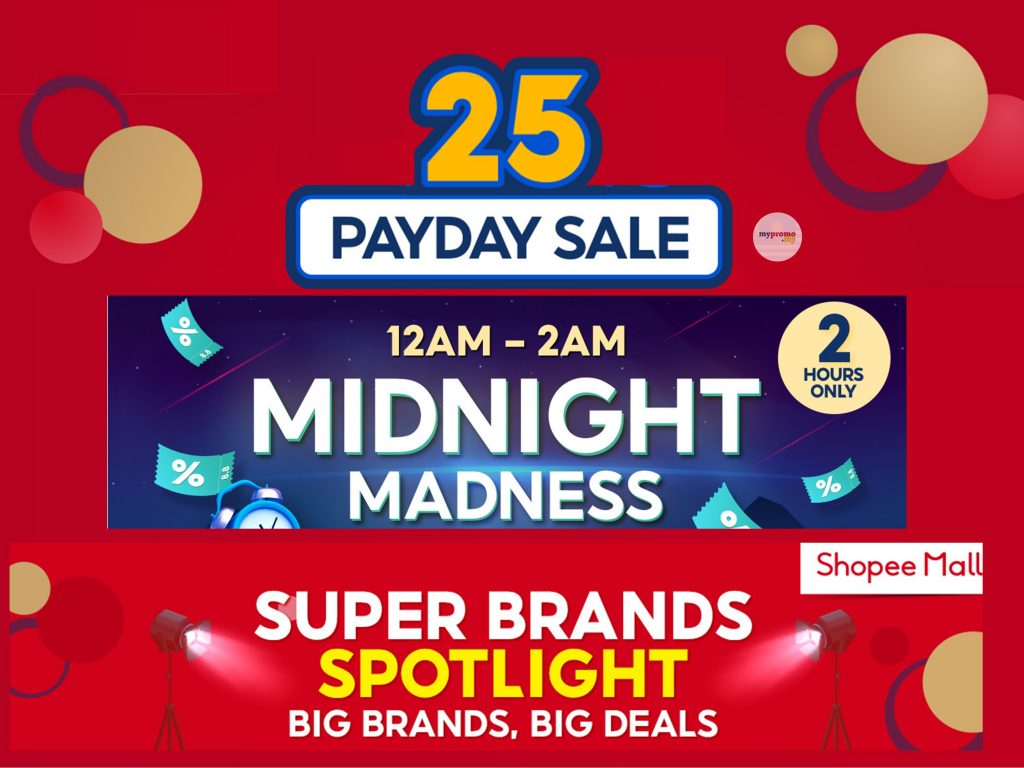 Shopee PayDay Sale offers great discounts on your favourite items from your favourite brands. Add your items to cart now and don't forget to checkout at 12am on Shopee 25th September Payday Sale!
How to Claim Shopee Payday Bank Vouchers
Copy the codes one by one, and paste them at Shopee Voucher Page: https://shp.ee/cdvn6pb

Shopee PayDay Sale
Claim Vouchers and Add to Cart now

Lazada Daily Cashback Vouchers
Collect and Use these vouchers
Get all the best deals via our Social Media! Follow Us!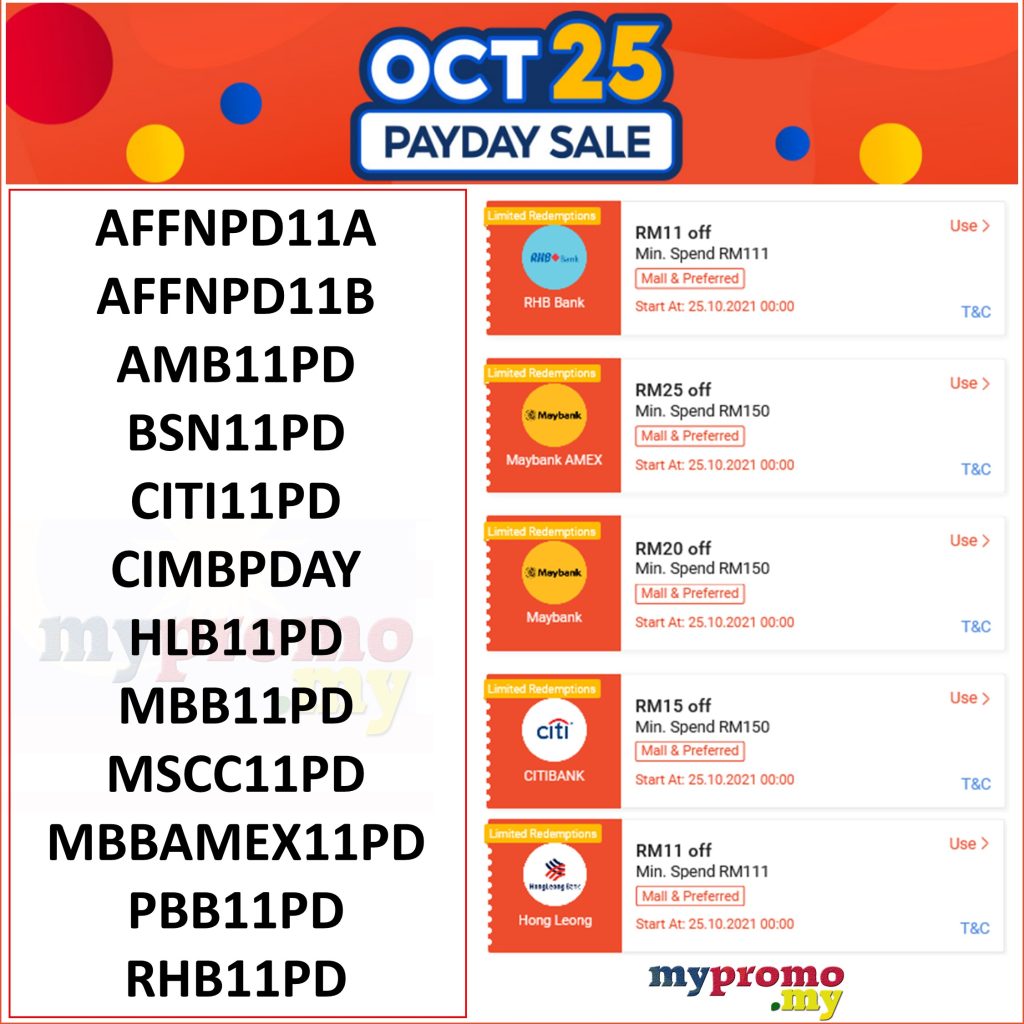 Shopee 11.11 Payday x Bank Voucher Codes
Valid on 25th October 2021
> https://mypromo.my/shopee-payday-sale/
Go to Voucher Page
> https://shp.ee/9sbtz5j
Paste the code
Bank: Affin
Code: AFFNPD11A
Value: RM20 ms RM180
Bank: Affin
Code: AFFNPD11B
Value: RM30 ms RM280
Bank: AmBank
Code: AMB11PD
Value: RM11 ms RM111
Bank: BSN
Code: BSN11PD
Value: RM11 ms RM111
Bank: CIMB
Code: CIMBPDAY
Value: RM15 ms RM150
Bank: Citibank
Code: CITI11PD
Value: RM15 ms RM150
Bank: HLB
Code: HLB11PD
Value: RM11 ms RM111
Bank: Maybank Shopee Credit Card
Code: MSCC11PD
Value: RM28 ms RM150
Bank: Maybank
Code: MBB11PD
Value: RM20 ms RM150
Bank: Maybank AMEX
Code: MBBAMEX11PD
Value: RM25 ms RM150
Bank: Public Bank
Code: PBB11PD
Value: RM11 ms RM111
Bank: RHB
Code: RHB11PD
Value: RM11 ms RM111
Add code Here: https://shp.ee/9sbtz5j
For More Voucher Codes and Promotions
Go to our PayDay website post
> https://mypromo.my/shopee-payday-sale/
To claim the vouchers, visit Payday Sale page now @ https://shp.ee/68mwy2b
Health & Beauty
From skincare to makeup brands, Shopee Malaysia's 8.8 sale brings you the best bargains on all your health and beauty needs. Grab hair and oral care essentials from P&G, then treat yourself to your favourite makeup items from Maybelline and L'Oreal. Eyeing some essences and serums to achieve healthier skin? Then check out the best deals from Some By Mi, Laneige, Sulwhasoo, and Cosmoderm!
Electronics & Home Appliances
Shopping for a new laptop, phone, or vacuum cleaner? So many brands are offering great prices during Shopee's 8.8 sale including Philips, Realme, Samsung, and Acer! Need recommendations for budget-friendly gadgets? Then read up on these best phones under RM500 or budget tablets under RM900 before you check out with the best discount vouchers on Shopee Malaysia!
Mum & Baby Essentials
Motherhood can be challenging, but shopping for maternity and baby essentials shouldn't be. That's why mothers can look forward to our Super Mum & Baby Brands Sale during the 8.8 Brands Festival! This is the best time to stock up on baby milk formula & food from Friso, Enfagrow, and Pediasure. For diapers and baby bath products, check out the best deals and brand sales from Huggies, Vinda, and Johnson & Johnson!
Shoes, Bags & Fashion Accessories
Comfortable shoes are the best investment you can make, so why not consider some sneakers from Skechers? For your running and lifestyle needs, Puma has the best promos on trainers, sportswear, bags, and more. Need help picking a pair of running shoes? We have recommendations for the best running shoes for men and best running shoes for women. And speaking of bags, don't forget to grab the lowest prices on backpacks, clutches, and more from Bagstation!
More Promotions, Offers and Vouchers from Shopee and Lazada
mypromo's Payday  WhatsApp Groups
Want to receive promos and deals via WhatsApp?
Join our 9.9 Sale groups!
1. Only Admin Can Post
2. 9.9 Sale Chit Chat Group
All Are Welcome!
Sign Up for New Accounts and Get Rewarded

mypromo.my: Referral Codes Center
Get Rewarded When you sign up with Referral Codes