Get all the best deals via our Social Media! Follow Us!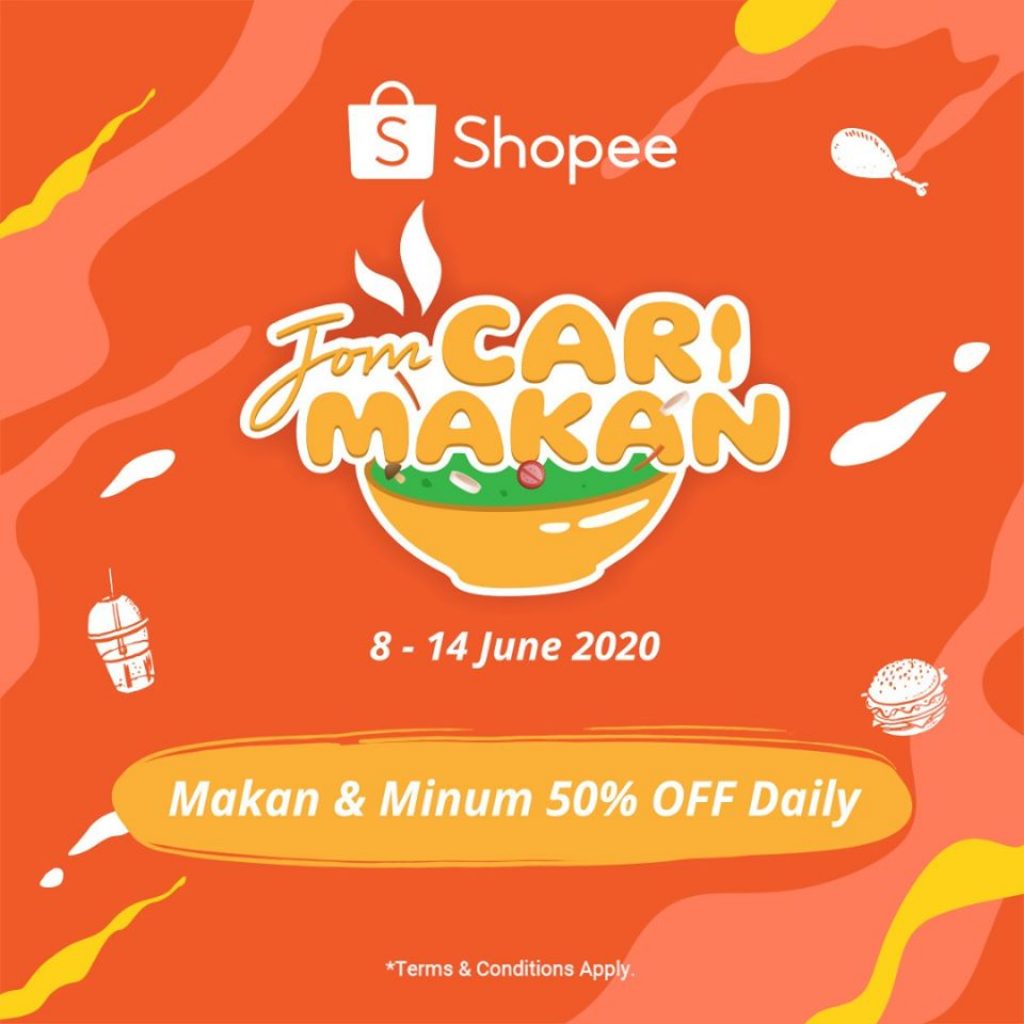 Shopee is launching Jom Cari Makan and you don't want to miss this promotion. Daily Vouchers up to 50% Daily Coins Cashback, Makan & Minum 50% Off Daily and Play & Win games up to 1.2 Million Coins.
Scroll down for more information and vouchers!
Click Here For Daily Promotion (refresh everyday) : https://bit.ly/Shopee-JomCariMakan
Shopee Jom Cari Makan Calendar:
08 June – Bubble Tea Monday
09 June – Breakfast Tuesday
10 June – Lunch Faves Wednesday
11 June – Fast Food Thursday
12 June – Drinks Friday
13 June – Mega Food Favourites
14 June – Mega Drinks Favourites

+Daily 50% Coins Cashback
+Makan & Minum 50% Off Daily
+Play & Win up to 1.2 Million Coins
50% OFF Coins Cashback Daily
Get limited time 50% Coins Cashback daily (capped at
RM5) at 12pm and 8pm.
● Valid for all F&B items HERE
● Vouchers will be refreshed daily so, PLEASE come back again.
Play & Win Up To 1.2mil Coins
● Play Shopee Games to win up to 1,200,000 coins.
● Everyone can play 5 games daily (Lucky Egg, Shopee Throw, Flip & Match,
Shopee Dance, Shopee Catch) to win coins daily.
● Players get multiple free chances daily. You can also gain extra chances
through order, coins purchase & sharing the game.
Jom Cari Makan-New User Vouchers
Voucher Codes: ATFNBNP
Value: RM5 Off min spend RM20
Valid Time: 08.06.2020 00:00 – 12.06.2020 23:59
Voucher Codes: ATFNBP
Value: RM6 Off min spend RM20
Valid Time: 13.06.2020 00:00 – 14.06.2020 23:59
Jom Cari Makan-Bank Vouchers


Public Bank
Voucher Codes: PBBMAKAN
Value: 20% off Min. Spend RM0 Capped at RM2
Valid Time: 08.06.2020 00:00 – 14.06.2020 23:59
Maybank
Voucher Codes: MBBMAKAN
Value: 20% off Min. Spend RM0 Capped at RM2
Valid Time: 08.06.2020 00:00 – 14.06.2020 23:59
Claim Here: https://bit.ly/Shopee-eVoucher
Method to Collect Vouchers:
Go to Shopee: https://www.shopee.mypromo.my
Shopee> Me > My Vouchers >
Input Voucher Code >
Save
BUBBLE TEA MONDAY
More Promotions, Offers and Vouchers from Shopee and Lazada
Sign Up for New Accounts and Get Rewarded

mypromo.my: Referral Codes Center
Get Rewarded When you sign up with Referral Codes