Telegram Channel
Updated Daily with the Best Deals and Offers
Get all the best deals via our Social Media! Follow Us!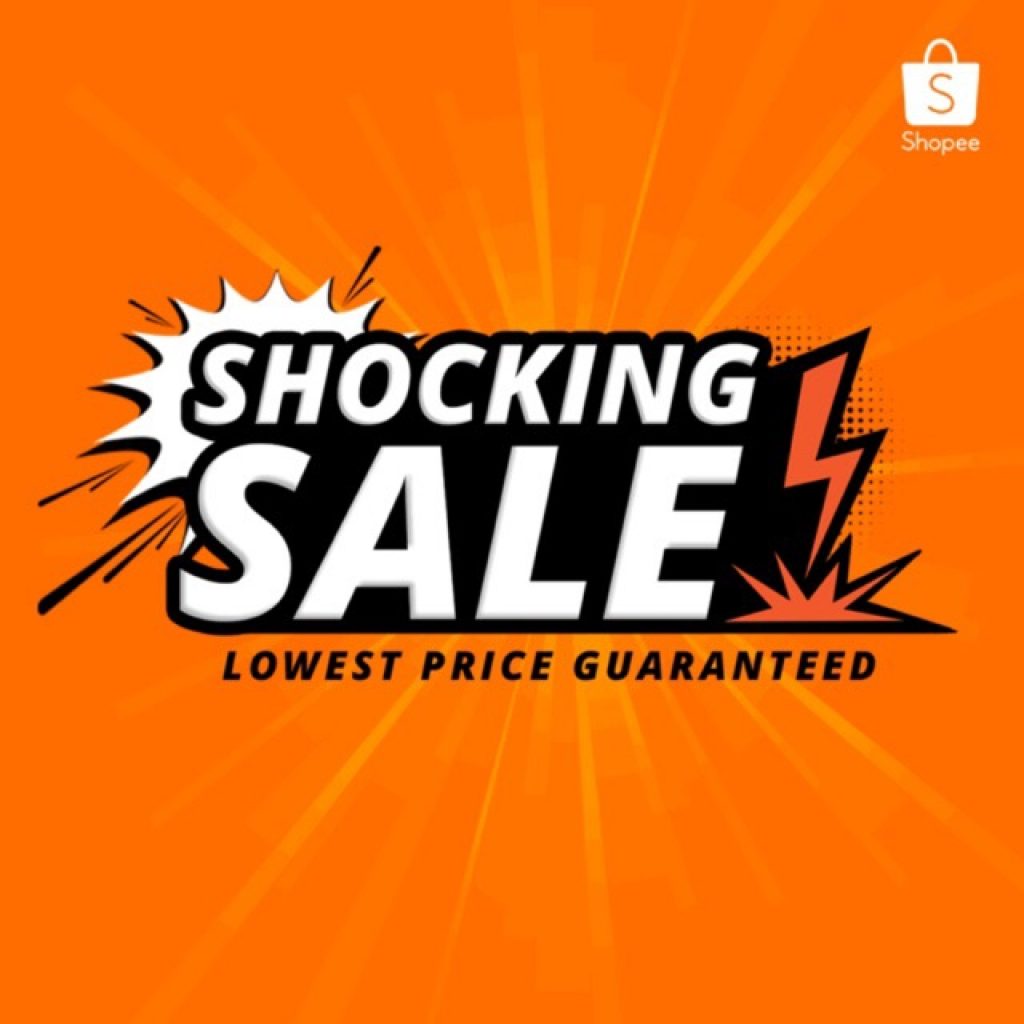 Enjoy huge discounts on all kinds of quality products by joining Shopee's daily Shocking Sale at Shopee Malaysia!
We Malaysians are certainly well known for our enormous enthusiasm for online shopping on e-commerce sites, with many of us constantly browsing the internet and comparing prices across various platforms for the latest and hottest deals available for our next purchase.
Shopee recognises your love for getting the best deals online, thus they would like to invite all of their valued users to take part in our Shocking Sale, where Shopee offers you the lowest price guaranteed in the market for a wide range of items!

Shopee: Daily Shocking Sale
Check out Current Flash Sales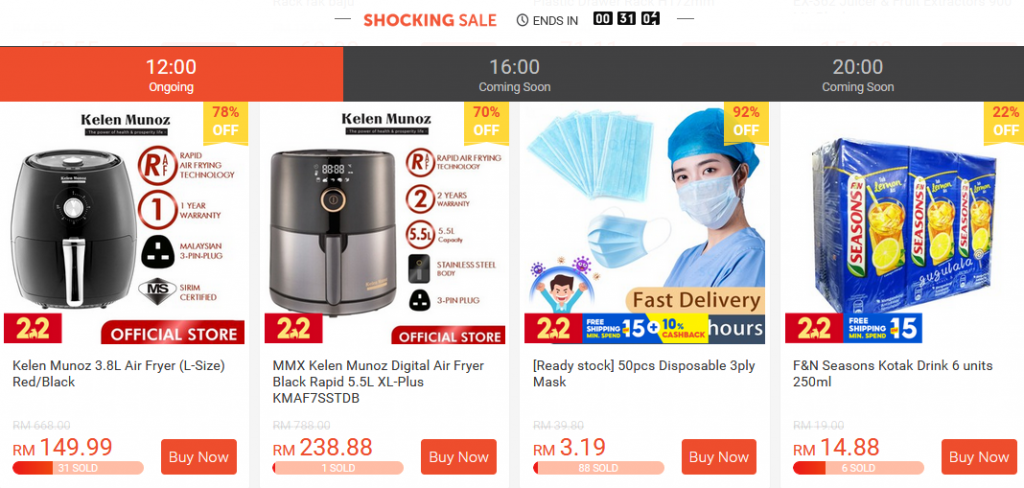 In this regular flash sale campaign, Shopee displays a plethora of products from our extensive catalogue and sell them at the cheapest prices possible among all our competitors! Shopee promises that you won't find a better deal elsewhere among other major online marketplaces, hence you don't need to search all over the net and can save your precious time instead!
The selection of items for sale only last for a short few hours during each time slot, after which Shopee will switch in a new set of products – so don't dally if you've got your eye on something you want! Feel free to check back again later if you don't see anything that catches your interest, for Shopee brings in a new set of merchandise for our campaign thrice daily at 9AM, 3PM and 9PM!
Simply wait for a new slot and you'll bound to find something you want available at an unbeatable price!
Have an exciting time exploring daily deals on Shopee's vast collection of products that range from fashionable clothes to fascinating gadgets!
All About Shopee Free Shipping: https://mypromo.my/shopee-freeshipping
Shopee's flash deals encompasses a myriad of products that are found in almost every single category on their platform, so Shopee definitely have something in store for everyone! Want a quality product from their trusted partner brands and top sellers at an affordable price from our online sale? Browse through the Mall tab and you'll find all the items offered by sellers on Shopee Mall for you to choose from!
Beauty and skincare addicts should not miss this chance to get your coveted facial foam, toners and moisturisers from reputable brand names like Hada Labo, Garnier and Cosmoderm! Shopee also have a section for the fashionistas, who will no doubt love to have the opportunity to add trendy and chic outfits and decorative fashion accessories to their wardrobes at reduced price!
From muslimah fashion pieces to Korean inspired clothing, the huge range of gorgeous clothes will leave you spoilt for choice! Electronic devices such as cameras, MP3 music players and adapters will appeal to tech enthusiasts who are fond of dabbling in production of digital entertainment media. In addition, they've got crazy sales on home furniture and appliances that will bring greater convenience and make home maintenance tasks less tedious!
Get everything you need for your living space at low cost, such as organisation and storage solutions, cleaning equipment, kitchen essentials and much more!
Shop at Really Shocking Prices during big sale such as 11.11. Price can go as low as 11 sen.

Reap great savings from your online shopping sessions when you join Shopee Shocking Sales!
Getting the best bang for your buck is not a problem at all when you participate in Shopee's Shocking Sale daily! With Shopee Guarantee, you don't have to worry about a thing about losing your money, for they only release your payments only to the seller when you are completely satisfied with your deliveries!
Adding items to your shopping cart and making transactions can be done on the go as well on our mobile app too, so you can buy the items you want even when you're out and about! So don't forget to check back often for amazing deals on Shopee Malaysia!
Go to Shocking Sales Now: https://shp.ee/cbz35ev
mypromo Telegram Channel
Want to receive  daily promos and deals via Telegram?
Join Our Channel Today

All Are Welcome!
Sign Up for New Accounts and Get Rewarded

mypromo.my: Referral Codes Center
Get Rewarded When you sign up with Referral Codes