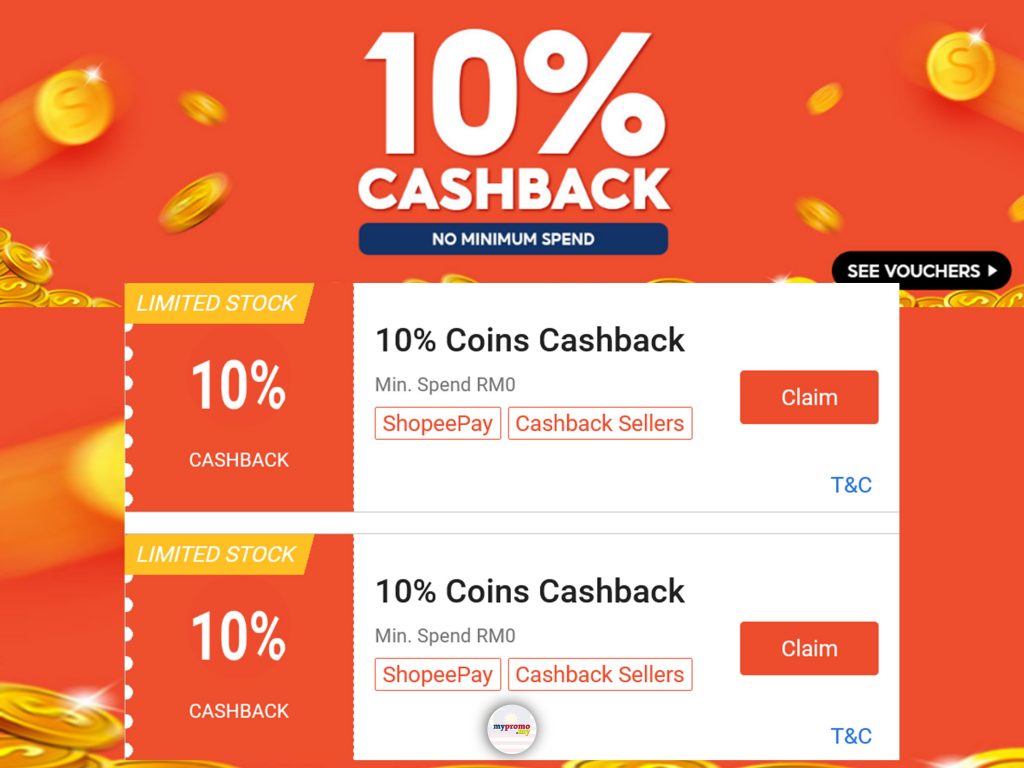 Shopee Cashback is here to make sure you get the best deals possible on Shopee"s platform this 2023! With no minimum spend, Shopee Cashback vouchers give you more saving!

Shopee x Cashback Vouchers
Claim All Your Cashbacj Vouchers
Get all the best deals via our Social Media! Follow Us!
How to Find Cashback Items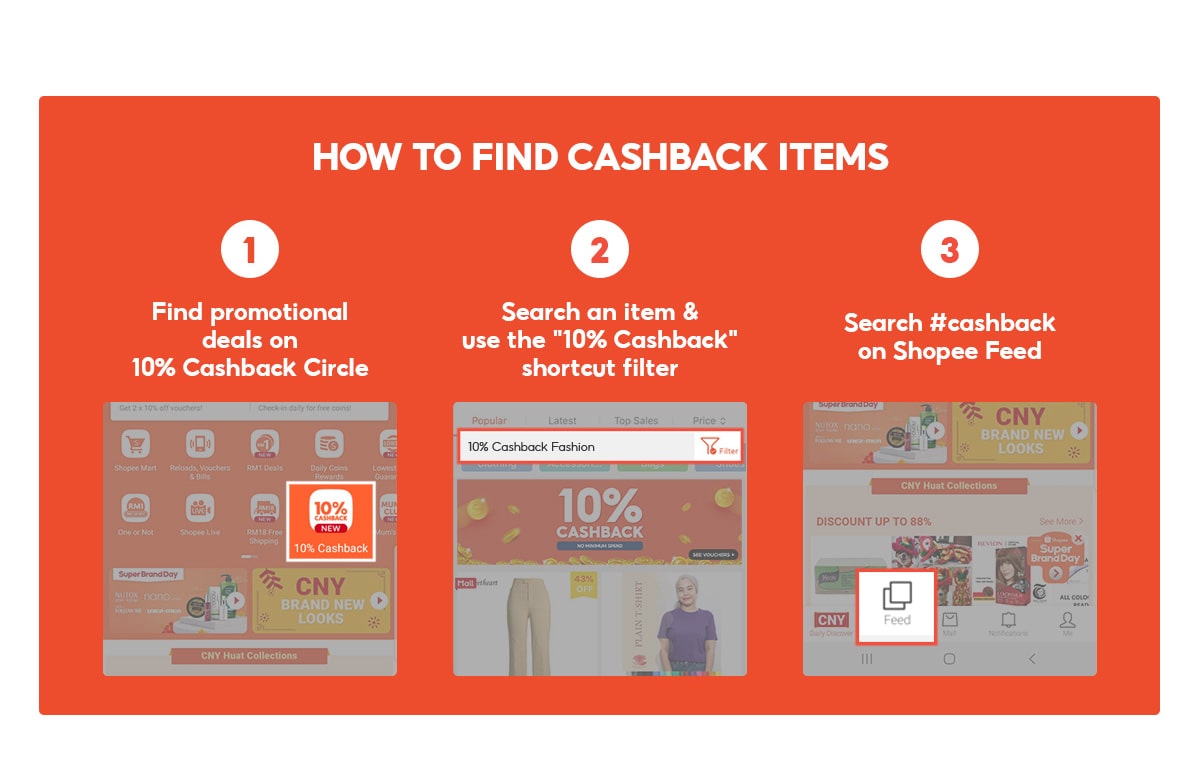 Find promotional deals on 10% Cashback Circle
Search an items & use the "10% Cashback" shortcut filter.
Search #cashback on Shopee Feed
Refer to the picture below and see the benefits of cashback vouchers!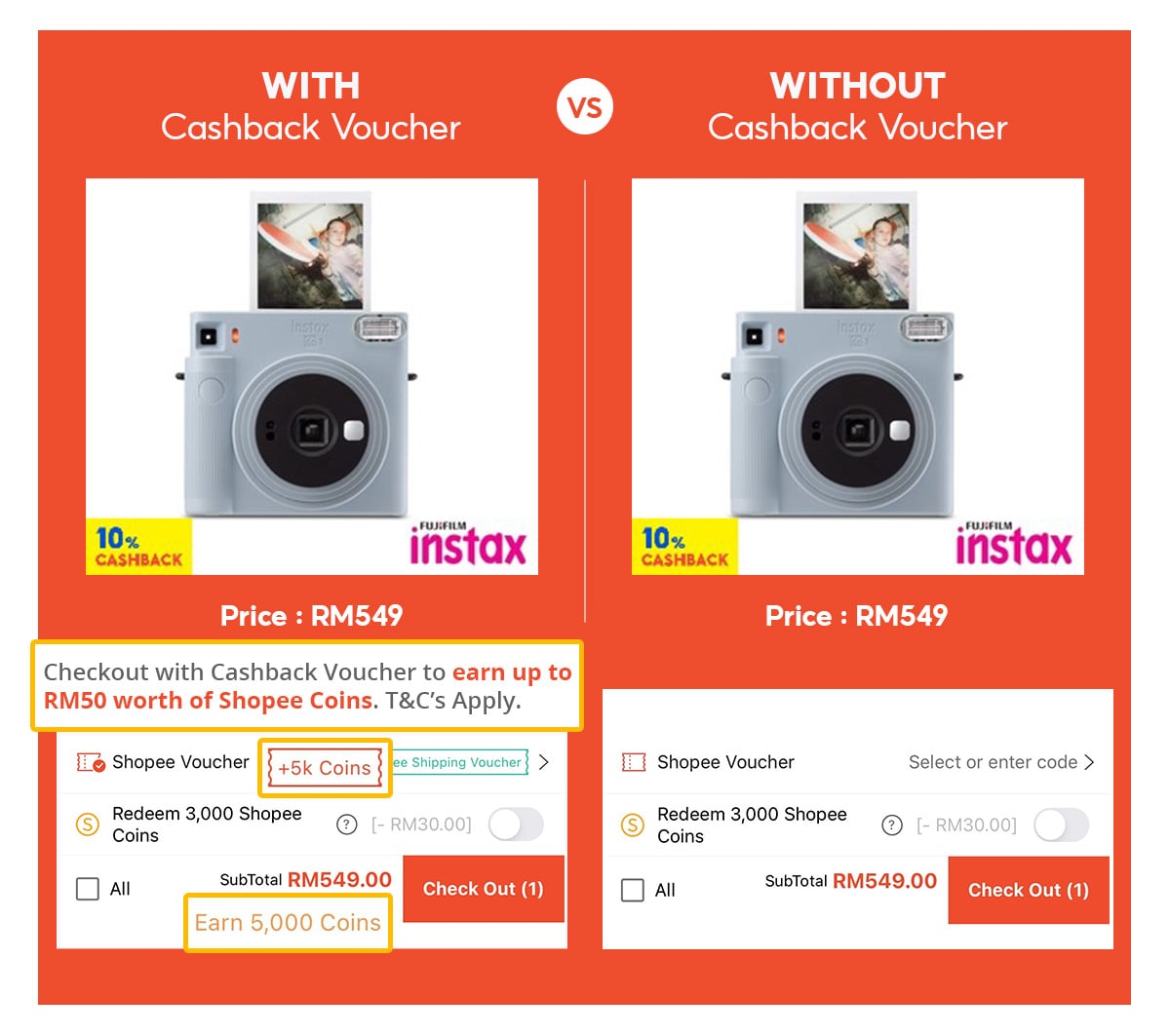 You will be paying same amount but, with cashback voucher, you will earn up to 5000 coin cashback worth RM50!
How to checkout with cashback voucher
Follow these 3 simple steps and you will earn extra coins cashback!
Step 1: Tap on "Shopee Voucher" field in your shopping cart.
Step 2: Select 10% Cashback Voucher and click OK
Step 3: Proceed to Checkout with selected vouchers. You can apply Free Shipping and Shop voucher for extra saving!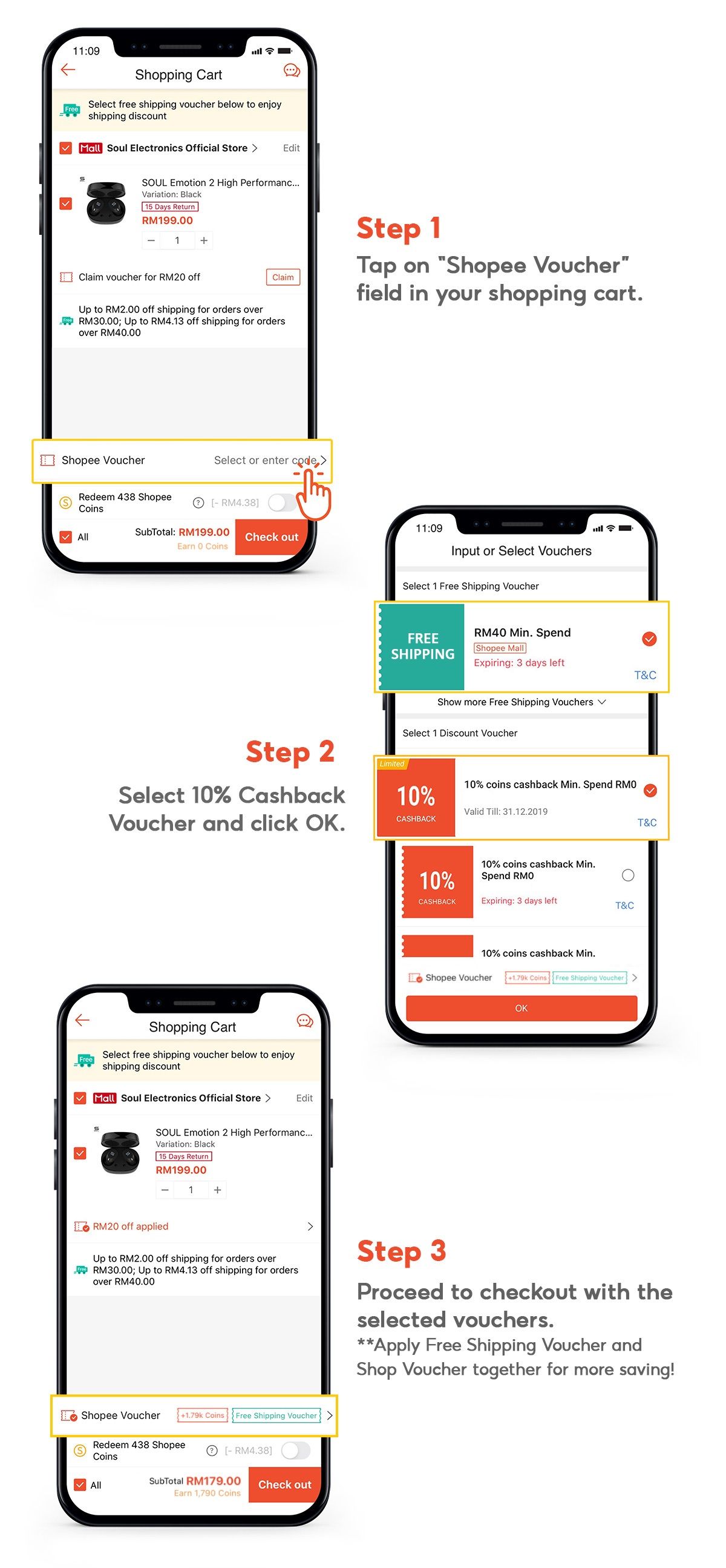 TERMS & CONDITIONS
Vouchers validity periods are as described in the voucher terms. unless stated otherwise.
Vouchers are valid for one-time use.
Vouchers are applicable to all items with cashback label only. Please take note that the *standard exclusion applies for the 10% Cashback vouchers. *Note: Standard exclusion items Include Tickets & Vouchers. Mobile Reloads & Sim Cards. Top Ups. S-Mart Milo, One or Not by Shopee Store products. MMA Foundation Store products and PETRONAS & Seta! Fuel Cards. Gift Cards. & E-Voucher.
Vouchers are valid for Shopee App checkouts only.
Vouchers are on a first come, first served basis.
Vouchers will be released across the month and can be redeemed from 10% Cashback microsite.
Terms and Conditions are subject to change without prior notice.
Shopee Cashback Thursday
Shopee Cashback Thursday is here to make sure you get the best deals possible on Shopee platform this 2021! Come back every Thursday to claim Limited Vouchers and use them when you check out for more discounts.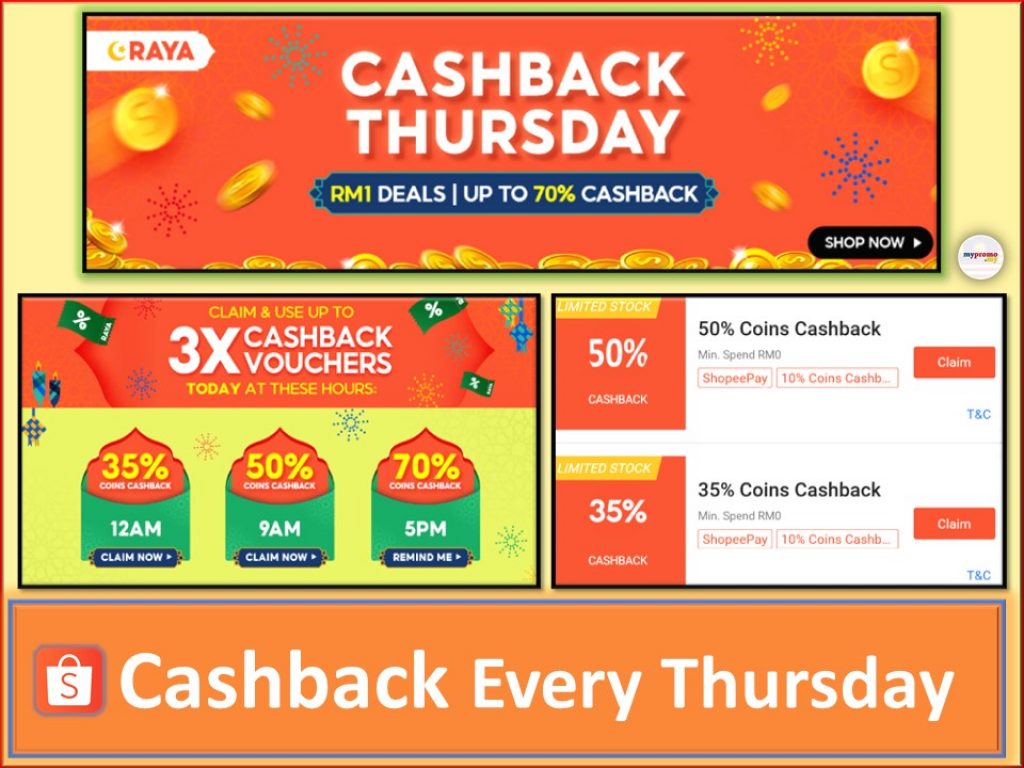 More About Cashback Thursday: https://mypromo.my/shopee-cashback-thursday
Bonus: What is Shopee's Shocking Sale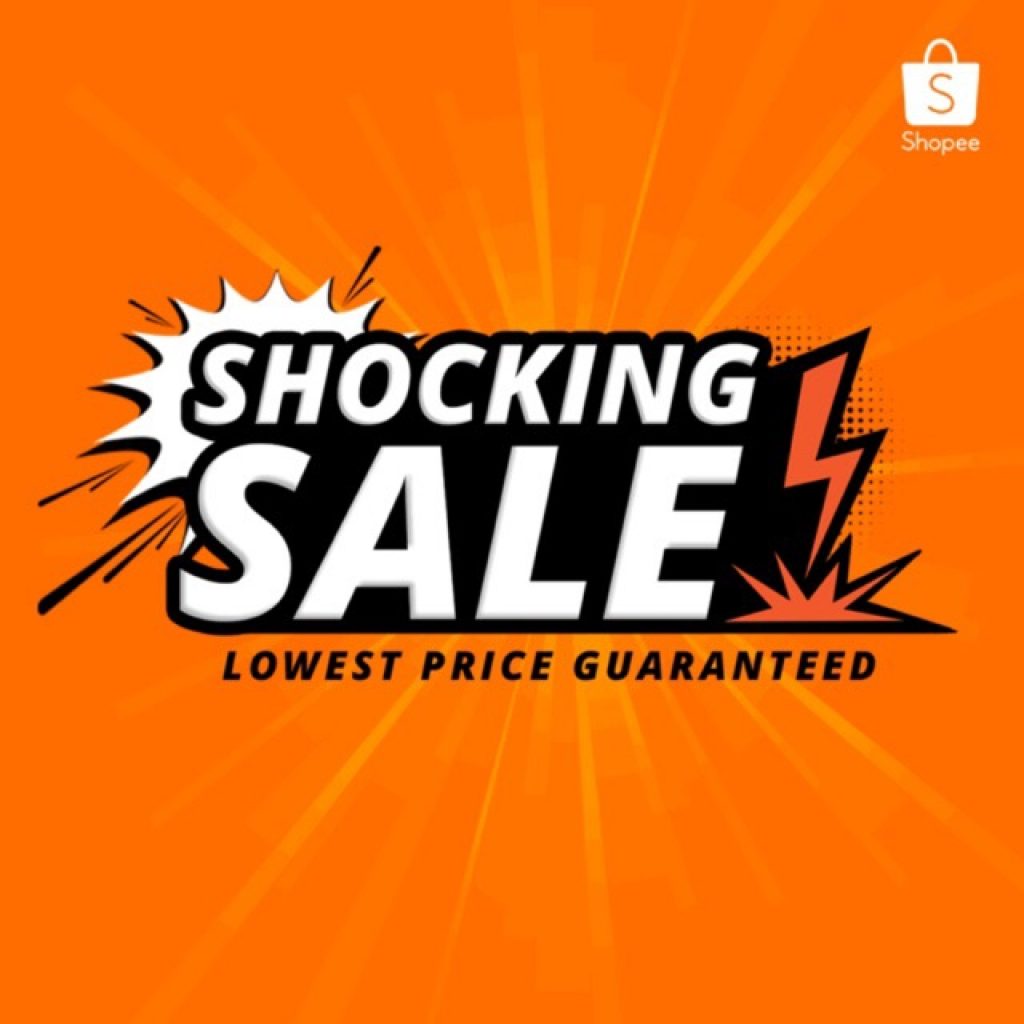 Maximise your value with Shopee's Shocking Sale! With Lowest Prices Guaranteed, you can buy your ideal goods at mega discounts for June 2023! Enjoy huge discounts on all kinds of quality products by joining Shopee's daily Shocking Sale at Shopee Malaysia!
Enjoy huge discounts on all kinds of quality products by joining Shopee daily Shocking Sale at Shopee Malaysia!
We Malaysians are certainly well known for our enormous enthusiasm for online shopping on e-commerce sites, with many of us constantly browsing the internet and comparing prices across various platforms for the latest and hottest deals available for our next purchase.
Shopee recognises your love for getting the best deals online, thus they would like to invite all of their valued users to take part in our Shocking Sale, where Shopee offers you the lowest price guaranteed in the market for a wide range of items!

Shopee x Shocking Sale
Check out Current Flash Sales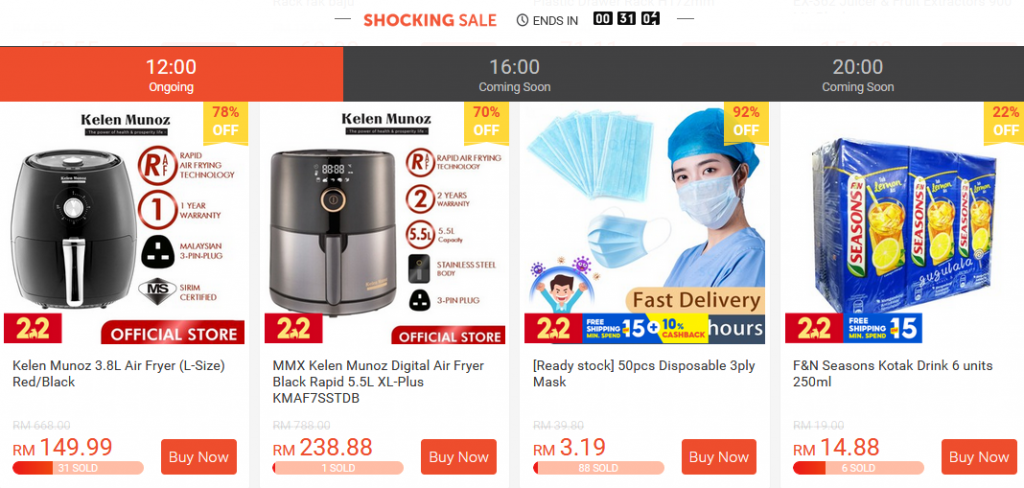 Get all the best deals via our Social Media! Follow Us!
In this regular flash sale campaign, Shopee displays a plethora of products from our extensive catalogue and sell them at the cheapest prices possible among all our competitors! Shopee promises that you won't find a better deal elsewhere among other major online marketplaces, hence you don't need to search all over the net and can save your precious time instead!
The selection of items for sale only last for a short few hours during each time slot, after which Shopee will switch in a new set of products – so don't dally if you've got your eye on something you want! Feel free to check back again later if you don't see anything that catches your interest, for Shopee brings in a new set of merchandise for our campaign thrice daily at 9AM, 3PM and 9PM!
Simply wait for a new slot and you'll bound to find something you want available at an unbeatable price!
Have an exciting time exploring daily deals on Shopee's vast collection of products that range from fashionable clothes to fascinating gadgets!
All About Shopee Free Shipping: https://mypromo.my/shopee-freeshipping
Shopee's flash deals encompasses a myriad of products that are found in almost every single category on their platform, so Shopee definitely have something in store for everyone! Want a quality product from their trusted partner brands and top sellers at an affordable price from our online sale? Browse through the Mall tab and you'll find all the items offered by sellers on Shopee Mall for you to choose from!
Get everything you need for your living space at low cost, such as organisation and storage solutions, cleaning equipment, kitchen essentials and much more!
Shop at Really Shocking Prices during big sale such as 11.11. Price can go as low as 11 sen.

Reap great savings from your online shopping sessions when you join Shopee Shocking Sales!
Getting the best bang for your buck is not a problem at all when you participate in Shopee's Shocking Sale daily! With Shopee Guarantee, you don't have to worry about a thing about losing your money, for they only release your payments only to the seller when you are completely satisfied with your deliveries!
Adding items to your shopping cart and making transactions can be done on the go as well on our mobile app too, so you can buy the items you want even when you're out and about! So don't forget to check back often for amazing deals on Shopee Malaysia!
Go to Shocking Sales Now: https://shp.ee/cbz35ev
More Promotions, Offers and Vouchers from Shopee and Lazada
Lazada 6.6 - 100% Cashback!
Sign Up for New Accounts and Get Rewarded

mypromo.my: Referral Codes Center
Get Rewarded When you sign up with Referral Codes