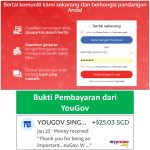 Sertai YouGov untuk 100 Point Pertama Anda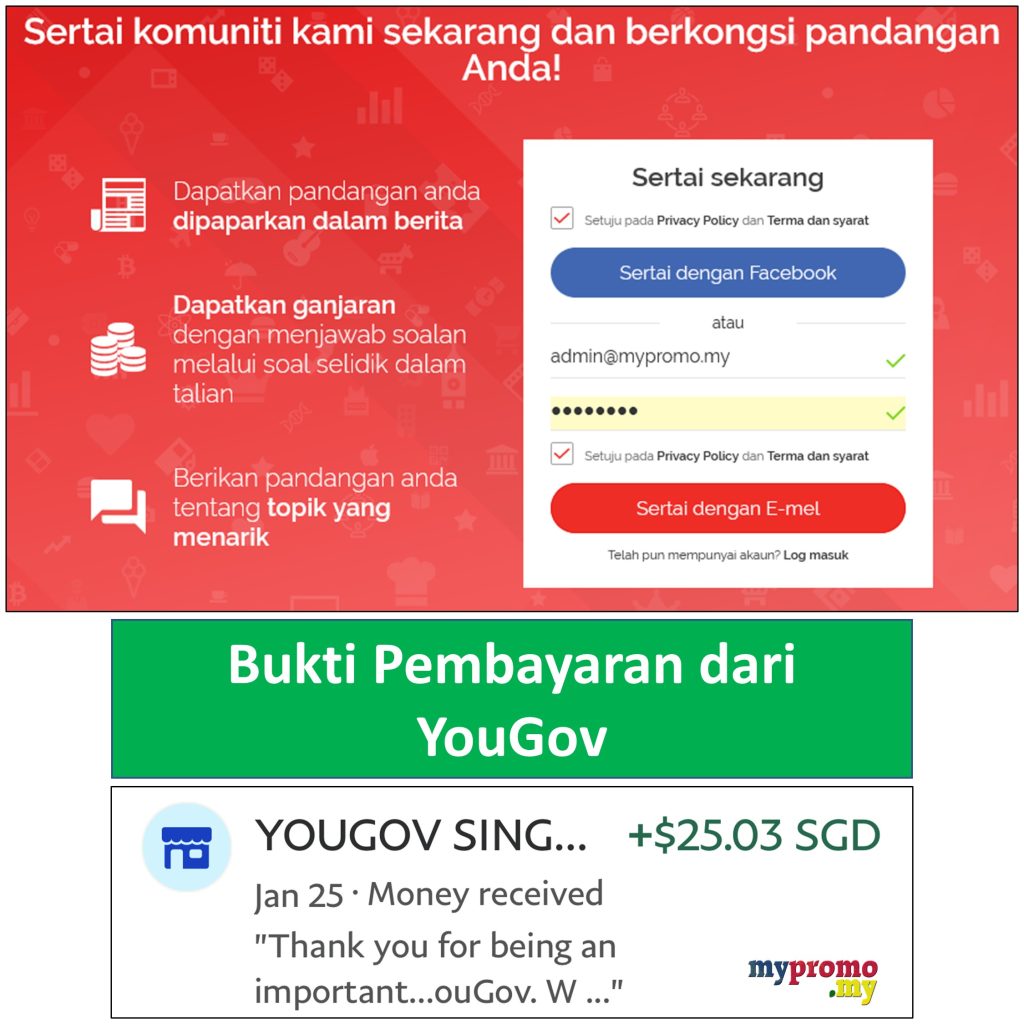 Jom join Yougov, setiap survei kita jawab, kita dapat point. Senang je. Admin memang kaki survei, boleh confirm YouGov survei paling senang untuk dijawab!
Ikut langkah langkah bawah ni:
1. Ikut pautan: https://bit.ly/3c7nq26
2. Sertai dengan Facebook atau dengan E-mel.
3. Semak e-mel anda untuk mengesahkan pendaftaran anda dan mula mengumpul mata.
4. Tekan 'Mulai Survei' kat e-mel
5. Jawab survei yang sangat mudah, bila dah siap, kita dapat 100 points!
Setiap hari Yougov akan hantar e-mel untuk jemput jawab survei yang mudah mudah je. Kumpul cukup point , kita boleh tebus reload prepaid, AirAsia point atau kalau ada PayPal, kita boleh tebus tunai RM70!
Tengok gambar atas, ada bukti pembayaran melalui PayPal. Bukan scam.
So, tunggu apa? Join #YouGov sekarang: https://bit.ly/3c7nq26
Daftar Sini

Sertai YouGov Malaysia
Jawab Survei dapat point
YouGov is a community of 9.6 million people around the world who share their views. Today, you can be part of the community and join YouGov Malaysia. It offers full length, paid surveys.
Join now and take surveys, earn points which can later be redeemed for cash or other great rewards such as AirAsia BIG points, Gift cards, Mobile Credits, Charity Donation & more!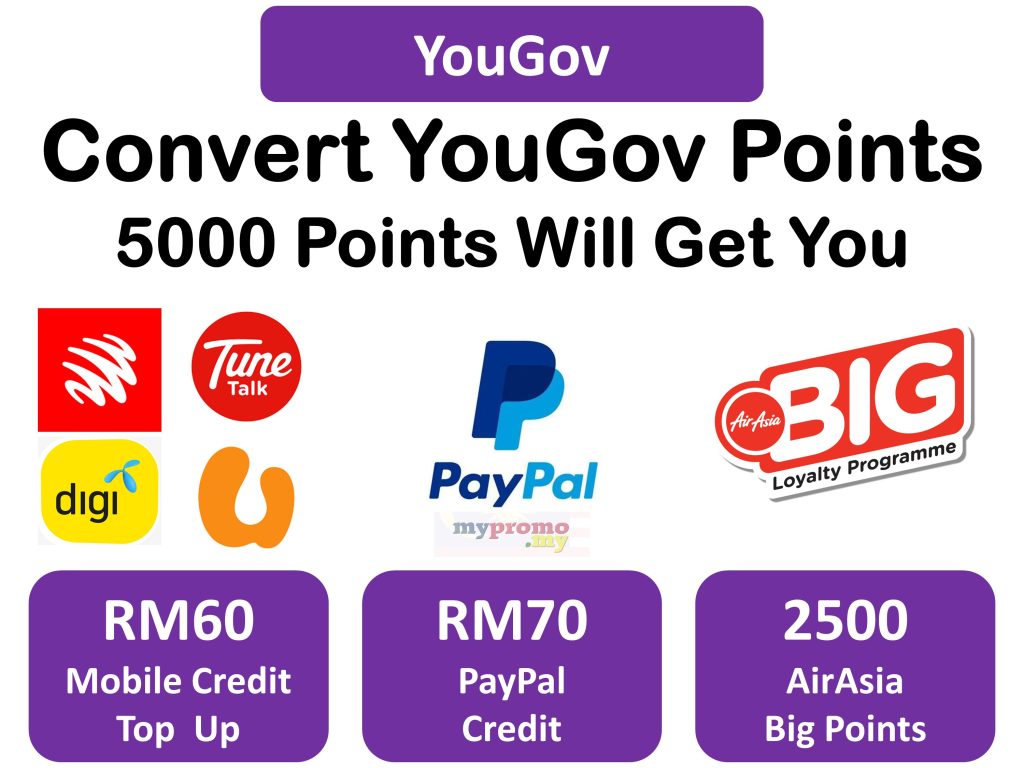 Sign Up YouGov

Sign Up YouGov Malaysia
Answer Simple Questions and Earn Points

Telegram Channel
Updated Daily with the Best Deals and Offers
Get all the best deals via our Social Media! Follow Us!
Create a YouGov account in minutes
To join, simply enter your email address and desired password on the sign up screen on the website. You'll be sent a verification email with a link to confirm your email address, then voilà. You're ready to go.
Start Taking Surveys
YouGov will email you when a new survey becomes available. You can expect to receive 5-7 new opportunities per week and you'll earn points for each survey completed.
Convert Points Into Rewards
Once you've earned enough points, you'll be able to convert these into rewards including cash, gift cards and more.
Answer Simple Surveys or Questions and Earn Points. Accumulate 5000 points, and you can redeem one of these items:
RM60 Mobile Credit Top Up
RM70 PayPal Credit
2500 AirAsia Big Points OR
UNICEF Donation
Refer Friends to YouGov, Earn More
YouGov provides you the opportunity to earn points for every friend you refer to their site using your unique link. Once a friend has signed up and completed 6 surveys on YouGov, you will receive 200 points credited to your account. So, sign up today, and start referring!
Other Accounts to Sign Up and Get Rewarded: https://mypromo.my/referralcodes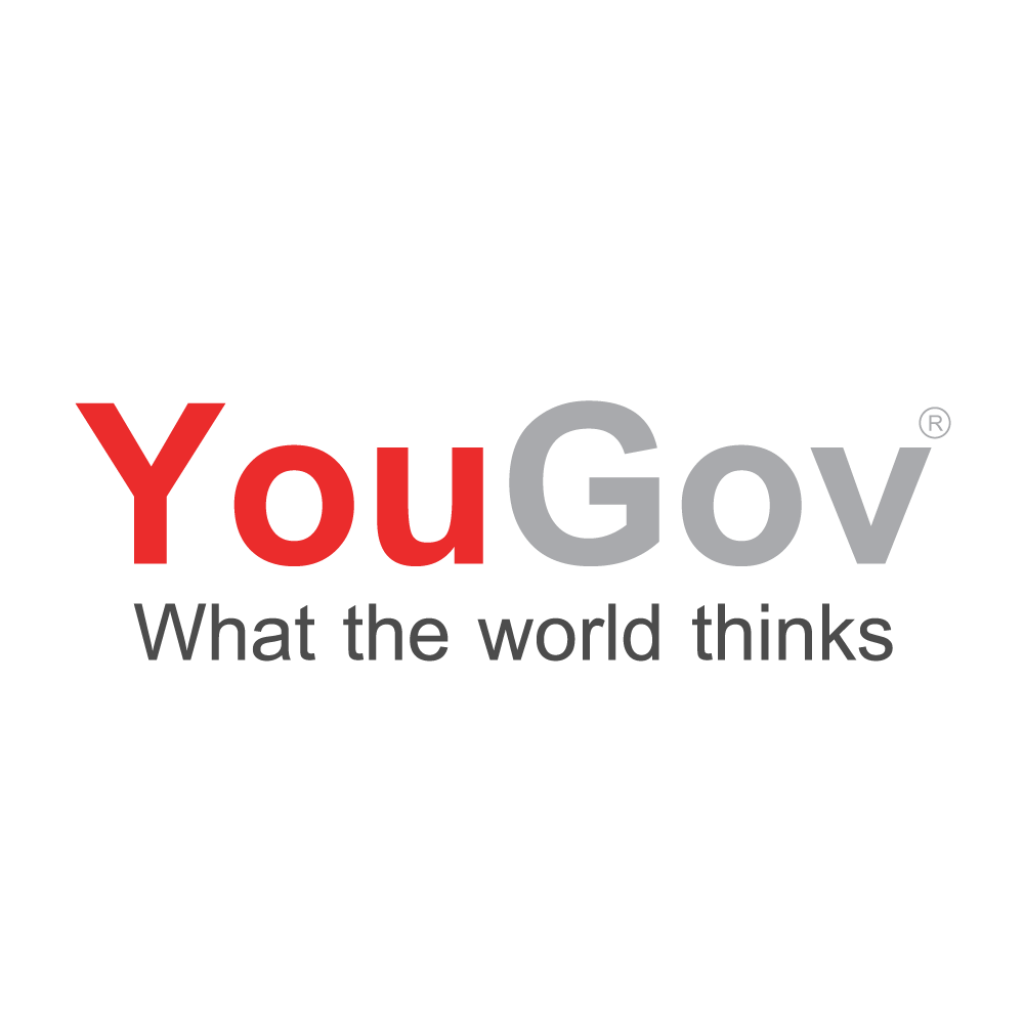 mypromo Telegram Channel
Want to receive  daily promos and deals via Telegram?
Join Our Channel Today

All Are Welcome!
Sign Up for New Accounts and Get Rewarded

mypromo.my: Referral Codes Center
Get Rewarded When you sign up with Referral Codes