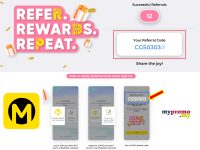 Register for a MAE account and Get RM10 Free with Referral Code CGS0303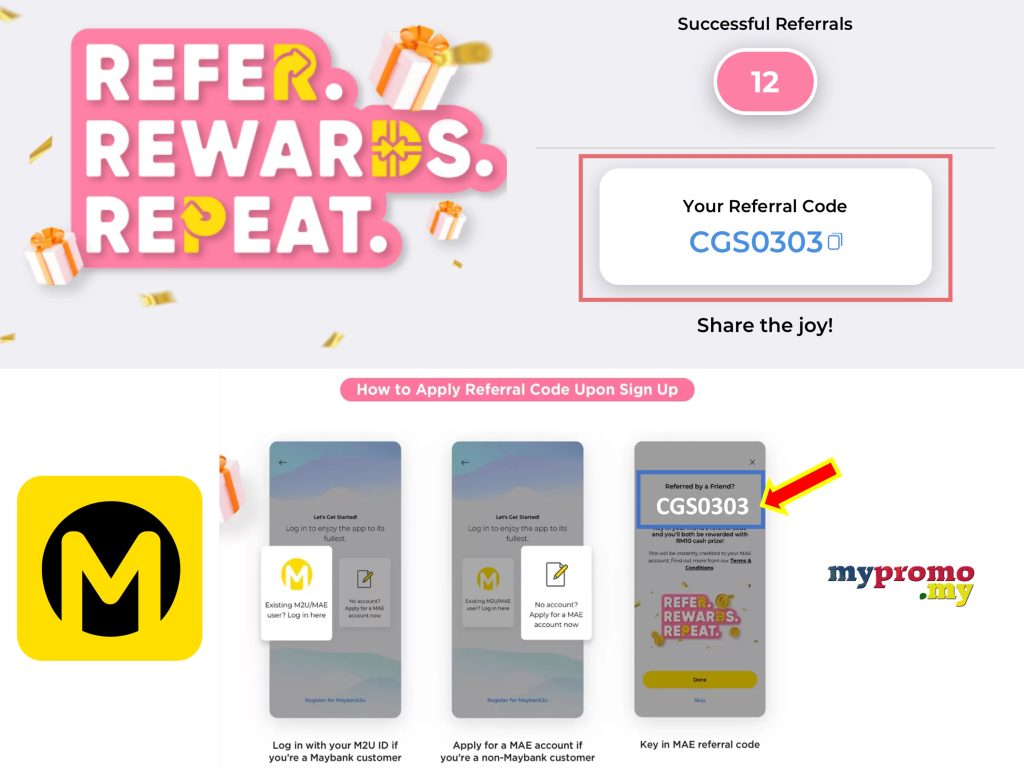 Register for a MAE account and Get RM10 Free into your account! No Maybank account? No worries, MAE is for everyone. Just follow the steps and RM10* is yours!
*Remember to key in referral code: CGS0303

Register for a MAE account and Get RM10 Free with Referral Code CGS0303

Lazada Daily Cashback Vouchers
Collect and Use these vouchers
Get all the best deals via our Social Media! Follow Us!
Android: https://play.google.com/store/apps/details?id=com.maybank2u.life
iPhone: https://apps.apple.com/us/app/mae-by-maybank2u/id1481028763
Easy Steps to Open Mae Account
Step 1: Download App
Step 2: Select "Apply for MAE account"
Step 3: Key in referral code CGS0303 and your details
Step 4: Snap photo of your ID
Step 5: Create your Maybank2u ID
Done! Your account will then be activated + RM10
Buka Akaun Maybank MAE dan Dapat RM10 Percuma
Daftar untuk akaun MAE dan Dapatkan RM10 Percuma ke dalam akaun anda! Tiada akaun Maybank? Jangan risau, MAE adalah untuk semua. Hanya ikut langkah dan RM10* adalah milik anda!
*Ingat untuk memasukkan kod rujukan: CGS0303
Langkah 1: Muat turun applikasi
Langkah 2: Pilih "Apply for MAE account"
Langkah 3: Masukkan referral code CGS0303 dan butiran anda
Langkah 4: Ambil gambar IC anda
Langkah 5:Cipta ID Maybank2u anda
Siap!, selepas itu, akaun anda akan diaktifkan + RM10
More Maybank Promotions: https://mypromo.my/tag/maybank
mypromo's Payday  WhatsApp Groups
Want to receive promos and deals via WhatsApp?
Join our 9.9 Sale groups!
1. Only Admin Can Post
2. 9.9 Sale Chit Chat Group
All Are Welcome!
Sign Up for New Accounts and Get Rewarded

mypromo.my: Referral Codes Center
Get Rewarded When you sign up with Referral Codes