Lazada Daily Cashback Vouchers
Collect and Use these vouchers
Get all the best deals via our Social Media! Follow Us!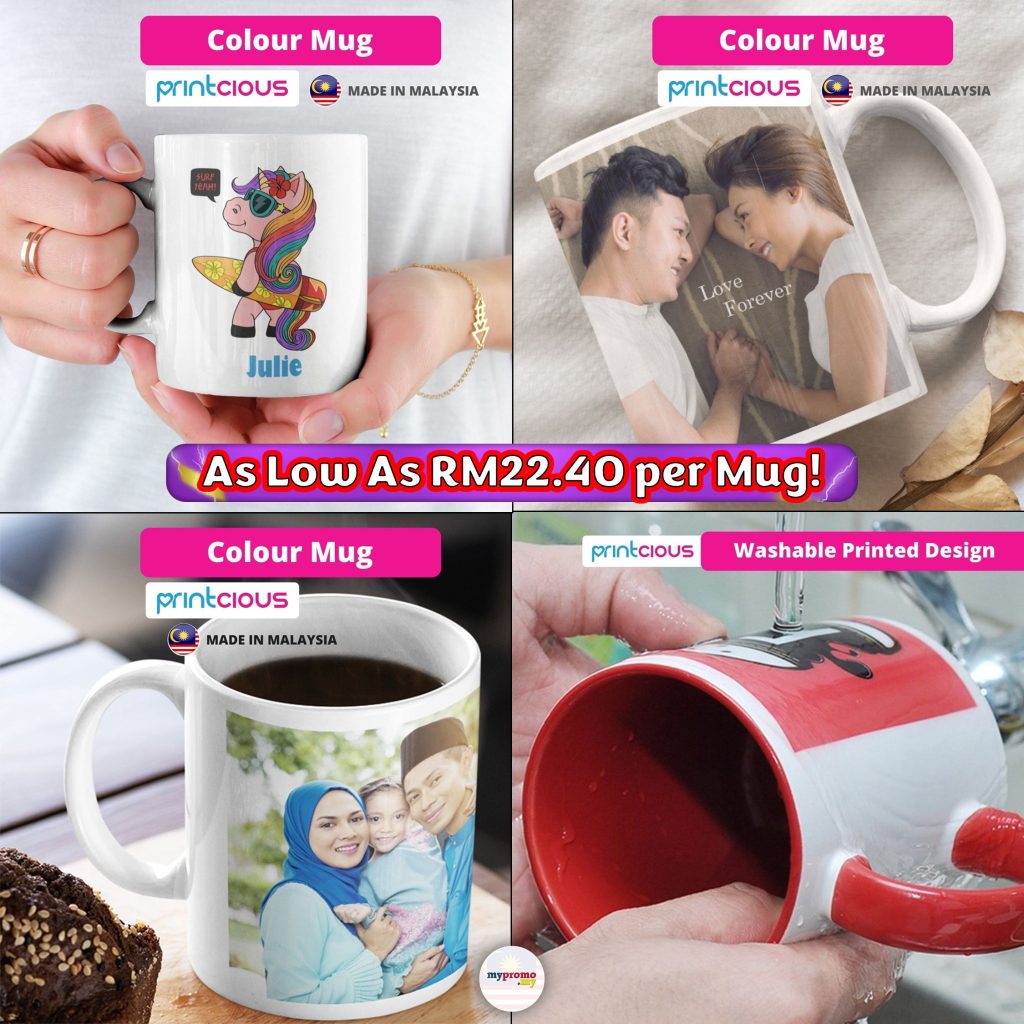 Order Personalised Mugs by Printcious. Find The Cool & Creative Mug Designs & Get it Printed on Your Personalised Mugs. Price is as low as RM22.40.
Order Now a Mug by Printcious

Order Personalised Mugs by Printcious
Find The Cool & Creative Mug Designs & Get it Printed on Your Personalised Mugs
Order Now: https://mypromo.my/order/printcious
Personalised Mugs to Spread Happiness Now in Malaysia
How would it feel when your loved ones start their day with a mug of coffee embedded with a beautiful message from you? Printcious now gives you the power to kick-start your loved one's day with personalised mugs delivered anywhere within Malaysia. If you are looking for a precious gift to surprise someone, we have the perfect choice of DIY mugs in our store.
Your passion drives you towards your great future. Each day, get yourself inspired by the beautiful message printed in our design mugs. Not only the personalised mugs will boost your spirit but you can gift them to your colleagues and make them feel you are there for them. You can send these beautiful colour mugs for him or her all over Malaysia and be the one who brings a smile to the face of your loved ones.
Make a Customisable Mug Today – The best only from Printcious
We let you choose what memories you want to share with the world with our customisable photo magic mugs. Wherever you have been within Malaysia or abroad, let the beautiful moments of your travel be your companion every day by printing them on our photo mugs. You can surprise people with magic mugs that are special in a way that shows the printout only when it has some hot content in it. You can send the best picture of your childhood to your siblings who are staying in some far countryside.
In Printcious, we pamper our customers with our online design tools as you have the freedom to customise your mugs as per your requirement and passion. Get inspired with our motivational quotes printed mugs available in our store and enjoy your coffee breaks with the popular pictures showcasing the beauty of Malaysia in your mugs. In fact, you can also humour your recipients with our funny mugs for him.
We provide many options for our mugs. From simple ones to complex ones. Here are some interesting designs that we provide.
Mugs with Quotes
Want to start your day with an inspirational quote? What better way to do it than putting it on a mug, you will be able to see it when you have your coffee every day. You can find quotes on all sorts of subjects, and many people look to quotes to help them as they strive towards their goals.
So, if you're looking for some inspiration in life or just need an uplifting message before heading into work then there are a lot of choices at Printcious when it comes to mugs with inspirational sayings. A mug with a catchy saying is also a great way to send someone who may be feeling down a reminder that things could always be worse!
Mugs with Graphic/ Photos
Whether you're looking for a gift, something to bring to work, or just want a new cup for yourself, graphic mugs are available in so many designs and styles at Printcious that it can be hard to choose just one! Do you like animals? You'll find them. Are superheroes your thing? We have that too. Each mug is professionally printed by hand and made from high-quality materials. After all, we want these things to last as long as possible!
With dozens of choices, you will be able to find a design that fits your personality perfectly. Best of all, our items are dishwasher safe and microwave friendly. These make great gifts for any occasion and can also serve as souvenirs when travelling.
Colour Mugs
We also have options for simple designs. If you prefer a simple design that has less than two colours, our colour mugs may be the choice for you. We have nine colour options for you to choose from. it includes all 7 rainbow colours and other options for you to check out. Black, White, Orange, Red, Yellow, Green, Pink and Blue in an assortment of shades to suit your taste. If you prefer adding photos to it, we also have that option. Our colour mugs can be paired with symbols, logos or photos if desired as well to provide you with more variety than standard coffee and tea mugs alone can provide.
Mugs with Template as Base
Want to make your photos look better but don't know how? Why not use our pre-designed templates for our mugs. We provide different types of design as a base; all you have to do is put in the picture that you desire. It's fast and easy! The process starts with using one of our template designs. There are dozens provided, so there should be something that fits with the photo you want to put on it.
Mugs for Celebration
Looking for a mug for your mother for Mother's Day? We have several designs that would be appropriate. We have celebration mugs for different occasions such as Valentine's Day, Mother's Day etc. They are great gifts for both family and friends who love to drink coffee and tea in their free time!
If you know someone who loves drinking hot beverages, then definitely make sure you purchase one of our mugs! these attractive printed cups are going to look awesome at home or at the office!
Gift an unforgettable moment with wonderful personalised gifts that will remind them how much they mean to you every single time they use it.
Unique Mug Designs
Are you someone that prefers eccentric items? Here at Printcious, we have that. We have unique mugs such glow in dark mugs and magic mugs. By the name of both mugs, you will be able to predict why is it unique. Glow in the dark mug glows in the darkness. Whereas a magic mug forms a character on the mug when hot water is added.
You can use the mug for personal use, gift it to someone or you can have fun with it by having small pranks on your friends and family with it. You will be able to bond with them even more.
These are only a few of the designs, they are so many more for you to check out! Thus, why wait now? Create the best mug now. Looking for a printing service that offers personalised mug printing as a giveaway for your corporate event? We're here to give you what you need. Shop today.
How to order t-shirt by Printcious?
1) Go to Printcious's website: https://mypromo.my/order/printcious
2) Click on 'Clothing' and Choose T-shirt
3) Choose colour & size – Start designing – Upload image or text
4) Drag & scale the image
5) Purchase ✔️
Get your personalized t-shirt today!
mypromo's Payday  WhatsApp Groups
Want to receive promos and deals via WhatsApp?
Join our 9.9 Sale groups!
1. Only Admin Can Post
2. 9.9 Sale Chit Chat Group
All Are Welcome!
Sign Up for New Accounts and Get Rewarded

mypromo.my: Referral Codes Center
Get Rewarded When you sign up with Referral Codes