Get all the best deals via our Social Media! Follow Us!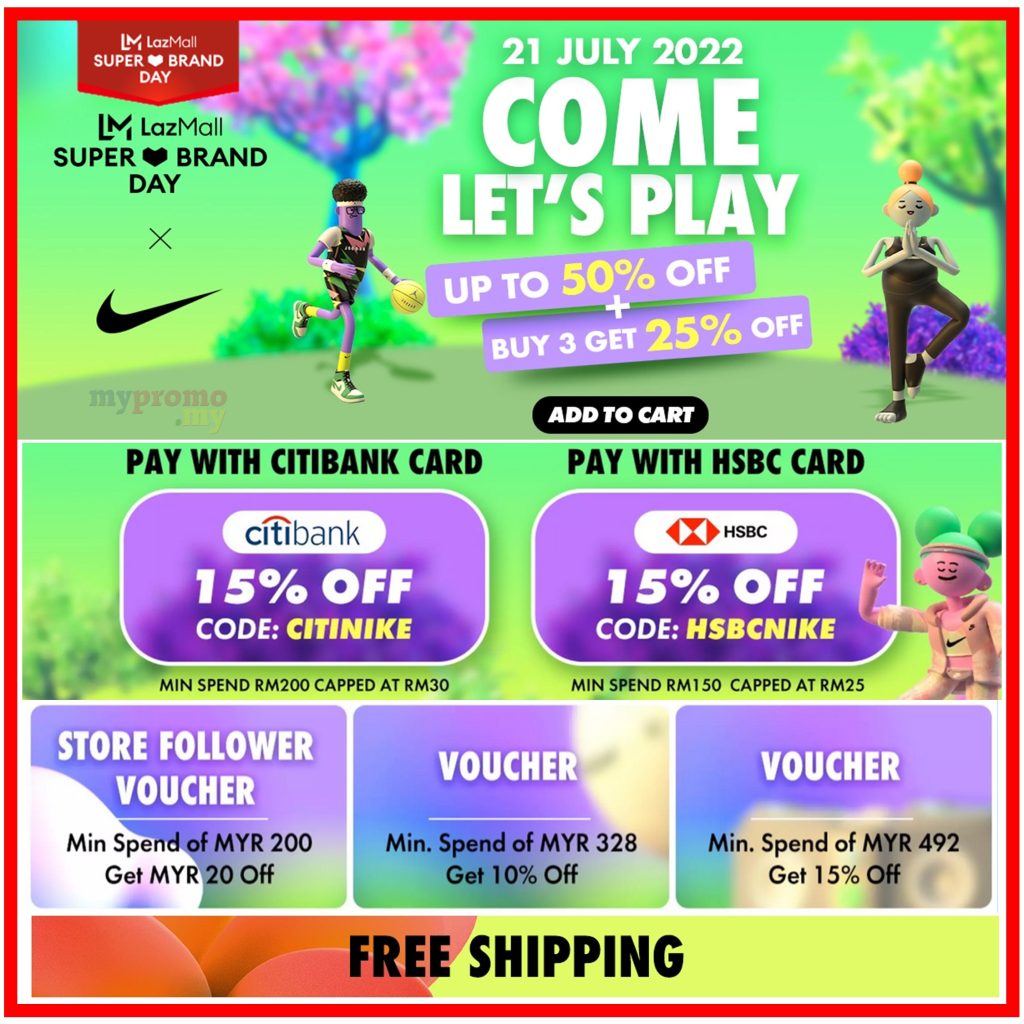 Nike Super Brand Day on Lazada is Happening with deals up to 50% Off storewide, vouchers up to 15% Off and free gifts! Buy more save more deals. Mark your calendars for the biggest sale yet this 21 July 2023!
Add to Cart

Nike Super Brand Day on Lazada
Lazada x Nike – 21 July
👉 https://mypromo.my/lazada/nike
Nike Come Let's Play Super Deals!
• Up to 50% Off
• Buy 4 Get EXTRA 26% Off + Gift
• Buy 3 Get EXTRA 25% Off
• Buy 2 Get EXTRA 10% Off
• Free Shipping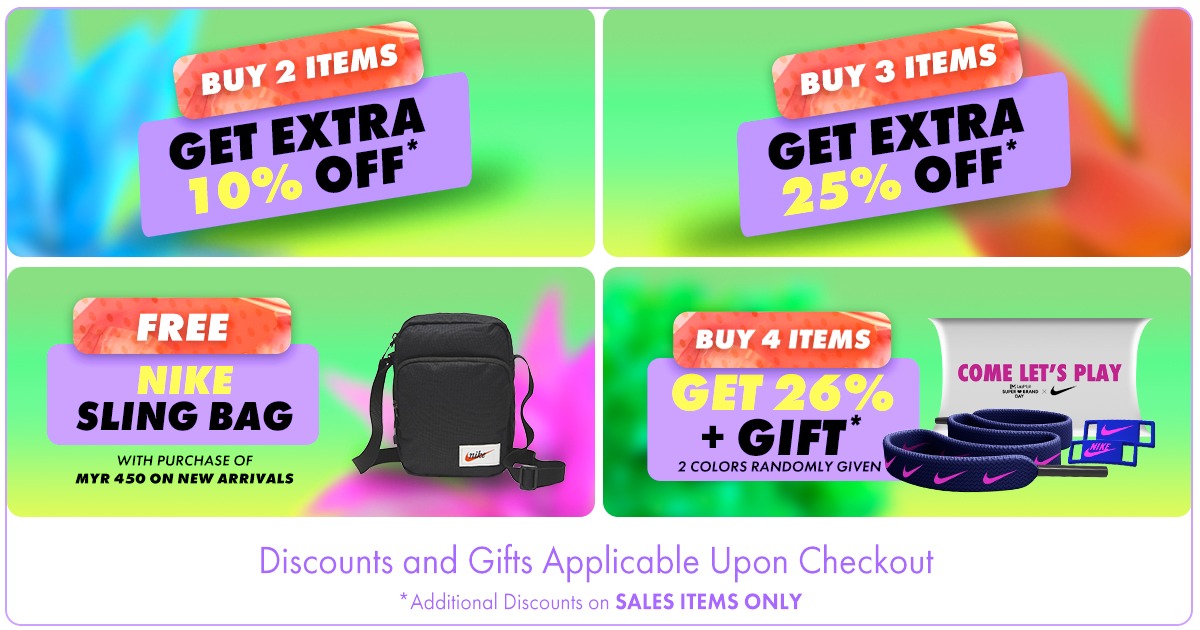 👉 Store Vouchers
• 15% Off Min Spend RM492
• 10% Off Min Spend RM328
• RM20 Off Min Spend RM200
👉 Bank Vouchers
Citi Bank
• 15% Off with code #CITINIKE
• Min Spend RM200 Capped at RM30
HSBC
• 15% Off with code #HSBCNIKE
• Min Spend RM150 Capped at RM25

Add to cart now and check out with voucher. Buy 4 items to enjoy maximum discounts and free gift!
👉 https://mypromo.my/lazada/nike

Nike – The answer to all and any kind of sports gear
In today's world most of us know the importance of leading a healthy lifestyle with exercise and a balanced diet. Whether you're interested in a particular sport, jogging, or working out at the gym; it is quite important to wear proper clothing and have the support of the right gear. Some might think that just any comfortable wear would do, but that is not the case. It is crucial to wear appropriate activewear. Most of us have also heard the name of Nike and know that they make products, experiences, as well as services for all kinds of athletes. From sports shoes to sports apparel and other accessories; Nike has so much to offer.
Boost your performance and confidence with the right activewear
The right type of sportswear can help one reap the benefits of the game or workout. It has an effect on one's performance in the gym or in the field. This is the reason why manufacturers like Nike and others produce such apparel which adhere to the guidelines of qualitative sports apparel. Wearing appropriate clothing whether it is at your workplace, or for a sport, has great sway on your mental health. If you choose to wear the right clothing for the activity that you indulge in, it increases the chances of you performing better, boosting your confidence, and thus winning.
Certain kinds of active wear consist of aerodynamic characteristics which improves functioning. Such active wear is made with artificially modified materials which have breathability, flexibility, as well as compression ability. Correct apparel protects the player from the possibility of an injury. Proper compression wear avoids such mishaps; they give our muscles protection and thus the possibility of inflammation is evaded.
One can even find sports gear with anti-microbial abilities. The underlining has a sliver of a silver film which doesn't let formation of bacteria due to sweat. Depending on the weather conditions one can also get thermo regulated apparel. This gives a balance to our body core temperature and the outside temperature. Along with the right apparel, the appropriate active gear is important too. Accessories like helmets, knee and elbow pads, bands, gloves, mouthguards, and other protective kits are crucial to a player's health and safety.
Nike – Not just functional but chic too
The functionality of sportswear is extremely important. But along with it, aesthetic features, like a pleasant look and attractive appearance matter as well. These too enhance a player's performance along with providing extra comfort or promoting the wearer's health. Activewear has been made softer, lighter, faster drying, and more durable. Since they cater to a horde of functions, the fashion-conscious customer prefers such gear. If you are looking for something similar and intend to look fashionable too, then Nike may be a great place to start.
More Promotions, Offers and Vouchers from Shopee and Lazada
Sign Up for New Accounts and Get Rewarded

mypromo.my: Referral Codes Center
Get Rewarded When you sign up with Referral Codes