Tempoh Penyertaan: 14 February – 30 April 2020
Impian memenangi gaji lumayan seumur hidup* bakal menjadi milik anda!
Cara-cara Penyertaan
Langkah 1: Beli sebarang produk NESTLÉ® yang turut serta bernilai minima RM15 dalam 1 resit. Setiap RM15 akan diberikan 1 Nombor Bersiri.
Langkah 2: Jawab soalan berikut
Soalan "Terdapat 3 Pemenang Hadiah Utama bagi PERADUAN NESTLÉ® GAJI SEUMUR HIDUP* ini.
Betul atau Salah?"
Langkah 3: Tuliskan nama penuh, No. MyKad dan jawapan di atas resit asal anda. Ambil 1 gambar yang lengkap dan jelas dan WhatsApp penyertaan anda ke 013-232 2168.
Atau Muat Turun Borang Penyertaan.
Lengkapkan borang penyertaan, jawab 1 soalan, sertakan resit bercetak asal dalam 1 sampul surat dan lekatkan setem yang mencukupi. Hantarkan melalui pos biasa sahaja ke alamat berikut:Peraduan NESTLÉ® Gaji Seumur Hidup*
Nestlé Products Sdn. Bhd.
Peti Surat 8812
Pejabat Pos Kelana Jaya
46798 Petaling Jaya
Selangor Darul Ehsan
Langkah 4: Pengumuman pemenang akan dimuat naik di laman ini, jadi pastikan anda sentiasa menyemaknya.
Hadiah-hadiah
Beli Sekarang!
Klik mana-mana kedai online dibawah:
Shopping @ Lazada
Shopping @ Shopee
Makan @ McDonald's
Shopping @ Sunshine
Shopping @ Mydin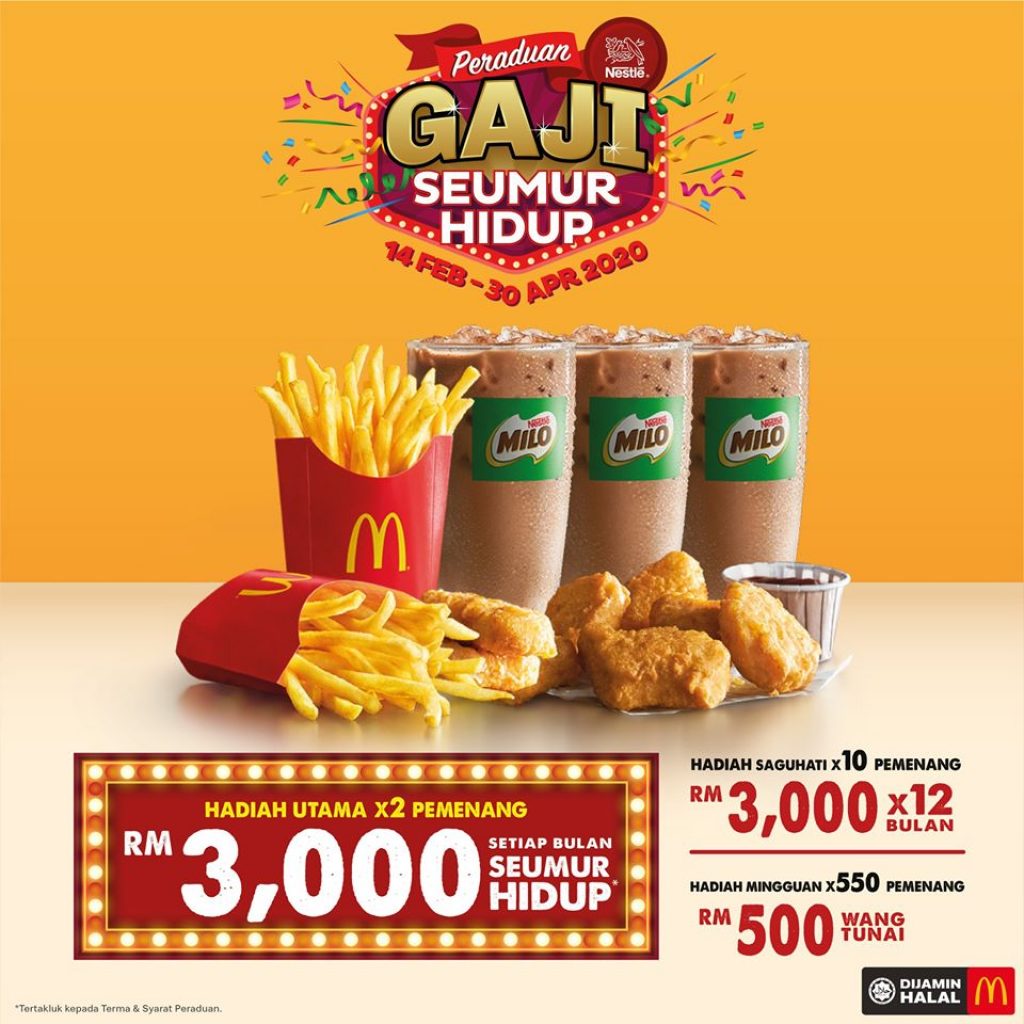 Dengan kerjasama Lazada:
*Anda masih boleh membeli produk-produk Nestle daripada rakan-rakan niaga Nestle yang lain untuk menyertai peraduan ini.
Tertakluk kepada Terma & Syarat Peraduan BM | EN
Klik disini untuk membaca FAQ Peraduan BM | EN
Source: https://www.dearnestle.com.my/event-and-happening/peraduan-gaji-seumur-hidup
To stay up to date with the latest promotions and deals, make sure to subscribe!