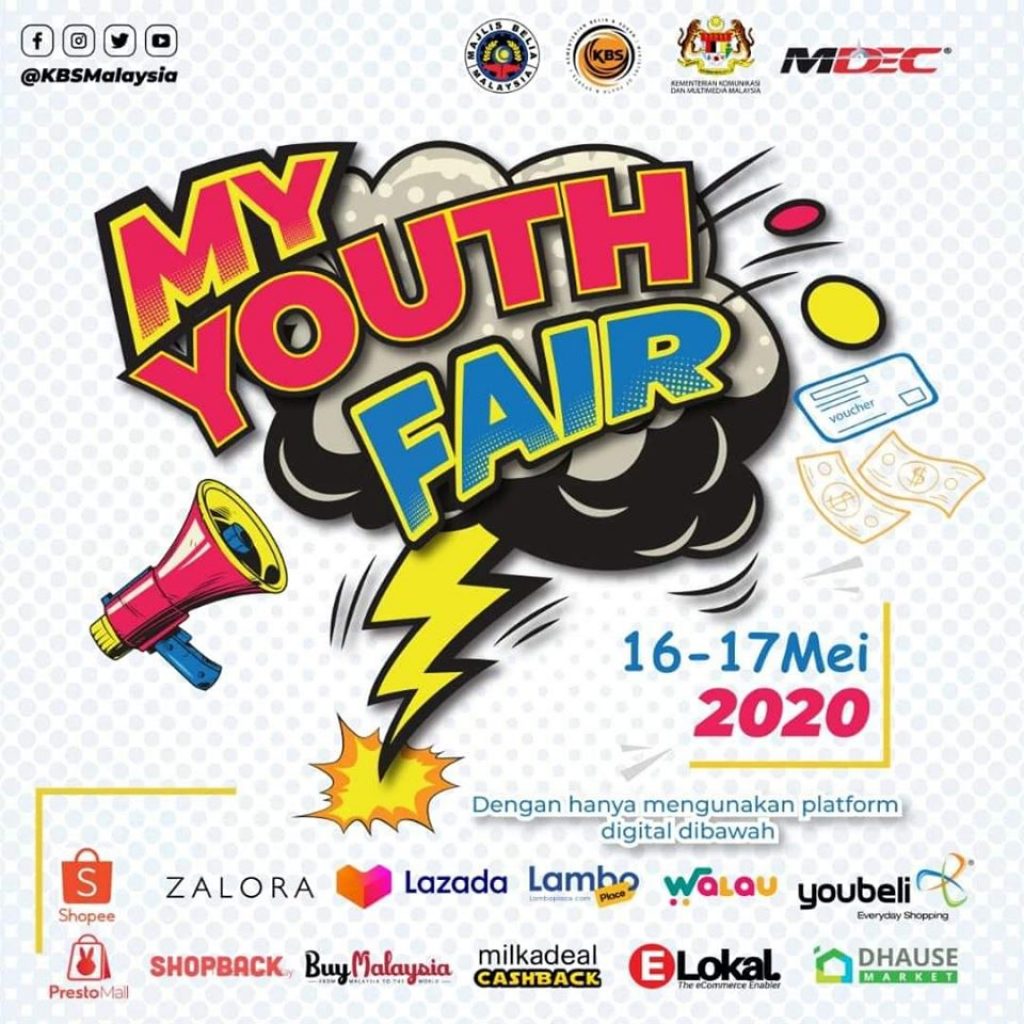 MyYouthFair 2020 is an online sale to encourage all youth with age range between 15-40 years old to shopping online. This event is organized by Kementerian Belia & sukan Malaysia (KBS), Kementerian Komunikasi dan Multimedia Malaysia (KKMM) and Malaysia Digital Economy Corporation (MDEC).
Moreover, MyYouthFair 2020 also play an important part to motivate youth on donation. In this event, RM1.00 of every sale will be donated to official Malaysia 'Tabung Covid-19'.
Lazada
Shopee
MY YOUTH FAIR
Istimewa untuk anda dari Shopee
Method:
Go to Shopee: https://www.shopee.mypromo.my
Shoppe> Me > My Vouchers
Zalora
Shopback
We all love Shopback, the cashback platform. Get ShopBack when you shop online. Your items just got cheaper at Shopee, Lazada, Agoda, Boost, Adidas, dahmakan, Zalora, Klook, Watson and a lot more stores!!
Detail Here: https://mypromo.my/signupshopback/


ShopBack
Click on sign up for free and get RM5 Reward Today. ==>
Lambo Place
YouBeli
Enter your IC number to redeem vouchers from Youbeli. There are 1 (one) from 4 (four) type of surprise voucher will be given for you. Happy Shopping! T&C Apply.
Follow 3️ simple steps to REDEEM:
✅ Click on this link: YouBeli.com
✅ Insert IC number (Look for >> I Want FREE Voucher)
✅ Check your email for the FREE surprise *voucher*
MilkADeal
Get MilkADeal:Cashback for All Your Online Purchases
Get cashback when you shop from Lazada, Shopee, Klook, Agoda, fave, air tickets and a lot more online stores.
Details Here : https://mypromo.my/signup-milkadeal
Instant Cashback from MyYouthFair applies for existing Lazada and Shopee Customers SITEWIDE, ranging from RM 9 to RM 29.
MYYouthFair
KBS dengan kerjsama MDEC dan MBM akan menganjurkan Karnival Jualan Mega atas talian melalui platform digital Cashback yang menggabungkan pelbagai kategori platform e-dagang seperti Lazada, Shopee, Zalora dan lain2 lagi Partners e-dagang di Malaysia.
MY Youth Fair mensasarkan golongan belia Malaysia berumur 15 hingga 40 tahun.
Tempoh masa :
2 Hari (Bermula 16-17 Mei 2020)
Objektif
I. Untuk menggalakkan dan meningkatkan budaya membeli-belah atas talian dalam kalangan belia;
II. Untuk merangsang ekonomi domestik semasa, terutamanya ketika pandemik Covid-19; dan
III. Untuk Untuk memberi rasa 'istimewa' kepada belia sempena sambutan Hari Belia Negara
Jangkaan Impak
Pembelian atas talian sempena MYYouthfair ini dijangka membantu merangsang ekonomi melalui pembelian atas talian, seperti berikut:
I. Melalui MYYouthfair, manfaatnya akan diterima oleh seramai 33,000 – 100,000 belia; dan
II. MDEC menjangkakan jumlah transaksi pembelian MYYouthfair akan mencapai sekurang-kurangnya RM5 juta.
Rakan Strategik
I. Malaysia Digital Economy Cooperation( MDEC)
II. Majlis Belia Malaysia
Kaedah Pelaksanaan
I. Pemilihan Partners dan Seller oleh MDEC
• Partner dan seller merupakan pemain industri e-dagang tempatan
• Sebanyak 200 seller tempatan/ pemilik jenama (termasuk pengeluar dan pengedar) akan menyertai MYYouthFair melalui platform Cashback.
Partners yang telah dipersetujui (Shoppee, Lazada, Zalora, Shopback,BuyMalaysia,Milkadeal,Youbeli,PrestoMall,Dhause,Walau,Lamboplace)
II. Insentif Kempen
• Insentif kempen MYYouthFair adalah melalui pemberian baucar ke atas transaksi pembelian atas talian di platform Cashback.
• Setiap Belia yang membuat pembelian diatas platform tersebut layak mendapat baucer minumum RM 10, RM20 dan RM 30 maksimum.
III. Kriteria kelayakan
• Warganegara Malaysia
• Berumur 15 hingga 40 tahun pada 1 Jan 2020
IV. Sumbangan kepada Tabung Covid-19
• ¬Sebagai inisiatif tanggungjawab sosial terhadap krisis semasa pandemik Covid-19, adalah dicadangkan RM1 daripada setiap transaksi MYYouthFair disumbangkan untuk tabung bantuan Covid-19.