With Mae from Maybank, you can now make an ATM Cash-out on the MAE app. With only a few taps, you can now withdraw money the contactless way from Maybank ATM, without your ATM card and the need to touch the ATM.
To start cardless withdrawal, you will need to activate the feature first. Follow these few simple steps to activate.
How to Activate ATM Cash-out on the MAE app
Step-by-step guide on how to activate: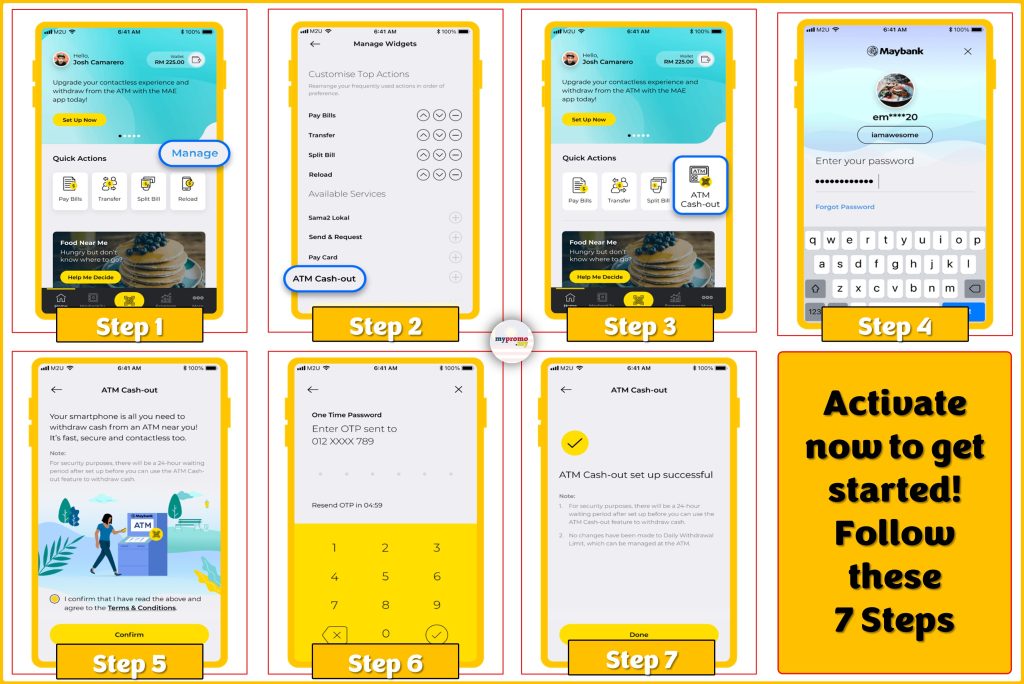 Step 1: Launch your MAE app & tap 'Manage'
Step 2: Replace one of the 'Quick Actions' with 'ATM Cash-out' and save the changes
Step 3: Tap 'ATM Cash-out' under Quick Actions
Step 4: Enter your password
Step 5: Agree to the T&C
Step 6: Enter the OTP sent to you
Step 7: Your setup is done! You will be able to use ATM Cash-out in 24 hours.
Note:
There is a 24-hour cooling-off period for security checks before you can start using it.
You'll receive a SMS and push notification on your smartphone upon successful activation.
Should you receive the notifications but did not activate the feature, please call our Maybank Customer Care Line at 1300-88-6688 within 24 hours for assistance.
How to use MAE for money withdrawal?
Just launch your MAE app and scan the QR code on the ATM screen. Authorise with your biometric or 6-digit app PIN, key in the amount you wish to withdraw, then verify with Secure2u, and you're done!
Step-by-step guide on how to withdraw: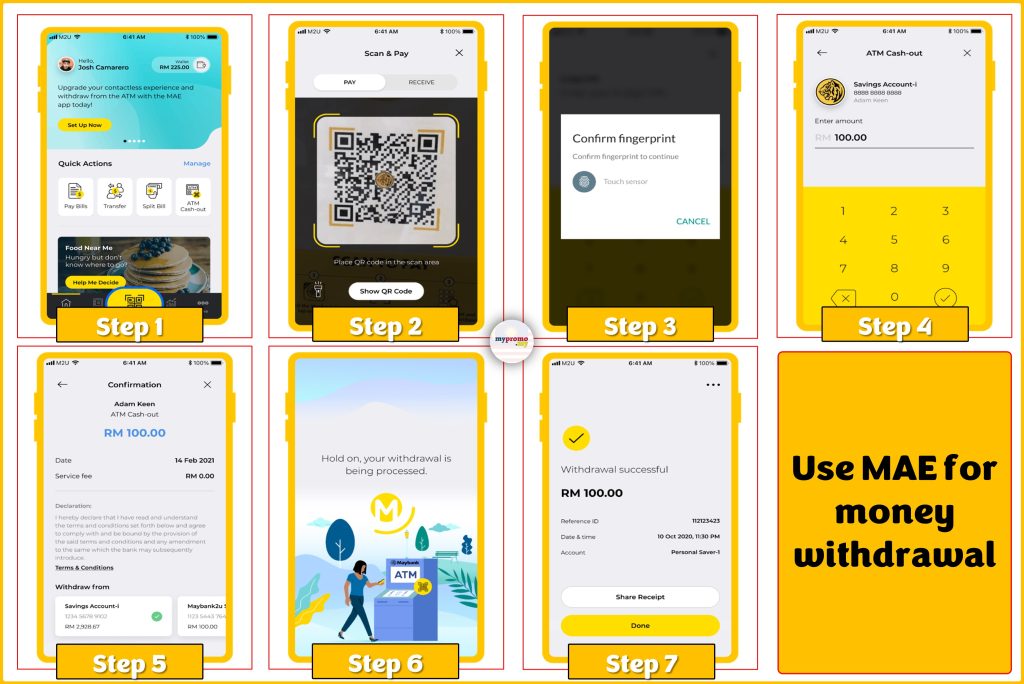 Step 1: Tap the QR code scanner
Step 2: Scan the QR code on the ATM
Step 3: Confirm your login to MAE
Step 4: Enter the amount you wish to withdraw
Step 5: Select the account you wish to withdraw from and tap 'Withdraw Now'
Step 6: Wait for your withdrawal to be processed
Step 7: Collect your cash from the ATM upon successful withdrawal
Click here for the full details!
Withdraw money the contactless way with the MAE app!
Register for a MAE account with Referral Code CGS0303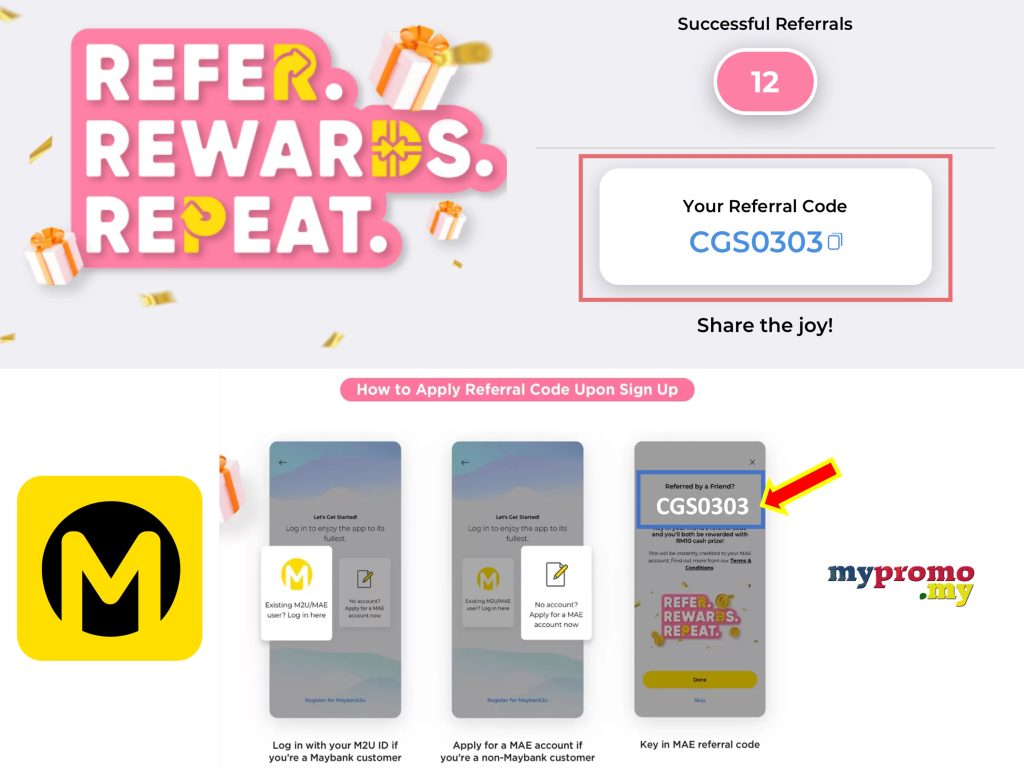 No Maybank account? No worries, MAE is for everyone. Just follow the steps!
*Remember to key in referral code: CGS0303

Register for a MAE account and Get RM10 Free with Referral Code CGS0303
Android: https://play.google.com/store/apps/details?id=com.maybank2u.life
iPhone: https://apps.apple.com/us/app/mae-by-maybank2u/id1481028763
Easy Steps to Open Mae Account
Step 1: Download App
Step 2: Select "Apply for MAE account"
Step 3: Key in referral code CGS0303 and your details
Step 4: Snap photo of your ID
Step 5: Create your Maybank2u ID
Done! Your account will then be activated
Buka Akaun Maybank MAE
Tiada akaun Maybank? Jangan risau, MAE adalah untuk semua.
*Ingat untuk memasukkan kod rujukan: CGS0303
Langkah 1: Muat turun applikasi
Langkah 2: Pilih "Apply for MAE account"
Langkah 3: Masukkan referral code CGS0303 dan butiran anda
Langkah 4: Ambil gambar IC anda
Langkah 5:Cipta ID Maybank2u anda
Siap!, selepas itu, akaun anda akan diaktifkan
More Maybank Promotions: https://mypromo.my/tag/maybank