Lazada Daily Cashback Vouchers
Collect and Use these vouchers
Get all the best deals via our Social Media! Follow Us!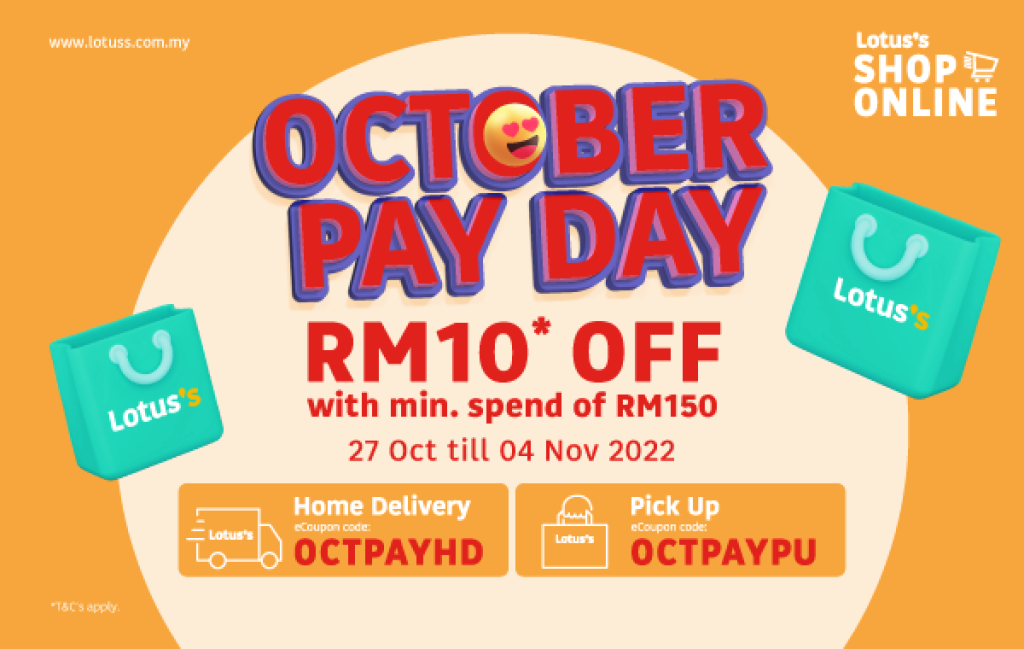 Lotus's Shop Online October Pay Day 2022. Great deals are coming your way! If you're looking for a good deal this month, our October promotion is ready for you! Get cooking equipment, groceries and many more at special prices from 27 Oct – 4 Nov. Start shopping now!
Shop Now: https://mypromo.my/shop/lotuss
Enjoy RM10 Off Min Spend of RM150
• For Home Delivery Use Code #OCTPAYHD
• For Pick Up Use Code #OCTPAYPU
PWP Promotion
Terms & Conditions Lotus's Payday
1. The eCoupon code (" OCTPAYHD ") can only be used at Lotus's Shop Online website or Lotus's Malaysia app for Home Delivery with limited of 2,400 redemptions only.
2. The eCoupon code (" OCTPAYPU ") can only be used at Lotus's Shop Online website or Lotus's Malaysia app for Pick Up at Store with limited of 600 redemptions only.
3. Validity period of the eCoupon to be utilised at Lotus's Shop Online is from 27 Oct till 04 Nov 2022 and valid for deliveries from 28 Oct till 05 Nov 2022.
4. The eCoupon code is only valid for registered Lotus's Shop Online customers and will entitle the customer to a RM10* discount off a minimum RM150 purchase in a transaction.
5. Only ONE (1) eCoupon code can be redeemed per transaction.
6. Each eCoupon code is valid for ONE (1) redemptions per customer.
7. eCoupon are not exchangeable for cash or any other benefit in kind.
8. Any eCoupon not redeemed during and / or within the said validity period shall be deemed void.
9. This eCoupon cannot be sold, bought, exchanged, or donated.
10. Multiple usage of eCoupon across multiple transactions and/or elements of fraud will lead to the eCoupon being rejected and void.
11. Valid for Lotus's Shop Online Home Delivery or Pick Up at Lotus's Shop Online stores only.
12. Cash is strictly not accepted. Customers must pay the difference using credit or debit card or e-wallet at door for payment.
13. We reserve the right, to change, modify, add, or remove portions of Terms and Conditions of use at any time. Changes will be effective with no other notice provided.
14. Your use of an eCoupon indicates your agreement to be bound by the Terms and Conditions.
15. We shall not be liable to any customer or household for any financial loss arising out of the refusal, cancellation, or withdrawal of any eCoupon or any failure or inability of a customer or household to use an eCoupon for any reason.
16. If you redeem, attempt to redeem, or encourage the redemption of eCoupon to obtain discounts to which you or a third party are not entitled you may be committing a civil or criminal offence.
17. If we have any reasonable cause to believe that any eCoupon is being used unlawfully or illegally we may reject or cancel any eCoupon and you agree that you will have no claim against us in respect of any rejection or cancellation. We reserve the right to take any further action it deems appropriate in such instances
mypromo's Payday  WhatsApp Groups
Want to receive promos and deals via WhatsApp?
Join our 9.9 Sale groups!
1. Only Admin Can Post
2. 9.9 Sale Chit Chat Group
All Are Welcome!
Sign Up for New Accounts and Get Rewarded

mypromo.my: Referral Codes Center
Get Rewarded When you sign up with Referral Codes