Get RM8 off with minimum spend RM80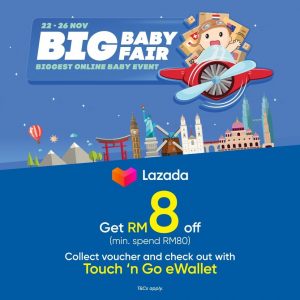 1. Promotion Period is on 22 – 26 November 2019.
2. Spend a minimum of RM80 using Touch 'n Go eWallet and get RM8 off on LAZADA (App only).
3. RM8 off discount only applicable to Mother & Baby, Health and Toys & Games categories
4. The RM8 off is limited to the first 12,500 transactions during the Promotion Period. The Promotion will cease once all discount transactions have been fully utilized or at the expiration of the Promotion Period, whichever is earlier.
5. Each Touch 'n Go eWallet User is only entitled to receive one (1) RM8 off throughout the Promotion Period.
6. Promotion is not valid with any other vouchers, promotions and/or offers.
7. In the event of a refund, TNGD will refund the total amount paid to LAZADA minus the RM8 discount amount. For example, if amount paid to LAZADA is RM80 and you have used the RM8 discount, you will only be receiving RM72 for your refund.
8. This Terms and Conditions shall be further subject to:
• General Campaign Terms and Conditions which can be found at https://www.tngdigital.com.my/general-terms-and-conditions.html
9. TNGD shall be entitled to withhold any benefits under the services rendered, with or without prior notice to the Users if the Users are found to have in breach of any TNGD's Users Term and Conditions.
Please visit www.tngdigital.com.my for more information or inquiries.
More Lazada Big Baby Fair Promo:

Touch n Go eWallet
Lazada Big Baby Fair Promo with Touch 'n Go eWallet

Lactogrow
RM12 OFF min spen RM120 Valid on 22-26 November 2019

Lactogrow
RM30 OFF min spen RM250 Valid on 22-26 November 2019

Genki
Extra 20% Discount (First 50 Customers Only)

Huggies
Get Extra 16% OFF with min. spend RM150 or Get Extra 12% OFF with min. spend RM100 for Huggies products

Drypers
Save up to RM49 with min. spend RM150 for Drypers products during Lazada Big Baby Fair from 22nd to 26th November 2019.

Anmum
Save up to RM70 with min. spend RM300 for Anmum products

PETPET
Save up to RM50 with min. spend RM300

MamyPoko
Get Extra 10% OFF with min. spend RM150 (cap at RM20) for MamyPoko products
Step by Step to SignUp with BigPay MasterCard and Get RM10 :
Step 1: Download the BigPay app
Step 2: Sign up paste in referral code: AQP50NWLUE
Step 3: Upload your IC and personal detail
Step 4: Wait for approval (could take up days)
Step 5: After approve, load RM20. Can use your credit card or debit card
Step 6: Wait for the card to be delivered to you
Step 7: Activate and enjoy RM10 reward for signing up!