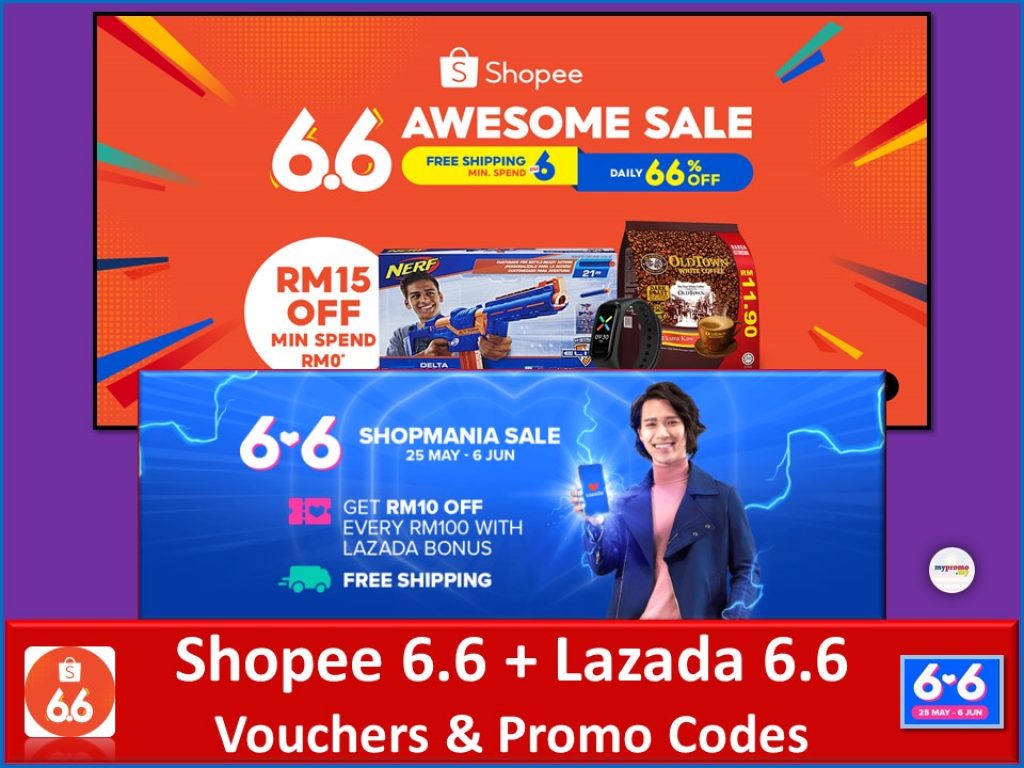 Get all the Vouhers and Promo Code for Shopee 6.6 and Lazada 6.6 Here. Both sales are happening from 25th May till 6 June 2022. Claim bank and partner vouchers and promo codes and use on at check out for extra discounts! Start claiming vouchers and add your items to cart now.
6.6 Sale Main Page:
Lazada: http://bit.ly/66shopmania
Shopee: https://shp.ee/iwh92qz
Lazada 6.6 Voucher Page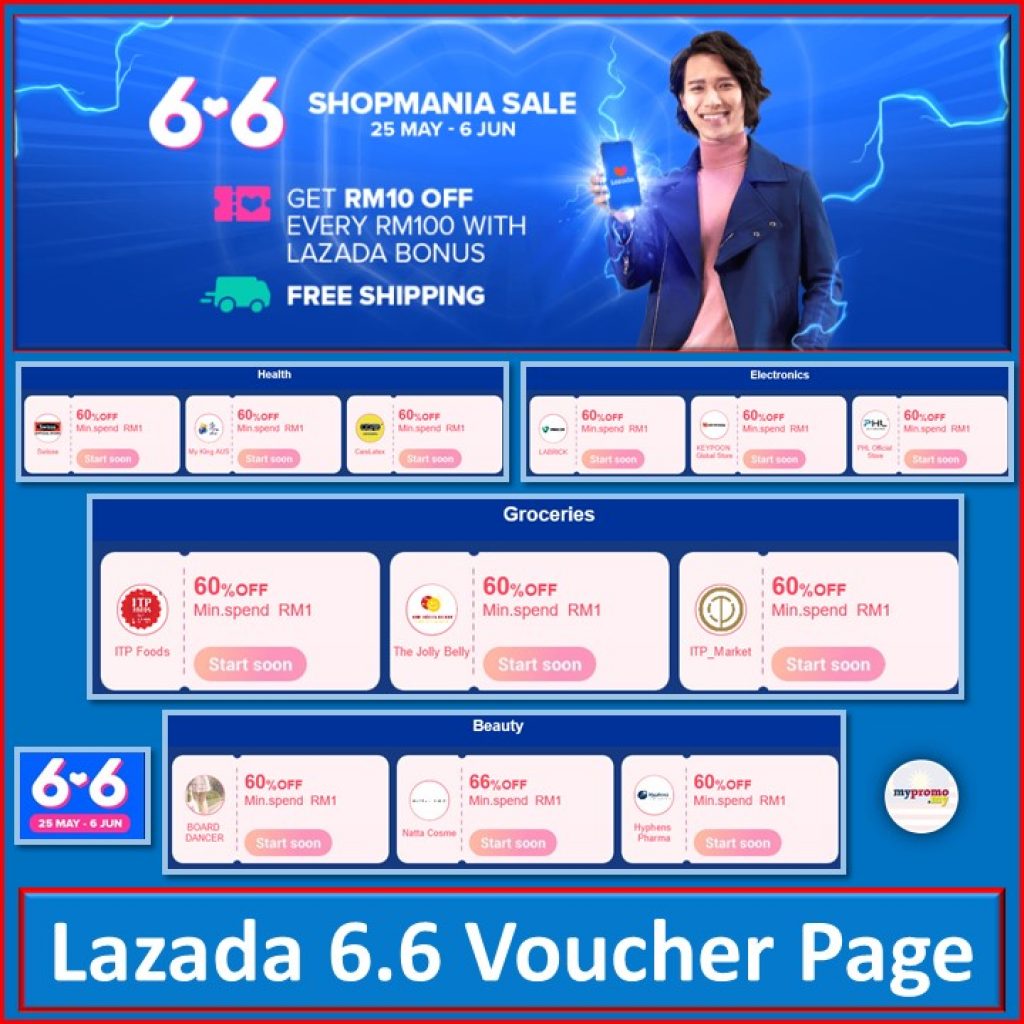 Lazada has made it easier for you to collect their vouchers. All Lazada 6.6 vouchers are compiled at this page. Go to the page now and start collecting vouchers. The vouchers collected are yours to use on the day the vouchers are valid.
Lazada 6.6 Bonus – Valid on 4.6-6.6
Collect Lazada Bonus Now!
Collect Here: http://bit.ly/66shopmania-Bonus
• Get RM10 Off Every RM100
• Can use from 4 – 6 June and together with other vouchers!
Collect Lazada x TNG Vouchers
Collect Here: https://bit.ly/Laz-TNGD
66% Off Voucher
RM5 Off Min Spend RM6 Voucher
Free Shipping Voucher
Lazada Member's Reward
Link: http://bit.ly/MembersReward

• Collect 1 x 66% Off No Min Spend

Limited Stocks, do it now!
Shopee Exclusive Voucher for mypromo.my followers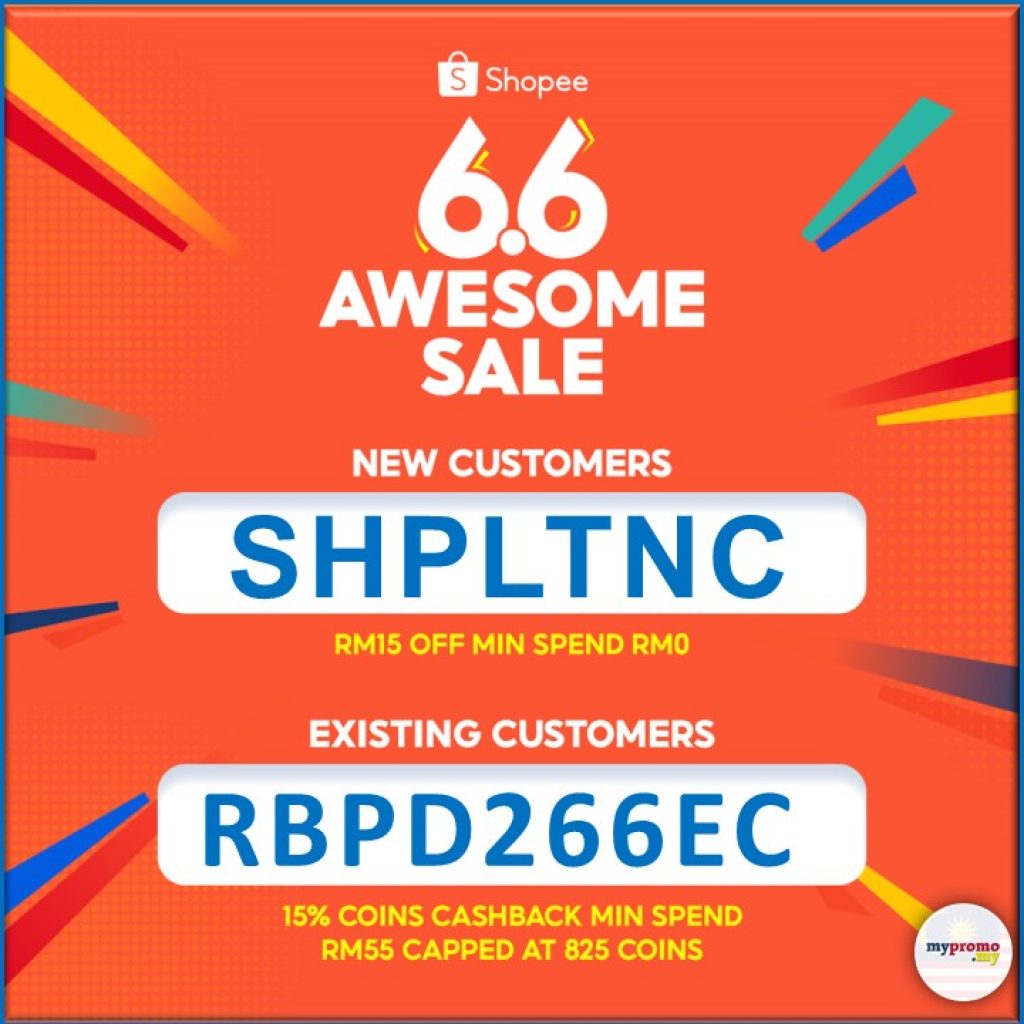 Method to Claim Vouchers:
Copy code RBPD266EC | SHPLTNC
Go to Shopee Voucher Page: https://shp.ee/p7gde55
Paste Code and Apply
Code: RBPD266EC
Value: 16% coins cashback Min. Spend RM50 Capped at 800 Coins
Existing Customer
Code: SHPLTNC
Value: RM15 off min spend RM0
New Customer
Maybank 6.6 Vouchers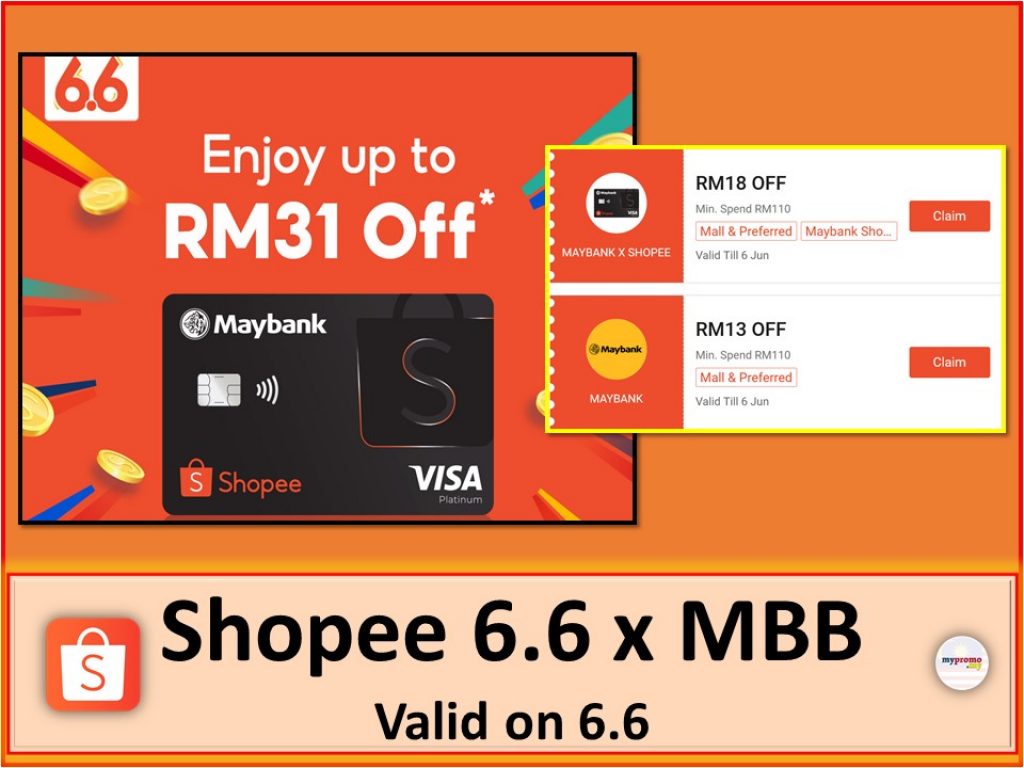 Shopee 6.6 x Maybank Vouchers
Claim Here: https://shp.ee/cmn8xg4
MBB x Shopee Card:
Value: RM18 off Min. Spend RM110
MBB Cards:
Value: RM13 off Min. Spend RM110
Shopee 6.6 Sale x Bank Promo Codes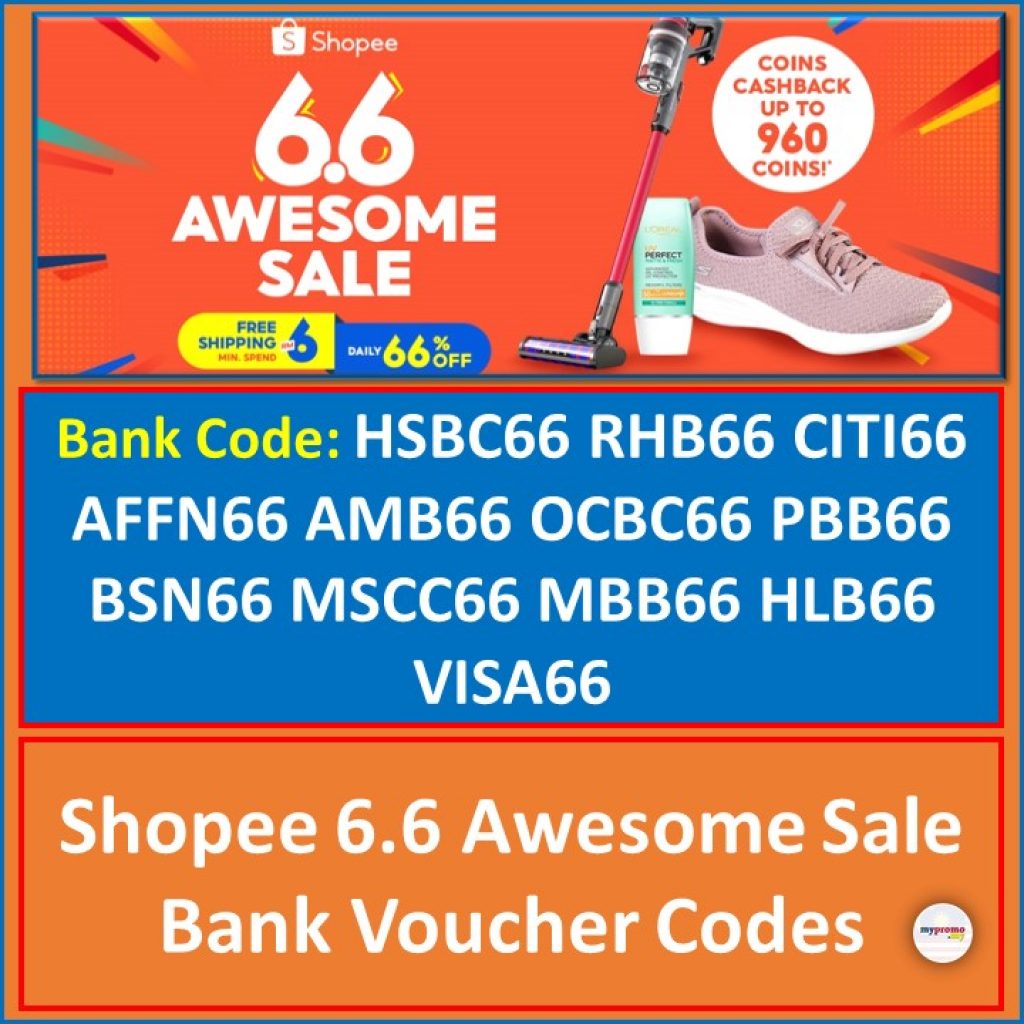 Method to Claim Vouchers:
Copy code listed below.
Go to Shopee Voucher Page: https://shp.ee/p7gde55
Paste Code without # and Apply
Copy Code: BP66 HSBC66 RHB66 CITI66 AFFN66 AMB66 OCBC66 PBB66 BSN66 MSCC66 MBB66 HLB66 VISA66
Shopee 6.6 Free Shipping & Coin Cashback Promo Codes – Valid on 6.6
Claim Here: https://shp.ee/tsrsgtw
Claim:
• 2 x Extra Free Shipping Vouchers
• 3 x 66% Coins Cashback Vouchers
• 1 x 50% Coins Cashback Vouchers
Shopee 6.6 x Partner Promo Codes – Valid 6.6
Method to Claim Vouchers:
Copy code
Go to Shopee Voucher Page: https://shp.ee/p7gde55
Paste Code and Apply
Copy Code: CCPD266EC ELPD266EC HAPD266EC IMPD266EC JHPD266EC JMPD266EC KIPD266EC YAPD266EC MUPD266EC MIPD266EC NAPD266EC OPPD266EC PTPD266EC BPD266EC SAPD266EC SNPD266EC WEPD266EC XXPD266EC MCPD266EC
Copy Codes: ADS66PEC INDO66PEC IA66PEC BIGGO66PEC  CITY66PEC AT66PEC MAD66PEC  OPTI66PEC
Shopee 6.6 x Buy Malaysia Page
Claim All Here: https://shp.ee/tves832
Claim these vouchers today and use them on 6.6
• 4 x 95% Coins Cashback Vouchers
• 1 x 50% Coins Cashback Voucher
• 1 x 30% Coins Cashback Voucher
More Vouchers Are Coming! – Stay Tuned
Shopee Payday Sale x Partner Promo Codes – Valid 25 May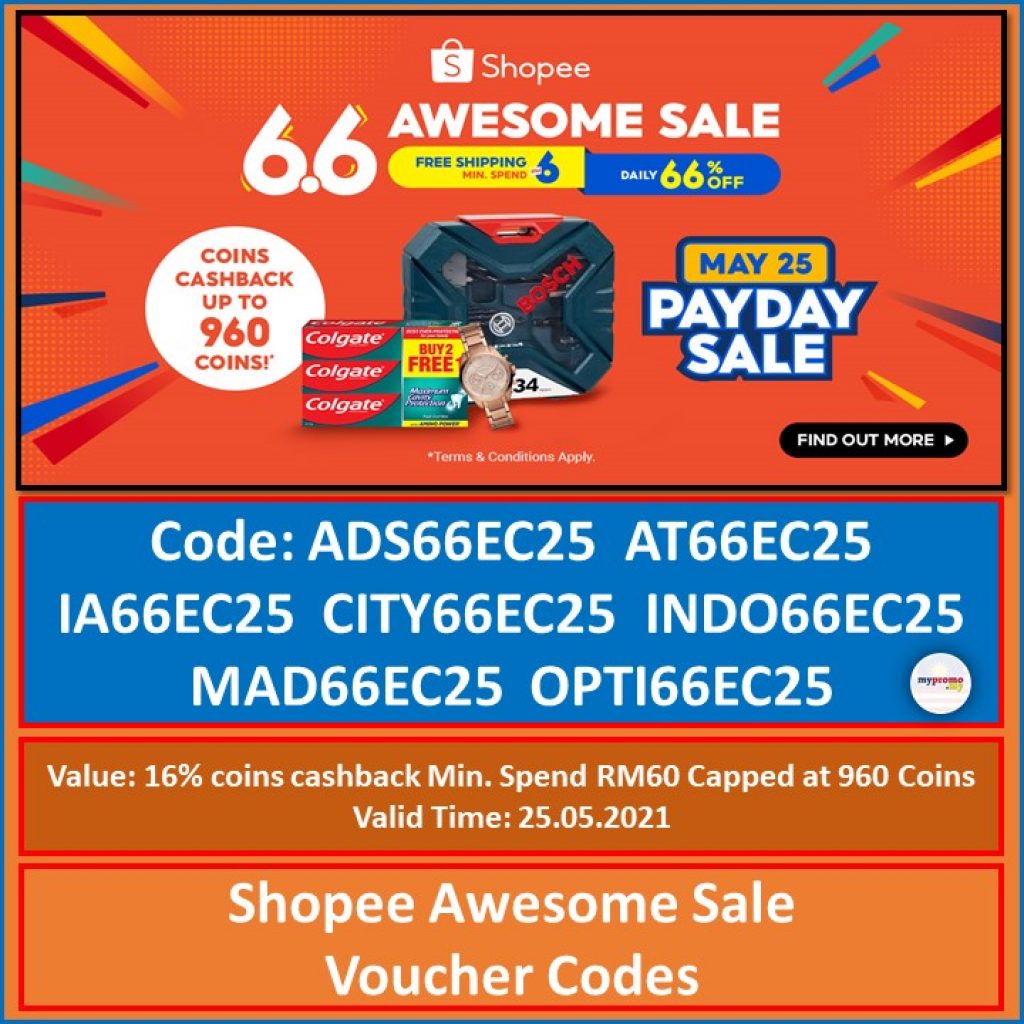 Method to Claim Vouchers:
Copy code one by one!
Go to Shopee Voucher Page: https://shp.ee/u3tdrby
Paste Code without # and Apply
Code:
ADS66EC25 AT66EC25 CITY66EC25 INDO66EC25 IA66EC25 MAD66EC25 OPTI66EC25
Code:
CCPD166EC ELPD166EC HAPD166EC IMPD166EC JHPD166EC JMPD166EC KIPD166EC MUPD166EC MIPD166EC MCPD166EC NAPD166EC OPPD166EC PTPD166EC BPD166EC SAPD166EC SNPD166EC WEPD166EC XXPD166EC YAPD166EC
Shopee Payday Sale x Bank Promo Codes – Valid 25 May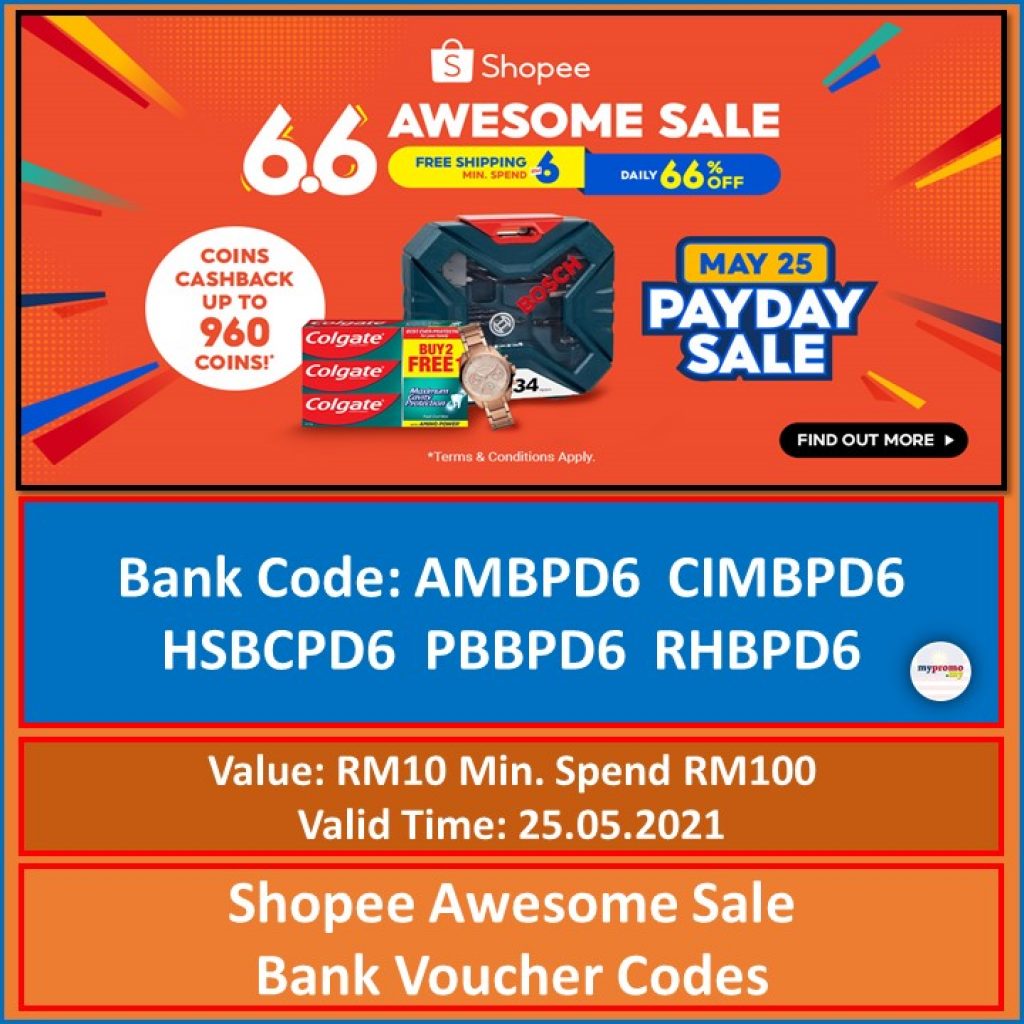 Code:
AMBPD6 CIMBPD6 HSBCPD6 PBBPD6 RHBPD6 MBB15 CIMBPDAY
Code:
OPPOPD6 FJPD6 GLPD6 HUAWEIPD6
Shopee Payday Sale x Extra Bank Promo Codes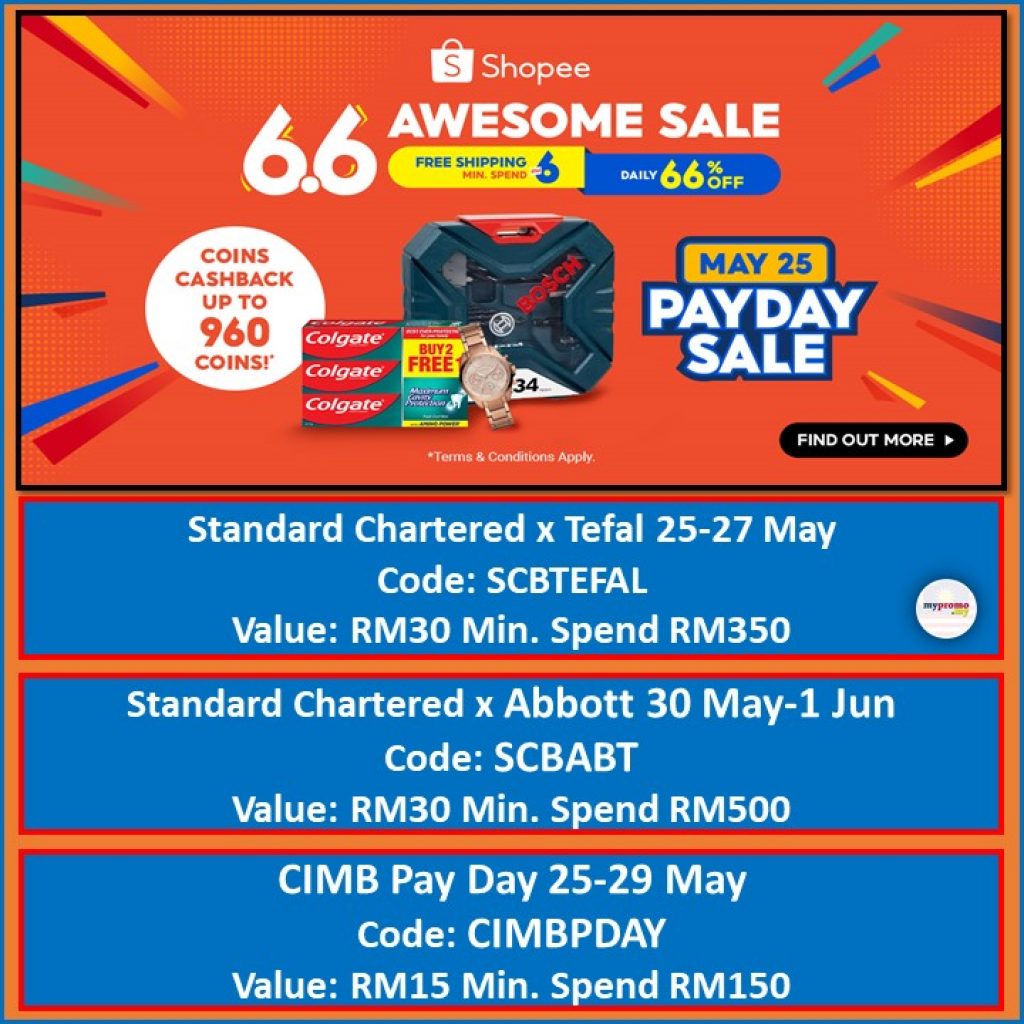 Code:
SCBTEFAL SCBABT CIMBPDAY
Shopee 6.6 Sale x Partner Promo Codes 26 May – 5 June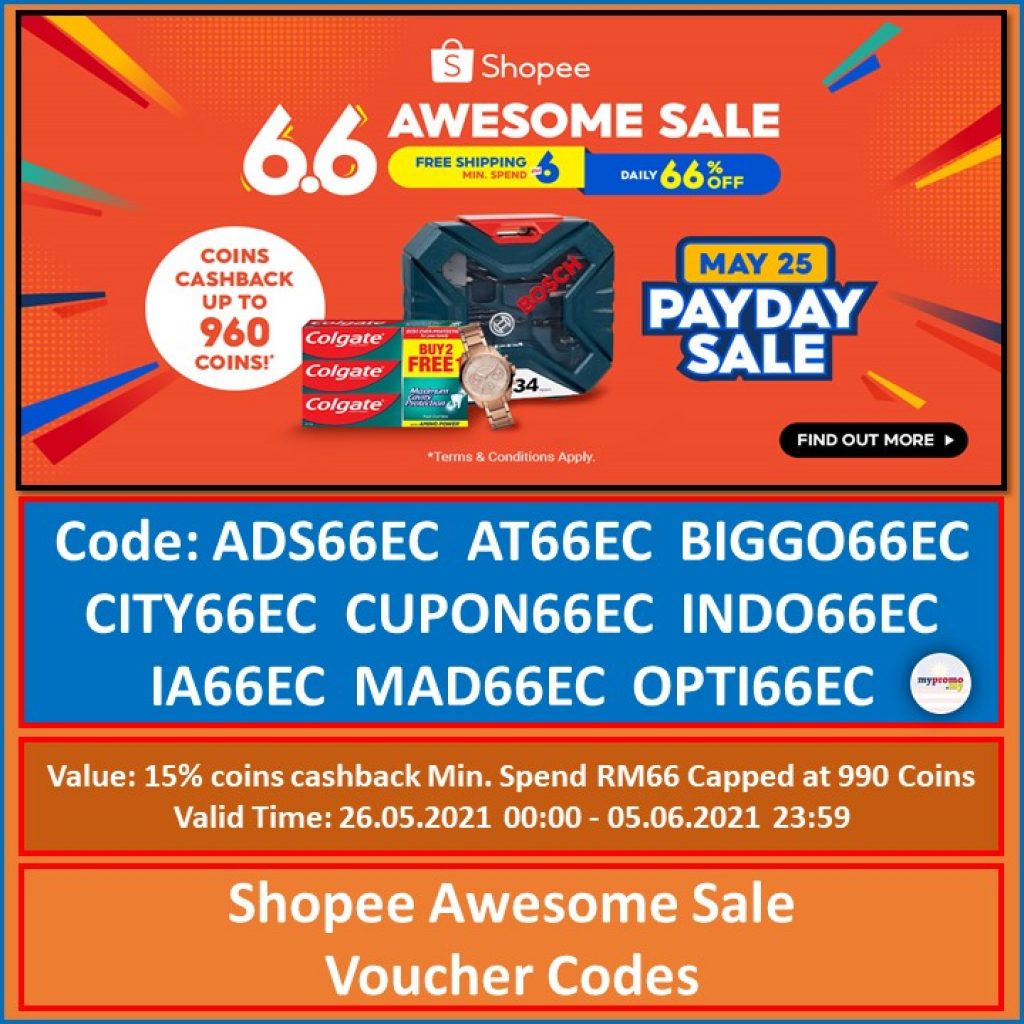 Code:
ADS66EC AT66EC BIGGO66EC CITY66EC CUPON66EC INDO66EC IA66EC MAD66EC OPTI66EC
Shopee Payday Sale Vouchers – Valid 25 May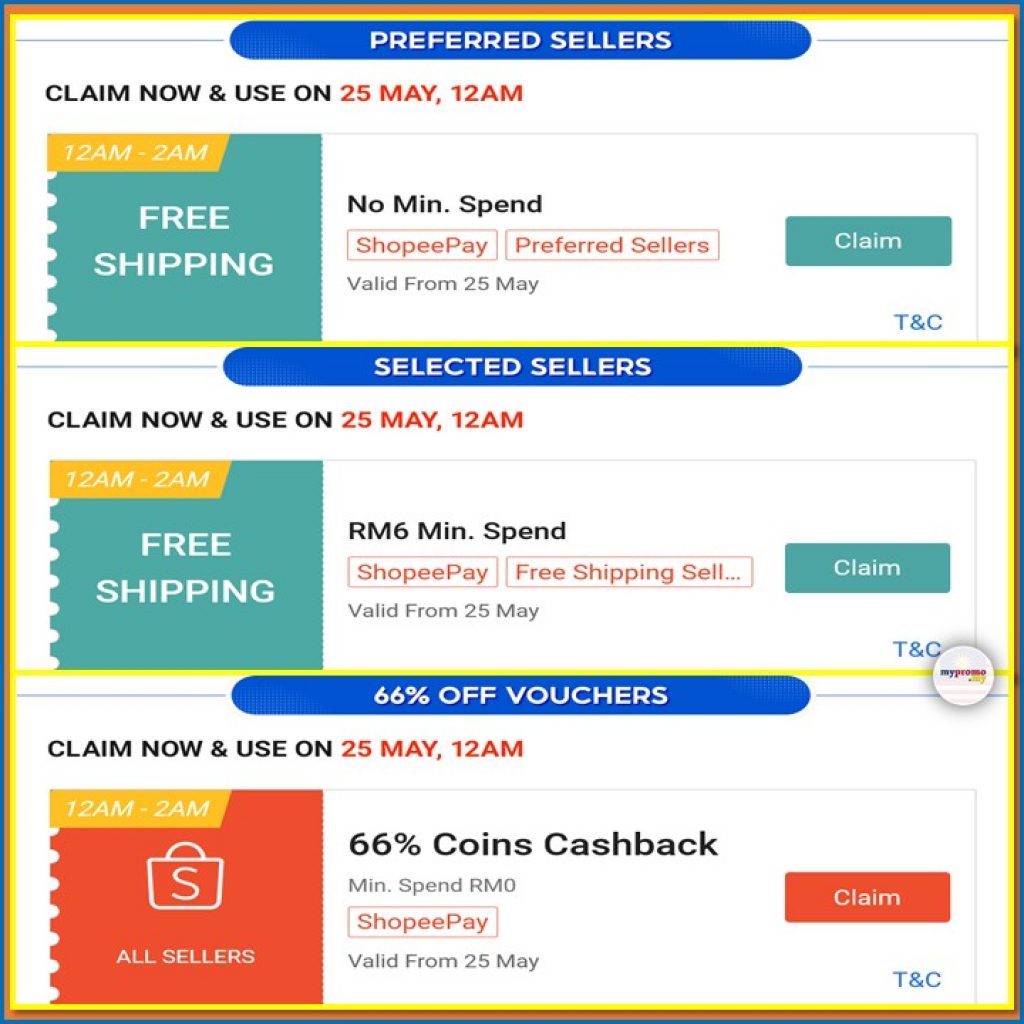 Claim Vouchers Now: HERE
Free Shipping Vouchers
66% Coins Cashback Vouchers

Shopee 6.6 Awesome Sale
Collect all Vouchers
Some of the stores that are having 6.6 Sales:
Whiskas & Pedigree: https://shp.ee/3dzbs8d
Wardah: https://shp.ee/9bgbagn
Unilever: https://shp.ee/wi37zin
Maybelline: https://shp.ee/iicvhu8
Oldtown Coffee: https://shp.ee/iicvhu8
Some of the Super Big Brands with Big Deals:
Philips: https://shp.ee/hafufu4
PetPet: https://shp.ee/dudid7b
MMX: https://shp.ee/m8ipyc4
Kellog's: https://shp.ee/qu97vw4
PUMA: https://shp.ee/54svuza
British Polo: https://shp.ee/hfrgft4
Visit Lazada 6.6 >> https://mypromo.my/lazada-ada-6-6-shopmania-sale
Visit Shopee 6.6 >> https://mypromo.my/shopee-66sale/