Telegram Channel
Updated Daily with the Best Deals and Offers
Get all the best deals via our Social Media! Follow Us!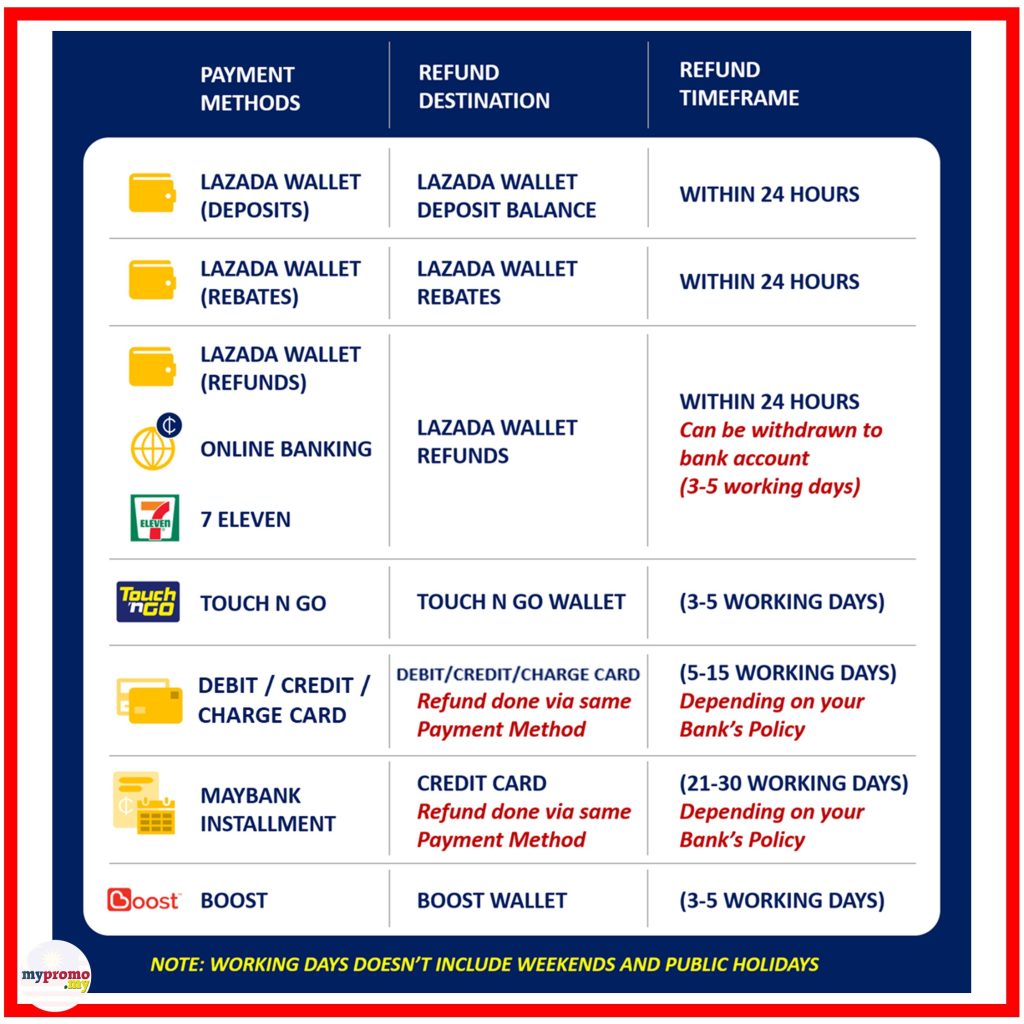 Ever wonder how soon you will received your refund after cancelling an order on Lazada? The table above shows the refund processing time frame according to your payment method. Please be advised that 'Refund Timeframe' includes 'Lazada Processing Time' and 'Bank Processing Time'. You will be notified via
email once your refund is processed.
After you have cancelled your order, you will receive an app notification, SMS and an e-mail will be sent to you when the refund is being processed and issued.
Below is the e-mail that will be sent to you when the refund is being processed and your refund is on the way to your Lazada Wallet:
You may also check the details of your cancellation via Lazada app as shown below:
Step 1: Go to 'Account'.
Step 2: Click on Returns & Cancellation'.
Step 3: On Returns & Cancellations page, select the cancelled order that you want to track.
Step 4: On Cancellation Details page it will contains the cancellation information including details of the refund.
>> More Lazada Deals : https://mypromo.my/dealstore/lazada <<
Note
If the whole order is cancelled, the refund amount will include the total shipping fee incurred.
For partial cancellation, the shipping fee for the item will be refunded as well and the calculation is based on the general rule of the product's dimension and weight. You may refer here for further guidance on the calculation.
Any voucher usage during the purchase will require you to reach out to our Customer Care Representative for revalidation request. Once validated, you may reuse the voucher for future purchases, subject to the voucher terms and conditions.
If the voucher is issued by the Seller, you would need to reach out to the Seller to see if they are able to revalidate your voucher for future usage (subject to seller's approval).
How to check your transaction history
Step 1: On the main page of your Lazada app, click on the Wallet' button.
Step 2: On Lazada Wallet page, scroll down until you see Recent Transactions' tab. Click View All' and you will be able to view all the recent transactions you have made using Lazada Wallet.
Step 3: Click on '>' on Refund to reference to view your Refund Details. Then click on '>' at Order ID for further reference of the Order.
mypromo Telegram Channel
Want to receive  daily promos and deals via Telegram?
Join Our Channel Today

All Are Welcome!
Sign Up for New Accounts and Get Rewarded

mypromo.my: Referral Codes Center
Get Rewarded When you sign up with Referral Codes