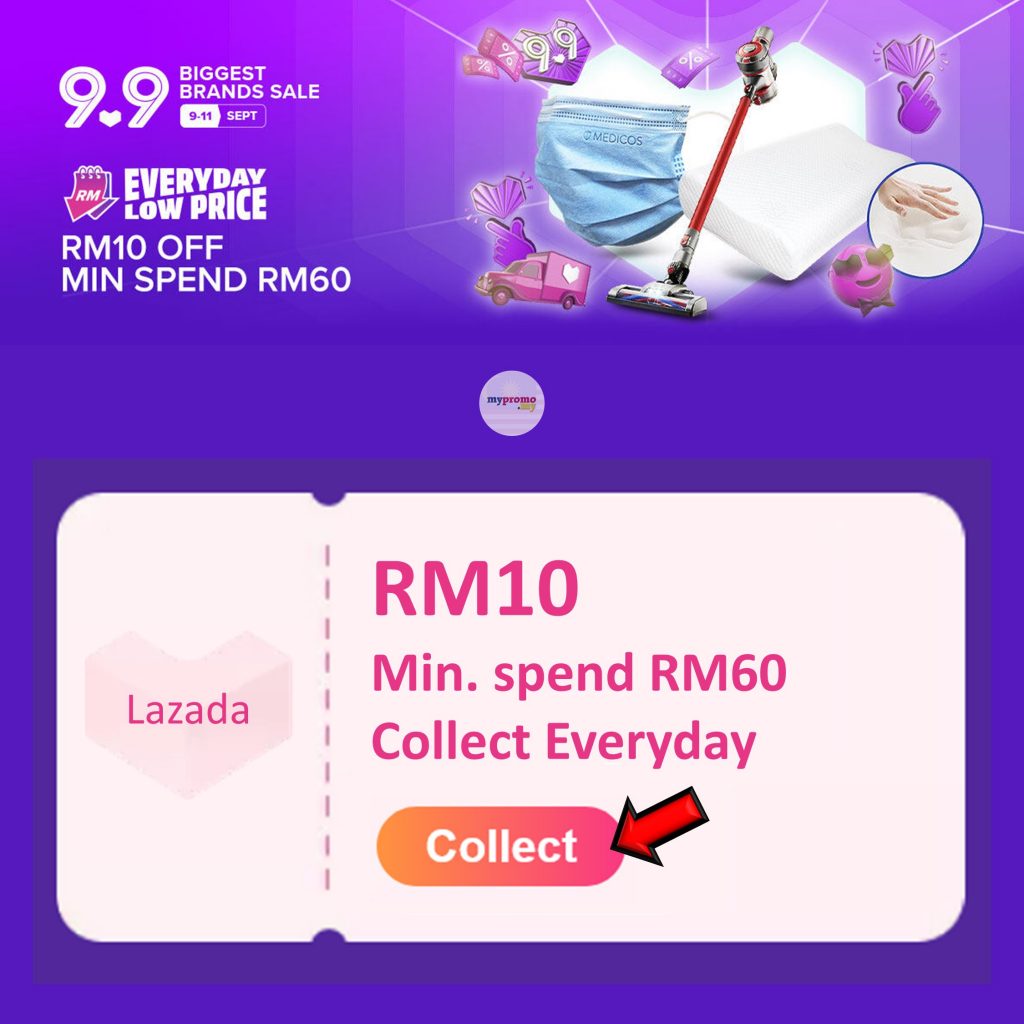 Enjoy RM10 off with RM60 minimum spend everyday when you collect voucher and purchase item(s) from Lazada! Everyday Low Price Voucher is replenished everyday at 12am, so come back for new RM10 Off voucher daily.
Collect Everyday Low Price ELP RM10 Off Voucher

Lazada Everyday Low Price RM10 Voucher
Collect Voucher
Get all the best deals via our Social Media! Follow Us!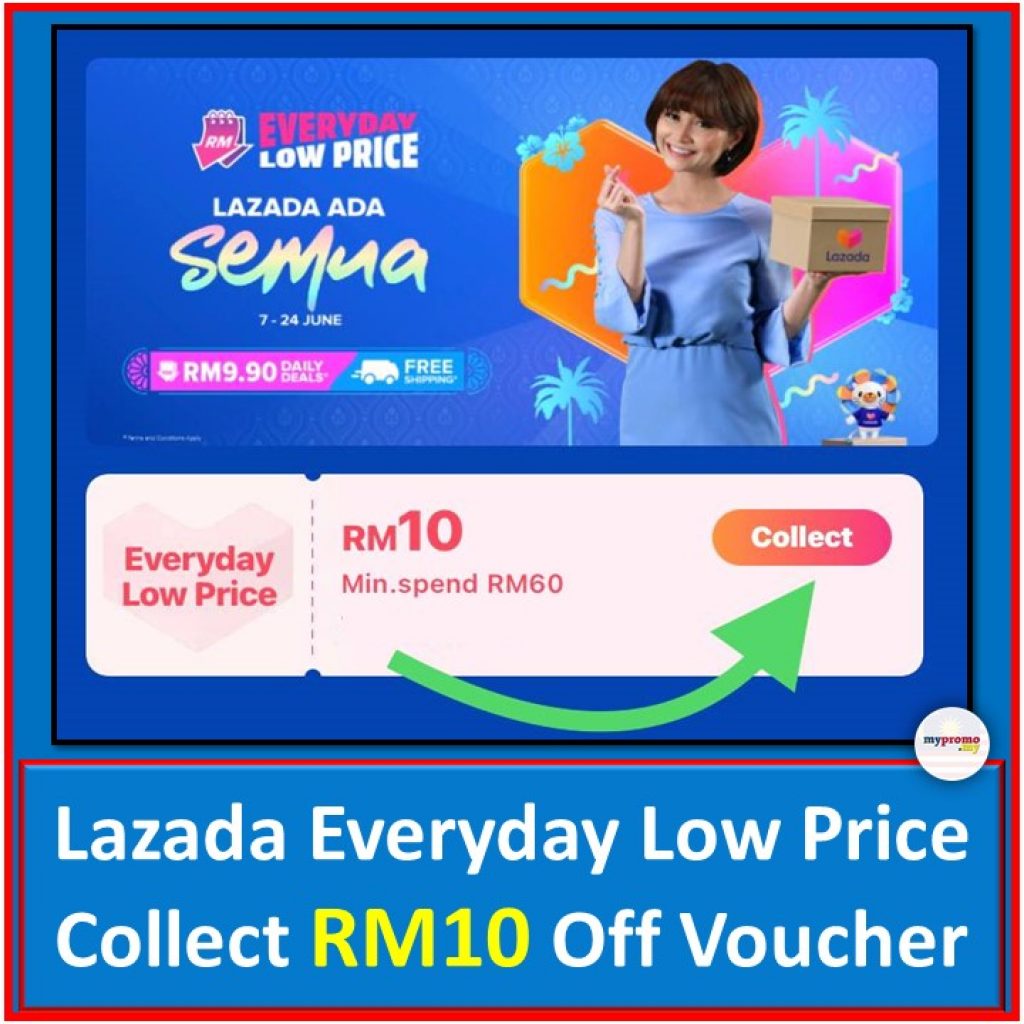 Free Shipping Vouchers
And yes! There is another daily vouchers you can collect>> Free Shipping Voucher
Collect http://bit.ly/Laz_FreeShipping
Lazada Free Shipping Voucher Q&A
Q: How do I find and collect Lazada Free Shipping voucher?
A: Free Shipping vouchers are offered monthly and run out fast. As the distribution of this voucher is limited, do not forget to claim yours here or visit http://bit.ly/Laz_FreeShipping. You can read through the Terms and Conditions (T&C) of the Free Shipping voucher here.
Q: How many times can I collect Lazada Free Shipping voucher in a month?
A: Each customer is allowed to collect and redeem the voucher up to 4 times in a month.
Q: How do I know which item is eligible for the Lazada Free Shipping voucher?
A: Once you have collected your Free Shipping voucher, you may click on the voucher and details such as basic T&C, validity period as well as eligible products that you can use the voucher with are visible.

Q: What happened to my Lazada Free Shipping voucher if my order is cancelled for any reason or I wish to return the item to the Seller?
A: The voucher will not be revalidated once used as the voucher is distributed on a first-come, first serve basis. Not to worry, you can collect the Free Shipping voucher again and use it for your next purchase provided that you maximum usage for that particular month is not yet exceeded.
Follow the Steps: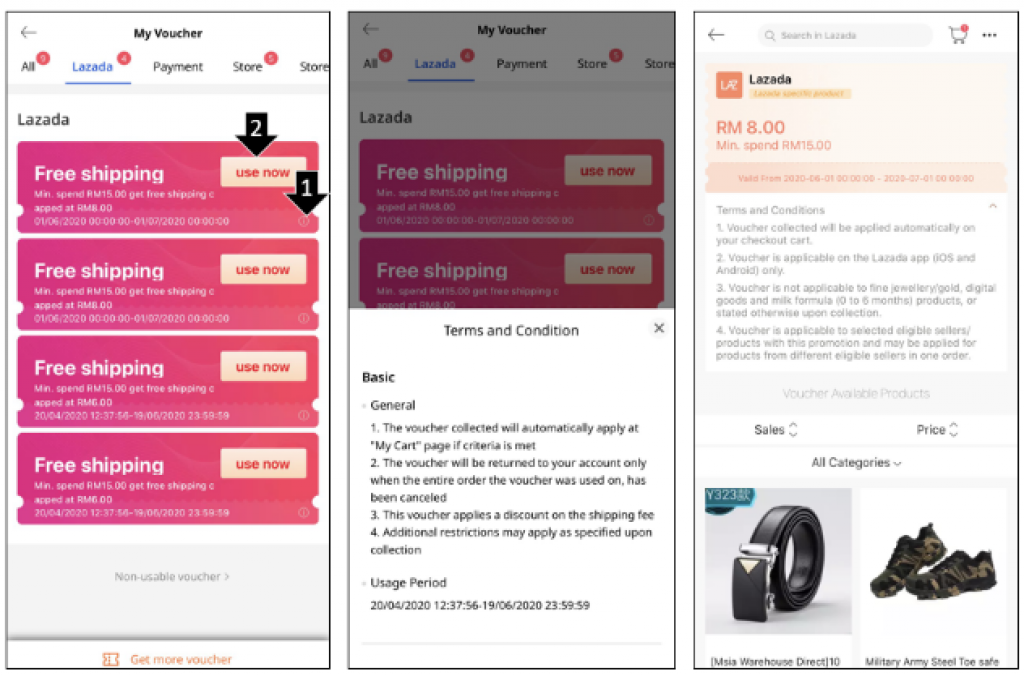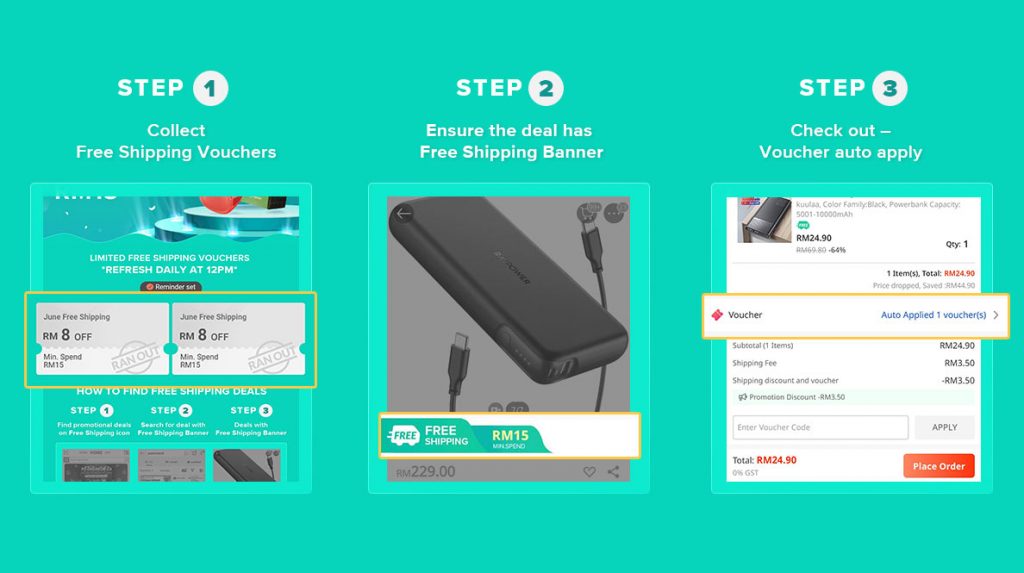 Step1: Collect Free Shipping Vouchers [HERE]
Step 2: Ensure the deal has Free Shipping Banner
Step 3: Check out: Voucher will be automatically applied

Enjoy free shipping (capped at RM8) with minimum spend of RM15 when you collect voucher and purchase item(s) from the categories listed in "Summary Table – Sept Free Shipping Voucher".
Limited to 3 voucher collections & usages per user.
Validity period of the vouchers is listed in "Summary Table – Sept Free Shipping Voucher".
Vouchers are released daily at 12pm for collection, on first come first serve basis.
Once vouchers are collected, they will be automatically applied on checkout.
Vouchers are applicable to delivery destinations nationwide
Other terms and conditions apply.
Get all the best deals via our Social Media! Follow Us!
Lazada reserves the right to cancel or disallow any order or discount, or disallow or revoke the use of vouchers for any reason, including the following circumstances: suspicious or fraudulent purchasing activity or voucher use; voucher abuse, including the use of multiple accounts or multiple checkouts associated with the same customer or group of customers; or voucher used in bad faith (including resold vouchers or use of vouchers by customers purchasing products for the purpose of reselling)
Unless otherwise stated, vouchers are not valid in conjunction with other promotions or discounts.
Additional terms and conditions may be specified in relation to specific voucher (for example, duration, eligibility, discount amount and products covered), and will govern the use and redemption of those vouchers in addition to these terms.
Use of vouchers by resellers is not tolerated, and Lazada reserves the right to cancel orders or voucher use which are deemed to display reseller behavior
Vouchers are not exchangeable for cash.
Lazada will not be liable and/or be required to offer replacement vouchers, discounts, credits, cash or otherwise compensate customers for: discontinued or cancelled vouchers; improper use of, or inability to redeem, a voucher; or the inability to redeem a voucher due to technical issues.
Lazada reserves the right to change these terms & conditions or cancel any promotions or vouchers, at any time and without notice.
Lazada's decision is final should there be any dispute in relation to this voucher mechanism.
Read: https://mypromo.my/top-10-most-popular-air-fryers-in-malaysia-y
More Promotions, Offers and Vouchers from Shopee and Lazada
Lazada 6.6 - 100% Cashback!
Sign Up for New Accounts and Get Rewarded

mypromo.my: Referral Codes Center
Get Rewarded When you sign up with Referral Codes